Today, let's get started looking at the best green cleaning products for your home. I'm continuing on in my 4 part series about being a conscious consumer and being aware of what toxins and chemicals we are bringing into our homes. If you missed out on part 1, (purchasing home goods and home decor that are actually healthy for your environment) or part 2 (furniture options for a healthy home) you can click the links to read them. 
Our homes are filled to the brim with not only things, but also with solutions and products that we purchase to clean, sanitize and improve our home in various ways.  It's become so convenient to purchase these things as they are at just about every store we run into. And what's more appealing than a cleaner with a pretty package the promise of a fresh scent?  It's become far too easy to consume these products and we have no way of knowing what the best cleaning products are. So much so that many of us don't even bat an eye, but bring it home and try it out.
But I want to encourage you to be the keeper of your home.  In the same way we are the keeper of our bodies in terms of the food we allow in, we also need to be protective of the environment that we live in as well.  By really keeping an eye on what we allow into our precious homes, we can easily and almost effortlessly prevent some of the worst toxins from ever entering our air and our environment.
So where do you start?  It can feel completely overwhelming when you begin to think about this.  Most of us don't have the time to research every single product we bring into our homes.  Nor do I think this is the key. There's so much information out there about what's safe and what's not safe, but how do you know how current or accurate that information is?  The questions keep going round and round and before you know it you're overwhelmed and unsure where to start.
Let me help you  cut the overwhelm and begin to wrap some sense around this and let's make it easy to figure out what to allow into your home when it comes to your everyday products.  I'm about to give you the best cleaning products and homemade solutions to every cleaner and home product you'll purchase. All you have to do is use these alternatives — no research required.  Are you ready to be the keeper of your home?
SAFE ALTERNATIVES AND REPLACEMENTS FOR CLEANING & HOME PRODUCTS
Below is a master list of what home product you'd like to replace and how you can do that with both a store or online product, or a homemade recipe.  I've also compiled a shopping cheat sheet you can download to your phone or print out and keep.
Multipurpose Cleaner
This is the type of spray cleaner you use EVERYWHERE.  Cleaning off the kitchen table, wiping down a spill, washing walls, etc.  I personally like finding a multipurpose cleaner that can handle a little bit of bacteria and disinfect at the same time, but it's not necessary in every case.
Below are the best cleaning products in the multipurpose cleaner category.  This list is pretty extensive — and just remember that a lot of these you can purchase at a local store, like Target.
Tohi Multipurpose  Household Cleaner (Amazon)
Attitude All Purpose (Amazon) 
Aunt Fannie's Multipurpose Cleaner (Amazon) 
Biokleen Spray (Amazon) 
EarthFriendly Products ECOS (Amazon)
GreenShield Organic (Amazon) 
Planet All Purpose Spray Cleaner (Amazon) 
Puracy Natural (Amazon)
Sun & Earth (Amazon) 
Truce (Amazon) 
Whole Foods All Purpose Concentrated Cleaner 
Besides all these alternatives, you can make your own all-natural cleaner in a pinch.  Most of the ingredients you'll likely have at home:
RECIPE:
2 Cups Hot Water
¼ Cup White Vinegar
¼ tsp Tea Tree Essential Oil
½ tsp Lemon Essential Oil
Mix the ingredients into a spray bottle and clean normally. You may have to shake the bottle to mix the ingredients every now and then.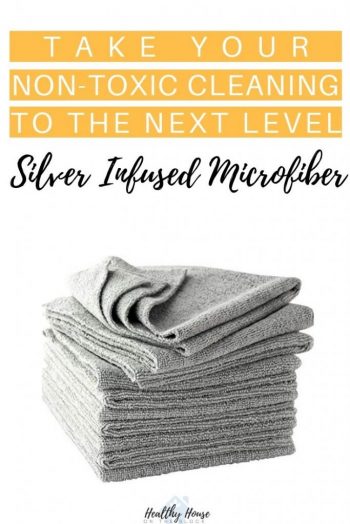 Bleach
Bleach is a big no-no when it comes to cleaning.  We know that it's not only harmful to skin, but to our airways as well.  Bleach can hinder the immune system, causing your body to be more susceptible to illness in the future.  These alternatives work just as well as bleach but don't actually contain harmful chlorine:
You can also use some of these household staples as an alternative to bleaching:
Hydrogen Peroxide
Lemon Juice
Tea Tree Oil
Natural Sunlight
Laundry Detergent:
The detergent we use for laundry is vitallly important as our clothing is next to our bodies all day.  Many toxins, especially those toxins in detergents in cleaners continue to off-gas after their being used.  And many of them off-gas at a much higher rate when they are in a warm and humid environment. This is why detergent can be so harmful.  The clothing that has been washed in a detergent containing synthetic fragrances and chemicals will off-gas more when clothing is worn. And what's worse is the clothing is being worn all day long.  This causes the body to become completely burdened and unable to escape and recover. These are the best cleaning products in the laundry detergent category. They are your best bet when your being the keeper of your home:
You can also buy a few key ingredients and make your own detergent quite easily.  The nice thing about mixing up your own is that it's very cost effective and can last for a VERY long time:
RECIPE:
Mix ingredients together and store in an air tight container. Use 1 tbsp per load or 2 tbsp for a really tough load of laundry.
Stain Remover
When I first began changing my cleaning and laundry routine I had such a hard time finding a safe, toxin free stain remover to use.  I ended up trying to make my own and they were just never quite as good as the store-bought ones. But we've come a long way since those days and now there are plenty of stain removers you can use that are both effective and safe:
Fabric Softener
I personally don't use a fabric softener, but that's just for convenience on my part.  I simply add vinegar to my fabric softener dispenser on my washing machine and call it a day.  This brand is a really safe alternative:
Fabric Softener Alternatives
Vinegar works really well as does ice-cream salt.  Just replace your typical softener with these in your washing machine and do laundry as normal.
Dryer Sheets
This is another part of my laundry routine I've completely given up.  I use wool dryer balls and I've been really happy. Some tricks you might not know about dryer balls:  If your clothing has static cling, you can fasten a safety pin to one of the dryer balls to help prevent this.  You can also add a few drops of essential oils to your dryer balls to add a fresh scent to your clothing.
Unfortunately, there are no dryer sheets that are truly safe to use at this point.
Carpet Cleaners
If you have kids or pets, you know this is a total staple and a must have at home.  I use carpet cleaners quite frequently, both sprays and additives to my spot treating machine.  Cleaning products added to the carpet is incredibly important as pets and children play in close proximity to the floor, and any harmful chemicals can greatly impact them.  Another reason is that chemicals and cleaning solutions cannot be removed from the carpet unless a total carpet cleaning is done by a professional, and even then, some is left on the fibers.  These options below are the best cleaning products to cleaning your carpets in a toxin-free way:
Often, cleaning a carpet spot with homemade solutions is pretty simple as the ingredients are items we tend to have around our homes.  The solutions below is for cleaning carpet using what you have at home:
CARPET CLEANING SOLUTION RECIPE:
1 gallon hot water
1 tablespoon Castile Soap
1 ½ tablespoon vinegar
¼ cup 3% peroxide
Fill your machine with hot water and leave space for the other ingredients. Add the remaining ingredients and clean your carpet like normal.
CARPET STAIN REMOVER RECIPE:
2 tsp baking soda
1.5 castile soap
1.5 tsp vinegar
1 cup warm water
Sprinkle baking soda over stain and let sit for 10 minutes. Vacuum the making soda. Mix the remaining ingredients and dab the stain with a white cloth soaked in the solution. Use another dry cloth to blot the carpet dry.
Floor
The same reasons carpets need to be kept toxin free applies to any hard flooring as well.  Flooring allows anything to get tracked throughout our home, from room to room as we travel within our home.  By keeping chemicals out of the house, you can prevent introducing them to your home's surfaces and the air in your home as well.  These are the best cleaning products for floor cleaning solutions. They're a great way to keep your home clean and healthy.
I like to use a wet mop in my house, which helps reduce a lot of the dust and dander that can become airborne, especially in the dry winter air.  I use something similar to this wet cleaning mop and then I add my own solution to it in order to clean my floors. Normally I use Tohi Multipurpose Cleaner, but if I'm out for some reason, I'll use this solution below:
FLOOR CLEANING RECIPE
1 cup water
¾ cup vinegar
¾ cup rubbing alcohol
2-3 drops Castile soap
5 drops each of lavender, orange, tea tree and peppermint essential oils
Mix ingredients together and spray on floor. Wipe up with a microfiber cloth. You can use this mixture in a spray mop.
Bathroom Cleaners
The bathroom is a place where you want to keep chemicals and toxins out more than any other area in your home.  The reason being that bathrooms are a place with the highest levels of humidity in your home. Bathrooms can also hold the most heat in them from bathing and use.  This means chemicals and toxins will off-gas at a much higher rate in comparison to a room that has lower humidity. This is why keeping your bathroom cleaner safe and natural is your best bet to keeping your home healthy and safe.
I use Tohi Multipurpose Cleaner in my bathroom as well, but you could also mix up your own with some ingredients from around your house with this recipe below:
BATHROOM CLEANER RECIPE:
2 Cups Hot Water
¼ Cup White Vinegar
¼ tsp Tea Tree Oil
½ Lavender Oil
Mix the ingredients into a spray bottle and clean normally. You may have to shake the bottle to mix the ingredients every now and then.
Toilet Cleaners
You can also use a cup of vinegar and handful of baking soda as a toilet bowl cleaner.  I also like to add a few drops of Tea Tree Essential Oil as a disinfectant.  Simply pour the vinegar in your toilet and add the baking soda.  Let it sit for about 10 minutes and scrub with a toilet brush.
This post about removing toxins and moisture in your bathroom outlines products and habits that may be making it an unhealthy space in your home.
Dishwasher Detergent
Our foodwear is so important to keep free from chemicals and toxins as you may have guessed.  The reason is we eat our food off of these surfaces and often times they are touching our mouths and our children's mouths.  Ingesting anything is allowing a fast-pass directly to the bloodstream. If it's something healthy and safe — this is a great thing!  But if you're allowing toxins and chemicals into your body, it's traveling to your bloodstream and then to organs quickly. Using a safe and healthy dishwashing detergent and dishsoap is key to keeping toxins out of our kitchens  
I highly recommend using a powder detergent or single use pods/pacs for your dishwasher.  Gels are known to be really hard on dishwasher motors, especially if you have hard water in your home.   Here are my top picks:
Rinse Agent
I personally use vinegar in my rinse cycle as it's just more convenient for my family and I always have it on hand.  The only other product I've found that's safe for the dishwasher in terms of a rinse agent is Nature Clean Rinse Agent.  
Dishsoap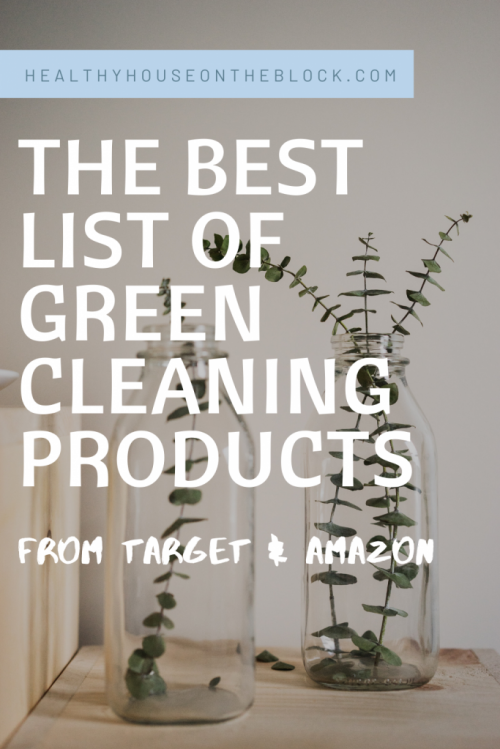 Air freshener Sprays
We all want our homes to smell nice — and I know this better than anyone.  I used to use scented candles and air freshener sprays constantly to make my home smell fresh and clean.  I would use Febreeze all over curtains, upholstery and carpets to freshen up my house. I wish I had known then what I know now.  I am so thankful I've made the healthy changes I have in order to limit and stop the use of these toxic products.
My favorite ways to freshen my home now are with essential oils in the form of sprays and diffusers.  I have loved the way the freshen my home, but also how they promote a healthy body as well. You can learn more about essential oils for your home here.
Fabric Refreshers
This is another area that I use essential oils all the time.  I love that I can deodorize fabrics with plant based ingredients that are safe for my family.  Furniture can emit more toxins than other areas of the home because the surface is warmed without body heat, allowing toxins to off-gas at a much higher rate.  If you're looking for a store-bought version rather than essential oils, you can try one of these brands listed below:
Non Toxic Tools & Supplies
Another tool I love is melamine cleaning sponges.  This can help clean your home without any solutions or products at all.  While melamine is not safe to eat off of, I do feel it's a great alternative to getting rid of tough stains and marks on hard surfaces.  You can simply wash the residue away with a non-toxic cleaner to be sure none of the melamine is left in your home.
I also love using microfiber cloths.  If you get some with silver, you also have a natural product that removes bacteria and disinfects.  
You can find even more additions (like cleaning brushes, the best spray bottles I've found and more) for your cleaning caddy in this post.
Cleaning your home with non-toxic cleaners is a great start when you're beginning to create a toxin free home.  Solutions and products we allow into our homes can really affect the indoor air quality, our bodies and our overall wellness.  By being the keeper of your home and allowing in only products that are natural and safe, you can reduce a large amount of body burden and begin to restore your home to be a place of healing from our toxic world.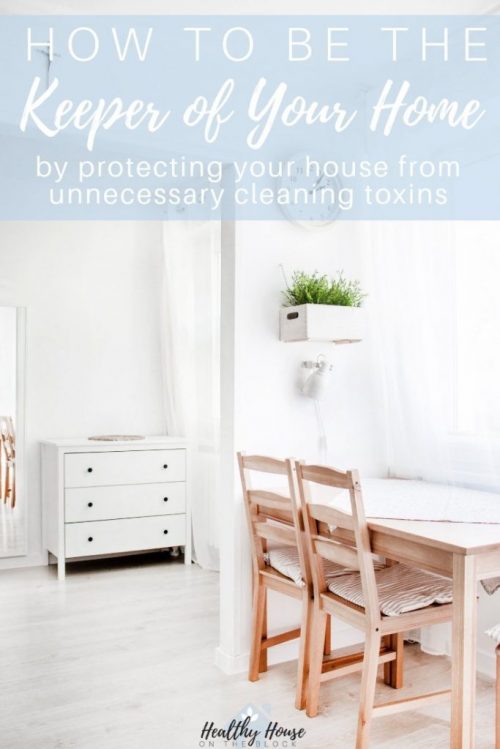 What are the best green cleaning products to use?
Plant based products are great alternatives to chemical cleaners and so are products that don't contain dyes or fragrances.  But check this master list first because some products say they're safe, green or toxin free and they really are not. This master list of green cleaning products will help make finding the safest, toxin free cleaners for your home. Many of these can be purchased at Target or Amazon and are the same price.