I always think that bathrooms are one of the last areas we consider when it comes to reducing toxins in our home.  Bathroom remodels can feel overwhelming because so much plumbing is involved and they can be a more expensive remodel in the grand scheme of things.  Planning out low toxin materials for any project, including a bathroom and the bathtub, is definitely a huge part of the healthy house puzzle.
Sometimes the planning is more work than the remodel itself when you're limited to low toxin products to incorporate inside your space.  But the work you'll put into carefully planning a toxin free bathtub will pay off in the end.  You'll not only reduce your toxin exposure at home (where it counts the most), but you'll also give yourself peace of mind for the whole family.
Because bathtubs are often used with warm water, there can be toxins leaching into water as well as off gassing into the air vapors.  Toxins in water droplets are even more toxic to the human body than toxins in drier air.  The water droplets can hold more toxins, and it can travel deep into our lungs in moisture form. 
Bathtubs come in so many different materials, and I'm going to share with you the ones to avoid and the ones that you'll want to seek out for your bathroom project.  Here's everything you'll learn this week:
Bathtub materials to avoid

Healthy bathtub materials

How to shop for non toxic bathtubs

Accessories for non toxic bathtubs

Healthy materials for installation
BATHTUB MATERIALS TO AVOID
Acrylic: Made from a variety of compounds that are mixed together to create an acrylic finish, many of the materials (including poly resins and plasticizers) contain phthalates and bisphenol toxins.  While the tub material is generally non-porous, prolonged UV exposure can degrade the surface layer over time and allow phthalates or bisphenol toxins into the air.
Fiberglass:  Fiberglass reinforced plastic is one of the least expensive and common bathtub materials out there.  It's often very lightweight and easy to install.  It's that builder-grade tub you see in most bathrooms when you're looking at homes built anywhere from the late 1980s until present day.  Many fiberglass tubs are coated with a gelcoat resin, which often contains VOCs.
Gel Coated Composites:  Usually a gel coat is added to fiberglass, but it can be used to seal in a variety of bathtub surfaces.  Gel coats are made of unsaturated polyester resin and vinyl ester resin, which contains the same components present in polyvinyl chloride, a harmful toxin, especially to children.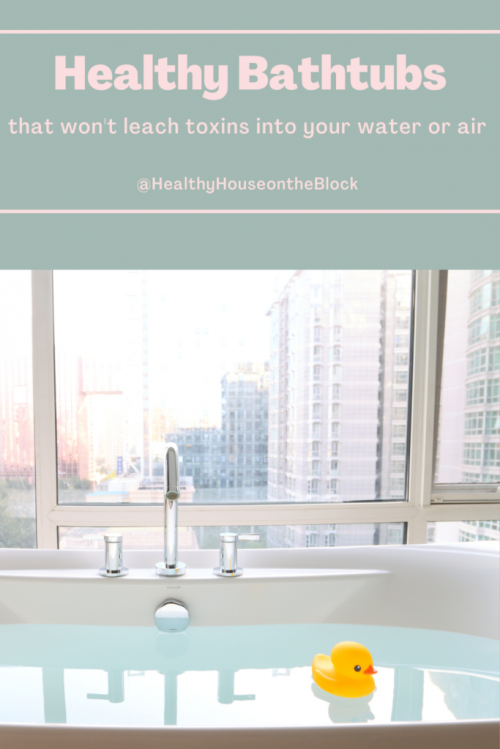 HEALTHY BATHTUB MATERIALS
Cast Iron:  An old fashioned favorite — you may have grown up with a cast iron tub in your own home.  New cast iron tubs are made completely free from lead, and those manufactured after 1984 likely have little to no lead in them as well.  Any bathtub manufactured prior to 1984 has the potential to contain lead, which can leach into the water and into your body while bathing. 
Cast iron bathtubs with a baked enamel finish is the most durable type of bathtub. This ensures they are naturally scratch and crack resistant. 
Lead Free Enameled Steel: Sometimes this is also called porcelain on steel.  Enameled steel is lighter than cast iron, but extremely durable.  The surface is also very scratch resistant, which as we know with any surface, is something you want to avoid due to potential mold and mildew growth as well as potential toxin exposure from interior materials. 
Solid Surface (Quartz):  Similar to countertops, a quartz and resin mix is a healthier option for a building material.  Try to find a surface that doesn't contain a gel coat as a sealant on the tub surface. Oftentimes a solid surface bathtub is seamless and in one piece, which means fewer spots for mold and mildew to grow.  They're also naturally resistant to stains and mold because they are naturally nonporous. 
HOW TO SHOP FOR NON TOXIC BATHTUBS:
Made in the USA:  Bathtubs that are manufactured in the USA adhere to our stricter safety standards.  Buying domestic products ensures that your product will not contain lead, which the USA does not allow in bathtub surfaces or materials.  Not every country has these same standards, which means you may be introducing toxins into your home.  
Safety Standards:   One of the biggest problems with tubs is that they don't legally have to provide a Safety Data Sheet like other products are required to provide.  THis can make it difficult to find information on the materials and the manufacturing process.  Most manufactures actually safeguard their fabrication process as proprietary information, meaning you may be unable to find out additional information about the tub.
You can look for the NSF/ANSI standard for tubs to ensure it's safety.
Third Party Certifications: GreenGuard Gold Certifications are available for bathtubs, and there are a few manufacturers who have earned this certification. It ensures that the product is manufactured in a way that is more environmentally friendly and the product itself contributes to better indoor air quality. 
Kaldewei: Made of enameled steel, Kaldewei is a healthier option for a new bathtub. They focus on sustainability and use natural raw materials and make sure their products are 100% recyclable after they have been used for a long lifetime.
Swanstone: Made with a reinforced solid surface allows the Swanstone bathtubs to be incredibly durable.  They also add a non-slip coating on the bottom of the tub, which is resistant to mold and mildew as well. All Swanstone products are GreenGuard Gold certified, making them an excellent choice for your bathroom remodel ideas.  
Kohler:  Made in the USA, Kohler's enameled steel tubs are a great option because not only are they easy to find in showrooms and in hardware stores, but they do not use any lead in the glazing of their tubs.  Some of their tubs are even GreenGuard Gold certified.
ACCESSORIES FOR A NON TOXIC BATHTUB:
Curtain: Hemp is a great alternative for shower a curtain material that is not only strong and durable, but is also naturally resistant to mold and mildew.  It's one of the best alternatives to a cotton or plastic shower curtain.  
A second alternative would be an organic cotton canvas material.  You would probably also want to have a toxin free liner with this one because it's not 100% water proof or mildew resistant.  
And what about the shower curtain liner — what do you opt for there?  I haven't found a 100% toxin free option other than hemp.  Some secondary options would be nylon or polyester, but because they are made with petrochemicals, they will off gas somewhat. 
Rawganique has a huge selection of organic hemp shower curtains that are completely affordable
Bathmat: Instead of just picking up any old rug for your non toxic bathroom, try to find a certified organic rug that is also GOTS certified.  This will ensure everything from the dyes used to the back of the rug are safe and non toxic for your bathroom space. I love Grund Rugs because they're organic, toxin free and super affordable. 
Chlorine Filter: Chlorine in your water is a HUGE health risk.  Chlorine strips the skin of normal oils and can cause rashes and drying in both hair and skin.  But chlorine can also advance the age of free radicals inside the body, mainly the skin.  This can increase the risk of melanoma and skin cancer. It also advances the process of aging skin. (STUDY)  A chlorine filter you can add to your shower head is an EXCELLENT solution for this: AquaBliss Shower Filter 
HEALTHY MATERIALS FOR INSTALLATION
When you're installing a new bathtub, you'll most likely need to adhere the tub to your bathroom walls and floor.  You'll want to seal water out in any spot you possibly can to prevent mold, mildew and potential leak issues. 
Many caulks and glues can have potential VOCs in the product that can be harmful to the indoor air quality inside your home.  Fortunately, there are some excellent options that you can pick up even at the hardware store.  The trick is to get something that is a quick cure or quick set.  The less time something is curing, the less time it will be off gassing into your space. 
The second thing you want to keep in mind is that water is essentially the enemy of most healthy homes. It's vital that we keep our spaces dry, and this can be extremely difficult in a bathroom.  Make sure you're choosing a high quality product that won't end up deteriorating in a short amount of time.
Below is my master list of caulking and adhesives for any bathtub project:
Bathrooms are often forgotten about when it comes to a healthy house, but really the bathtub and shower area can be a big area of potential toxin exposure.  Because the area is warm and there are vapors naturally in our shower and bath while we use it, we can inhale and absorb a number of VOCs and toxins that are naturally present in the space.  By choosing a low toxin bathtub for your bathroom, you can eliminate a large source of toxins in your home.