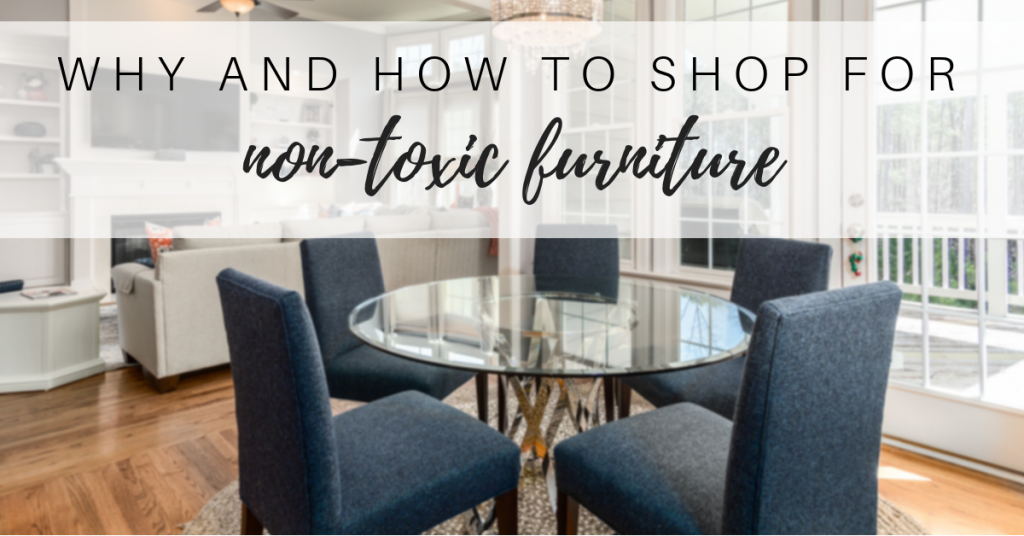 Part two of my healthy shopping series is all about your furniture at home and how to make an intentional purchase that is healthy and safe for your family.  If you missed part one, you can read it here as it's all about your home products and how to shop with your health in mind.
Luckily, unlike home products, furniture is rarely an impulsive buy.  Many times we shop around and carefully consider what we're purchasing.  However, most of the time the only things that get consideration are price, size and style.  Rarely do we purchase our furniture with our health in mind. But there's a growing movement to keep toxins out of the furnishings we buy.  This can be everything from solid wood table sets to upholstered headboards. It all makes a difference and it can all either make your home more healthy or introduce unwanted toxins.
While solid wood is the most desireable choice when it comes to furniture, it can be tainted with stains, varnishes and paints that contain high levels of VOCs.  VOCs, or volatile organic compounds are harmful to both our endocrine system as well as our nervous system. Many paints and stains are beginning to change to a VOC free formula, however this is often not the case when it comes to furniture.  If it's not advertised, then chances are it contains VOCS.
If you do research online you can often find safe alternatives and brands that embrace the healthy home environment.  You may also find that the particular brand you're interested in has their products in-store somewhere.
No matter what you do end up purchasing, even if it is VOC-free or Low-VOC, you'll want to make sure that it has ample time to off-gas when it comes to your home.  Allowing it to sit unboxed either in a room with open windows, outdoors or in a garage for at least 24-48 hours is ideal.
These chemicals create an increased risk of cancer as well as kidney and liver toxicity.  Another factor that comes into play with this chemical is that it takes a very long time to leave the body after it is absorbed into the bloodstream.  It has been found in urine and breastmilk long after exposure has occurred.
Flame retardants are now found in just about every piece of foam furniture.  They are used in everything from mattresses to foam found in couches and chairs.  Flame retardants are especially dangerous as they fall into the category of extremely high off-gassing rates when in a warm and humid environment.  Some flame retardants are labeled as PBDE and are starting to become a widely recognized toxins source. Looking for a natural flame retardant such as organic wool is helpful in replacing this chemical.

PBDEs have been linked to many problems, most of which occur in children.  Neurological effects are widely studied and connected to the toxins in flame retardants as are developmental delays in children.  Research has also shown that PBDEs disrupt the hormone production of certain hormones in some individuals, which can lead to fertility issues, weight problems and problems with mental clarity.
REFINISHING & REPURPOSING FURNITURE
Refinishing heirloom furniture or repurposing furniture is a great way to reuse items that may have been tossed.  However, while refinishing and repurposing is a great way to be eco-conscious, it can also be a way to introduce unnecessary chemicals and toxins into your home. 
Take extra precautions and really plan out your project before hand to make sure that you're not introducing VOCs or harmful solvents into your home. This means doing some research before you start and making sure that know what is in the products you're purchasing. 
It may also mean setting up an enclosed area to do your work.  Sanding paint should always be done either outdoors or in a closed off area.  It's also important to remember to use masks and disposable gloves in order to protect your skin and airways from debris that enters the air.
My free guide in the learning library will give you a checklist and step-by-step instructions  
GET YOUR FREE DOWNLOADABLE GUIDE IN MY FREE RESOURCE LIBRARY
Most of the time we don't consider this to even be in furniture as we KNOW that it's a chemical toxin.  But the truth of the matter is that it is in many furniture pieces. Formaldehyde is used in the strong adhesive glues in many pressed woods.  Furniture that is made with medium density fiberboard, plywood and particleboard often times uses these strong adhesives and many times there is formaldehyde present.  

Formaldehyde is also present in wrinkle-free fabrics, like those found in plush chairs and on couches.  Formaldehyde is in an agent added to the fabric fibers that prevents the fabric from wrinkling.

We know from studies and research that Formaldehyde is a carcinogen to the human body and should be avoided.  We also know that formaldehyde is a chemical toxin that does not leave the body very quickly. Once it enters the bloodstream through the skin or through inahalation of VOCs, it spends a long time traveling through the body, affecting many areas and systems.

Formaldehyde, like other toxins, off-gasses at a higher rate in the perfect environment.  This is a warm, humid environment, which is especially concerning when it comes to furniture.  As mentioned earlier, the heat from a body sitting on the furniture and the moisture from skin creates an optimal environment for the formaldehyde to off-gas at a high rate.

Looking for solid wood furniture is one of the best options and when it comes to fabrics, looking for a third-party seal is going to be a great tool.
Plastic furniture is a really popular choice right now and it's especially popular for dorm rooms and kids play rooms.  But plastic furniture is truly not the best choice when it comes to the health of our indoor air and indoor environment.  Plastics are filled with phtalates, which are becoming a well-known problem in terms of our health. Plastics with phthalates are a known hormone disruptor and eventually lead to reproductive problems  in both women and men.

If plastic can be avoided, it's best to do so and opt for a product that is natural instead.  Try to opt for solid wood or metals as an alternative. More natural pieces will most likely last much longer as well given the quality of the materials used.  

Looking for furniture can be a daunting task, but by using this guide, you can know exactly what to ask manufacturers.
THIRD PARTY CERTIFICATIONS
Truly, you'll want to make shopping for furniture as easy as possible — it's already an incredibly daunting task.  Looking for the third party seals like GOTS, GREENGUARD and GOLS will help you find a product that has been properly tested and certified as healthy and safe.  
You can also get my printable shopping guide to help you know exactly what to look for when shopping for the perfect piece of furniture.  It's a large purchase and should be done with care and consideration for the health of your home and family.