When you begin to detox your home and swap out products, eventually you get to a point where you're looking into those bigger items in your home.  Specifically, I'm talking about furniture.  And the hunt for non-toxic furniture and a non-toxic couch can leave you at a dead end.  It seems like if you want a truly safe and non toxic piece it will cost you a second mortgage on your house to get one.  
This left me SO frustrated in the sense that I didn't want to pollute my indoor environment by bringing in toxins with my furniture, but I also didn't want to spend an exorbitant amount of money on a new non-toxic couch.  This left me at a complete standstill on my hunt for non toxic furniture and I had to take a step back.  
Frustrated and stuck, it took a mindset shift to get going again. I began to realize that this was just part of the process — the research part of finding non-toxic products and home items was a part of the healthy lifestyle I wanted for my family.  It's also a part of every plan I write up for my clients.  Just because this particular challenge was taking me longer, didn't mean there weren't plenty of options out there.
Today I'm excited to share with you some affordable non-toxic couch options and why it matters to your health and your family's health.
Let's start with the basic components in couches.  Generally there is a frame of some sort (made of wood or metal) and then there's foam and/or cushions and finally a fabric covering.  
All three of these components typically contain toxins of some sort that should really be avoided if you're trying to create a healthier home environment.
Couch Frames:  The couch base or frame is often made of some type of wood. Many couches do not use a solid wood frame or components, but instead use a medium density fiberboard, plywood or particle board within the frame and for other wood pieces.  A couple  weeks ago I shared with you the toxins such as formaldehyde that are present in plywood (you can read that here). 
There is also a concern with the toxins that are present in the glues and adhesives used in the frame of couches.  Many times the main culprit is formaldehyde, which is a cancer causing solvent.  But there are also other VOCs in adhesives, glues and plywoods that can pose health concerns. One of the other big offenders in adhesives is phthalates, which can contribute to kidney damage, allergies, asthma and birth defects.   Benzene is another toxin that is in many glues but has also been linked to different types of cancers and neurological issues.
Couch Foam: This is probably one of the BIGGEST areas of concern when it comes to our furniture and specifically couches and sofas.  The foam inside the couch may seem like a harmless part of the structure, but in actuality it's one of the most toxic parts of a couch.
Foam is often a synthetic, man-made product that is also coated with flame retardants.  If you missed my post about flame retardants, you can read up on it here.  Basically, flame retardants disrupt the natural hormone production within our bodies, suppresses the immune system, causes developmental delays and reduces neurological function in otherwise healthy individuals.  That's  a lot of harm that flame retardants are doing while we're sitting on our couch watching a movie.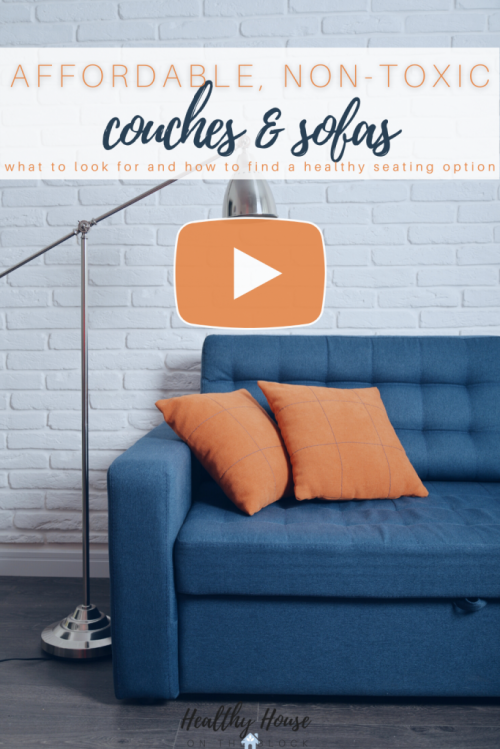 Synthetic foams also can contain polyurethane.  The majority of foam cushions are made of this type of material, which is derived from petroleum.  Polyurethane foam emits VOCs into the air within your home and these volatile organic compounds (diisocyanates) are known to cause respiratory problems, damage to skin and are a probable carcinogen.
Couch Upholstery:  The upholstery on couches is far from a natural fiber oftentimes.  Instead we have the toughest man-made materials we can stretch over the foam and the frame to prevent any sort of wear, staining or moisture absorption.  These man-made fabrics are often treated with formaldehyde products and PFOA products that prevent staining and spills. 
Formaldehyde as we talked about earlier is a known carcinogen and causes respiratory irritation.  Formaldehyde is added to prevent any wrinkling within the fabric and is often embedded right into the fabric.  The other chemical added to surfaces on couches is PFOAs, you may also remember this is the same chemical in teflon.  It's a known carcinogen, contributes to increased diabetes risk, suppressed immune function and liver toxicity.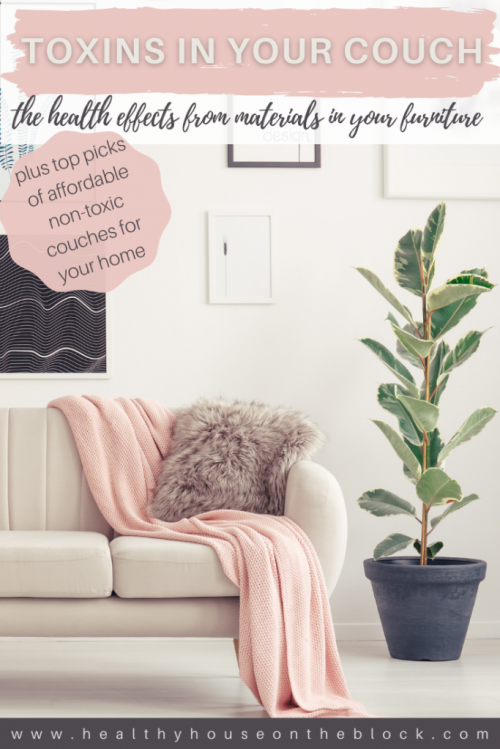 So why do these toxins matter when it comes to our furniture?  There are few big things to consider when talking about just how the toxins in a couch affect you and your family.
Skin Absorption:  When we sit on a couch or any piece of furniture, our bodies warm the cushions and upholstery in the sofa.  Our bodies also emit moisture from our skin, which creates a higher relative humidity around the furniture.  VOCs off-gas at a much higher rate in a warm, humid environment, and we are therefore causing the VOCs in the couch to off gas more when it's in use.
Not to mention our skin is in direct contact with the toxins on the top of the couch like PFOAs and Formaldehyde. Once our skin absorbs these toxins they make their way to our bloodstream and organs.  Chemicals like PFOAs have a very long life and can stay in the body for YEARS after coming in contact with it.
Inhalation: Another way we come in contact with toxins is through our breathing.  Our lungs are an organ and the tissue in our lungs also absorbs various toxins we come in contact with throughout the day.  Any product that contains a VOC is often something that has concern for being airborne and able for us to inhale.  
You can also consider the fact that you may lay on a couch with your face in close proximity to the foam and upholstery.  This means that you can inhale even more concentrated levels of VOCs while you're on this piece of furniture.
Kids have an increased risk: Children who are younger are probably at the greatest risk when it comes to the toxins we're talking about in couches.  First and foremost, they're smaller and therefore small amounts of a toxin can affect them much more than an adult.  Second, they often have poor hand-to-mouth habits and a lot of the fibers and dust from these couch components end up in their mouths.  This is due to the fact that they play more on floor surfaces where dust settles and they often have their hands in their mouths frequently.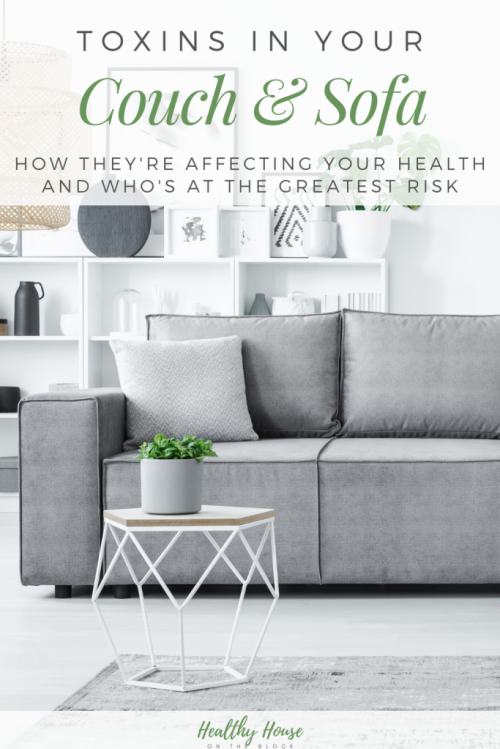 STEP BY STEP GUIDE TO BUYING A NON TOXIC COUCH
Shopping for a new non toxic couch doesn't have to be stressful or overwhelming.  I promise it can actually be a fun and SUPER rewarding experience.  
I have outlined the exact checklist you need when you're shopping for a non toxic couch.
It's the list I use with all my own clients and now you can get the SAME checklist and more in-depth information. 
It's all in my Healthy Home Blueprint Course, which has an entire less JUST on furniture.
Savvy Rest is my top pick for a non-toxic couch.  They offer a complete set from chairs, to loveseats and couches.  
The interior is made with a natural Talalay latex and is Cradle to Cradle Gold Certified.  They don't use any flame retardants in their products either.
Any wood they use is certified sustainable maple and they include zero-VOC finishes and oil to protect the exterior of your product.  
The interior construction of their non-toxic couch is built without any formaldehyde glue and all adhesives they use are GreenGuard Certified.
The fabric on these non toxic couch picks are made of organic materials like wool, hemp and cotton.  and contain absolutely NO flame retardants or other topical treatments.
I love that you can customize your sofa or non toxic couch with a variety of organic fabrics in all kinds of hues.
I also have an exclusive coupon code for 20% off your purchase.  Just use HHOTB20 at checkout.
(If you are looking at the Verona Sofa, choose threshold delivery rather than white glove and add your coupon — for a deeply discounted price)
Daisy Organic Natural Sectional Sofa by The Futon Shop:  You can choose the color of the upholstered organic cotton if you're not into white. Contains the FSC certification for it's solid pine.  Uses coconut Coir infused with latex.  This non-toxic couch has a no-glue finish and no flame retardants.
Zavis Sofa by Medley:  With a variety of different leg options and fabric options, you can customize this couch to your space. The frame is solid wood certified by FSC and the foam is a certified organic natural latex. They contain no fire retardants, formaldehydes or pesticides in any of their materials.
Sullivan by Maiden Home: You can choose fabric or natural leather and customize this piece to be the width you want.  These non-toxic couch picks are hand made and don't contain any flame retardants or biocides in the fabric or foam.  They are made with solid wood at the core.
Arch Nomad Sofa by Burrow:  This couch is made of responsibly sourced wood and not treated with any sort of chemical or toxin. They use no formaldehyde, PFCs or chemical additives.
Organic and Healthy Inc., Eco-Sofa:  Simple design with non-toxic wood frame and chemical free kapok cushions.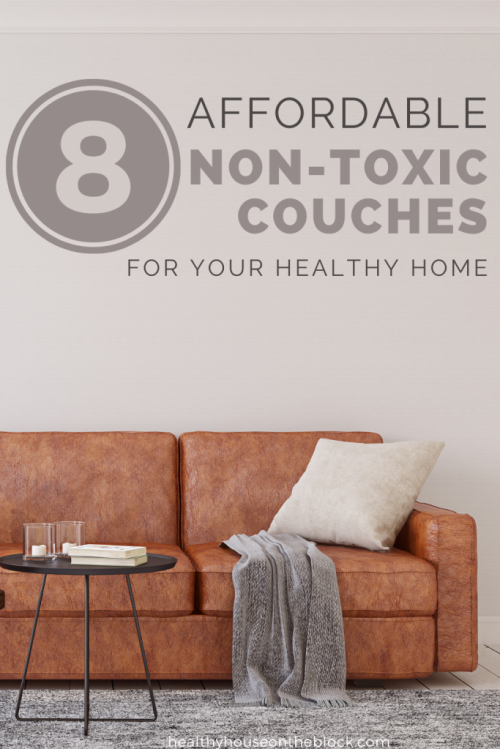 CARING FOR NON-TOXIC FURNITURE
Caring for your non-toxic couch and non-toxic furniture should be a high priority as you want to keep these for a long period of time.  It's definitely an investment.  
Spot Treater:  If you have kids, you know that having a good, non-toxic spot treater around is key when it comes to keeping your furniture nice.  I use my Thieves Cleaner and a clean towel to spot treat our couch and have never been happier. You can find a concentrated green cleaner and do the same.
Rotate Cushions:  Some non-toxic couch picks give you the option to rotate your cushions.  You can simply flip them over or you can switch which spot it is at on your couch.  Swapping cushions will give your couch even wear over time.
Vacuum Regularly:  Vacuum your cushions and underneath your cushions on a regular basis to make sure you're getting up dust, dander and dirt. 
Ample Ventilation:  Make sure the space your non-toxic couch is in has ample ventilation.  This means lots of air flow through open windows, ceiling fans and HVAC vents to keep the air moving.
Organic Protective Covers:  If you're worried about your couch getting stained or ruined too quickly, opt for an organic protective cover.  You can buy them or you can have one custom made to fit your sofa.