One of my BIG goals in my home is to finally have ALL low toxin furniture.  We've made some pretty good choices with the last several big furniture purchases we've made. I'm also a believer in using things until I have to get rid of them.  And toxin free furniture is something that has just ended up being one of the last things we've brought into our house.  Using things until I truly need to replace them is something that I think is actually a good habit to be in.  
I'm more in the camp of going toxin free with a new purchase than necessarily throwing out something I currently have just to replace it with a toxin free item.  And so while I wait for the day we change out a sofa or sectional, I've done lots of research so that I'm ready for when the time comes to replace our furniture.
This is one of my best tools for creating a healthy home: planning.  Planning out what I intend to purchase and getting an idea of costs and where I plan to purchase a larger item has made creating a healthy home a lot less stressful for us.  If I do the work now and know what I plan to replace an item with in my home, I take all the guesswork out of the stressful process.  I suddenly know exactly what I want to do.
It's also a great opportunity to be able to watch for sales or hunt down coupons.  Whatever the reason is, I think that creating a plan is the best course of action for everything from furniture to habits I want to create for my home.  (It's the whole idea behind The Healthy Home Blueprint, which you can get on the waiting list for the next time the doors open).
So in case you're a few steps ahead of me, I'll share with you the things I've been looking for in a toxin free furniture purchase for our home.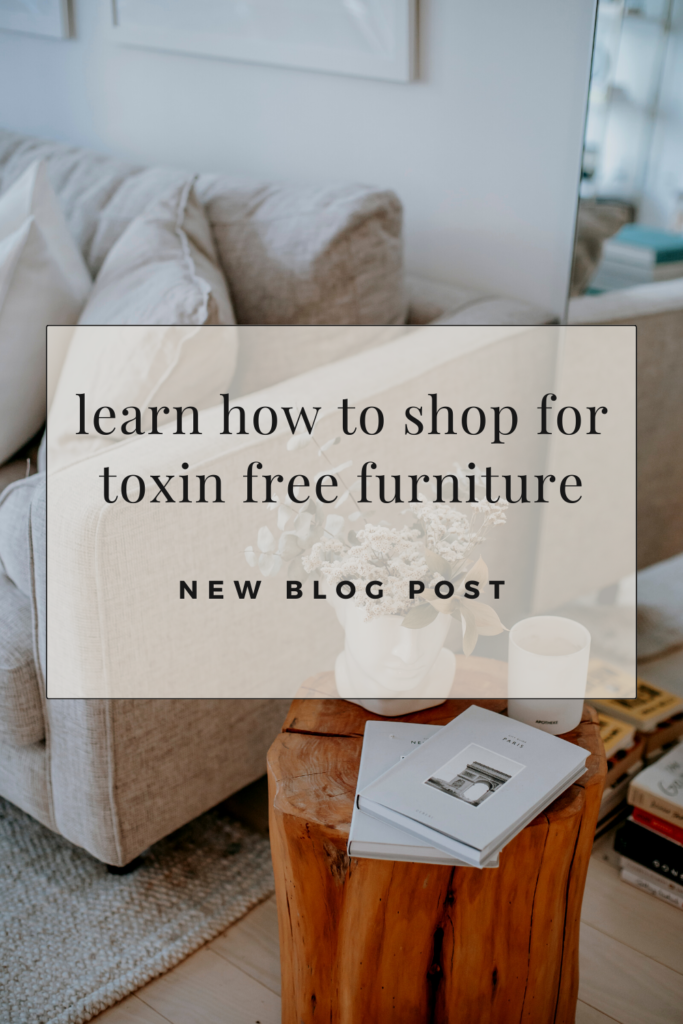 Wood Frame: Whether you're buying solid wood furniture or you're purchasing an upholstered piece, wood of some kind is going to be at the heart of your furniture.  The best option for any furniture is going to be solid wood instead of a man-made wood like particle board, medium density fiberboard or plywood.
These man-made woods contain formaldehyde (unless otherwise stated) in the adhesives that hold the small pieces of wood together.  This is also the least structurally sound type of frame for furniture.  We know that formaldehyde is carcinogenic as a long term effect and can cause headaches, sleep disturbances and difficulty concentrating a short term effect (STUDY).  
Man-made woods also contain polyvinyl acetate, which is not mentioned as often as formaldehyde, but is also carcinogenic and causes damage to the liver. (STUDY)
Adhesives:  Even if furniture is made of just solid wood, chances are there is adhesive SOMEWHERE in the pieces to hold the components secure.  Even if there are screws holding furniture together, they're likely reinforced by an adhesive of some kind. And again, the concern for this is the formaldehyde and VOCs that are present in adhesives and glues that are used in commercial applications.  
But there are also other VOCs in adhesives, glues and plywood that can pose health concerns. One of the other big offenders in adhesives is phthalates, which can contribute to kidney damage, allergies, asthma and birth defects.   Benzene is another toxin that is in many glues but has also been linked to different types of cancers and neurological issues.
Foam: This is probably one of the BIGGEST areas of concern when it comes to our furniture and specifically couches and sofas.  The foam inside the couch may seem like a harmless part of the structure, but in actuality it's one of the most toxic parts of a couch.
Foam is often a synthetic, man-made product that is also coated with flame retardants.  If you missed my post about flame retardants, you can read up on it here.  Basically, flame retardants disrupt the natural hormone production within our bodies, suppresses the immune system, causes developmental delays and reduces neurological function in otherwise healthy individuals.  That's  a lot of harm that flame retardants are doing while we're sitting on our couch watching a movie.
Synthetic foams also can contain polyurethane.  The majority of foam cushions are made of this type of material, which is derived from petroleum.  Polyurethane foam emits VOCs into the air within your home and these volatile organic compounds (diisocyanatos) are known to cause respiratory problems, damage to skin and are a probable carcinogen.
Upholstery & Covering: The upholstery on couches is far from a natural fiber oftentimes.  Instead we have the toughest man-made materials we can stretch over the foam and the frame to prevent any sort of wear, staining or moisture absorption.  These man-made fabrics are often treated with formaldehyde products and PFOA products that prevent staining and spills. 
Formaldehyde as we talked about earlier is a known carcinogen and causes respiratory irritation.  Formaldehyde is added to prevent any wrinkling within the fabric and is often embedded right into the fabric.  The other chemical added to surfaces on couches is PFOAs, you may also remember this is the same chemical in Teflon.  It's a known carcinogen, contributes to increased diabetes risk, suppressed immune function and liver toxicity.
TOXIN EXPOSURES FROM FURNITURE:
So why do these toxins matter when it comes to our furniture?  There are few big things to consider when talking about just how the toxins in a couch affect you and your family.
Skin Absorption:  When we sit on a couch or any piece of furniture, our bodies warm the cushions and upholstery in the sofa.  Our bodies also emit moisture from our skin, which creates a higher relative humidity around the furniture.  VOCs off-gas at a much higher rate in a warm, humid environment, and we are therefore causing the VOCs in the couch to off gas more when it's in use.
Not to mention our skin is in direct contact with the toxins on the top of the couch like PFOAs and Formaldehyde. Once our skin absorbs these toxins they make their way to our bloodstream and organs.  Chemicals like PFOAs have a very long life and can stay in the body for YEARS after coming in contact with it.
Inhalation: Another way we come in contact with toxins is through our breathing.  Our lungs are an organ and the tissue in our lungs also absorbs various toxins we come in contact with throughout the day.  Any product that contains a VOC is often something that has concern for being airborne and able for us to inhale.  
You can also consider the fact that you may lay on a couch with your face in close proximity to the foam and upholstery.  This means that you can inhale even more concentrated levels of VOCs while you're on this piece of furniture.
Kids have an increased risk: Children who are younger are probably at the greatest risk when it comes to the toxins we're talking about in couches.  First and foremost, they're smaller and therefore small amounts of a toxin can affect them much more than an adult.  Second, they often have poor hand-to-mouth habits and a lot of the fibers and dust from these couch components end up in their mouths.  This is due to the fact that they play more on floor surfaces where dust settles and they often have their hands in their mouths frequently.
HOW TO SHOP FOR NON TOXIC FURNITURE:
Shopping for new non non-toxic furniture doesn't have to be stressful or overwhelming.  I promise it can actually be a fun and SUPER rewarding experience.  
I have outlined the exact checklist you need when you're shopping for new, non toxic furniture.
It's the list I use with all my own clients and now you can get the SAME checklist and more in-depth information. 
It's all in my Healthy Home Blueprint Course, which has an entire lesson JUST on furniture.
Here's a sneak peak of what to look for:
Solid Hard Wood in either the frame or as the furniture piece

VOC free Glues & Adhesives

VOC free finishes (paints or stains and varnishes)

Natural Latex Foam (if the furniture has foam)

Untreated, undyed upholstery

GOTS Certified for Fabrics & Textiles

GOLS Certified for any latex foam

TB117-2013 Label (for no flame retardants added)
NON TOXIC FURNITURE BRANDS: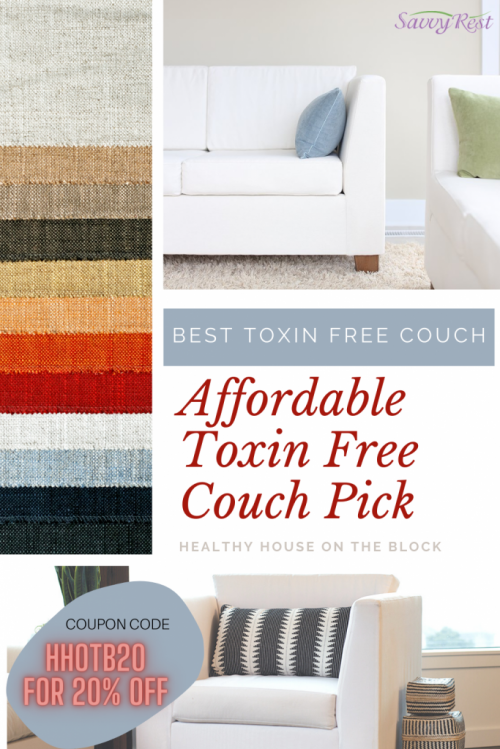 Savvy Rest is one of my favorite toxin free furniture brands.  They offer a complete set from chairs, to loveseats and couches.  
The interior is made with a natural Talalay latex and is Cradle to Cradle Gold Certified.  They don't use any flame retardants in their products either.
Any wood they use is certified sustainable maple and they include zero-VOC finishes and oil to protect the exterior of your product.  
The interior construction of their non-toxic couch is built without any formaldehyde glue and all adhesives they use are GreenGuard Certified.
The fabric on these non toxic couch picks are made of organic materials like wool, hemp and cotton.  and contain absolutely NO flame retardants or other topical treatments.
I love that you can customize your sofa or non toxic couch with a variety of organic fabrics in all kinds of hues.
I also have an exclusive coupon code for 20% off your purchase.  Just use HHOTB20 at checkout.
(If you are looking at the Verona Sofa, choose threshold delivery rather than white glove and add your coupon — for a deeply discounted price)
Avocado: You may know of avocado as a mattress brand, but did you know they also have a line of beds and  bedroom furniture? Not only is it toxin free, but it is absolutely gorgeous.  All of their bedroom furniture is made from natural hardwoods that are often upcycled or sourced domestically. 
They also use all ECOS water-base stains on their wood furniture, which are VOC free and one of the healthiest options when it comes to toxin free finishes. And for adhesives, they use all Tite-bond products, which give off no fumes or VOCs.
Avocado has earned the Greenguard Gold certification for all their wood products and all wood is FSC sourced and certified.  
And one of the best things is their furniture is hardware free and extremely easy to assemble.  Plus it's timeless in appearance and is a buy it for life type of piece.
The Futon Shop: They're not just futons anymore!  The Natural Home by the Futon Shop has an extensive line of non toxic furniture that is handcrafted in San Francisco.  From bed frames to sofas of all kinds (even modular sofas and sectionals) it's all done in a healthy and non toxic way.
Natural Home uses natural latex wrapped in wool for the interior of the furniture.  Their latex is GOLS certified.  And the upholstery is always made of natural and organic wools, linens and cottons — all USDA organic.
They're sofas contain ZERO chemical flame retardants and are 100% petro chemical free, which means you're avoiding all kinds of toxins that are typically on the outside of most conventional sofas.  They don't use any petroleum based foams, just natural latex foam along with non-GMO potato based PLA fiber.
One of my favorite additions to their furniture is that they now have an organic upholstered bed frame and headboard.  All their bed frames are made of 100% FSC certified solid wood and their hemp fabric headboards are GOTS certified. 
Other favorite low toxin shops:
Medley:  With a variety of different leg options and fabric options, you can customize this couch to your space. The frame is solid wood certified by FSC and the foam is a certified organic natural latex. They contain no fire retardants, formaldehydes or pesticides in any of their materials.
Maiden Home: You can choose fabric or natural leather and customize this piece to be the width you want.  These non-toxic couch picks are hand made and don't contain any flame retardants or biocides in the fabric or foam.  They are made with solid wood at the core.
Article: While not a completely toxin free company, they have committed to using solid wood frames and are free from formaldehyde, free from flame retardants and free from PFAs.  It could be a great option for a high quality low toxin piece.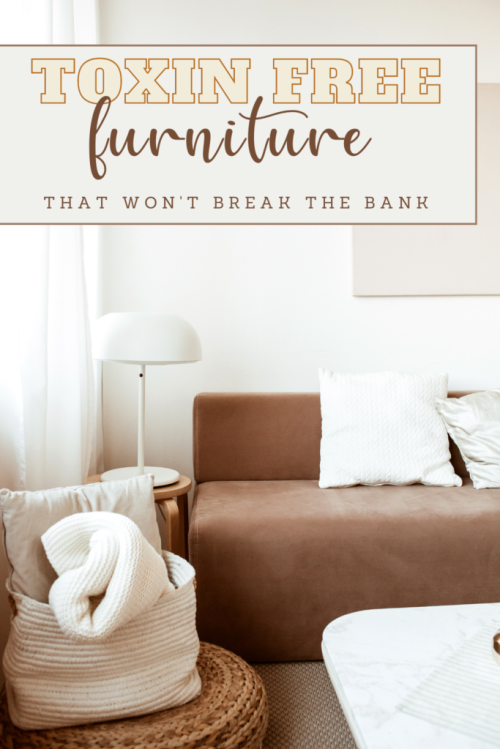 CAN'T GET NON TOXIC FURNITURE YET? HERE'S WHAT TO DO:
Vacuum Regularly:  Vacuum your cushions and underneath your cushions on a regular basis to make sure you're getting up dust, dander and dirt.  This will help with any sort of dust created from the product that could contain toxins and end up floating around your air and your home.
Ample Ventilation:  Make sure the space your non-toxic couch is in has ample ventilation.  This means lots of air flows through open windows, ceiling fans and HVAC vents to keep the air moving.
Organic Protective Covers:  A cover can be a great way to reduce the spread of dust and fibers from your sofa throughout your home. You can buy them or you can have one custom made to fit your sofa.
VOC Blocker: AFM Safecoat has a few options for VOC blockers that can be used on finished wood and man made wood products such as plywood and particle board.  The painted on solution blocks VOCs from off-gassing and can make your current piece that much healthier.
Remember that toxin free furniture can come in all shapes and sizes — you could find a very low toxin piece second hand, or sometimes even custom furniture is really not that much more expensive.  But whatever you decide to do, make sure you have a plan for your budget and your purchase before you pick out that new piece of toxin free furniture.