I'm sure you are already aware of just how far wallpaper has come over the last several decades.  I'm sure we can all remember our home or someone else's home from growing up that had just SO. MUCH. WALLPAPER.  From birds to flowers to themed rooms — where are all my '80s and '90s kids at?!  And as with anything, you know that these trends usually come full circle, and so here we are again ready to embrace wallpaper one more time.  But this time — knowing more about our health and wellness and knowing more about healthy products, let's aim for non-toxic wallpaper to spruce up our walls.
I'll admit I was very unsure about wallpaper coming back, but after I saw a few of my client's homes with BEAUTIFUL patterns and tasteful peel and stick wallpaper on just ONE wall of a room, I kind of fell in love with it.   And as with anything I bring in my house now — I know that I get to be the gatekeeper and I get to decide if this is something that fits my family's healthy lifestyle.  
I love that we get to make ALL the decisions for our own homes moving forward.  You might be starting in a spot with a more toxic home than others, or maybe you've been able to reduce a lot of the toxins in a typical home already.  Either way, moving forward is what counts.  Any purchase you make or building material you bring inside is something that you get the final say on.  So while you might be like me — itching to do just ONE wallpapered wall — you might also be like me and wanting to make sure that I'm really choosing the RIGHT non-toxic wallpaper.
I'm excited to share with you everything I know about wallpaper this time around and how you can find your own non-toxic wall paper options — or even alternatives to wallpaper if you  like the look but just aren't up for it.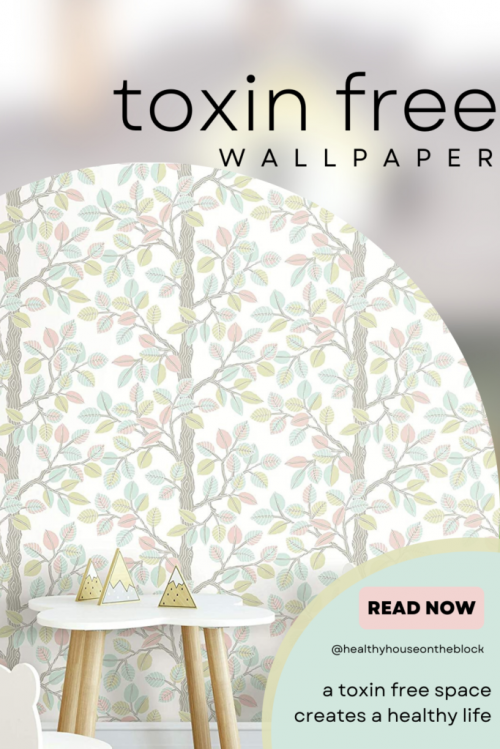 TOXINS IN STANDARD WALL PAPER
Wallpaper has quite a few different toxin potentials due to not only the adhesive, but the paper that needs to be SUPER durable.  Let's look at some of the big toxins found in most wallpapers:
VOCs:  Many of the adhesives used in wall paper can contain VOCs as well as the inks that are used.  You can find both low VOC and zero VOC options in wallpaper pending on what level of healthy wallpaper you're looking for.  
VOCs are dangerous in our homes because they often have no place to escape.  And the build up of VOC toxins inside will negatively affect the health of anyone living in that space.  When we think about the sheer surface area of wallpaper, it can have a huge impact on the health of your space over time. (This post will walk you through everything you need to know about VOCs and your health and home)
PVC Toxins:  Most wallpaper has a top layer that is made of PVC/vinyl to make it extra durable.  This coating contains plasticizers, which isn't going to be measured as a VOC.  It's also not going to be regulated by the GreenGuard Gold certification.  This is why it's important to find a brand that has a PVC free product.  It's probably safe to assume that a wallpaper product that does NOT claim to be PVC free is probably going to contain this toxin. 
PVC, or polyvinyl chloride is particularly harmful to kids, and so if you're thinking about wallpapering a nursery or kids' space, it's definitely a component to consider.  PVC is an endocrine disruptor and has been linked to childhood obesity, developmental delays, increased risk of cancer and abnormal reproductive development. (This post about PVCs goes really in depth on their effects and your home. )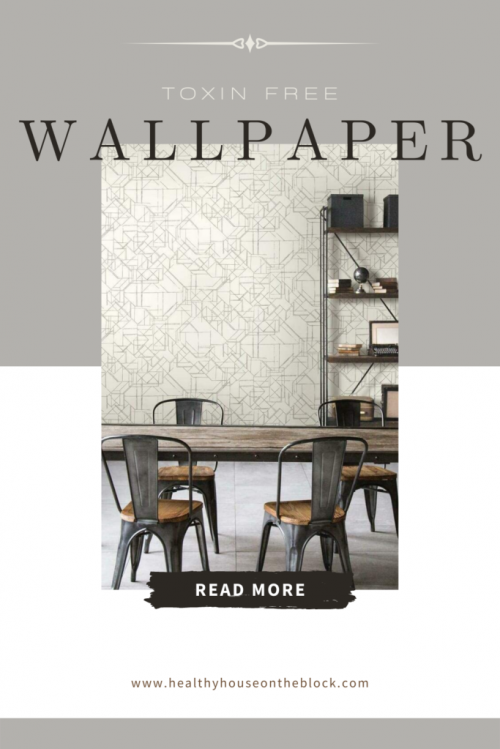 Flame Retardants: Thankfully most wallpapers don't contain flame retardants any longer, but it is still added to a few of them.  While Brominated Flame Retardants are generally used, you do need to watch for the newer intumescent flame retardant, which while it is safer, is not completely non-toxic.  Depending on if you're looking for low toxin or completely toxin free, this is something you'll want to be aware of.
Brominated flame retardants have a LONG list of health issues linked to them (thyroid dysfunction, immune suppression, delays in childhood development, cancer and more).  While I would generally worry about this slightly less than if the flame retardants are in surfaces you use for sitting or sleeping on, it's definitely still something you can avoid if you want.  
Heavy Metals:  Special inks used in wallpaper have most commonly been made from a variety of heavy metals.  The big culprits here are cadmium coming in first followed by lead, mercury and arsenic. 
Heavy metals are unique in the sense that they build up in the bloodstream, which means our body doesn't detoxify them quickly or efficiently when being constantly exposed.  Heavy metals don't off gas, and so the concern comes from physical touch, or small particles becoming airborne and being inhaled.  
And the greatest concern for heavy metal exposure is children due to their smaller size than adults as well as the fact that their bodies don't detoxify these things out of their system as quickly and efficiently as adults do.  The risks are also great when it comes to children as their brains are still developing, which is where heavy metals can negatively affect their growth.
TOXIN FREE WALL PAPER & ALTERNATIVES
With anything that I teach or help with, there IS a healthier way here.  You just have to know what your toxin free options are when it comes to non-toxic wallpaper and maybe even what some alternatives are instead of wallpaper. 
With wallpaper you can go two different ways when it comes to the kind of product you want.  You can opt for peel and stick wallpaper or the good old fashioned wallpaper you use with adhesive. 
Peel and stick wallpaper is definitely easier to find and it's an option that you can probably DIY in your house if you're up for it.  MOST of the non-toxic wallpapers are peel and stick wallpapers, which has a huge benefit in terms of VOCs.  MOST VOCs off gas while a product is curing or drying (such as adhesive used with standard wallpaper), which is eliminated with peel and stick wallpaper. 
On the other hand, you may have more control over your project if you use a standard wallpaper with wallpaper adhesive.  There are a few great options for non-toxic wallpaper adhesive that you can use with different types of standard wallpapers.  Below are some of the best non toxic options for adhesives you can find:
And obviously, if you choose to forego wallpaper, there is the option of stenciling a design on your wall to make it appear like wallpaper.  I love this option, but it's extremely tedious.  If you have the time, you can easily find non toxic paint and a stencil design you want to make a completely toxin free wall design.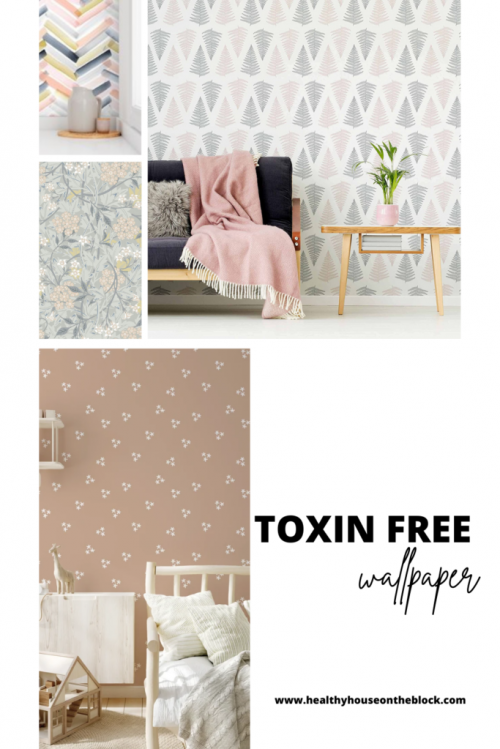 HOW TO SHOP AND FIND THE TOXIN FREE WALLPAPER YOU WANT
Certifications:  There are a few certifications that apply to non-toxic wallpapers.  One of them being the GreenGuard Gold Certification.  Now, just a word of warning that sometimes one element of the wallpaper is certified, and not necessarily the ENTIRE wallpaper product.  Oftentimes GreenGuard Gold is for things like ink and adhesive, and does not take into consideration PVC toxins all the time.
There are other third party tests and certifications that exist that aren't as well known, and this is basically telling you that the product was reviewed by another unbiased third party and certified that it may not use a particular toxin or chemical. And example of this might be the Nordic Swan Environmental Standard or FSC Certification
Avoid Big Box Stores:  Unfortunately you probably won't have too much luck finding non-toxic wallpaper in big box stores because most of the wallpaper companies who care about health and toxins are much smaller than those in hardware stores.  Plan to do a lot of your wallpaper shopping online from small companies or from online stores that specialize in non toxic products for the home.
Use a List:  My list below for non toxic wallpaper companies is a great place to start.  It doesn't mean that it's the ONLY list of non toxic wallpapers you should use.  There are other great resources online that will link you to healthy and safe wallpaper companies and options. WIth the number of designs that so many companies have, hopefully you'll be able to find a pattern or wallpaper you like without having to search too far. 
Decide on Toxin Free or Low Toxin:  I say this in so many of my posts,  but sometimes you might decide that a LOW toxin change is the way you and your family want to go.  That is 100% OKAY.  Seriously.  We've made plenty of low toxins swaps as opposed to toxin free and we'll continue to do that in the future.  The truth is we don't have an unlimited budget and we feel pretty good knowing that we've at least made a healthy improvement to our house rather than leaving it as it was.  That being said, there are a lot of options for both in this non toxic wallpaper space.  The biggest difference is going to be price.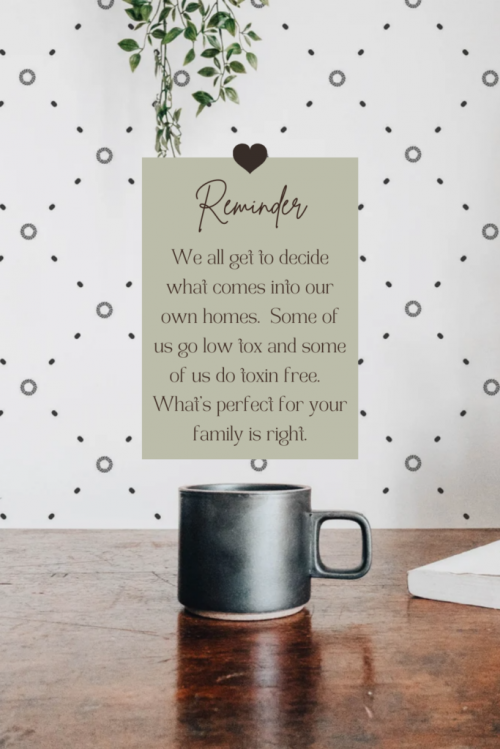 MY TOP PICKS FOR NON TOXIC WALLPAPER
SpoonFlower: PVC free paper, cloth options, non-toxic, peel and stick
La Grand Classique (Etsy Seller): Eco-Friendly, PVC free (certified), peel and stick, water based inks
Chasing Paper: GreenGuard Gold Certified Ink, Peel and Stick
Walls By Me: Peel and Stick, Non-toxic Inks, GreenGuard Gold, PVC Free
Farrow & Ball: Zero VOC, water based inks, PVC free, flame retardant free
Allira Tree (Hygge & West):  PVC Free, Acrylic based inks, Greenguard Gold Certified, Pasted wallpaper
Flat Vernacular: PVC free, low voc water based inks, no heavy metals, grasscloth coverings
Lisel Jane Ashlock (Hygge & West): PVC Free, Acrylic based inks, Greenguard Gold Certified, Pasted wallpaper
Makelike: No PVC, no flame retardants, natural dyes and inks
York Wallcoverings: Member of the GreenBuilding Council, uses raw materials, low VOC, water based ink, 
Magnolia HOme by Joanna Gaines: Low VOC, water based inks, heavy metal free
While I know that wallpaper may not be for everyone, it definitely is something I've wanted to try in a few small spaces of our home.  I love being able to find non-toxic options for any home project as we work on our house little by little. It's a great way to make sure the indoor space supports your health rather than burdens your body down.