As I knew I was going to be stuck at home during the month of April, I decided ahead of time I was going to be painting during our mandatory time at home.  I wanted a brighter look or our office space and our main living area, and being at home is a great time to do this. As I started looking at paint options, I knew I was going to want a non toxic paint for my room.
But what exactly was a non toxic paint?  Was it just something with low VOCs, or was it a paint that had a GreenGuard Gold label?  I began to compare the VOC content in different types of paint, but then wondered if that was the only thing I should be looking at.  This is what spurred on this research on paints, and  
That being said, I think any non-toxic paint you can find, whether low VOC or no VOC is a step in the right direction. I'll be honest, with my project being something I started last minute before stores and deliveries were halted by our mandatory "Stay Home Order", I just opted for the best non toxic paint I could get my hands on, which was Behr Premium Plus.  
As much as maybe I wanted to order an even MORE non toxic paint, I knew I just wouldn't get it in time.  So I made the best choice possible at that time. This is so true of EVERYTHING in your home. Make the BEST choice you CAN.  And then stop worrying about it. If we can make even just small steps forward, they're changes that add up.
Let's dive in and talk about the basics of non toxic paint for your healthy home's interior.
APE Free: APEs, or Alkylphenol Ethoxylates are a group of chemicals that are used as surfactants in acrylic paint.  This helps the paint create a tension between the liquid and solid form as it dries. This additive is not biodegradable and disrupts hormone production as well as causes reproductive harm and birth defects. (STUDY)
Free of AntiMicrobials: Antimicrobials are often added to paint to prevent bacteria in the product (give it a longer shelf life) as well as minimize the staining on the paint after it's applied.  Antimicrobials disrupt hormone production and have impacts on the reproductive system and on child development. On top of which, antimicrobials are harmful to our aquatic organisms and animals (INFORMATION)
No Colorant VOCs: Typically, the deeper the pigment of the paint, the more VOCs are typically in the paint.  Opting for a lighter shade is generally a fool-proof way to find a more non toxic paint option with lower VOCs.  But, you can also make sure the paint has no colorant VOCs added to it.  
One VERY important thing to know about non toxic paint is that the VOC count on the paint DOES NOT include the VOCs in the colorant that will be added.  To find out if and how much the VOC content is in non toxic paint, you'll need to look at the products data sheet. You can also look to see if the product complies with the SCAQMD Rule 1113, which states that colorants MUST be low VOC.
No Base VOCs: This is EXACTLY what it sounds like.  Every paint base has a rating of what the VOC content is.  Long term exposure to VOCs has been linked to liver kidney and central nervous system damage and is rated as possibly carcinogenic. (EPA Information).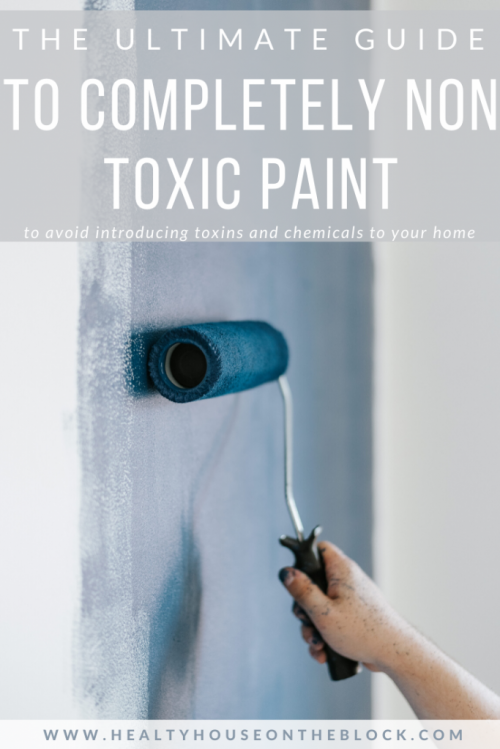 HOW TO FIND THE GRAMS OF VOC PER LITER IN PAINTS
One of the best ways to find out exactly what is in a paint can is by searching Google for the paint type followed by "technical data sheet".  This will often bring up a webpage or a PDF that has a lot of very technical information. But, this is an excellent way to find if a paint really is non toxic paint.
Once in the document or on the webpage, use your search function (ctrl + F) and search for VOC.  It should lead your right to their VOC content. 
The only problem with using this method to search for VOC content in non toxic paint is that this often only applies to the base paint.  You'll need to do a search for a specific color, which isn't always readily available.
If you can't find the VOC content for a particular color, you'll need to contact the manufacturer.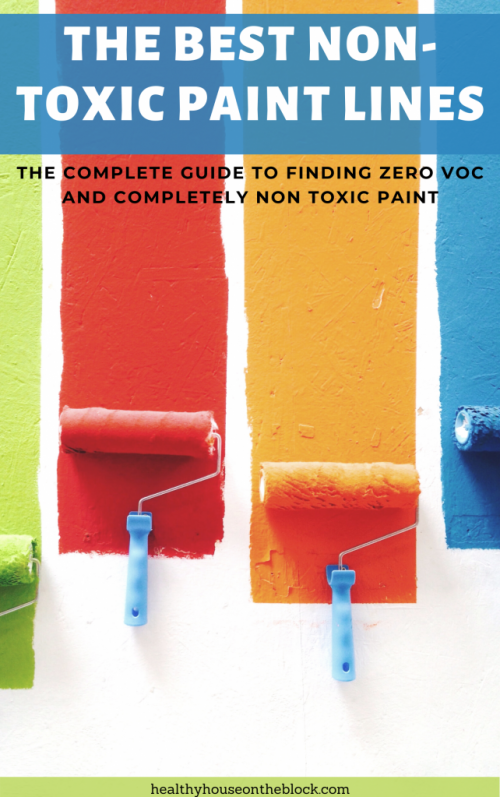 WHAT DOES THE GREENGUARD LABEL PROMISE IN NON TOXIC PAINTS
First, it's important to know what the VOC content limits are for both low VOC and no VOC paints:
LOW VOC paint is typically 50 grams per liter or less

NO VOC is usually 5 grams per liter or less
The GreenGuard certification is a third party certification that takes into account the manufacturing and ingredients in paint.  GreenGuard Gold often takes into account the special sensitivities of elderly and children when rating low emissions products.
The certification ensures that the product is free of more than 10,000 chemicals that are harmful to the indoor air.  Greenguard certifications specifically focus on products that are used inside the home.
GreenGuard certifications are tested every year to make sure that the product still meets their strict standards.  
MY TRUSTED NON TOXIC PAINT LINES
The Real Milk Paint Co.:  Made of 100% organic materials, it's really safe for all homes.  It is a no VOC solution and you can either order it online or find a retailer.
Farrow and Ball: One of the reasons I love Farrow and Ball is because it's tested within the UE, which has much higher standards than the US in terms of chemicals and toxins.  It is a No-VOC paint with a water base which allows it to dry quickly. You can order their paint and samples online.
BioShield: Biosheild paint has zero solvents and is considered no VOC paint. Their colors have no VOCs in them as well as they are colored with clay pigments.  This is a great option for a really natural paint as it contains virtually no chemicals or toxins. You can order it online or find a retailer.
ECOS Paint: This paint is zero VOC and is certified by the Declare Label, which is a third party certification that verifies ingredients.  ECOS Paints has also chosen not to use other chemicals that are not regulated as VOCs. Their pigments are also VOC free, which makes this an easy choice for paint.  You can order paint and samples online.
AFM SafeCoat: One thing I love about AFM SafeCoat is their transparency.  They have data and spec sheets available on all of their products.  Their paint is true zero VOC and they list out each of their ingredients on their website.  Their paint is water based and contains no toxic chemicals. The best place to order AFM SafeCoat is at the Green Design Center website.
Healthy Paint Co. (Formerly Anna Sova):  The unique thing about this paint is that it's made with 94% food ingredients.  Things like food grade bamboo, food emulsifiers, and milk casein. They also have pigments that are imported from Germany, which contain no VOCs and are APE free.  This paint is a no VOC paint and you can order paint and samples online.
Green Planet Paint:  This paint is made with mineral colors and virtually no VOCs.  They don't add any chemicals to their paints or tints, and they are all plant based.  You can order Green Planet Paint on their website or find a local dealer.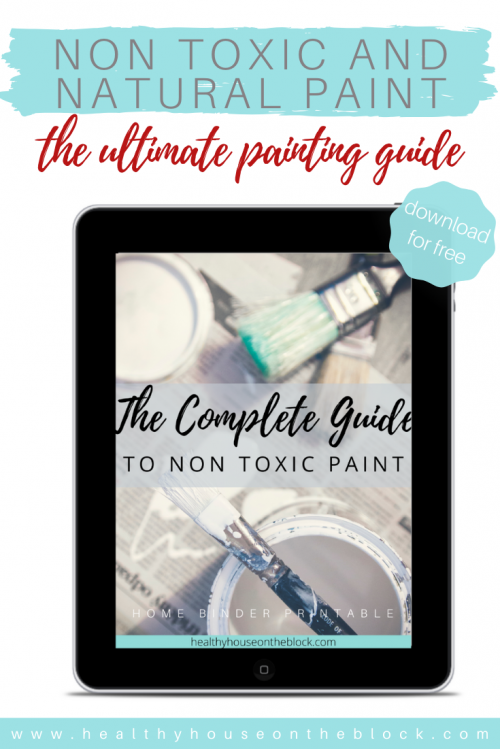 NON TOXIC PAINT AT HARDWARE STORES
Sherwin Williams Harmony: This line for Sherwin Williams is also Green Guard Gold certified and is considered zero VOC.  They say their paint actually reduces the airborne concentrations of formaldehyde that is emitted from other home materials. You can purchase their paint at a Sherwin Williams Store.
Benjamin Moore Natura/Aura: The Natura and Aura lines of Benjamin Moore are their paint lines that are water based and are rated zero VOC. One of the things I love is that their pigments are also chemical free.  Their Natura paint line earned the Cradle to Cradle Certification as well as the Certified Asthma and Allergy Friendly certification. You can find Benjamin Moore Paint in a variety of different stores, including Ace Hardware Stores
Behr Premium Plus: This is usually the paint I go with as I can get it at Home Depot, which is close to where I live and it's also GreenGuard Gold Certified.  The VOC content is not a true zero, but it is rated as a zero VOC paint. I was unable to find information about their specific pigments, and so choosing a lighter colored paint is always safer when buying from a store.  You can get Behr Premium Plus at any Home Depot