I'm going to admit that I have been Christmas shopping for at least a month now, and while I'm quite proud that I've started that early, the fact that this is ridiculous does not escape me.  However, with shopping early, I've hopefully eliminated a lot of stress that comes with the holiday season. In past years, I've not been the most thrilled that the season involves gifts.  I would hunt through gift guide after gift guide trying to find last minute ideas for teachers or a friend who I accidentally missed in my shopping.  It was never a peaceful and good-feeling end to the season.  
What I have found is that being prepared, and doing thoughtful shopping and purchasing really helps me keep my peace during the whole Holiday.  I still need a little help now and then to find a gift idea, but I now have a handful of stores and online shops that I trust for not only unique gift ideas, but gift ideas that are low toxin.
I think this is especially true of gifts we give to our kids.  I obviously don't have a ton of control over what other people give my children (And a side note, that we take an "everything in moderation" approach to so many of the gifts we get.  If the gift is special and brings joy but isn't totally toxin free – that's okay in our home.)  And it's because of this that I make a very conscious effort to look for practical, low toxin items for their Christmas gifts from us.  In the past we've done a gift they want, a gift they need, a gift they wear and a gift they read.  We've talked about instead giving them an experience gift like a family trip to explore a new area instead, which may happen down the road.  
I truly love holiday gift guide gifts that aren't things.  There's nothing better than an experience you can give to your kids instead of more stuff.  But the same is true for adults – you just have to know who you're shopping for.   I'm excited to share with you my gift and "thingless" gift ideas in this year's Holiday Gift Guide.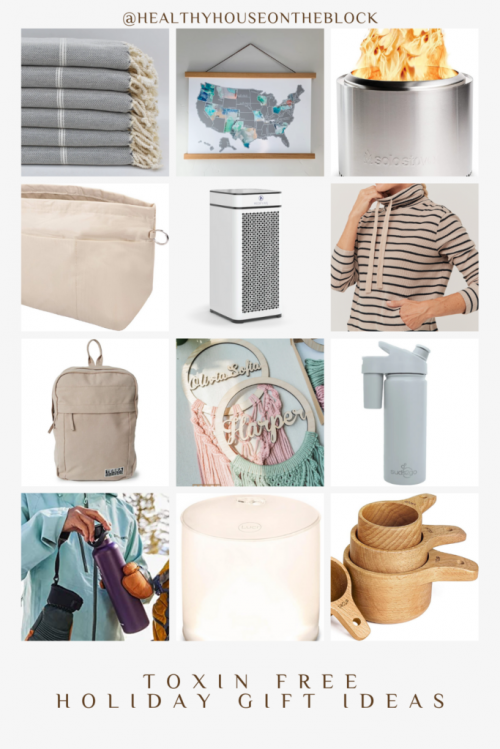 Gift Guide for the Food Lover
Gift Guide for the Outdoor Lover
Gift Guide for the Traveler
Gift Guide for the Homebody:
Gift Guide for the Older Kids
Camera
Paint Pens
Custom Jewelry
Snowshoes
Ice Skates
Bike Lights
Outdoor Net Swing
Organic Hammock
Classes (Art, Dance, Sport, Music)
Memberships (Museums, zoo, etc)
Magazine Subscriptions
Event Tickets (concerts, shows, movies, musical events)
Experiences (trampoline parks, climbing gyms, maker space studio, etc)
A Special Day (an outing, a day trip, etc.)
Services (yard work, cooking, etc.)
Memberships (Thrive, Costco, etc.)
A Meal Out
Experiences (ghost tours, brewery tours, rent a boat for a day, etc.)
Event Tickets (orchestra, concerts, plays, etc).
Classes or Lessons (brewing, art, music, sports, cooking, etc)
National or Local Park Pass
Time with You
Flowers & Plants
Magazine Subscriptions
Museum Passes
Wishing you and your gift-givers a merry shopping season as you do your best to find low toxin and intentional gifts for everyone on your list.