My kids are the biggest reason for my changes to our home.  Before them I wasn't truly that aware of any toxin or any problem with our current lifestyle.  And if there's one avenue that I've really had to navigate this summer it's been getting a firm hold on my kids skincare products and making sure my girls' skin is protected from the elements without harmful chemicals and toxins.  Natural beauty products are often targeted towards adults, but what about the tweens and teens?  They're actually at more of a risk for negative repercussions.
As of May, our family has a nine year old.  Having a nearly tween daughter is a joy and a challenge at the same time.  And one thing that comes along with this tween territory is figuring out how to get the right kids skincare products into her hands.  Girls' skin can be tricky, and giving them the right tools at these early ages will hopefully set them up for healthy habits their whole life.
What started off with choosing better nail polish when my girls were little has morphed into a clean beauty frenzy at our house.  What really gets hard is when she's been given a gift or won a little prize at a party that doesn't fit the parameters of our natural beauty products.  We have a lot of conversations openly about why we don't just use any product found in the store.  I try to be SUPER transparent with my kids and tell them in ways they might understand. 
Thankfully there are SO many more FUN options when it comes to girls skin products and kids skincare that they really don't feel like they're missing out on too much of the fun stuff girls their age are using. In fact, my nine year old this year wanted a make up set — just for playing at home with her friends and sister.  I cringed at this birthday request, wondering where I would ever find a low toxin or toxin free makeup kit for kids.
I'll share with you that not only did I find MORE clean beauty products for girls skin than I thought I would, I made the CUTEST little makeup bag kit for under $25.  It was definitely the winning gift this year.  (Plus I had SO much fun creating her makeup bag myself).
This week I'm excited to share with you not only A TON of natural beauty products, but also organic finds for girls skin and kids skincare items that won't break the bank.  First, though, I think it's so important to understand WHY these skincare choices matter to our teens and preteens.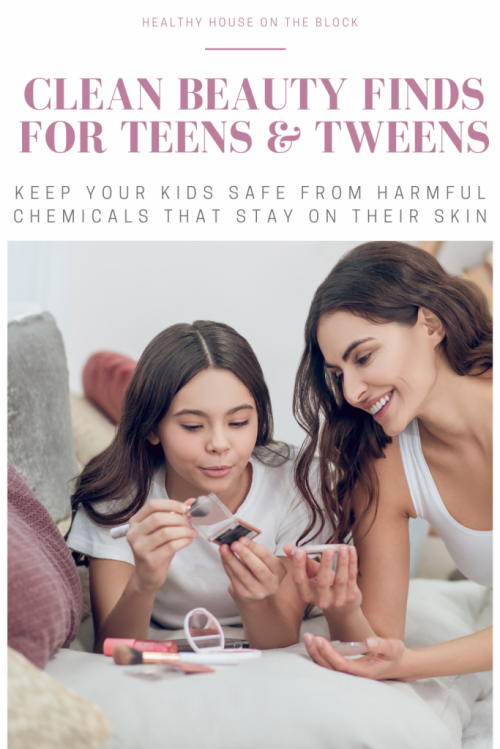 TOXINS IN KIDS SKINCARE AND BATH PRODUCTS
Fragrance: The truth is that fragrance contains many man made chemicals that negatively affect both adults and kids.  Fragrance is a broad term that covers a blanket of scents and additives.  Fragrance is added to SO many products for kids and teens, and it's negatively affecting their bodies as they continue to grow and develop.  Many fragrances  cause immune responses such as skin allergies, asthma and respiratory discomfort (STUDY).
Fragrance can also have an impact on the brain and nervous system.  It was actually found that the response to different fragrances affected the receptors in the brain in a similar manner to alcohol and tobacco.  This raises the question that perhaps fragrance is addictive in nature.  (STUDY).  
Parabens: Parabens are added as a synthetic preservative because of their antimicrobial properties.  However, they also play a role in disrupting the endocrine system and hormone production in adults and kids.  They also contribute to the rise in respiratory and allergic diseases in kids. (STUDY).  The highest exposure to parabens is found in leave-on cosmetics and products as opposed to rinse-off products.
Parabens promote estrogenic activity in kids and teens, which disrupts their natural hormone production.  This in turn can negatively affect their growth and development. (STUDY)
The good news is that studies have shown immediate changes in personal care products that are free from parabens and other endocrine disrupting chemicals also resulted in an immediate decrease within kids and teens urine samples. (STUDY)
Butylated Hydroxytoluene (BHT): BHT is added to cosmetics as a preservative.  It is toluene based that contains oils and fats used as an antioxidant in products.  BHT has been linked to reproductive toxicity as it changed testosterone levels and sexual maturation in lab studies.  It has also been shown to damage at the cellular level even at low doses and is toxic to the kidney cells specifically.
And of course, BHT, is a known endocrine disruptor.  But what's more is it is a possible human carcinogen, especially when used in lip products. (INFORMATION)
Benzyl Salicylate: Often benzyl salicylate is added with fragrances as it has a sweeter aroma.  It is also added to cosmetics as it blocks UV light.  An interesting caveat is that benzyl salicylate is plant based and therefore gets a green light to list a product as vegan. 
This plant based toxin has been shown to contribute to the proliferation of cells that may cause breast cancer, and so those who are at risk of breast cancer should avoid this additive. (STUDY).  It has also been associated with endocrine disruption and linked to immune system allergic response. (INFO)
Resorcinol: This chemical is used in a lot of products that are used to treat acne, eczema and other dermatological issues.  Resorcinol specifically interacts with the thyroid  gland and can cause hyperthyroidism as well as disrupt the thyroid function.  It can also cause skin irritation and reactions.  (INFO)
Phthalates: Phthalates are also found in added fragrance within kids skincare products.  Phthalates have been linked to disruption in thyroid production in children, which in turn is affecting their growth. (STUDY) 
Phthalates have also been linked to abnormal reproductive development and tend to have the worst health outcomes when children are exposed at young ages. (STUDY)
Aluminum: Aluminum is mostly found in deodorants that prevent sweating.  Aluminum has been found to accumulate in breast tissue causing your kidneys to work overtime to filter it back out of your body.  
Aluminum exposure has been linked to dementia and alzheimers (STUDY).   It has also more recently been linked to an increased risk of breast cancer. (STUDY)
Synthetic Colors: If you follow me on Instagram, you've likely heard me talk about our challenges eliminating synthetic colors in my younger daughter's diet.  Wel, the same synthetic colors are also added to makeup, where the skin absorbs these chemicals.
Each primary color has different health implications and issues linked to it.  Yellow has been linked to an increased cancer risk and behavioral problems in children.  Blue has been linked to brain tumors and red has been linked to immune system tumors and hyperactivity. (SOURCE)
HOW TEENS AND KIDS ARE MORE AT RISK
First, let's talk about size.  Kids are smaller pound for pound than adults.  This means the same amount of a toxin that may affect a child is proportionally larger in dosage when compared to an adult.  
Second, it's important to understand timing.  Health problems from toxin exposures can take years to develop.  Due to a child's younger age, they have more time to develop health conditions and diseases than an adult who is exposed to the same toxin later in their life. 
Third, a child's skin is actually 30% thinner than an adults, which means it can adsorb greater amounts of a chemical on the skin's surface.  In addition to this difference in skin, the blood-brain barrier in a child is undeveloped and allows many chemicals to cross the barrier and target developing brain tissue.  In adults, the blood-brain barrier is fully developed and protects the body from potential life-long harmful effects.
The good news is that by eliminating toxic beauty products, there is an immediate decrease in the chemical levels detected in teens and kids as shown in this study.  That means by swapping out your kids skincare products for natural beauty products you can immediately reduce the level of toxins in their body. 
Shopping for beauty products and makeup for girls skin types can be extremely overwhelming.  And sometimes, it's nice to know just a few brands that you can really trust when you start looking around.  These are my trusted brands for natural beauty and makeup:
And here are some of my top picks that are PERFECT for tweens and teens for clean, fun makeup:
My girls are absolutely obsessed with lip scrubs lately. And to be honest, I love them too — kind of an understated treatment that really leaves you feeling pampered.  Here's my top picks for lip care: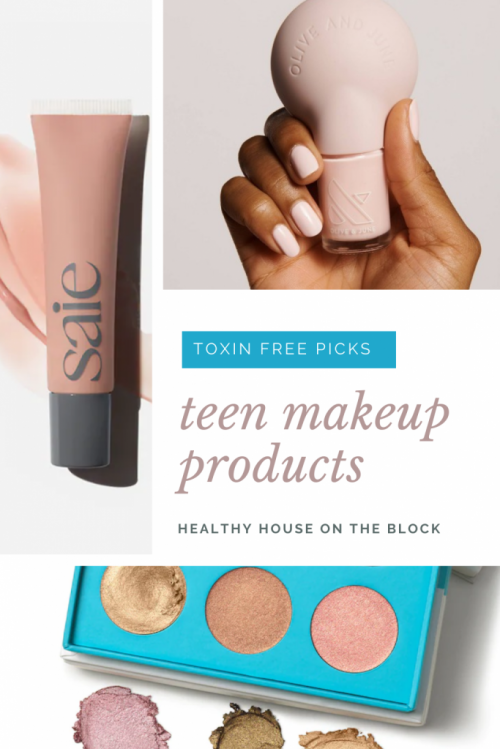 Hair care products that are leave in and stay in can be more harmful than items like rinse out shampoo.  It's important to get products that are free from parabens, fragrance and sulfates when their left on our kids' hair all day.  Here are some of my top picks for hair products that your kids and teens will love.
TEEN GIRLS SKIN CARE PRODUCTS
Because girls skin care products can vary so much, I think it's important to have a brand that you trust.  There are a few REALLY great  skin care lines that are clean and filled with all kinds of products catering to different types of skin.  These are my top picks for winning skin care brands: