I'll be honest, I'm not one of those people that puts up decorations for Christmas way in advance, nor am I one to leave Christmas decorations up until the end of January.  While I absolutely love Christmas and the whole Christmas season, I firmly believe that if I had Christmas decorations or Christmas on my mind for more than a month or so, the magic would lose its luster.  
I love making Christmastime special for my kids and decorating the house, but I've had to change a lot of how I did Christmas when I realized just how materialistic we were being.  I started to get wrapped up in the post Christmas sales to buy gobs of decor for the next year. And unfortunately, what I was choosing to buy wasn't necessarily high quality or made of materials that are sustainable or healthy.
Some of the ways that I have changed how I do Christmas mean we get to do a lot more projects and crafts together with the kids. It also means that each year we take out the same Christmas decorations and ornaments instead of getting anything new.  This is part of the magic to my kids because to them it's nostalgic to see the same decor and items come out every year.
Each year we might pick one thoughtful addition to our Christmas collection, but these past few years we've enjoyed making decor together.  Using natural crafting materials like fabric, wood or pine cones, we make small keepsakes to keep for the next year.
Besides just being conscious with what you purchase for your home, there are other ways that you can make your Christmas season as healthy as possible.  Don't let a holiday be an excuse to let toxins and unhealthy habits into your daily routines.  
You might already practice some of these healthy Christmas traditions and habits at home, or maybe you could find one or two to switch to this year.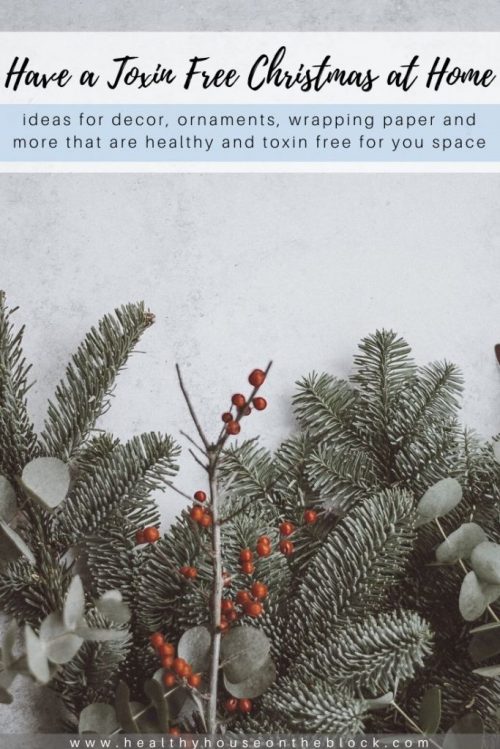 A real Christmas tree is going to be a much better option than bringing a faux Christmas Tree into your house.  While they might be a little less messy, they contain a lot of problematic toxins like polyvinyl chloride (PVC, phthalates, lead, cadmium and other plastic components.
A much better option is to go get the real tree.  You can even find farms locally who commit to growing organic Christmas trees, free of pesticide use.  
And if you're just not wanting to have a cut down tree, maybe you can look into a Living Tree option.  This is one of my favorite ideas and a lot of companies will deliver it right to you. Plus just like any living plant, it will be filtering that indoor air to remove toxins during the Christmas season.
One way to make your cut tree last longer, if you choose to get one, is by adding a few drops of Balsam Fir essential Oil to the water of the tree.  Not only does it smell like a Christmas Tree farm, but it also keeps your Christmas Tree fresh longer. Another tip we've tried is adding some pink himalayan salt to the water to keep your tree healthy..
SWITCH OUT SCENTED CANDLES
Holidays can often mean candles all over the place.  And the bummer is that most of those scented candles really do a number on your indoor air quality at home.  Instead, I love using essential oils to freshen the rooms and diffuse. I love some of the warm Christmas scents you can create with just a few of the basic essential oils. 
Here are a few of my favorite diffuser blends:
Holiday Cheer Diffuser Blend:
3 drops peppermint essential oil
2 drops ylang ylang essential oil
Gingerbread Diffuser Blend:
4 drops ginger essential oil
2 drops clove essential oil
1 drop cinnamon bark essential oil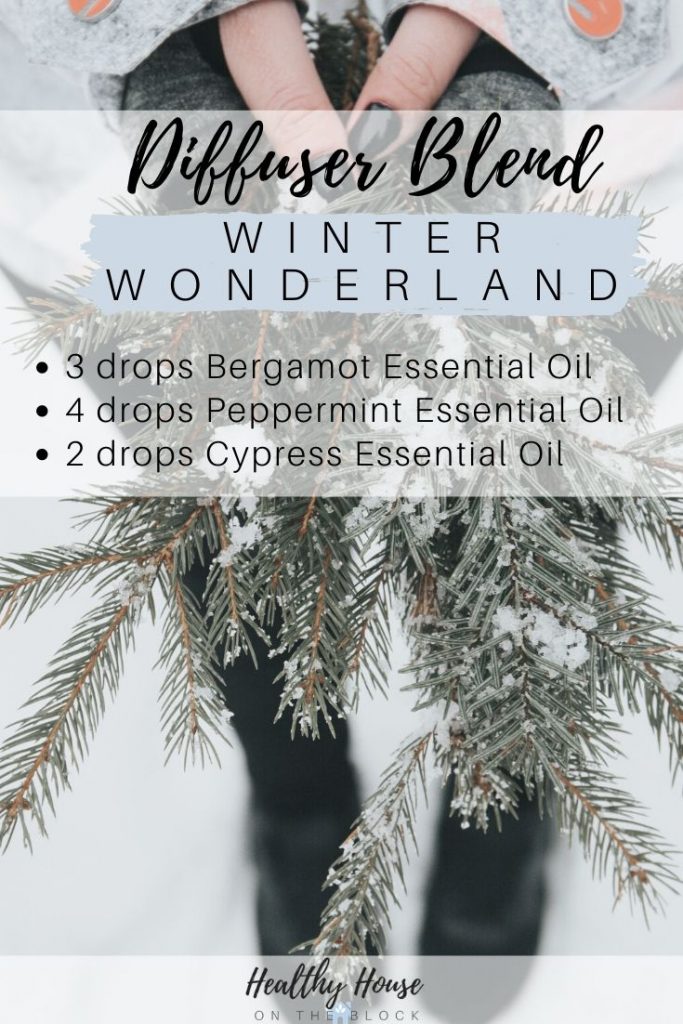 Winter Wonderland Diffuser Blend:
3 drops bergamot essential oil
4 drops peppermint essential oil
2 drops cypress essential oil
Anthro Christmas Diffuser Blend:
5 drops bergamot essential oil
5 drops  christmas spiritn essential oil blend
5 drops clove essential oil
5 drops grapefruit essential oil
My girls and I love to do crafts, and so during Christmas and Thanksgiving breaks we usually plan and do a few crafts to make decor for the Holidays.  I usually have a pretty good stash of crafting supplies around, so it makes it easy to make something last minute work.
Otherwise, I love using real plants like poinsettas to decorate.  I also cannot get enough of the naturally greenery that is available around Christmastime.  Wreaths, boughs and natural garland are such a beautiful way to dress up your house without bringing in plastics and other toxins.
You can also use pinecones, wood (natural or finished) and natural fibers like burlap to add some decorations around your home.  Most of all, I just like to use what I have, and if I really need something, it's a well thought out purchase.
Want some of my specific Christmas decor ideas I've used?  Below is my pinterest board filled with curated ideas just for Christmas.
Christmas lights are a MUST for our family.  But you'll want to be careful about what kind you're using and WHERE you're using them.  Obviously outdoor lights are a whole other story as they're not inside your home, where our kids and pets are in close proximity more often. 
Avoid polyvinyl chloride covering if possible when it comes to getting a string of Christmas lights.  And to be honest, most Christmas lights contain lead, cadmium or tin (which doesn't off gas, but kids should avoid touching them).  
It really doesn't sound like anything I want to be bringing into my house.  Luckily, the European Restriction of Hazardous Substances Directive (RoHS) has certified a few string light options that are free of all those chemicals listed above.  Specifically, Ikea's string lights meet the strict requirements of the RoHS certification.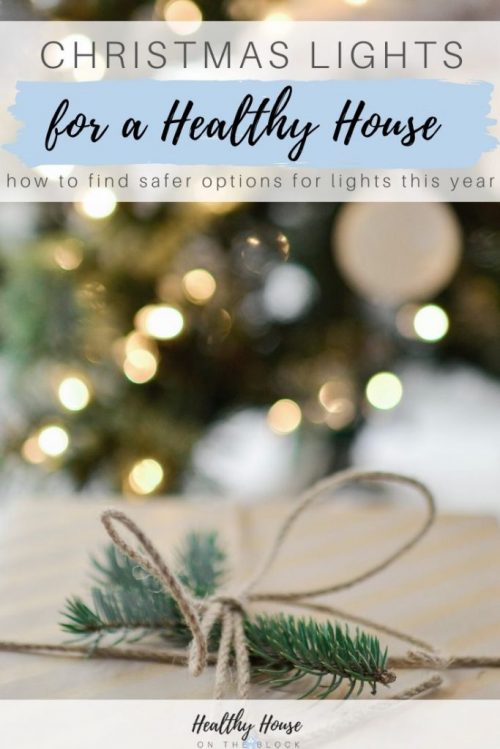 FAIR TRADE DECOR & ORNAMENTS
I don't normally purchase new ornaments, as many of our ornaments are keepsakes and hold a lot of meaning for me or our family.  But, if you choose to give ornaments as gifts, I encourage you to find fair trade ornaments. You can find these on Etsy or by simply doing a Google Search.  It's also a great way to find Fair Trade decor if you want to add any new decorations to your home this year.
Wrapping up your gifts shouldn't be forgotten if you're going for a toxin free Christmas either.  There are so many better (and less expensive) options compared to the typical gift wrap for presents.  Plus, some gift wrap can contain trace amounts of lead — all the more reason to find a more natural alternative.  
Here are some of my favorite ideas for wrapping up a gift without the use of a standard roll of wrapping paper:
Use Rolls of natural paper and string

Fabric

Burlap

Reusable bags

Something Useful (such as a basket, tote, small storage container, kitchen storage, etc.)
As always, there's also a list of "avoidables" if you can help it. These are some of the more toxin-filled Christmas traditions that we see come around every season.  If you can avoid these and opt for the toxin free alternatives, why not give it a try?