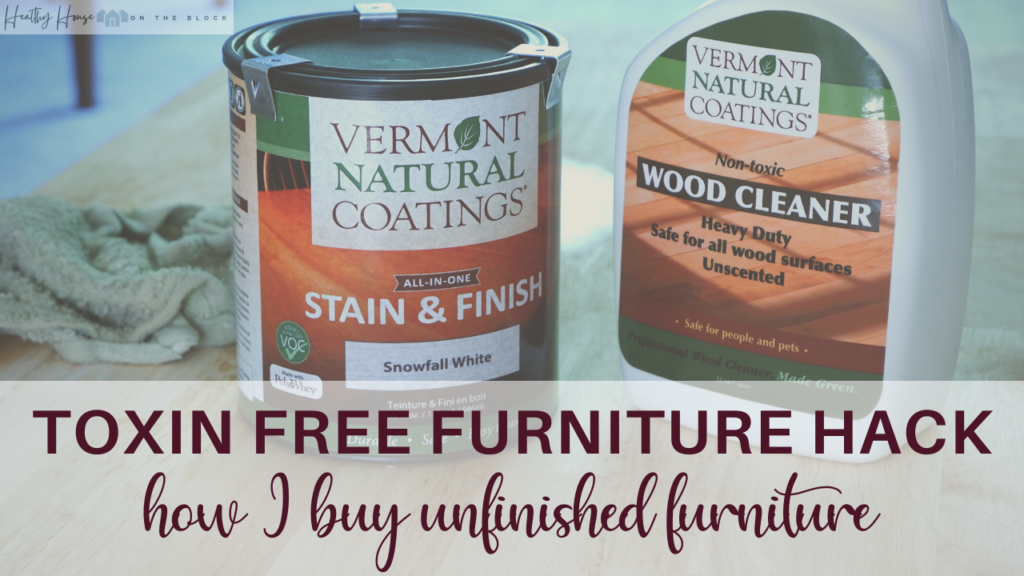 You know that there are seasons in your life where you get to pursue fun hobbies, and you know there are seasons in your life where sometimes those hobbies and passions take a back seat.  As a mom I know this feeling ALL too well, but the good news is I know there will be a season of my life in the future where I can dive into those hobbies again.  Before kids (BK as we call it in our house) I had some spare time on my hands and I found that refinishing wood furniture was something I REALLY enjoyed.  Of course before kids I was also VERY unaware of toxins and chemicals and did all my refinishing in a cringeworthy way. 
What I absolutely LOVE about the way we all evolve as human beings, is we're able to change how we do things and able to learn from others and our past mistakes.  I now know that when I return to refinishing furniture in the future, I can do so with a keen sense of what makes furniture healthy for our living spaces. Using toxin free products like the ones I'm sharing this week from Vermont Naturals will not only make my future pieces beautiful, but I'll feel safe while using them and then also when I bring them inside. 
And in my research over the years I've also learned a lot about just HOW to find lower toxin furniture options and make them your own.   And all without breaking the bank.  I know that toxin free and low toxin furniture is a pretty penny, but with my ideas in this post, you'll get an idea of just how to furnish your home with affordable toxin free items.
WHY I BUY UNFINISHED FURNITURE
Unfinished furniture has been  one of my GREATEST hacks to finding toxin free furniture for my home.  There are a few reasons why this has been my go-to for things like coffee tables, chairs and night stands.  
First, solid wood is MUCH more durable and generally is a "buy it for life" purchase.  Not only is a high quality purchase good for your pocket book because it will last a WHOLE lot longer than the cheaply made version, but it's also good for the environment.  Every time we purchase items for our home, we summon a chain of events to take place, all of which are hard on our environment.  From the manufacturing, to the shipping, to the packaging.  It all adds toxins to our world, and so by creating a shift towards conscious consumerism, you also have a lower impact on our world and environment because you stop the cycle of purchases.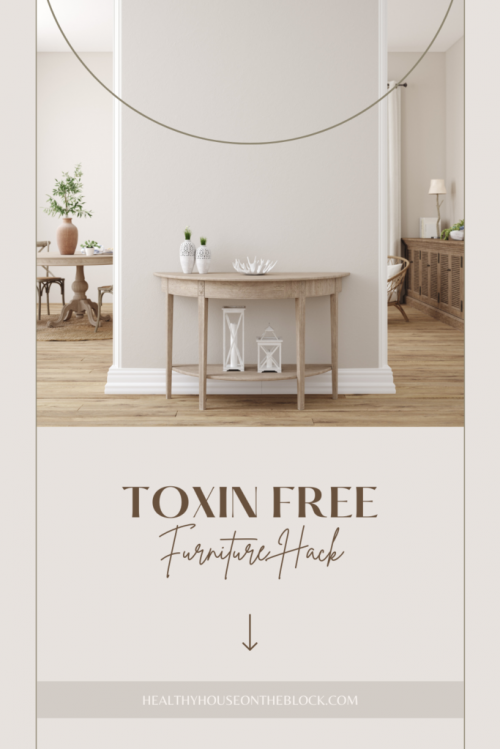 Second, solid wood in general is a much healthier option for a material in comparison to plastic, pressed woods or human-made materials.  While wood does off-gas to some extent, it off-gasses at a MUCH lower rate than a typical piece of pressed wood. The harder the wood you find, the less it will off-gas, which I'll be covering a bit later.  Wood is completely renewable and because it is solid, as opposed to veneer, you can refinish it again and again without ever having to purchase a new item. 
Plus, by purchasing unfinished wood you get complete control over your furniture and finishes. You don't have to hunt down toxin free furniture or find an Etsty store on the other side of the country.  You can do it all in house, which means low toxin and toxin free stains, paints and varnishes as well as the colors and tones you choose.  
And finally, this is one of the most "bang for your buck" purchases you can make.  Solid wood can be EXPENSIVE, but purchasing it unfinished means you can get a bargain and then add your own finishes to it. And no worries, if you're not into painting or staining your own furniture you can always hire that part out.  I guarantee it will still be cheaper than purchasing a brand new piece of toxin free furniture.
WHAT TO LOOK FOR WHEN FINDING FURNITURE
Obviously purchase from a company you trust or a manufacturer you trust.  You can find unfinished furniture at Home Depot, WayFair, the Unfinished Furniture Expo and even on Facebook Marketplace. 
If you're purchasing used, verify that the product is from a smoke free environment and always has been.  Wood can hold on to smoke odors and toxins for its lifetime once exposed, and it can be very difficult to get rid of that odor.
If you CAN find furniture that is either adhesive free or uses an adhesive free of formaldehyde, well you've found a winner.  It can be near impossible to find, and just know that by sealing your furniture with a great product like Vermont Naturals, who uses a poly-whey formula, you will seal many of those toxins inside where they won't be able to off-gas.   (Safecoat has some special products as well that will stop the out gassing process).
As for the wood itself, hardwood is a better option than softwoods and hardwoods tend to give off fewer VOCs than softwoods.  You might wonder why this matters if there are no added VOCs in the furniture.  VOCs are also found naturally in our environment outdoors, and so even plain wood can give off VOCs indoors and those VOCs can get trapped in the interior air.  Opt for Maple, Oak, Walnut, Birch, Cherry or Ash when looking for natural hardwood.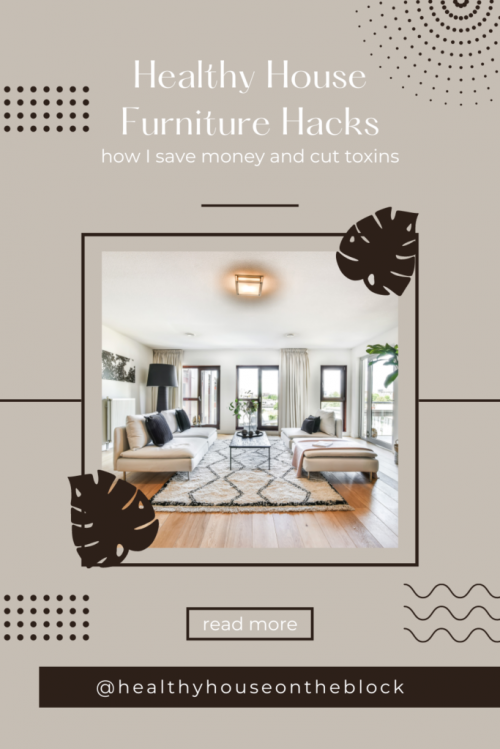 MY FINISHING PRODUCTS OF CHOICE
As I mentioned before, I LOVE Vermont Naturals for their wood finishing products.  Not only is Vermont Naturals born out of science and a need for safer products inside our homes, but they are also an extremely HIGH quality product.  
If you remember my conversation with Andy Pace from the Green Design Center, you may remember that this idea of high quality products is the common theme through MOST toxin free building materials for our homes.  
Vermont Naturals uses a formula called Poly Whey, which essentially uses the byproduct of cheese making and uses the proteins to replace the toxic ingredients that are traditionally found in wood finish.  (Ingenious if you ask me).  These whey proteins are polymerized and create an extremely strong cross linking on the wood that make it one of the most durable, yet safe surfaces you can get. 
The polywhey finish is actually twice as hard when cured than that of most water-based finishes.  It also contains ZERO flame retardants.  But the good news is that they've also received a Class A ranking, which means their products will not spread flames in an existing fire, which is the safest possible rating in the industry.
HOW I FINISHED NATURAL WOOD WITH A NON-TOXIC FINISH
 Clean your wood.  I used the Vermont Naturals Wood Cleaner and was SO happy with it.  It was super gentle on my wood but it also cleaned up set-in stains from food and markers (that were not washable).  

Sand down your furniture if necessary.  Even just a little bit of sanding does make the stain take better on unfinished furniture. I gently scuffed mine with a 150 grit sand paper.

Use tack cloth to clean up your wood.  You don't want any debris or wood dust left on your furniture before you sand it.

Prepare your space!  Open a window if you'll be inside and get some fans going for ventilation. 

Lay down a protective barrier between your furniture and your floor (even if you're outside or the garage, I recommend this to prevent dust and debris from adhering to your stain and finish.

I recommend using gloves to prevent stain from being absorbed by your hands.

Condition your wood and follow the instructions for drying time. 

Use a rag and slowly wipe the stain onto your furniture.  If you can, start with an underside or an inconspicuous spot.  I promise you'll get better as you go, and so save the top or front for last.

Let your stain dry completely and then determine if you'd like to do another coat.  Usually it will make the stain darker and more dense looking, so it's not always necessary.

Add a food grade top coating if desired, otherwise enjoy your furniture!
Finding toxin free furniture doesn't have to be difficult or expensive.  Using my unfinished furniture method you can customize any piece of furniture and make it as low toxin as you wish.