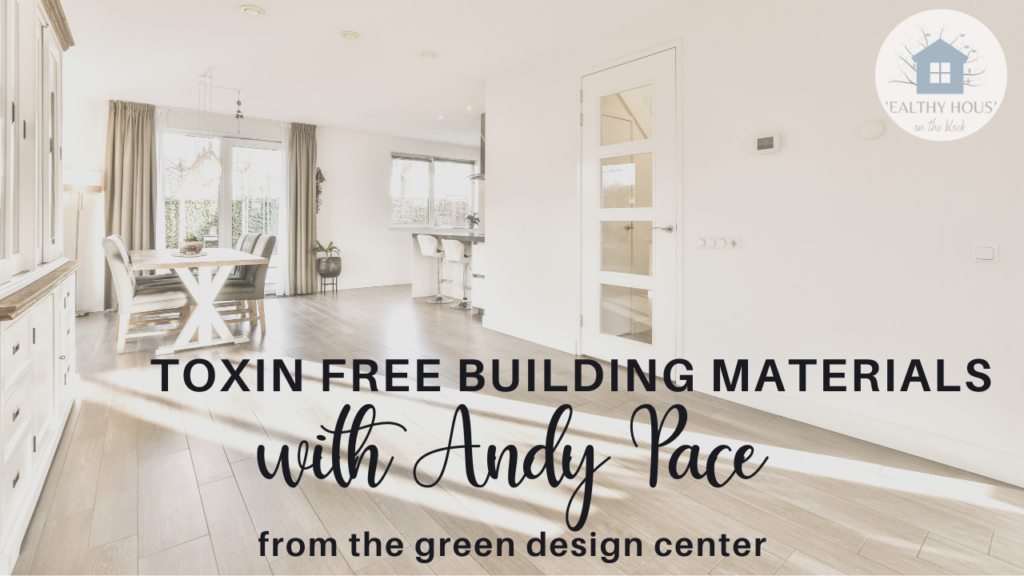 While I do consider myself a healthy home expert, I'm still learning about this ever-changing world on a daily basis.  And as someone who loves to learn, it thrills me to find new information and resources that can help myself and other homeowners make creating a healthy home easier and more tangible.  When I stumbled upon The Green Design Center and The Non Toxic Environments Podcast, I knew I had struck gold in the healthy home world.  Andy Pace, the creator of both, I found out recently, is filled to the brim with knowledge to share on creating a truly healthy environment.
I was able to sit down with Andy and pick his brain about creating a healthy home through the choice of building materials we use – whether it be for a large remodel, a small project or starting from scratch with a new build.  I gained so much insight on this topic as we talked about practical tips to the buzz of zero VOC products.
Andrew Pace is a Healthy Home Concierge and Founder of The Green Design Center, a leading resource for homeowners and contractors looking to source products that are healthy and green and receive expert consulting advice on designing and building healthy green homes. Andrew is the host of the weekly Non Toxic Environments Podcast. He is a worldwide expert on green and healthy building products and services customers and contractors from around the globe. As founder of the oldest healthy building supply company in the United States, Andrew has become one of the single most helpful and educational experts dealing with the day-to-day concerns of those individuals who suffer from allergies, asthma and chemical sensitivities.  
I'm SO excited to share with you all of the advice Andy offered about green building materials. The more we know about these things in our home, the easier it is to make positive changes.  Our conversation in the video below will leave you with SO many great ideas for your home and space: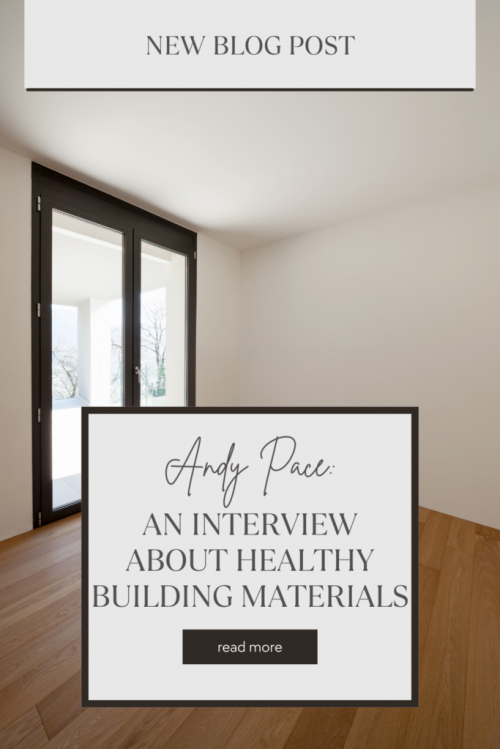 TOXIN FREE USUALLY MEANS HIGHER QUALITY
One of the complaints I get presented with ALL the time is that green and toxin free building materials are so much more expensive than just heading down to your local hardware store and picking up what's on sale.  
In discussing this with Andy, he shares that when you really look at these products and compare a toxin free product to the best high-quality product on the market, the cost is actually quite comparable.  Rather than thinking of it in terms of a healthy product versus a toxin free product, think of these materials in terms of the quality level.  
He shares that "It just so happens that most of the healthy building materials are actually much higher in quality as well."  And in truth, I found this out for myself when we recently priced out flooring for our lowest level of our home.  Sure enough, in wanting to install a high quality product, the cost of a low toxin flooring like Cali Bamboo was right in line with the most high quality options at the big box stores.
And while it can be difficult to justify upfront costs being more expensive, as Andy points out, when you're completing a home project with long term results in mind, this healthy investment is definitely worth that upfront cost.
OPT FOR TIMELESS, NOT TRENDY
Recently I shared some ideas about creating "fast fashion" but inside your home with the choice of furnishings and finishes.  The idea is essentially to look for these higher-quality, but timeless pieces that will last for a long time.  Really, it's the way older generations lived (and still live). I remember my grandma getting a new couch when I was just five years old — and when I visit her now, it's that couch I still sit on.  It may not be the most trendy, but it's a pretty timeless addition to her living room.
One of the things that truly didn't even cross my mind, when I opened up this dialog with Andy, was the connection between less waste and high quality, timeless products. He shares that less waste boils down to high quality products because you don't have to repaint, refloor, etc. every 6 years or so.  He pointed out that everything from the paint can to the truck shipping these new items creates waste that we can avoid by simply choosing a high quality product that is timeless and won't need to be replaced frequently.
I think choosing something you won't tire of, that's high quality is the key to a truly healthy and sustainable home.  Andy shares, "I just wish people would choose building materials based upon how long they're going to last — not whether they're trendy or not." Something I know even I could probably improve upon.
FINDING CONTRACTORS TO WORK WITH
Historically, one of our family's least favorite part of home projects that require contractors is interviewing them and getting estimates.  The process can be painful from just locating trustworthy companies to looking past their sales pitch.  But Andy shares some golden tips on finding a contractor that will work with you and your requests for using green building materials.
First, he recommends, "The best way to find a remodeling contractor is to ask family and friends.  Did the project work out well for you?  First look for someone who's done a good job with budget and schedule first."  Andy shares that he wouldn't even necessarily worry about finding a "healthy contractor" right off the bat.  The contractor's quality of work and integrity should be the first concern.
"Second," Andy told me, "I would go look at a website called NARI — it stands for National Association of the Remodeling Industry."  The reason, he shares is that "Contractors typically have to go through education and training to be certified by NARI.  These individuals care about their customers and the work they do."
Finally, Andy shares the importance of how you phrase requests and questions to contractors regarding healthy building materials.  Instead of using terms like "chemically sensitive" and insisting upon using your provided materials, he recommends a softer approach.  A question such as, "Are you willing to use our products because of healthy considerations in the household?" is usually more well received Andy advises.  Explaining your family's "why" or need for low toxin materials will "Appeal to their common decency", he explains, "A lot of times they then become passionate about making sure your project is as healthy as possible too."
FOCUS ON HIGH-TOUCH AREAS
As we dove deeper into the materials and products you can swap out in your home, Andy shares that "90% of the toxicity issues inside the home will actually come from the things you see and touch on a regular basis."
These high touch areas are the ones that make the biggest impact when we start swapping out standard or builder grade materials for high quality, toxin free products.  Things like paint and flooring are going to have a bigger health impact when compared to materials that are sealed within a wall such as drain pipes and insulation.  
When I asked Andy what his thoughts were on where someone should start with creating a healthy home, without hesitation he answered that the bedroom is the first place to start.  Most healthy home experts will agree whole-heartedly that the bedroom, where you spend close to a third of your day, is the single place to get started. 
Andy recommends purchasing a high quality air purifier for your space as one of the first steps to creating a healthy home environment.  He also recommends getting rid of carpet in any way you can.  I was shocked, but he shared that even, "living on subfloors will be healthier than living on carpeting in 99% of the homes."  Carpet is perhaps one of the most toxic components in most homes, and is one of the most touched surfaces in the home. In my opinion, if you have kids, the need for healthy flooring multiplies considering all the time little ones spend near or on the flooring itself.
IS VOC FREE REALLY HEALTHY?
I'm sure you agree that "zero VOC" is kind of a buzzword right now.  It seems that just about every product brags low or zero VOC formula.  But as Andy shared with me, this is a form of greenwashing that most of us aren't aware of. 
He advises to "keep in mind, a VOC is not a toxin for humans.  A VOC is regulated because of the propensity for that to create smog outdoors.  A lot of chemicals in carpets  are unregulated by the EPA because they don't actually create low level smog." He goes on to say, "They will poison you, but they won't create smog.  Therefore they're considered no-VOC.  It's kind of buyer beware."
Knowing this bit of information really gives new light to the term low or zero VOC entirely.  And while it can be disheartening to realize that you can't just find a healthy product based on what's advertised on the label, Andy shares "you just have to get information from somebody you trust."  He says, "The manufacturers are not going to admit they're defaults until they absolutely have to."  This is the exact reason he created the Green Design Center, where he has a curated collection of materials that he has found to be the least toxic.   
I have learned just so much from Andy through his website, blog and podcast.  When he talks about getting information from someone you trust — the Green Design Center and Non Toxic Environments Podcast are two big ones for me, which is why I love sharing them here.