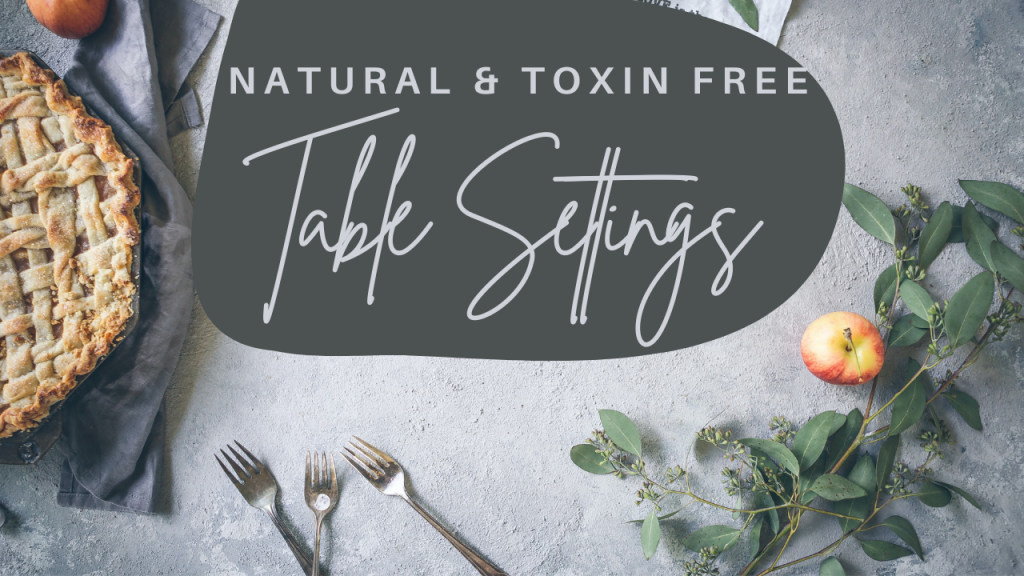 With the holidays around the corner, I thought it might be helpful to create a guide for you on just how to buy table setting components that are non toxic and safe for you and your guests (even if those guests are just your kiddos and parents).  No matter how you opt to celebrate, or how many people you intend to host, there are cost effective and healthy choices you can make to reduce the toxin exposure in your home.
Especially when it comes to eating, I think it's important to reduce the number of toxins we're exposed to wherever we can.  The plates we eat off of and the utensils we use, can leach toxins into food we place onto the surface.  If it's possible to make a healthier choice in materials, I always advise to do so.  
That being said, I'm not asking you to replace all your dinnerware, buy expensive table setting items or to go completely non toxic in your space. 
Instead, let's just change a few things here or there that can make a big impact.  If you're in the market for something new like I was (the kids had dropped the very last fragile bowl from  my handed down 15 year old dishes set), then it's a great time to research your purchase and make the non-toxic choice if you can.
When you're entertaining and setting up a spread, there's a few fun ways you can do it.  We almost always go the more casual route, with a "serve yourself" style kitchen island setup.  But every now and then when we're hosting a smaller group, we'll set out the REAL plates at each spot and pass food around.  Either way you go, you can make your space and table setting elements as non toxic as possible by following a few easy rules.
Casual:  If doing the dishes all evening is a deal breaker for you, then going with compostable (that's right — not disposable) plates and silverware is the way to go. Remember as a kid when you'd go to a birthday party and everything was able to be tossed at the end of the party?  Well it's along the same lines, but now you can find all those same table setting components in non toxic, recyclable materials.  EarthHero has SO many options when it comes to recyclable table setting items. (PLUS – use code BF2021 for 20% off AND they'll plant 5 trees for your order)
Formal: And sometimes you just want to be fancy.  I think this was especially true for me after I finally upgraded my dinner plates from a handed down set.  That being said, there are ways you can make sure that the plates and silverware you're using are a natural material that doesn't contain heavy metals or other toxins.  I think a lot of times we just assume because it looks like a glass or ceramic plate that it's safe, and unfortunately this isn't always the case.  
TABLE SETTING COMPONENTS:
I'm all about sharing with you HOW to purchase the right items.  I also like to give you my top picks, but to be honest, I'd rather teach how to buy rather than what to buy.  Entertaining and creating a non toxic dining room can feel overwhelming when you start thinking about each and every item you might need for your party or dinner.  But just remember, you can simply go whatever route works for you.  No stress necessary.
Ceramics: Dinnerware and dishes can be a tricky thing when it comes to toxins.  Some of the vintage (and not so vintage) plates and dishes can actually contain lead in the glazes, which is something we want to avoid.  Unfortunately, testing for lead in the glaze is costly, and most of us don't have a great way to do this at home. Not to mention that even using an expensive XRF device to check for lead only tells you the lead present, not what actually leaches out of the plate.  
Your best bet is to use dishware that has been made after 1971, when the FDA began limiting the amount of leachable lead in dinnerware. And then avoid any dishes with vergabe on them that indicate it is not safe for eating off of (decorative, not for food use, etc.)
Metals: As for metal pieces, opt for a metal that is hospital grade stainless steel or an 18/10 stainless steel.  These are pieces that contain the least amount of other heavy metals like chromium and are the least corrosive. You'll also want to avoid pieces that have any aluminum in them.
Wood:  Finding solid wood slabs that have no adhesives and use a food grade coating on them are the best option.  You can also find wood slabs that have no protective coating and are simply conditioned with an oil. I love shopping Etsy for these types of items — and don't be afraid to message the creator and ask questions about the materials they use.  
Cottons & Linens:  I recently did an extensive post about pesticides and how they're getting into our home.  What I found was that textiles bring in a large portion of pesticides and other toxins.  Find an organic cotton or linen that has no additional treatments (water resistant or stain resistant often add PFOA chemicals to your product).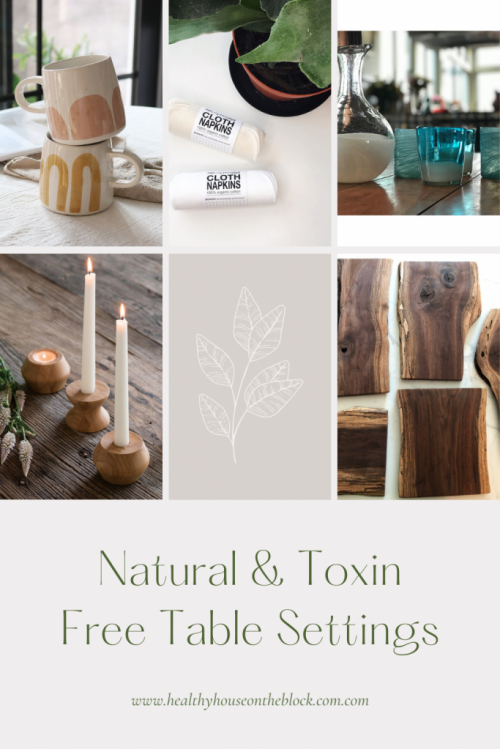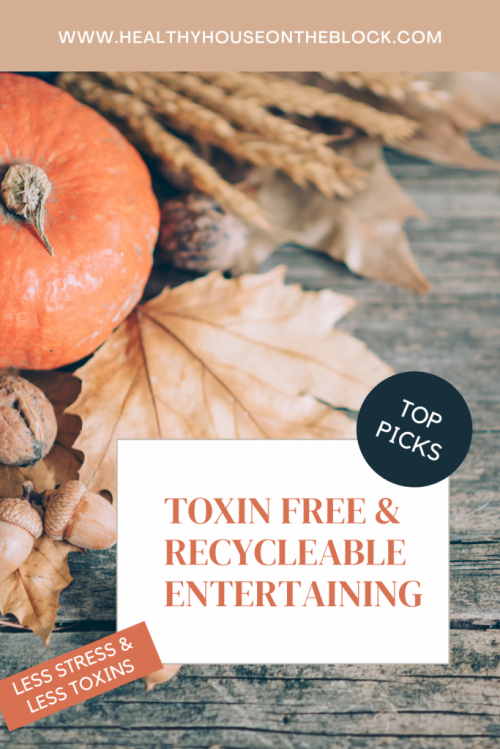 FINDING GREENGUARD FURNITURE PIECES
Just because we're on the topic of toxin free table setting items, I thought I would also share just how to find Greenguard Certified furniture and low toxin furniture that belongs in a dining room.  
You can head to Wayfair.com and use their "GreenGuard Certified" filter in your search.  This is one of my favorite ways to find a lot of options in one place for furniture pieces.
Pottery Barn, West Elm and Crate & Barrel offer a lot of low toxin pieces as well.
Now, if you're a little more on the DIY side, I LOVE finding an unfinished piece of furniture from either Unfinished Furniture Expo or Home Depot and using ECOS stain and sealer on it.  It's a bigger project, but it's a great way to go if you're going for natural wood.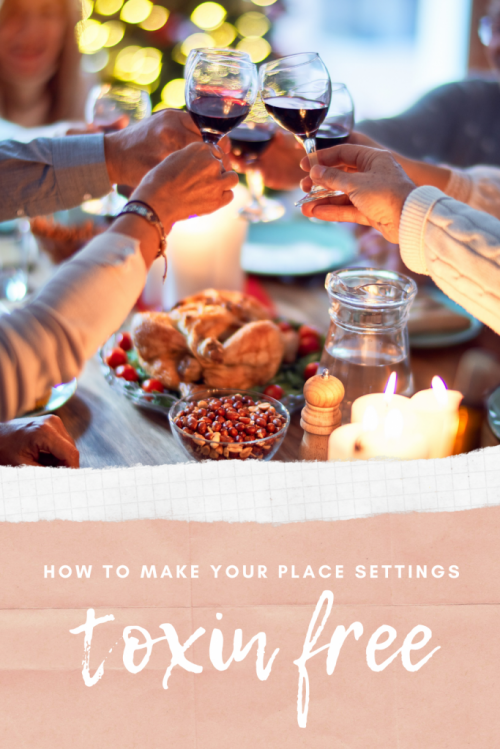 HOSTING LARGE GROUPS OF PEOPLE
While hosting large groups is relative nowadays, there are some really great habits you can get into when having people over that can reduce the toxins inside.  Essentially, a large group of people in an enclosed space means that exhaled toxins like carbon dioxide are at an all time high.  It also means that other toxins in your home from materials that produce VOCs aren't able to escape either.
These ideas can help you reduce the toxins inside while also bringing in fresh outdoor air for you and your guests.
Open Windows: Opening windows will allow fresh air inside and will also lower the carbon dioxide levels dramatically.  It's a much better way to cool off your space if it's gotten warm than keeping the home closed and turning on the air conditioning.  Diluting your indoor air (which is filled with toxins, VOCs and particulate matter) with outdoor air can raise the indoor air quality immensely.
Run HVAC Fan: Another little trick I like to use is running the fan on my HVAC unit.  Usually there's an option on your thermostat to have the fan "ON" instead of "AUTO".  With a Nest thermostat, you need to manually turn the fan "ON" and you can select how many hours you'd like it to run. This at least moves air around your home and cycles it through your HVAC filter. 
Air Purifier: We use an air purifier EVERY TIME we have guests over.  It's a great way to reduce allergens and other toxins from the air to ensure it's less toxic.  An air purifier like MedifyAir filters out toxins like VOCs, mold spores, allergens, dust and odors.  (You can use my code HHOTB15 for $15 off your purchase).  I recommend running the air purifier for an hour or so beforehand and then if you can, let it run while you're hosting your guests.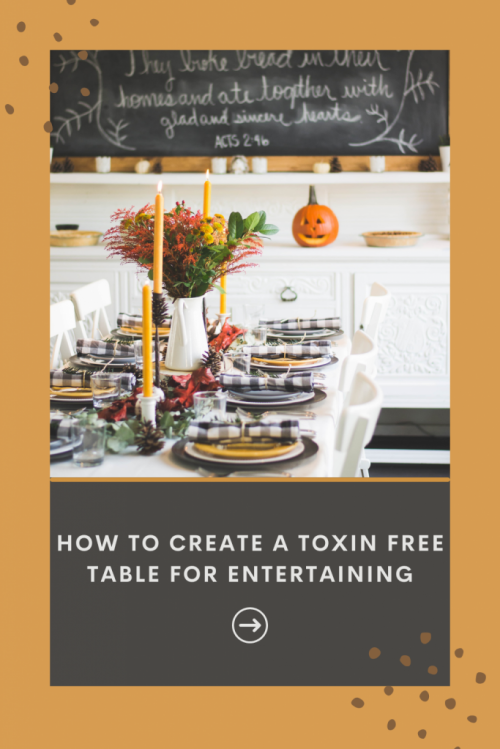 With the holidays around the corner, I know I'll be using some of these non toxic table setting ideas myself.  It's a great way to make healthier changes without having to do a lot of work on your end.  Simple swaps like compostable dinnerware and natural table setting centerpieces can make your dinner party less toxic and healthier for all your guests.