This last week on my Instagram Feed I shared our family's exciting news that this November we'll be adding a baby boy to our mix.  We are all VERY excited to have a sweet babe around and welcome him into our family. And this time around I'm super excited to be able to surround him with natural baby products and specifically, toxin free baby gear.
With my youngest being 5 ½, it's been a while since we've used a lot of our baby gear, and to be honest, most of it was given away over the past few years.  I'm also in a VERY different place than I was before, and I'm aware of SO much more in terms of health, wellness and toxin avoidance. 
With this new baby, I'm so excited to be able to research and find some really safe and healthy options in terms of natural baby products. I'm excited to take you along on the journey of infancy and beyond as we navigate the world of low toxin, natural baby products and baby gear. 
Since my older girls were babies, I've learned A LOT in terms of toxins.  I've never been a dive right in type of person, and instead I slowly waded through information, made intentional decisions to get rid of things and made product swaps one at a time.  That's how I roll, and I'm okay with that.  
But starting at scratch this time, I'm ready to make purchases of natural baby products and gear that will start my little guy off on the right foot.  
If you're in the market for a new carseat, I wanted to share with you links to some healthier options you can get at Target.  Because right now Target is having their car seat trade-in event, where you can get a 20% off coupon to use on car seats, strollers and other baby purchases.
I actually just took advantage of this and traded in one of our booster seats for a new convertible car seat, and I was SO excited that Target carried a low toxin option.  So here I am sharing those same options with you in case you're looking for a a low toxin option that won't break the bank.
(To get your 20% off coupon, you simply bring in an old car seat and/or car seat base to the guest service area.  They have a big box where you deposit the car seat or base.  They will recycle your car seat and YOU get 20% off to spend on a new car seat, stroller or baby item). WIN.
You can purchase in store or online with the coupon.  Here are some toxin free picks you could take advantage of:
CHEMICALS IN MOST BABY GEAR AND HEALTH EFFECTS
Babies come to us with undeveloped immune systems, delicate skin and lungs that are so new to air, let alone the toxins that pollute our air.  And because babies are incredibly small in our big world, the amount of a toxin that may be insignificant to us as adults, can overwhelm their bodies and start the effects of body burden early on.
Another reason that natural baby products are so important to me is that babies are often in direct contact with this baby gear and they're breathing in very close proximity to these products. This means that they have the ability to breath in and absorb more of the toxins in comparison to us adults.
Flame Retardants: About a month ago I did this post about the health effects of flame retardants and how to avoid them.  Basically, this post goes through all kinds of studies that prove these additives are affecting the development of children, their hormone production, neurological function and suppressing their immune system.  If you want that solid evidence, I've got every study listed for each concern in the post here.
Petroleum Based Foam:  Often time soft foam and especially memory foam is made up of petrochemicals and also emit VOCs.  It releases toxic toluene into the air, which is the same stuff that is emitted from vehicle exhaust, gasoline fumes and cigarette smoke.  (SOURCE) (SOURCE) We want to avoid this at all costs when it comes to our babies.  Opt for a natural foam or a GOLS certified foam made of 100% latex and rubber trees.
Formaldehyde: Formaldehyde is often added to fabrics to keep them smooth and wrinkle free.  Unfortunately it's also added to many foams and cushions, especially in baby gear.  It's a known carcinogen and when babies are in contact with this chemical for a long period of time, it really affects their body (STUDY).  This is why I opt for natural baby products that don't contain any formaldehyde.
Polyvinyl Chloride: This is often found in plastics and a lot of baby products and toys.  It's present also in waterproof protectors and mattresses.  The toxins that are in this PVC often contain high levels of chlorine, which is hazardous to the health of our babies and children (STUDY)
PFAs (Waterproofing/Stain Resistant Chemicals): Those stain resistant and waterproof coverings are handy, but definitely not one of the natural baby products.  PFAs have been tested and linked to developmental delays as well as reproductive disorders.  Find a natural cotton or natural wool instead and use a cleaner like Thieves to get out those stains.
NATURAL BABY PRODUCTS AND TOXIN FREE GEAR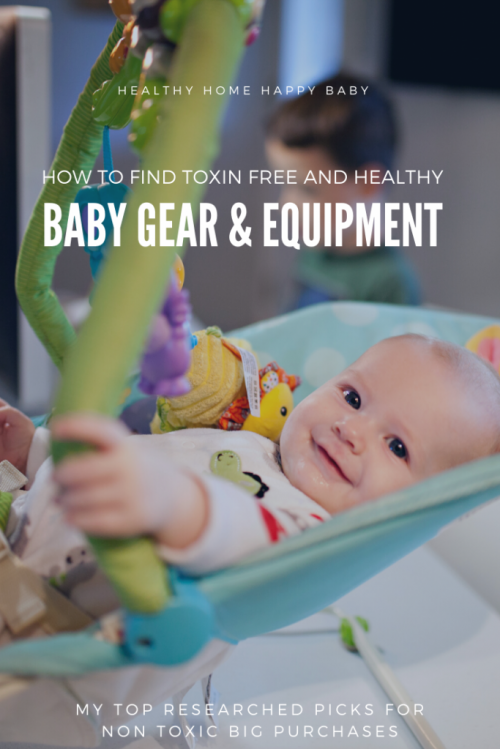 UPPAbaby G Luxe Stroller ($239): From their website: "In addition, all UPPAbaby strollers and car seats meet and exceed ASTM & JPMA compliance standards and governmental safety and testing standards. State and federal safety standards require all car seats and strollers to meet stringent flame retardancy standards. Many manufacturers meet these requirements by treating their fabrics with toxic brominated and chlorinated chemicals, like PBBs and PBDEs that can be harmful to children. All UPPAbaby products meet all applicable flame retardancy standards without these potentially harmful chemicals."
Britax B-Agile Stroller ($199):
From their website: "Britax requires its suppliers to eliminate certain chemical flame retardants containing bromine, chlorine or other halogens, in components used in car seats and all other products — while still ensuring their ability to pass federal government standards for flammability. Strollers do not have flammability standards. Therefore, Britax and BOB strollers are not treated with any chemical flame retardants.
In a recent report, the Ecology Center (HealthyStuff.org), tested the chemical composition of leading car seats to discover the presence of harmful chemicals. Britax was rated positively as a car seat brand offering FR-free products."
Stoke Stroller ($599):
From their website: "We are all concerned for our environment and how our actions affect it. In today's modern world, caring for our children means much more than providing them with safety, comfort, and protection. Caring for our children means also caring for the planet that they will inherit. Throughout the company's history, we have made every effort and endeavor to use environmentally friendly and biodegradable materials. We continue to strive to create innovative products that provide you with the assurance and peace of mind that only Stokke products can. We also continuously develop and explore new energy saving production techniques, fuel efficient shipping, and distribution methods. This will contribute to the preservation of our planet not only for our children, but for generations to come."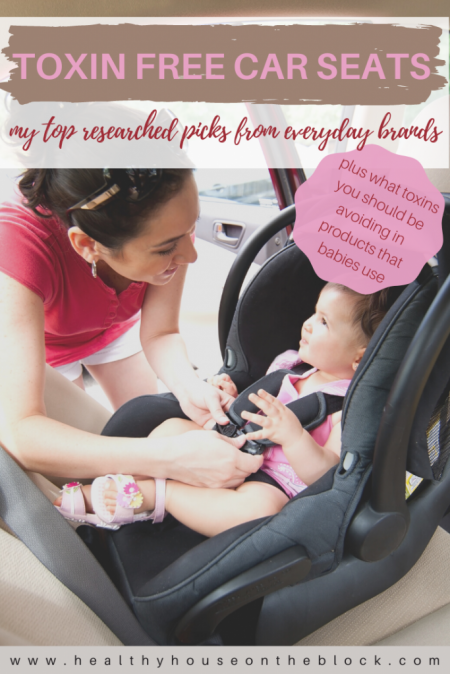 INFANT CAR SEAT & CONVERTIBLE CAR SEAT
Pipa Lite XL by Nuna ($349):
From their website:
"Our gear's content is carefully curated so that only the best touches baby, such as:
Organic inserts: our LEAF™ series inserts' are Global organic textile standard
(GOTS) certified
Oeko-Tex® fabric: our LEAF series fabrics' are Oeko-Tex certified
Nuna fabric, fiber fill and foam all abide by European REACH and EN71 standards as well as CPSIA in the USA
Plastics & metals: hard goods also comply with European REACH and EN71 standards as well as CPSIA in the US"
Clek Car Seat ($379):
From their website:
"Car seats are required to meet the most stringent automotive fire-safety standards.
As part of Clek's ongoing commitment to continuously improve its environmental profile, we are sourcing materials that use non-halogenated flame retardants or, where possible, alternative materials that don't use any known flame retardants, while still complying with fire-safety standards.
Chemical testing is conducted by accredited third-party labs on major components and results show that:
Our jersey-knit fabrics, along with the foam laminated to the backside of the fabric, are free from halogenated (brominated and chlorinated) flame retardants, while still meeting the federally-required automotive fire-safety standards.
Our Standard C-Zero Plus and Tailored C-Zero Plus fabrics are GREENGUARD Gold Certified, meaning they meet stringent chemical emissions requirements, have been screened for various volatile organic compounds, and, along with the foam laminated to the backside of the fabric, are free from halogenated (brominated and chlorinated) flame retardants, while still meeting the federally-required automotive fire-safety standards.
The fabrics used on our wool editions are made of OEKO-TEX® Standard 100 certified 100% Merino wool and, along with the foam laminated to the backside of the fabric, are free of any added known flame retardants, while still meeting the federally-required automotive fire-safety standards.
The other major components (foam, harnesses, plastics) tested are free of any added known flame retardants, while still meeting the federally-required automotive fire-safety standards.
The chemical screening is based on known flame retardant chemical compounds, as well as general screening for halogens, phosphorous and other chemicals used in flame retardants, like antimony. The results show that none are detected in concentrations that would indicate the use of such flame retardants."
UPPAbaby Mesa Car Seat in Jordan or Henry ($349):
From their website:"A chemical-free choice. Through its innovative use of Merino wool, the HENRY and JORDAN MESA fashions are the first car seats to pass federal safety standards without the use of fire retardant chemicals. The wicking properties of Merino wool keep babies cool on hot days and warm on cool days."
Maxi Cosi Mico Max Plus Car Seat ($254):
From their website: "Pure Cosi is a collection of car seats that meet the FAA fire-retardant safety standards without using the chemicals that are common across all car seat manufacturers. Pure Cosi fabric is wool-free and flame-retardant chemical free. Pure Cosi is available in the Mico Max Plus Infant Car Seat and the Magellan Max 5-in-1 Convertible Car Seat."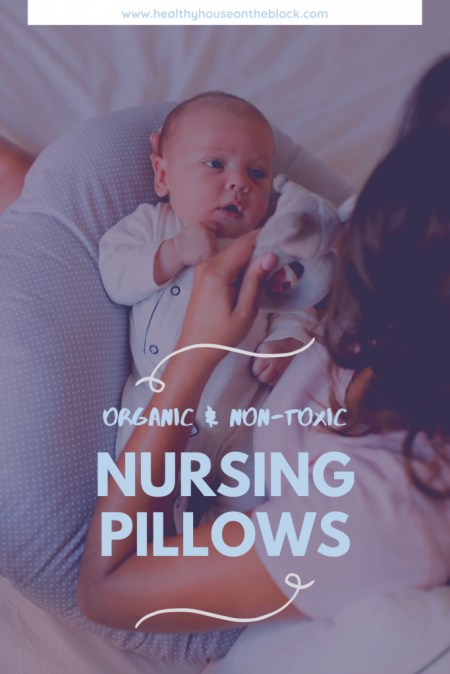 Organic Caboose Nursing Pillow ($74):
From their website:
"Pure 100% Organic Cotton or Eco Bamboo/Organic Cotton outer and hand-stuffed with 100% organic cotton filling

What's INSIDE your nursing pillow matters. Our Organic Caboose Nursing Pillow is hand-stuffed with 100% pure organic cotton (no off-gassing polyester or polyurethane filling like most on the market)"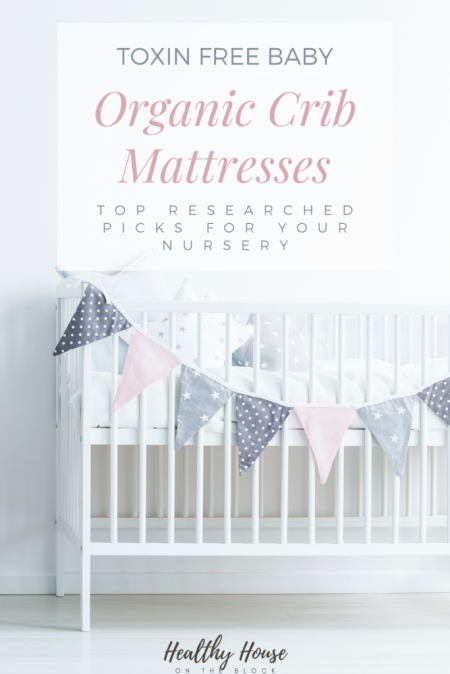 Avocado Crib Mattress ($299):
From their website:
"No petroleum-based polyurethane foams, no chemical adhesives, no vinyl waterproofing, polyethylene, or flame retardant chemicals. Just pure, healthy, natural materials — at an affordable price. That's the ideal of our Organic Crib Mattress, with a GREENGUARD Gold certification and a coconut fiber that's infused with our 100% GOLS organic certified latex and 100% GOTS organic certified wool and cotton. The result is a gentle, delicate feel that's supportive, breathable, and soothing for your little one."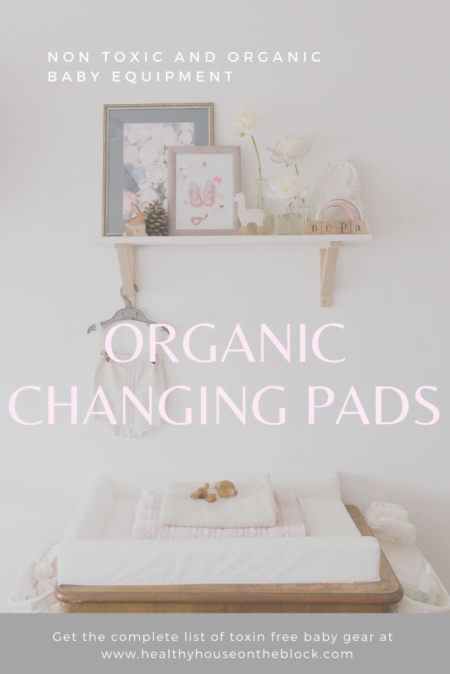 Naurepedic Changing Pad ($99):
From their website:
"ALLERGY FRIENDLY- No harmful chemicals: no latex, soy, GMOs, vinyl/PVC, phthalates, formaldehyde, flame retardants, or perfluorinated compounds (PFCs). No polyurethane foam."
"ORGANIC COTTON CHANGING PAD- Certified to the organic and non-toxic Global Organic Textile Standard (GOTS).
SAFE FOR BABIES- Meets or exceeds GREENGUARD Gold emissions standard and UL/GREENGUARD Formaldehyde Free Standard."
TRAVEL CRIBS AND PLAY YARDS
Nuna Sena Aire Play Yard ($349):
"Our gear's content is carefully curated so that only the best touches baby, such as:
Organic inserts: our LEAF™ series inserts' are Global organic textile standard
(GOTS) certified
Oeko-Tex® fabric: our LEAF series fabrics' are Oeko-Tex certified
Nuna fabric, fiber fill and foam all abide by European REACH and EN71 standards as well as CPSIA in the USA
Plastics & metals: hard goods also comply with European REACH and EN71 standards as well as CPSIA in the US"
Newborn and Baby Carriers