Most anybody who's a parent understands how there are just some things you can control and some things you just can't control.  I know each of my kids has taught me this lesson lots of times throughout different stages of their life.  I can control my reaction, but I have no actual control over their behavior, as much as I may try to influence it in the right direction.  We're convinced that with the right items on our Target baby registry or Amazon baby registry, we'll keep them perfectly healthy and our life will be a breeze.
While I do think you can set some GREAT things in motion this way, i's important to remember, there are going to be some things out of your control — and so we make the BEST choices we can.  
In fact, it's also important to remember that some toxins are actually lifesaving — plastic on a car seat can save your baby's life in an accident.
For us, plastic feeding tubes saved my son's life for his first 6 months.  I would have never chosen that, but it's what was necessary.  And so you do the best with what you have, what you can afford, and what you can realistically sustain as a habit.  
But starting off on the right foot, with non toxic baby gear, with the best intentions can set yourself up for success in the long run.  It's important, though, to keep in mind that flexibility will also be your best friend with your baby and kids.  Low toxin is a great step forward and not everything has to be rigidly toxin free.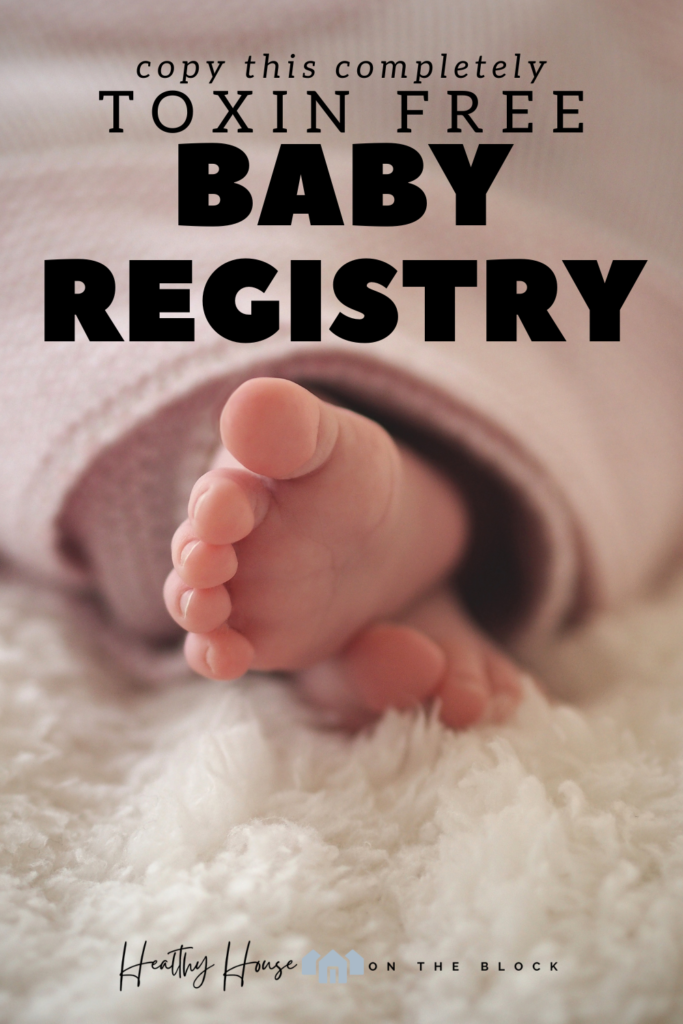 WHY DOES TOXIN FREE BABY GEAR MATTER?
Babies come to us with undeveloped immune systems, delicate skin and lungs that are so new to air, let alone the toxins that pollute our air.  And because babies are incredibly small in our big world, the amount of a toxin that may be insignificant to us as adults, can overwhelm their bodies and start the effects of body burden early on.
Another reason that natural baby products are so important to me is that babies are often in direct contact with this baby gear and they're breathing in very close proximity to these products. This means that they have the ability to breath in and absorb more of the toxins in comparison to us adults.
Flame Retardants: About a month ago I did this post about the health effects of flame retardants and how to avoid them.  Basically, this post goes through all kinds of studies that prove these additives are affecting the development of children, their hormone production, neurological function and suppressing their immune system.  If you want that solid evidence, I've got every study listed for each concern in the post here.
Petroleum Based Foam:  Often time soft foam and especially memory foam is made up of petrochemicals and also emit VOCs.  It releases toxic toluene into the air, which is the same stuff that is emitted from vehicle exhaust, gasoline fumes and cigarette smoke.  (SOURCE) (SOURCE) We want to avoid this at all costs when it comes to our babies.  Opt for a natural foam or a GOLS certified foam made of 100% latex and rubber trees.
Formaldehyde: Formaldehyde is often added to fabrics to keep them smooth and wrinkle free.  Unfortunately it's also added to many foams and cushions, especially in baby gear.  It's a known carcinogen and when babies are in contact with this chemical for a long period of time, it really affects their body (STUDY).  This is why I opt for natural baby products that don't contain any formaldehyde.
Polyvinyl Chloride: This is often found in plastics and a lot of baby products and toys.  It's present also in waterproof protectors and mattresses.  The toxins that are in this PVC often contain high levels of chlorine, which is hazardous to the health of our babies and children (STUDY)
PFAs (Waterproofing/Stain Resistant Chemicals): Those stain resistant and waterproof coverings are handy, but definitely not one of the natural baby products.  PFAs have been tested and linked to developmental delays as well as reproductive disorders.  Find a natural cotton or natural wool instead and use a cleaner like Thieves to get out those stains.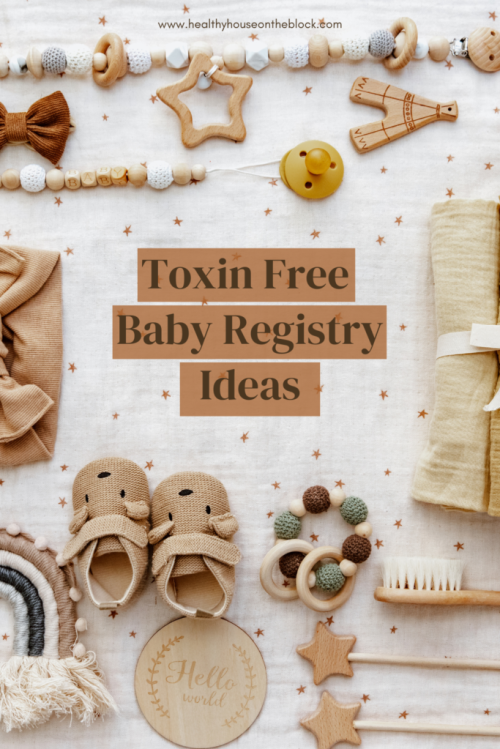 WHAT NON TOXIC BABY GEAR MATTERS MOST?
Length of Time Spent:  Any product that your baby will be in for long periods of time is one that I would focus on the most.  Things like mattresses, car seats or carriers are items that babies spend long periods of time in typically and so focusing on these items could reduce a large source of toxic burden. 
How Much Surface Area & How Much :  The larger the item, or the more this item encloses your baby (think car seats or carriers), the more exposure there is to your little one.  Not only is their face in close proximity, but they also have their skin touching these surfaces, which is creating two types of toxic exposure. 
Will It End Up in Their Mouth?  As your baby gets older more and more will end up in their mouth.  Some of it you can control and some of it you just can't.  But when it comes to toys, teethers and feeding items, make sure that you're using a material that is safe as these items are usually in a child's mouth, creating a potential exposure route. 
Will They Get Hot In This Item? One thing we know about VOCs is that they off gas even more in a hot environment.  The warmer an item gets (think car seat, stroller, bathtubs, carriers), the more potential toxic VOCs can off gas near your baby.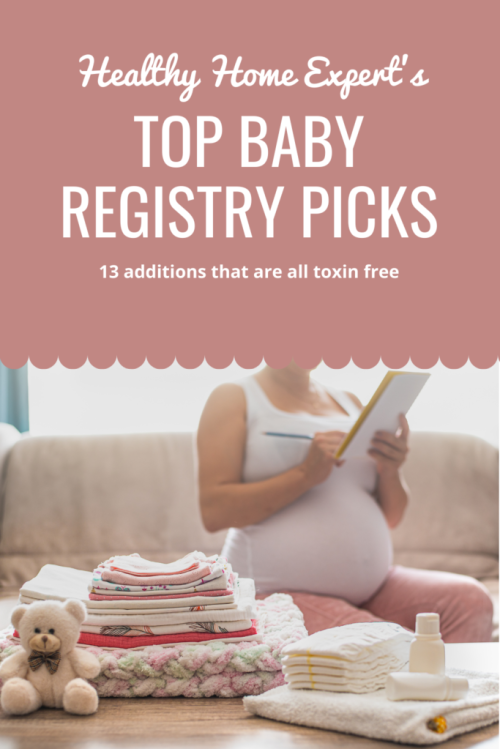 THE GOOD STUFF: SPECIFIC ADDS FOR A TARGET BABY REGISTRY AND AMAZON BABY REGISTRY
Stokke Strollers: Is free from flame retardants, phthalates, PVC toxins, PFAS, BPA & BPS and formaldehyde.  They actually use a waterproofing solution that is free from the typical toxins.  Their fabrics are Oeko Tex Standard 100 certified and they use non toxic dyes and inks.  They're also tested to be lead safe.
INFANT CAR SEAT & CONVERTIBLE CAR SEAT
TRAVEL CRIBS AND PLAY YARDS
Newborn and Baby Carriers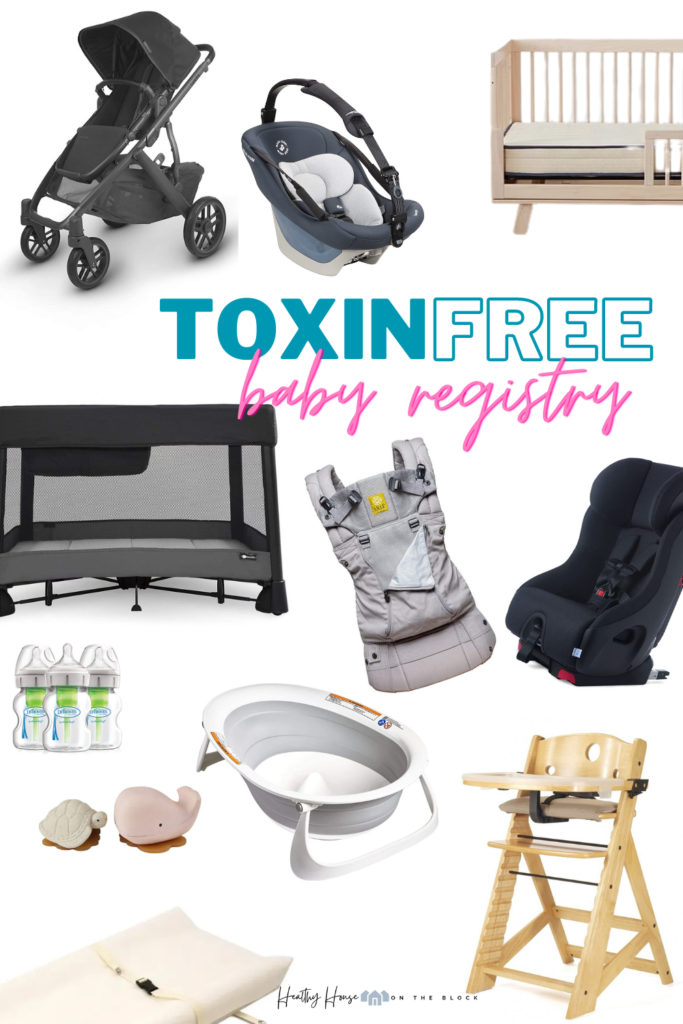 While there are SO many options out there.  Try to stick with a natural rubber, food grade or platinum silicone, organic cotton, or wood that has a food grade safe finish. 
Opt for glass or stainless steel wherever you can.  Philips Avent and Dr. Brown's were our favorites.  You can also use platinum silicone so long as it won't be heated up.
Opt for organic cotton as it breathes well and generally babies have no sensitivities for allergies to cotton.  Favorite online brands are:
Remember, there will be lots out of your control from what your baby actually likes to the gifts you may get from friends and family.  But making the best choices to be low toxin with what you have and what is a sustainable change.  Be flexible and remember that any small low toxin choice is a good one!