My childhood included lots of camping in and around Minnesota and around the country.  It's been something I've loved sharing with my kids as they've gotten older too.  And while we've done tent camping this year and in past years, we've been toying around with the idea of doing some camper camping next year and beyond so we can do longer trips and road trips.  There is no shortage of camper remodel ideas online, and it got me thinking about buying something to remodel.
Of course, my brain immediately goes into research mode, thinking about what will be best for our climate and the dynamics of our family.  But my brain also immediately began coming up with ways to make a camper a healthier space.  Afterall, camping is literally taking your home with you. And while being outdoors is FAR better than being inside your home, realistically, there are still toxins we're being exposed to in our camping gear and campers.  
The thing I love about how we can approach non toxic spaces, is that you can simply get an idea, such as a camper remodel idea, and then put your own healthy spin on it.  I've dreamed about camper remodel projects for the past few summers now, and so I've saved the camper remodel ideas I've seen here and there.  
All it takes is for me to alter the product or material that is used slightly so it's non toxic version, and I've not only reduced toxins inside the small camper space, but I've also added beauty and functionality.  This week's blog post will teach you all about: 
Toxins naturally found in campers

How to use AFM VOC blockers in your camper

Camper remodel ideas you can make toxin free

Non toxic camper remodel shopping list

Inspirational camper remodel ideas
Whether you're ready to go with a camper remodel or you're just in the dreaming stages, this post will help you do it all with as few toxins as possible.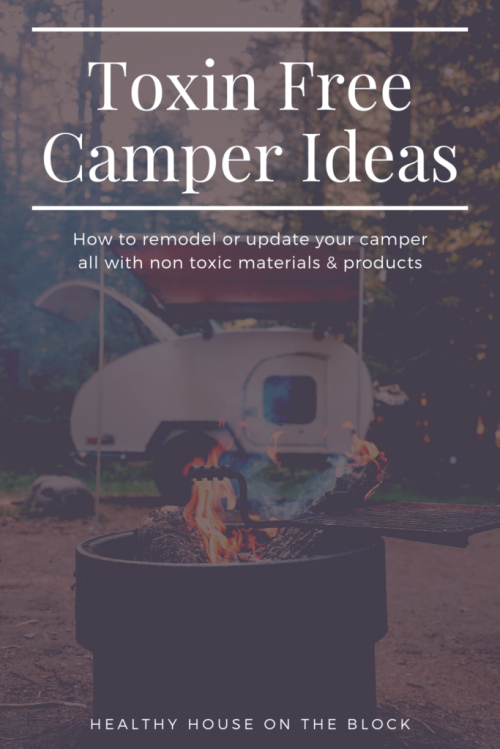 TOXINS NATURALLY FOUND IN CAMPERS
Campers, due to their functionality, use a lot of plywood and particle board inside.  This is mostly because they need to be light enough to pull behind a vehicle.  Adding solid wood is going to create a BIG problem in terms of how the camper can be pulled and towed. 
Plywood and particle board are definitely building materials you want to avoid if you can.  Not only do they contain VOCs, but they also contain formaldehyde, a known carcinogen.  One of the reasons this matters so much in a camper is because campers are often warm and very few air exchanges happen when it's closed up.  This means that not only are VOCs and formaldehyde off-gassing at a higher rate due to the heat, but the toxins have no place to escape and no way of being diluted. 
Standard foam is another toxin containing element in campers.  Many typical foams or conventional memory foam is primarily made of polyurethane and petroleum products, which contain VOCs.  The process to create polyurethane foam involves the use of toxic substances, such as isocyanates, that have been linked to an increased risk of tumors and are possibly carcinogenic.  Formaldehyde is another toxin that is often added to mattresses to create a stain resistant top layer.  Formaldehyde is damaging to the nervous system as well as a known carcinogen. 
Standard foam can also contain chemical flame retardants that are both carcinogenic and disrupt hormone production.
Flooring finishes like carpet and vinyl contain a number of toxins ranging from flame retardants to toxic polyvinyl chloride and formaldehyde.  And again, because the camper can get hot and be a fairly closed up space, it can mean that these toxins are off gassing at a high rate and also the toxins aren't escaping from the camper, but staying inside.  Carpet inside can also have a toxic pad underneath it, which often has VOCs off gassing from the material.  Hard surface flooring is usually a vinyl that will also have VOCs present as well as PVC toxins.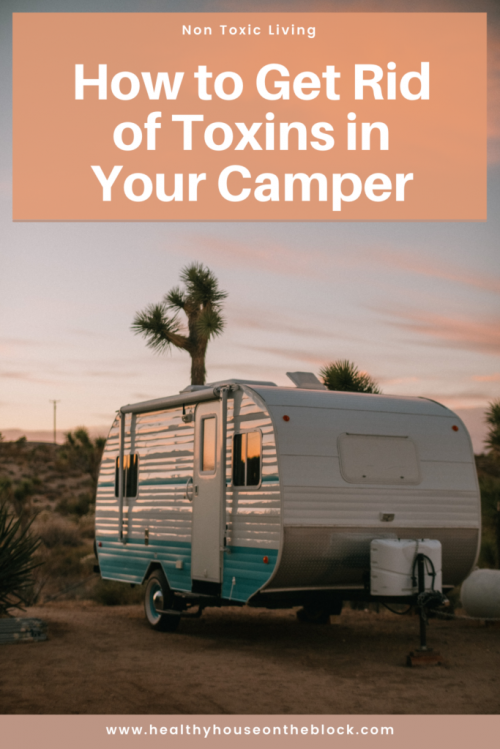 AFM VOC BLOCKER FOR THE WIN
Once you get into your camper remodel project, you'll likely be a a spot where you've exposed plywood and particleboard.  This is a great time to begin using AFM SafeCoat SafeSeal, which is a VOC blocking solution. 
Safe Seal is ideal for surfaces that won't end up being touched or handled.  You could apply it to plywood in building materials that will be covered up with finishes or in furniture pieces that have a plywood or pressed wood at the interior of the furniture.  You may find an exposed edge that has not been finished on pressed wood furniture that you could seal in with Safe Seal.
Before you start it's a good idea to spot-test in one area first to ensure you are happy with the finish and product. You'll then want to clean the surface you'll be painting and let it dry completely before you adhere the Safe Seal to it.
Safe Seal has a milky liquid appearance and texture but does dry clear.  You'll want to paint on with a brush, roller or sponge and let it dry completely (about two hours).  You'll then repeat this for 2-3 coats total.  A thick application or a humid climate may create longer curing times. You can then clean up with warm soapy water while your tools are still wet.
The surface of the Safe Seal will remain a bit tacky, even when cured, which is why this is ONLY for surfaces that are not often touched or handled.
Whether you want to overhaul the whole inside, or you want to just spruce it up  little bit, these camper remodel ideas are all projects you can also use to reduce toxins inside your camper:
Paint:  Obviously a coating of fresh paint, especially if you're going lighter, can brighten and update ANY space.  This is probably the most effective project when it comes to camper remodel ideas.  Be sure to use a VOC free paint like ECOS and then you can also seal it with a product like AFM Ecolacq to keep it looking new for a long time.  
Flooring:  I also love the idea of updating the flooring inside your space.  Now, if you have the opportunity to rip out flooring and install new, I'd go that route. But, if you just can't rip out glued down linoleum or vinyl, you can seal it with an AFM SafeCoat VOC blocker and then add your new flooring on top of it.  I recommend a hard surface low toxin vinyl for a camper remodel. 
Foam Cushions:  If you can, opt for 100% natural latex foam, and if you can find it, GOLS certified is best.  I've heard of people reusing mattress toppers for this or purchasing their own from a company like Natural Upholstery, which sells foam for furniture projects.  You can also replace foam with a cotton batting or fill, which may just require a little more work on your end. 
Textiles:  A camper remodel project just isn't complete without updating textiles inside.  Fabrics are a great way to update a space and you can find some excellent options out there that are also low toxin.  A cotton or linen is a great option for fabric.  I also really like hemp an bamboo for sustainable fabrics. 
Wood Components:  If you have to replace any plywood or wood, be sure to opt for either  an unfinished, hardwood or a formaldehyde free plywood.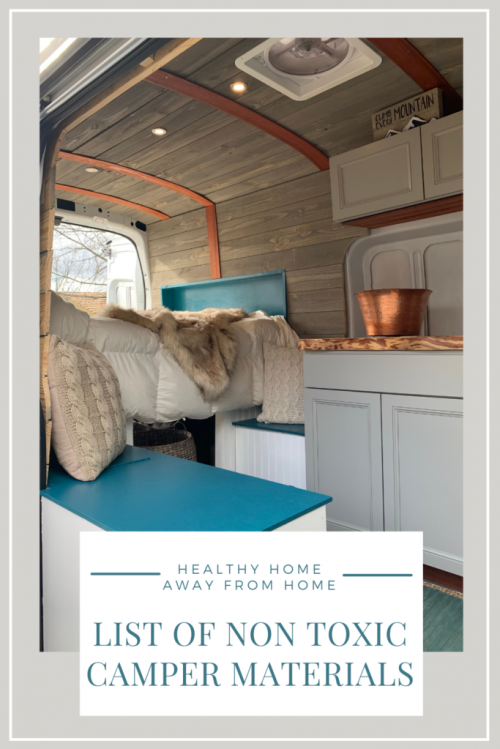 NON TOXIC CAMPER REMODEL SHOPPING LIST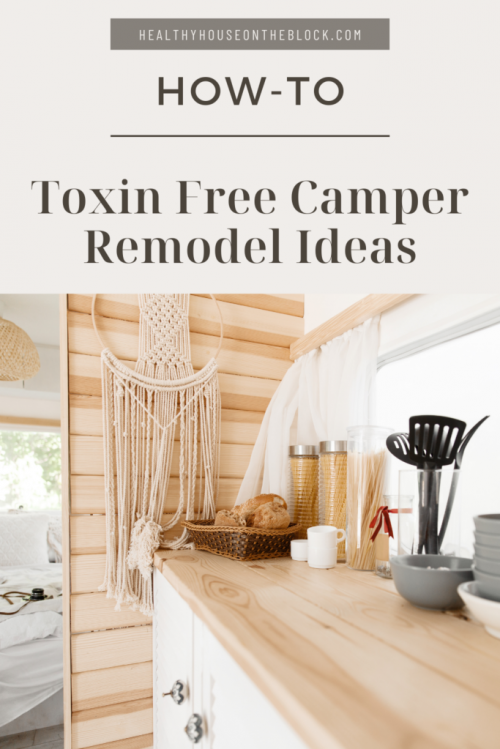 INSPIRATIONAL CAMPER REMODEL IDEAS
It has to be one of the best parts about having a camper: getting to explore the outdoors and other areas of the country and world.  And imagine being able to come back to a low toxin space afterwards.  Camping is one of the best ways to reset your circadian rhythm, detox from indoor spaces and truly rest.  I love it even more now that we have the option to take our healthy house with us while we do those things as a family.