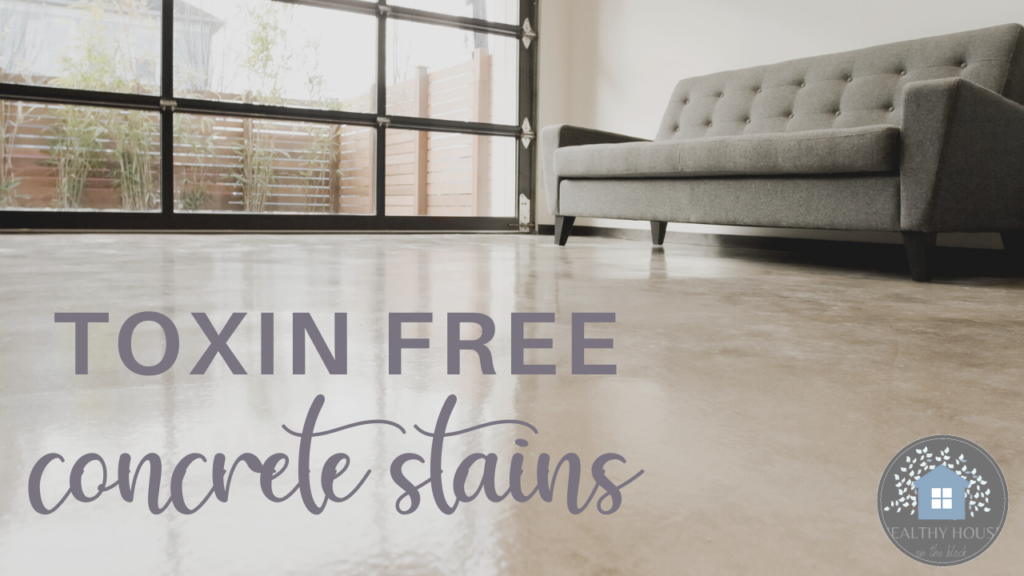 Concrete is an often overlooked building material that doesn't get as much credit as it should.  Not only is it a tried and true medium, but it's also a wonderful solution when it comes to creating  a healthy home.  Concrete in and of itself has very few toxins and once it's cured, gives off no VOCs.  Over the years there's been so many water based concrete stain options that have become available, that you can create beautiful spaces with it as well.
Sometimes we overthink a healthy house and all the additions we could make to it.  It's easy to start finding new and shiny solutions and building materials that are so innovative they seem perfect in every way.  And every now and then we just have to step back and get back to the basics.  This is true of SO many building materials and textiles we bring inside our home, not just concrete.  Our homes have come full circle in terms of materials like natural wood.  
Houses first built had SO much natural wood, but required a lot of maintenance and care.  Homes then started being built with more man made components, which led to more toxins indoors.  And now, here we are shifting back to natural wood, but in a smarter way, with new maintenance hacks to preserve our homes.
Concrete is not only an excellent building material due to its structural integrity, but it's also an EXCELLENT option for reducing toxins inside.  A smooth surface floor is one of my biggest recommendations for a healthier home.  Concrete is one of the best low toxin options for a healthy floor in this category, especially at the lowest level of a home, where moisture can be an issue.  
Another wonderful home improvement I've seen time and time again is concrete countertops.  This is an excellent, cost effective, low toxin option when replacing toxic laminate countertops or granite countertops.
But there are ways you have to care for concrete and ways you can spruce up concrete to make your home feel like a welcoming space, which is what I'm sharing today.  In today's post you'll find:
Toxins in most concrete sealers and treatments

Why staining and sealing concrete is necessary

Toxin free water based concrete stains

Concrete floor treatments for a healthy house
As with any product we put in our home, there is potential for it to have toxins.  I think it's worth mentioning here that zero voc is not a toxin free product.  That being said, it's definitely a  less toxic product as VOCs are generally the most concerning toxin in solutions like stains.
Stains can sometimes contain heavy metals in the pigments, which is also a toxin that should be avoided inside the home.  While this usually is only harmful while applying, some stains will end up flaking off over time and can end up in the air and dust around our home. 
And while you might think that acid concrete stains could be harmful, they're actually a very low toxin option.  Granted, you'll have to protect your eyes and skin while using it due to the acidity.  Acid concrete stains generally contain almost no VOCs and quickly react to the concrete to alter the finish.  The process is slightly more complicated than a standard water based concrete stain, but it's still easy enough for someone to DIY.
WHY STAIN AND SEAL CONCRETE?
Concrete, while a healthy house component due to low toxins, is a porous surface.  This means air and moisture can travel through the concrete at different times in small amounts.  A porous surface in a home can sometimes be a tricky thing to control, depending on your climate and home structure. 
Seal out Radon: Radon is carcinogenic and is likely in all of our homes on some level.  Radon often enters the home through the lowest level.  Concrete cracks and pores allow the radon to travel into the home, where it gets trapped and pools at the lowest levels.  Radon is the number one cause of lung cancer in non-smokers and is definitely a toxin you want to keep out of your home.  Radon testing is an important part of creating a healthy house, which you can learn more about in this post. 
Prevent Mold & High Humidity Levels:  That porous surface we talked about also allows moisture into your home. And again, because concrete is often at the lowest level of our home, it can endure a lot of moisture intrusion from outside soil, leaks and high humidity levels.  Moisture that sits for long periods of time on the concrete will eventually allow mold to grow in and on the concrete.  Sealing concrete will not only prevent moisture from intruding your home, which will also cause high humidity levels, but will also prevent unwanted mold from starting. 
Protect from Stains: Concrete's naturally rough surface will absorb liquids, mud and dirt into its surface and subsurface.  The absorption of these liquids leaves unsightly stains that are near impossible to remove from the flooring.  If you have countertops made of concrete, the staining can happen from just about any type of food left on the surface.  Sealants that repel moisture will help naturally prevent staining. 
Create a Long Lasting Finish: Concrete is expensive and you'll want to protect your flooring or countertop to avoid future expenses and work due to chips, staining or pitting. Continued moisture exposure will begin to show when you see rough spots of worn away concrete.  This concrete will begin to disintegrate and crumble, leaving larger and larger damaged areas.  By sealing the concrete, you can create a beautiful, long lasting finish that doesn't require much additional maintenance.
TOXIN FREE WATER BASED CONCRETE STAINS
CONCRETE FLOOR TREATMENTS FOR A HEALTHY HOUSE
Polished Concrete Floors:  Polishing a concrete floor is done through a mechanical process rather than a chemical process, and therefore is an EXCELLENT toxin free flooring alternative.  Because there are no chemicals or sealers used in this process, it's virtually a toxin free flooring solution.  You could add a wax layer to the top to protect it, which is an easy toxin free product to find and use.
When you're sealing in concrete countertops after using a water based concrete stain, you need to also consider that the surface will be used for food, and won't necessarily be a high traffic foot area.  
In this case, you still need to protect the concrete from stains and food bacteria, but you also need the finish to be 100% food grade rated.  For this, I recommend using a food grade oil with a wax to protect.  I love Real Milk Paint and their products for this.  They have a sealer available for concrete that contains food grade walnut oil and carnauba wax (and that's it).  Perfect for a countertop sealer where you'll be preparing food.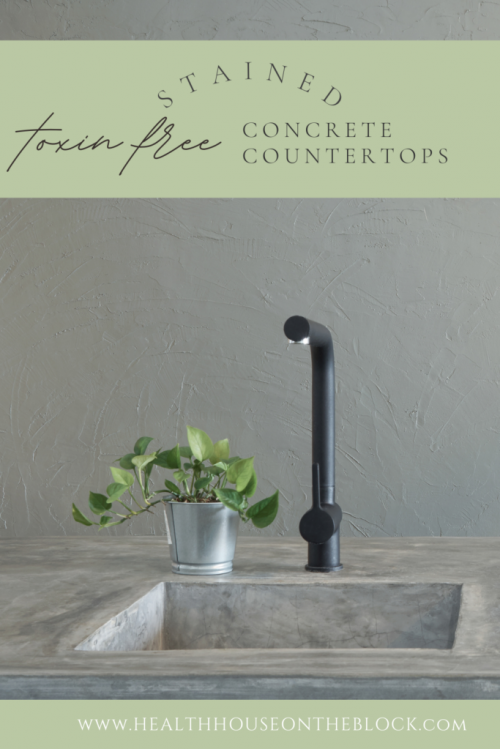 Concrete is one of my favorite low toxin flooring and countertop options for just about any healthy house.  This often overlooked option is making a comeback with more low toxin ways to stain and seal it than ever before.  Definitely include these options in your next home project shortlist.