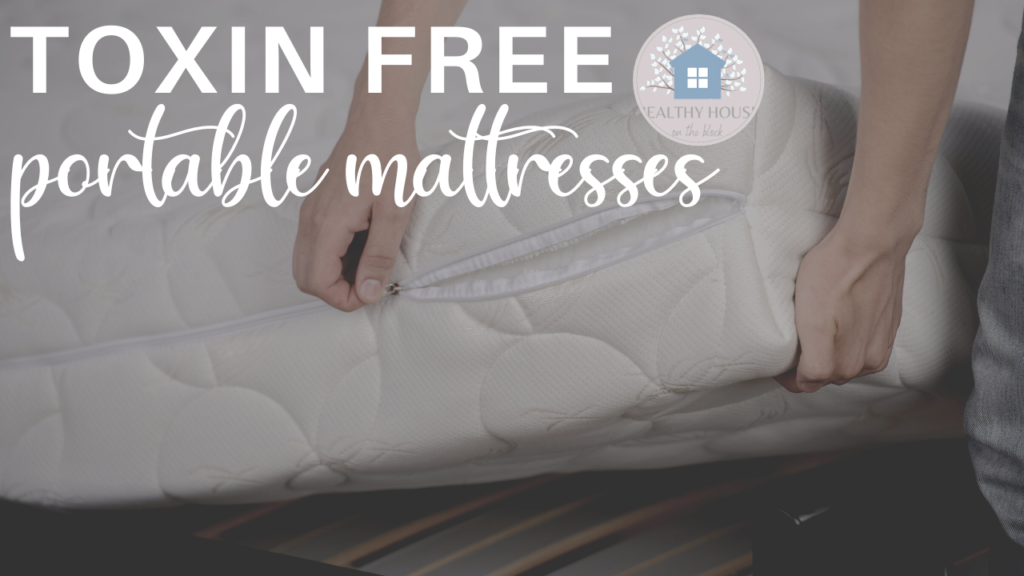 We love to explore new places as a family and over the past year we've traveled by car and plane to visit new-to-us areas.  Sometimes we camp.  Sometimes we stay in a hotel.  Sometimes we rent a home.  But one of the things that ends up coming with us during some of those trips is a portable mattress.  Especially the years we've traveled with or used a portable crib for our babies, we've brought with a non toxic portable mattress to go with it.
It was one of the questions you asked on my Instagram Stories:  What are the best non toxic portable mattress options? I had happened to come across one for a travel crib years ago and it has gone with us on many trips and vacations.  But there are SO many more options now for portable mattresses that I knew it was time to do a little bit more research.
Portable mattresses are a lot like shopping for your own mattress at home.  The toxins you'll want to avoid are similar to the ones you want to avoid in your every-night mattress.  And while there are SO many non toxic and third party certified bedroom mattresses, the portable mattress department is a little trickier to navigate.  Not to mention a portable mattress can be inflatable, foldable, or rollable.  The possibilities are endless, which can make shopping for it a little overwhelming.
Well I did the research and found some exceptional options in terms of non toxic portable mattresses.  It took some digging and hunting, but I'm excited to be able to share with you some great options.  Of course I'll also cover how you can search for your own and what materials you want to avoid and which ones get a green light.  Plus, I haven't forgotten about travel pillows, covers for your portable mattresses and how to store them when not in use.
Paying attention to toxins where you sleep, even if it is just on a short trip is critical to our overall health and wellness.  Spending 6-8 hours in extremely close proximity to any toxin can overwhelm and disrupt many of our bodies natural functions. On the opposite end, giving yourself those same 6-8 hours in an environment that allows your body to naturally detox can be an overwhelming benefit to your health.
Toxins in your sleeping area, whether it be a portable mattress or in your bedroom at home, can be much more concerning than toxins that you may come in contact with during the day.  Toxins that we come in contact with over and over throughout the day often burden our systems.  What's more is that our bodies can have a difficult time detoxing completely when we have SO many toxins building up in our systems.
The biggest reason to pay attention to toxins in your sleeping area is due to the sheer amount of time you spend in one space.  There is likely no other place that you spend 6-8 hours in every single day without leaving.  And for this reason, it can be a space that either really supports the detox process or a space that can completely overwhelm your body.  
The reason mattresses, even portable mattresses matter so much is that when we use them we are in extremely close proximity to them.  Not only do we come in contact with our skin, but your face may also be laying directly on the mattress as well.  This leads to inhalation of any toxins that may be off gassing.  Both forms of exposure to toxins can lead to system burden and disruption. 
And finally, toxins off gas at a much higher rate when they're in a warm, humid environment (as opposed to a dry, cool climate).  Just due to the nature of our human bodies, we create a warm, humid environment while we're sleeping and therefore create an environment conducive to toxin off-gassing.  When you combine this with the fact that our faces are in close proximity to the mattress where potential toxins could be, you can see how this could cause a recipe for disaster.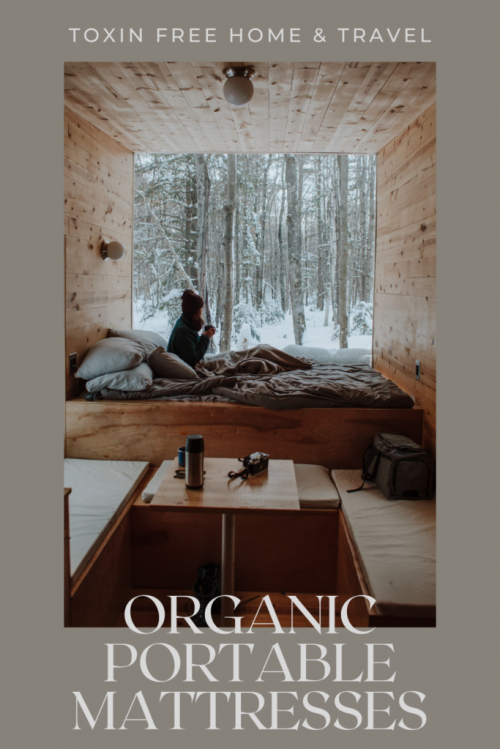 MATERIALS TO AVOID IN PORTABLE MATTRESSES
Portable mattresses come in so many different forms and materials.  You can find air mattresses to fold up the mattress and everything in between.  But with all these different materials, you need to watch for certain components to ensure you're not bringing added toxins into your space.
Conventional Memory Foam: Memory foam is primarily made of polyurethane and petroleum products, which contain VOCs.  The process to create polyurethane foam involves the use of toxic substances, such as isocyanates, that have been linked to an increased risk of tumors and are possibly carcinogenic.  Formaldehyde is another toxin that is often added to mattresses to create a stain resistant top layer.  Formaldehyde is damaging to the nervous system as well as a known carcinogen. 
Flame Retardants: Flame retardants have been added to mattresses for years and what we've learned over the last few years is how harmful these additions to mattresses and portable mattresses can be to our health.  Flame retardants have been linked to an increased risk of cancer, endocrine disruption, fertility issues, cardiovascular disease and developmental delays in children. It's a toxin best avoided wherever you can as we come in contact with it throughout the day and night. 
Waterproof Covering: Many mattresses add a waterproof coating to the material to ensure it doesn't absorb moisture and repels liquids that could potentially stain the mattress.  While this idea is good in nature, the execution of the idea leaves us with toxins and potentially harmful solutions.  Water proof solutions often contain PFAS, a "forever chemical" that our bodies have a hard time detoxifying naturally.  Because this toxin builds up in our system it has been linked to immune system dysfunction, hormone disruption, liver damage, potential heart damage and an increased risk of cancer. (STUDY)
PVC (Polyvinyl Chloride): Many camping mats and air mattresses are made with a polyvinyl chloride, which is what makes the plastic material so flexible and soft.  Polyvinyl chloride is a major source of phthalate exposure, which has many potentially harmful effects on our bodies.  PVC toxins disrupt the natural function of the endocrine system.  This negative effect on hormones lead to other problems such as an increased risk of cancer, thyroid dysfunction, and fertility issues (STUDY).  PVC toxins have also been shown to negatively affect children and their development both socially and cognitively (STUDY). 
HOW TO FIND A NON TOXIC PORTABLE MATTRESS
As with anything, I think it's not only important to give you my picks for healthier portable mattresses, but I also want to help you so you know HOW to shop for them in the future.
Organic Cotton:  Certified organic cotton is one of the BEST options for bedding, including some portable mattresses.  Cotton that isn't organic can contain pesticides from the farming process, and so it's best to find something that has been certified as organic.  Cotton is breathable and a great option for sleeping as it has the ability to quickly dry.
Organic Wool: Wool is another great alternative as it is naturally flame resistant and naturally prevents mold and mildew from forming.  Many toppers contain a blend of organic wool and cotton, which is often a more comfortable mattress. 
Organic Latex Foam:  Organic latex, not to be confused with a synthetic latex foam is made from natural rubber trees and a fantastic alternative to memory foam.  The Global Organic Latex Standard (GOLS) is a great certification to look for when you're looking for an organic foam portable mattress.  They ensure that no petroleum products are used no are petroleum byproducts created during the manufacturing process. 
GreenGuard: The GreenGuard Cold certification is one of the highest certifications a company and product can obtain.  It has stringent requirements for the overall number of VOCs a product can emit.  Greenguard often covers the entire mattress, not just a component of the product.  This makes it easier to shop as you don't have to worry that the interior of the mattress and the exterior covering are going to be of different quality and toxin level.
Certi-Pur: Certi-pur is another well known certification for mattresses and portable mattresses. TO obtain this certification, there must be low thresholds for formaldehyde and other VOCs.  The mattress must also be free from heavy metals and CERTAIN flame retardants.  I feel like the Certi-Pur certification is a good thing to look for if you just can't find anything else. 
HOW TO CARE FOR YOUR PORTABLE MATTRESS
After you've invested in a new portable mattress, make sure that you're taking care of it the right way.
Mattress Cover:  If you can find a mattress cover to fit your portable mattress cover, I always invest in this addition.  It not only will make it a breeze to clean, but it protects your mattress from any potential spills or stains.  I also think this is a great way to give your body a buffer from a low toxin option.  Naturepedic has some great waterproof protector pads that are certified by GreenGuard and GOTS. 
Air it Out: When you're done using your mattress, let it air out.  Moisture that can get trapped on the inside before storing can lead to potential mold and mildew problems.  You definitely don't want to sleep on a surface that has toxic mold growing.  You can air your portable mattress outside or in a room with excellent ventilation from fans.  
Cleaning: If your portable mattress needs to be cleaned, make sure you follow the label's instructions.  If you can wipe off the mattress surface, just be sure to use a toxin free cleaner such as Aspen Clean.  You can also use the same cleaner to spot treat as necessary any stains or spots.  If your mattress can be washed, just be sure to completely dry the product before storing it.
Storing:  Make sure your portable mattress is stored somewhere dry and cool if possible.  A damp climate will promote mold growth and can invite pests make their way into the mattress as well.  While I don't love plastic, sometimes a sealed, plastic storage bin really is the best option to store something like a portable mattress that doesn't get used frequently.
No matter where you're headed to, a portable mattress can be a great addition to your packing list.  It's like bringing part of your healthy house on the block with you on your travels.