Harmful Effects of Chemical Cleaners
If you have explored my blog, you'll find a lot of information about the harmful effects of toxic and chemical cleaners.  The effects are amplified when it comes to families with small children.  The effects can be acute (short term) or life long in nature:
Asthma
Allergies
Eczema
Depressed Immune System
Endocrine System Disruptions
Nervous System Depression
Kidney & Liver Issues
Carcinogenic Risks
Many of these problems are due to the fact that cleaners and home products are used daily within our routines and lifestyle.  This allows the toxins to build up within the body's systems and bloodstream.
How Tohi Muli Purpose Cleaner is Different
But cleaning doesn't have to be this way!  Tohi is is not only completely non-toxic, but it actually is derived from plants, which means it's actually BENEFICIAL to our health.  It's highly effective in supporting the immune system and overall good health.
The products are 100% biodegradable and absolutely eco-friendly.  The best part of the concentrated solution is that for my family it has replaced EVERY single cleaner.  I literally don't have to buy any additional cleaners — Tohi is THE one.
BONUS: Savings Compared to Toxic Cleaners
Not only is is the concentrated Thieves solution completely non-toxic, but the cost of it is actually less than regular, store-bought cleaners.  Most cleaners range anywhere from $.05 – $.11 per ounce, which includes your basic cleaners all the way up to your "green" cleaners.  
Tohi is concentrated, therefore you mix a taplespoon (or two depending on the application) with water.  Once you do this, the cost per ounce averages out to about $.06.  This is an awesome deal!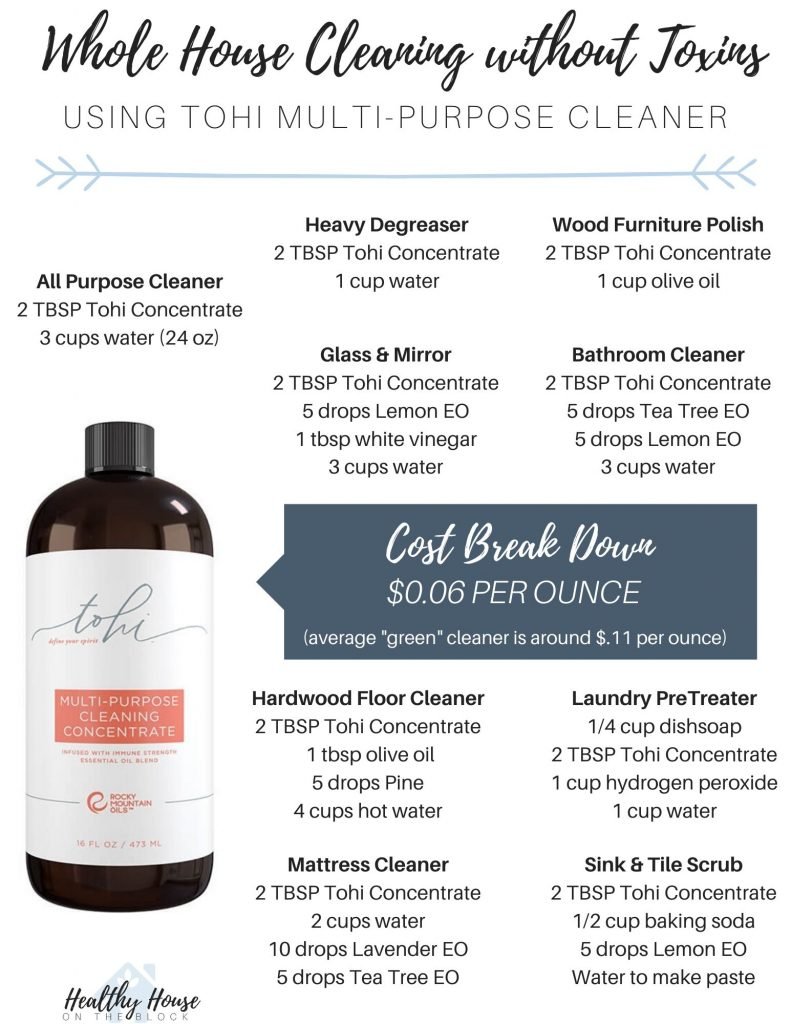 YOUR HOME WILL NEVER BE THE SAME

Get started creating the home environment
your family needs to promote health and wellness