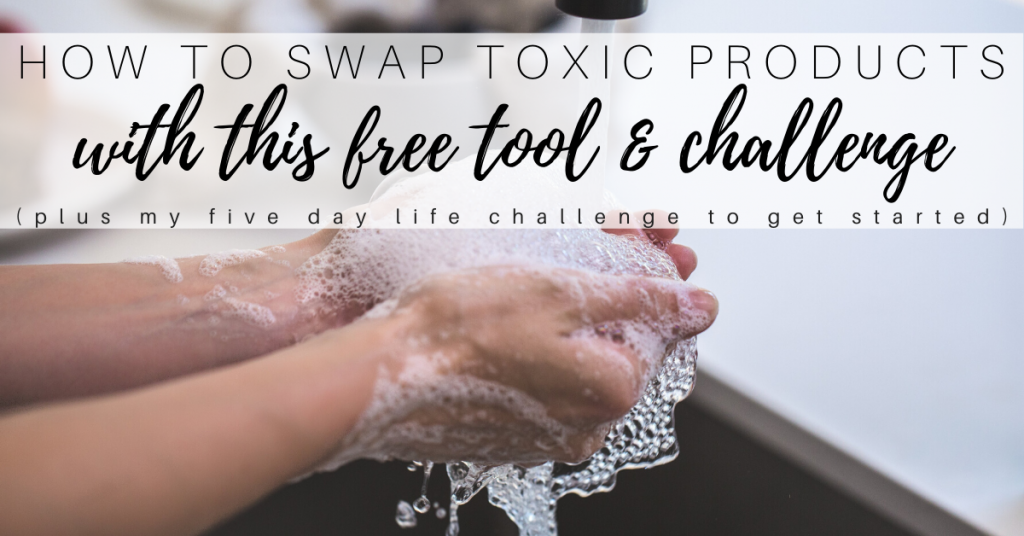 I think the biggest challenge when it comes to a healthy house is being completely unaware of what's harmful in the first place.  Afterall, you don't see bottles of cleaning spray advertising their unsafe synthetic fragrances and toxic chemicals. And you certainly wouldn't see a shampoo bottle tell you it's hazardous to your health. And to be honest even those products touted as natural cleaning products still have some nasty stuff in them.
Unfortunately, as consumers we've just trusted that everything around us is safe for our homes and our bodies.  For most of my life I was in this camp — I never researched anything I bought. If it was on sale, I got it. If it smelled good, I put it in my cart.
But arming myself with more knowledge, I've realized that there really is a need to understand exactly what I'm buying.  For me, I wanted to know EXACTLY what was in the products I purchased. For some, it might be just knowing that they're safe for use.  Finding natural cleaning products and home products that fit whatever your viewpoint is can be done (and more easily than you might think).
But finding out if products ARE safe is a whole project in and of itself.  Have you ever found yourself looking for a new product at Target and trying to decipher which one is better? And then try doing it with a preschooler in tow who has 538 questions about life.  
This week I'm SUPER excited to share with you my number one go-to tool to help me find new products for my health and beauty routines as well as for all my cleaning.  The Think Dirty App has transformed over the past few years and it still helps me make better choices when it comes to natural cleaning products and home products.  
Just because I know what chemicals to watch for doesn't make it any easier to find healthy products in a pinch.  
I'm excited to share with you HOW the app works and how you can use it at home.  Plus, I'm doing a 5 day challenge to help you clean out your toxic products and switch over to natural cleaning products, personal care products and home products. Are you ready to jump start your healthy house?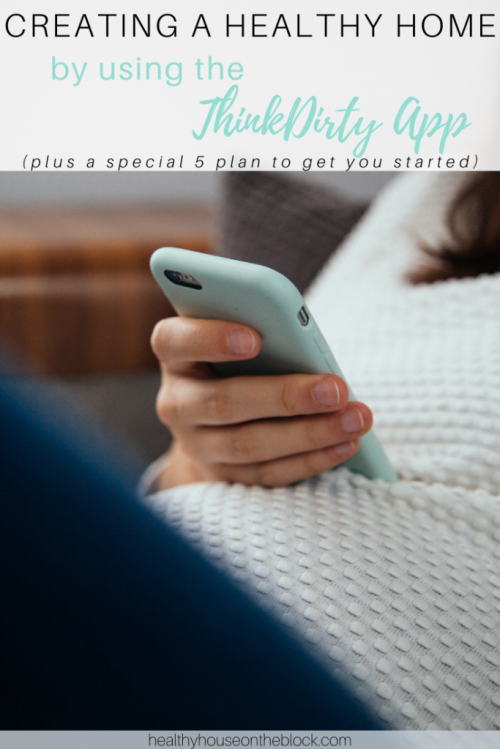 HOW THE THINK DIRTY APP WORKS TO FIND NATURAL CLEANING PRODUCTS AND MORE
The main way I use the Think Dirty App is to scan in products.  If I'm at a store and I'm looking at a bottle of shampoo for my kids or a new deodorant, I'll just scan the bar-code with their bar-code scanner to get a list of ingredients. 
The ingredients listed in each product within the app are categorized into levels of safety.  It's very clear to see what ingredients are bad and what ingredients are safe to use by the color assigned to them in the app's list. It's especially helpful when you're looking at what appears to be a natural cleaning product or home product — because sometimes it actually isn't all that natural.
You can click on each ingredient to get more information about what that ingredient does and why it's safe or why it's unsafe.  
You can save your products by clicking the plus sign and adding the product to either a list of clean products, dirty products or your bathroom shelf.  This will help you keep track of what you have and what you want to buy in the future.
You can also read the reviews on the product.  This makes it SO easy while your shopping to know your picking a good replacement.
If you're wanting to just browse, you can simply click on each of the categories listed at the top to look through the already scanned products.
And what's awesome is that if you don't see your product, you can add it to their database to be reviewed.
If you're wanting to just browse, you can simply click on each of the categories listed at the top to look through the already scanned products.
And what's awesome is that if you don't see your natural cleaning product or personal care product, you can add it to their database to be reviewed.
HEALTH RISKS OF CHEMICALS AND TOXINS IN OUR PRODUCTS
If you're looking for natural cleaning products and natural personal care products, you probably know that there are a slew of chemicals that make up our everyday items.  
But in case you're wondering WHY choosing a natural cleaning product or natural personal care product is such a big deal, here's a list of just a few toxins found in everyday items around our homes and on store shelves.
Fragrance: Often contains phthalates, which have been known to disrupt hormone production and have also been linked to diabetes, breast cancer and liver cancer.
BHT and BHA:  Multiple health risks are associated and include liver problems, thyroid issues and kidney problems as well as potential to increase tumor growth.
Formaldehyde: While it's not listed as formaldehyde on the bottle, you can look for the following  ingredients: (DMDM hydantoin, Imidazolidinyl urea, Diazolidinyl urea, Quaternium-15, Bronopol (2-bromo-2-nitropropane-1,3-diol ), 5-Bromo-5-nitro-1,3-dioxane, Hydroxymethylglycinate).  It has been known to cause contact dermatitis and potential cancer risk.
Parabens: Known to disrupt hormone function and has been linked to an increased risk of breast cancer.  Another concern is skin irritation problems as well as neurological and immunological problems.
Phthalates: This toxin has risk in both high and low levels of exposure.  The biggest concern is linked to disrupting and affecting the reproductive system in both men and women.
Toluene: A petroleum product that can cause skin irritation, irritation to airways as well as a toxicity to the liver and reproductive system.
Ethylene Glycol: Linked to kidney toxicity, causes irritation to the airways and causes skin irritation.
1, 4-Dioxane: Causes irritation to the skin skin and airways and is classified as a possible human carcinogen.  Evidence of causing damage to the liver and other organs.
MAKE A PLAN TO MAKE THE SWITCH TO NATURAL CARE PRODUCTS AND NATURAL CLEANING PRODUCTS
The Think Dirty App makes it easy to keep track of what you've scanned and what you've searched for.  This in turn makes changing your products a CINCH.  
When you go through your own product stash, simply scan each one in.  Once you've scanned it you can add it to a list (My Bathroom Shelf, Clean Products & Dirty Products — or make your own list).
Keeping track of clean products I've found that I want to try has helped me save time while shopping and when I'm doing research later on.  It also helps me keep tabs on what comes into my house. If I only choose to purchase natural cleaning products and safe beauty products, I am doing myself a HUGE favor.
But if you're more of the pen and paper kind of gal, then I encourage you to use that.  I am definitely that type of person, so I completely get needing to make a list and physically write things down.  
Whatever route you choose, the best way to go about replacing toxic products for healthy ones is by knowing what products you have and then choosing the worst offenders to replace.  Make a plan to replace them too with natural cleaning products, beauty products and personal care products. Whether it's replacing one new product with each shopping trip or replacing them as you use them up. Either, way you're making a step in the right direction.
There are even some of us who prefer to dump everything that's rated poorly and replace it all in one fell swoop.  That's fine too. However YOU work best is the way to go.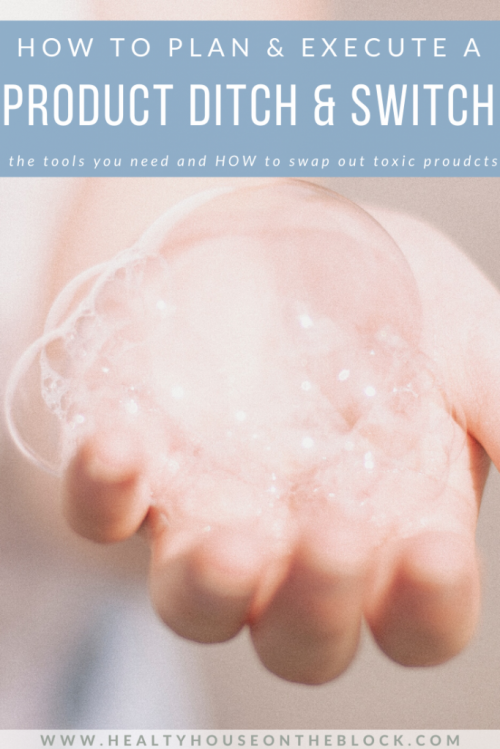 JOIN ME FOR A LIVE THINK DIRTY CHALLENGE
Join me in doing this five day ThinkDirty Challenge to replace products in your home as you use them up and plan to make better purchases in the future.   
I'll be walking you through the exact steps you need to take to plan out the changes to make in the future and HOW to go about swapping out every toxic product — in just a few days!