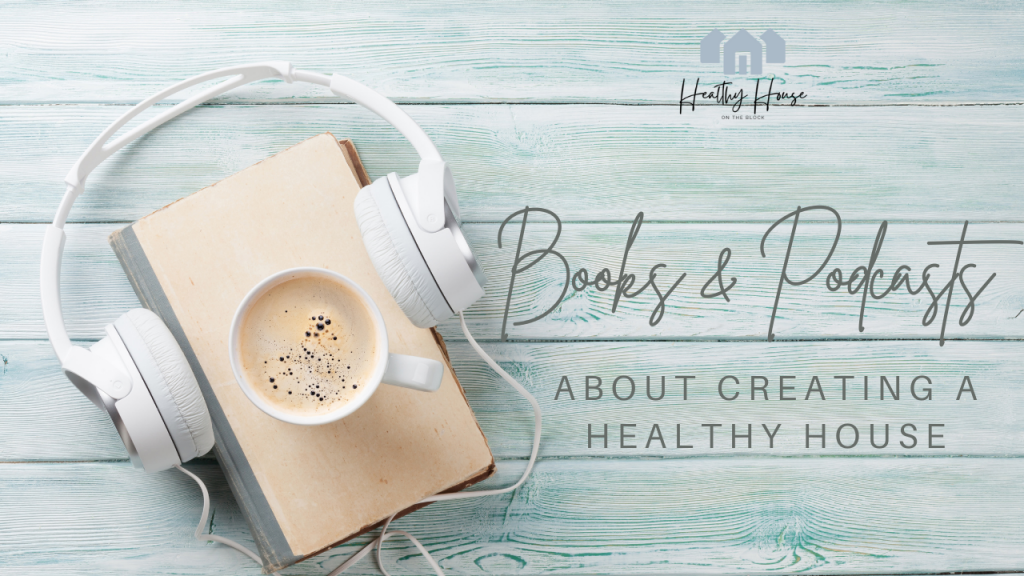 My entire life I've been what I refer to as a serial learner.  Meaning, I love consuming information, learning and reading — sometimes more than the actual application of what I'm learning.  My journey to create a non toxic house is no exception either.  Finding health books and top podcasts in the toxin free space has not only been incredibly fun for me, but has also helped me on my journey.  
I'm not the type of person to just follow one person's advice and call it a day.  I absolutely love finding a mix of different ideas and advice and following bits and pieces from each one.  This is how I make our non toxic house goals work for our family.  By taking the ideas from health books and concepts taught in top podcasts I've found ways to customize my family's plan to create a toxin free lifestyle.
When I first started out on my journey almost 8 years ago, there really wasn't a lot of information out there.  I remember scouring Amazon for a few books and managed to find just a handful of health books that addressed non toxic home spaces.  Since then the importance of a toxin free home has become well known and much more of a focus.  And with the emphasis on non toxic home spaces, there has come with it many new resources in health books and top podcast episodes. 
Health books that give practical advice and make it easy to create a plan for your non toxic improvements to your space is definitely an effective tool to have in your back pocket.  I'm so excited to share with you some of my favorites in this post.
WHY EDUCATION ON HOME TOXINS IS KEY
First and foremost, I think it's so important to understand why health books and top podcast series in the non toxic home space are so helpful.
For starters, it's a great way to keep up on current information, I think this is especially true of top podcast episodes.  Podcasts are usually based on current information and have some great expert interviews.  These experts are often in a field related to toxin free homes or non toxic living and they're truly living this lifestyle every day.
Second, health books about the environment at home will often help you understand the fundamentals of how to create a healthy living space. These fundamentals and basics are the building blocks of creating a functional, healthy space.  Without being able to understand these concepts about indoor air quality, moisture and VOCs, it can make the process of reducing toxins much more difficult and burdensome .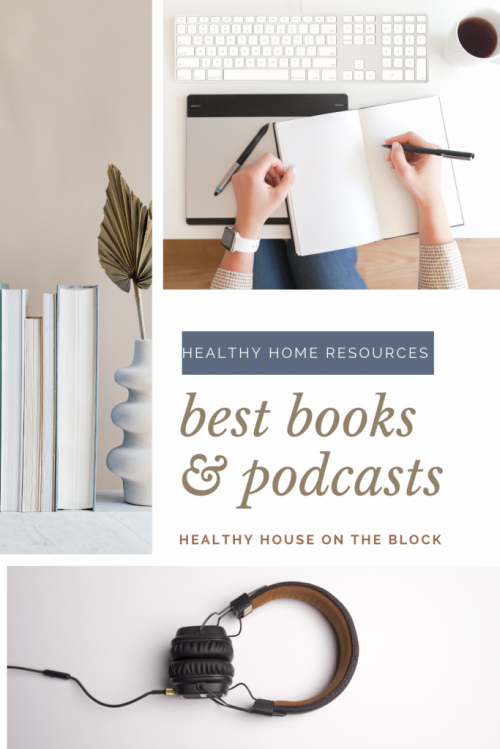 NON TOXIC HOME HEALTH BOOKS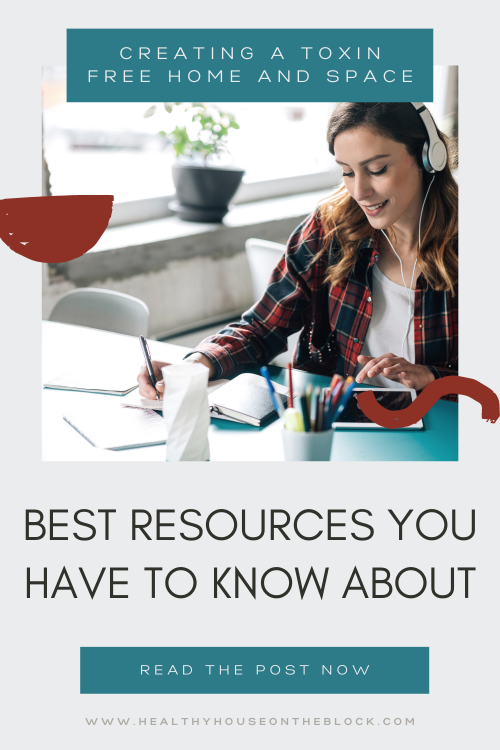 TOXIN FREE TOP PODCAST LIST
HOW TO USE MY BLOG TO CREATE A HEALTHY HOUSE
And then there's Healthy House on the Block. There are SO many ways you can learn on my site and blog that will go hand in hand with the top podcast and health books I shared previously.  Learning is such a multi dimensional experience now with videos, text, audio and workbooks.  There's definitely something for everyone.  
Where to Start:  On my website I have a handy little page called "Start Here".  It not only eases you into creating a healthy space,  but it also gives you a few great starting points based on what your interests are. Simply click on the down arrow of each category to see links to specific information about that topic.
Printable Resources: I am a workbook queen when it comes to improving ANY area of my life.  I know that the pen to paper method works best for me while I'm processing changes to an area of my life or home.  This is why I've created printable worksheets and guides that you can download and use again and again.  Some of my ABSOLUTE favorites are the Mini Home Detox and the Room Detox. 
Product Guides & Trusted Brands: I wanted to give my clients and you, my readers, a place where you could find trusted brands and products for your home without having to do an overwhelming amount of research.  I'm constantly updating this list based on my research and my personal experience.  Head to my Resources Page to shop around and find exactly what you're looking for.
YouTube Channel: I know that we all learn differently — some of us like to read and some of us learn better by watching.  Each week I turn my blog post into a visual presentation and video that you can watch either in my post or on my YouTube Channel.  They're 15-20 minutes of ALL the same information you'd read in my post.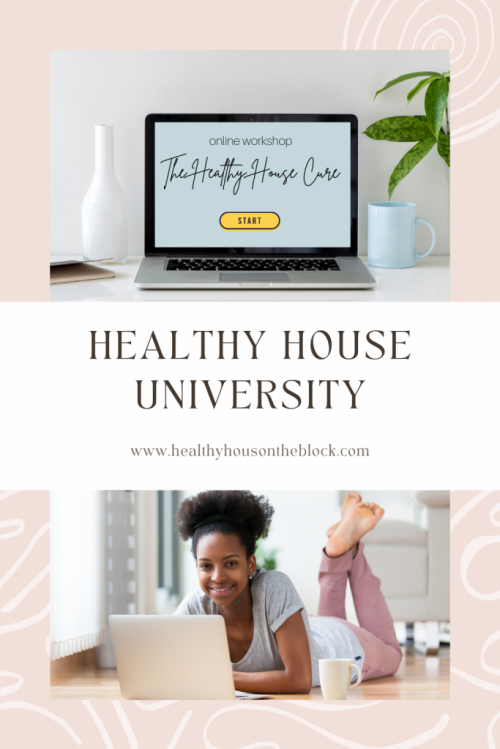 Healthy House University: My multimedia database with TONS of information broken down into individual rooms in your home.  Each section has videos, workbooks and links to research and studies that support the information I'm teaching.  If you're ready to jump in with both feet and get one on one help from me, this is the place to be.  You can join the waitlist and get notified when it's open for enrollment.