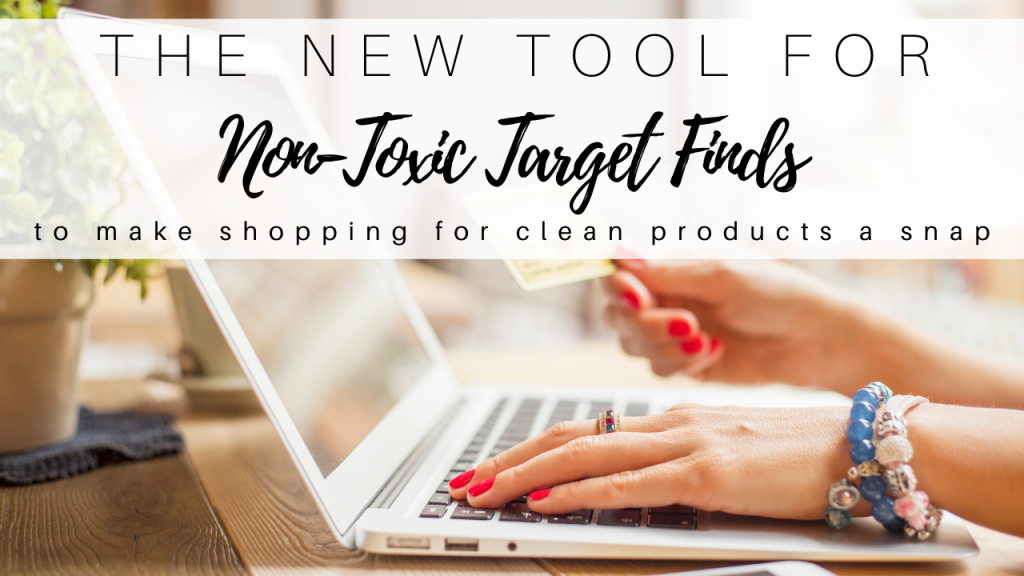 You guys, I'm a born and raised Minnesota girl, and I am true to my roots.  If you've heard of Minnesota Nice — it's a real thing.  The Land of 10,000 Lakes?  That's us too.  I'll also tell you the accents portrayed in Fargo and Drop Dead Gorgeous are not ALL that exaggerated — we sound like that you guys.  And if you didn't know, we're the birthplace and headquarters of my go-to store, Target.  Ask a handful of Minnesotans, and likely the majority of them have worked at Target for a stint.  I've got my own close ties to Target, but overall, it's my hub for picking up essentials throughout the week.  I'm so excited to share with you guys the new tool they released to help you stock up on non-toxic Target Finds.
It's a tool that you can use online, but they've also incorporated parts of it in store.  I'm going to help you walk through each part of this search function so that you know exactly what to look for and exactly what to expect.  
If you're ready to locate those non-toxic Target finds, grab your phone or open up your browser, and let's get started.
NON-TOXIC TARGET FINDS TOOL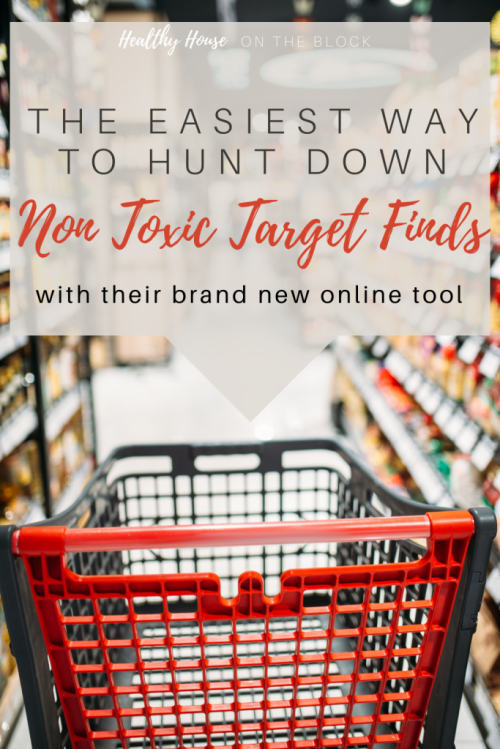 So, the first thing I'm SO excited to share with you is the new options within the search bar to help you locate non-toxic Target finds.  
If you either use the search bar on Target.com or you use the "categories" search bar, you will see a hand side bar to the left of filters.  THIS is where you'll be able to narrow down your search to show ONLY non-toxic Target finds, depending on whatever category you're shopping in.
On the left, you'll see a "Health Facts" filter, which has several options to help you search:
Alcohol-free

Often this is just a personal preference, especially in terms of personal care products as alcohol can have a very drying effect on skin.  There is no

Aluminum-free
Animal by-product free

There are some surprising items we use around our homes that contain animal by-products, including plastic bags, synthetic fragrances, fabric softener, nail polish and crayons. 

Contains naturally derived ingredients

These products have to carry an on-pack plant-based statement referring to the actual product, and not necessarily the packaging.

Dye-free

This one hits home big time for me as we saw some really odd side effects from artificial colors with my younger daughter. We've had to check not only food, but also things like toothpaste to ensure it's free from artificial colors.

 This study

discusses the issues artificial colors have on children, including allergies, hyperactivity, learning impairment, irritability and aggressiveness.

Fluoride-Free

Fluoride is widely debated, and while some avoid it due to health concerns, others still like to have it in items like toothpaste to protect from cavities.

Formaldehyde-Free

We know that Formaldehyde is a

known carcinogen

and that it's best avoided at all costs.  Formaldehyde is found in many personal care products, fragrances and cleaning products. 

Mineral Oil-Free

A possible carcinogen and some people are extremely sensitive. 

This study

discusses the potential health implications of mineral oil.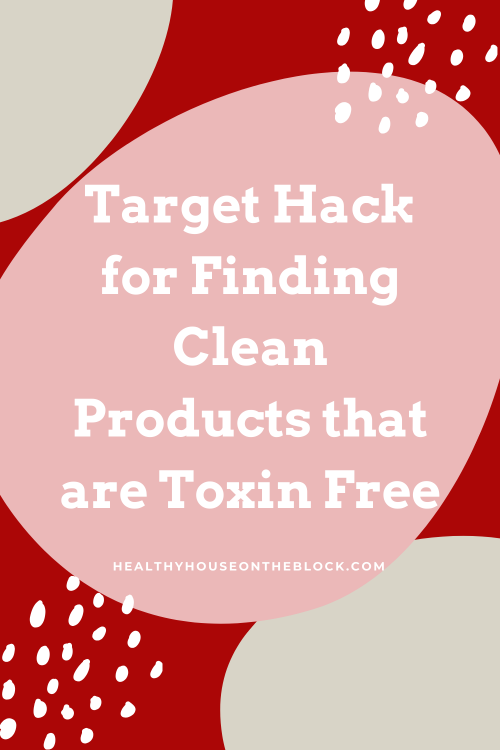 No Fragrance Added

THIS is the best part of the tool, in my opinion being able to hunt down non-toxic target finds that are fragrance free means you'll be finding products without many chemicals and toxins. 

This post

is all about how to replace products with fragrances in your home.

Non-Toxic

These are products that make an unqualified on-pack non-toxic statement.  The e statement itself cannot be limited to humans or the environment.  Given the other search functions, I would not use this search solely to hunt for non-toxic target finds.

Paraben-Free

This filters through products that are free from parabens and is confirmed by the manufacturer.  Parabens are known to disrupt hormone production and harm the reproductive system. They are also known to increase the risk of cancer. (

Study

)

Phthalate-Free

These products are phthalate free and this is confirmed by the manufacturer or has a statement on the packaging stating this. Phthalates are another toxin that causes disruption to hormones and alters function of the reproductive systems. (

Study

)

Sodium Lauryl Sulfate-Free

This search filters through products that claim to be made with "no sulfates" or claim to be sulfate free.  SLS is categorized as "possibly carcinogenic to humans" , it's one of those chemicals that is debated if it is safe or not. 

This article

gives many good points as to why it may be safe and why it may not be safe.

Target Clean

See the section below that covers this new area of search that Target has created to help you hunt down those non-toxic Target finds.

Vegan

A great option if you're looking for products and food that align with a vegan lifestyle.
So that's quite the list of options you can check or uncheck right? You can read about each of their new options to help find things on this page, that explains ALL the criteria each product has to meet to be in each category.
The other brand new part of searching for non-toxic Target finds is Target's new "Clean Logo".  Target released their logo as a way to help customer's find products that are formulated WITHOUT a group of commonly unwanted chemicals. 
The Target Clean logo means different things for different products and for different types of products.   For example, in beauty products, they are products formulated without the  following:
propyl-parabens, butyl-parabens, phthalates, formaldehyde, formaldehyde-donors, nonylphenol ethoxylates (NPEs), Oxybenzone, SLES , retinyl palmitate, hydroquinone, triclosan, triclocarban, BHA & BHT.
The logo applied to cleaning products for your household are without following chemicals:
propyl-parabens, butyl-parabens, phthalates, formaldehyde, formaldehyde-donors, nonylphenol ethoxylates (NPEs), Oxybenzone, SLES, hydroquinone, triclosan, triclocarban, BHA & BHT.
Notice, Target Clean does not include added fragrances in their list of chemicals.  That's why I don't really think this is the BEST way to search, however, it does offer some healthier products.  You could simply check the "Target Clean" and the "No Add Fragrance" search option if you wanted.  
The Target Clean logo can also be found in stores, marking a particular section of an aisle that will house safer, health products.  But know, you'll still have to check these products for things like fragrances and it never hurts to run it through the Think Dirty App.
OTHER WELLNESS ICONS FOR HEALTHY TARGET FINDS
Target also has a grouping of other icons you can look for on their website and in their stores.  These icons make it easier to locate non-toxic Target finds both online and in store.
IT STILL TAKES RESEARCH AND TIME
So, what's the takeaway from Target's clean living logos and their new search function?  I think it's a definite positive step in the right direction.   I wish Amazon and other retailers had this search function as well.  Places like Thrive Market have very similar options when searching, but to have searching options available at an every day store like Target is pretty awesome.  
I'm always searching for non-toxic Target finds and it definitely makes it easier to find what I need.  I will add though, that I still check EVERYTHING on the ThinkDirty App as a balance system.  It never hurts to double or triple check. 
Basically, the Target search terms make it a MUCH easier starting off point and it makes a great way for ANYONE to get healthier products into their homes without having to do hours of research.