When you go about creating a healthy home, and specifically, a healthy kitchen, there are always ways  to make the process simpler and less overwhelming.  
For me, I always like to start with the easiest things to change to get the ball rolling.  Once you have momentum with your change it can become MUCH easier to keep going with your changes. 
Once you've got a good handle on the easy stuff we move on to the most impactful changes you can make.  These are the items that will have the biggest effect on your health when you change them. 
And then finally, it's time to plan ahead for the future.  Some changes you make to a healthy kitchen are going to be really BIG changes that require budgeting and some extensive planning to make your kitchen a healthy space.
In this post I'm going to walk you through the five steps to take in  order to create a truly healthy kitchen that supports your health and wellness.
HOW YOUR UNHEALTHY KITCHEN IS IMPACTING YOUR HEALTH
Because our kitchens can be not only the place we consume and prepare food, but also the central hub of your home, it's important to pay attention to toxic areas we can change.
A lot of kitchen products contain fragrance in them, which can be one of the biggest culprits of body burden in the home.  Toxic synthetic fragrance can interrupt the normal product of hormones and your endocrine system as a whole.
PFAS and PFCs are another group of toxins that are commonly found in a kitchen.  These toxins are carcinogenic in nature and have been linked to an increased risk of tumors.  While most commonly these toxins are found in pans, be sure to watch for bakeware and small appliances that also have a non-stick coating containing PFCs and PFAS.  This toxin has also been linked to suppressed immune function, increased allergies and asthma, metabolic diseases (obesity and diabetes), endocrine disruption, and increased chance of miscarriage.
Kitchens are also filled with plastics containing bisphenol toxins and phthalates, both of which interrupt normal hormone function. The drastic impacts of the altered hormone production has been linked to metabolic disorders, breast cancer, and obesity.
And because kitchens are usually a warm and humid environment, they really encourage VOCs to off gas at high level.  VOCs like formaldehyde are found in products and materials around the kitchen as well as the products you bring into your kitchen.  Formaldehyde has been linked to negative effects on the reproductive system as well as negative impacts on the pulmonary system and neurodevelopment of the brain. 
But the good news is that you actually have a lot of control over your kitchen space and you can work to remove toxins starting today.
STEP 1 TO A HEALTHY KITCHEN: CHANGE YOUR HABITS
Your habits are often the EASIEST thing to change and so I like to start there to get us going and moving forward at a quick pace.  A lot of these habits are quick changes, and once you get the hang of doing them on a regular basis, you'll be ready to add more habits and changes to your kitchen.
So what habits need to change? Nothing drastic, believe it or not, but these habits will get you started on the right foot.
Cook with Lids On:  This will help reduce any excess moisture that can raise the indoor humidity levels.  WE know that indoor humidity levels that are high also correlate with VOCS off gassing more as well as mold and mildew growing.
Ditch Candles and Synthetic Fragrances:  Anything that "freshens" your air in the kitchen should be avoided as it could contain synthetic fragrances that pollute the indoor air.  Opt for a diffuser with essential oils or an open window.
Ventilate:  Keep windows open if possible to get fresh air into your space while you're cooking.  You can also be sure to utilize the vented fan while cooking, which will improve the indoor air quality by moving toxic air outside. 
Keep it Clean:  Keep shoes out of the kitchen and clean spaces on a regular basis to avoid build up of toxic house dust in your space.  Did you know that most of us ingest toxic house dust on a regular basis?  By keeping it out of the kitchen, we can avoid ingesting it as much as possible.
STEP 2 TO A HEALTHY KITCHEN: ASSESS YOUR CLEANERS
One of the most impactful things you can do in your kitchen is swap out your toxic cleaners for healthy, plant based alternatives. It should be said that not all plant based cleaners are healthy, and so you'll have to do a little bit of research before you buy.  But if you use toxic cleaners regularly as in multiple times a day, you can be cutting out a HUGE source of toxins in your home.  It's also important to remember that some cleaners can become airborne in vapor particles as well as have overspray that leaves residue on our kitchen counters and even food.
Here are some of my FAVORITE cleaners for a healthy kitchen:
STEP 3 TO A HEALTHY KITCHEN: WORK ON REMOVING PLASTIC
Plastic is one of those things that I'm slowly trying to remove (for good) from my own house.  It can get tedious trying to remove all of it, but I think that the kitchen is the most critical place to start.  Food that is warm or acidic can leach even more toxins from plastics than the alternative.  Plastic toxins such as styrene or BPA or other bisphenol toxins. 
And again, it's affecting the food that we will be ingesting, which can be particularly harmful in terms of toxin exposure.  Plastic  food storage could range from plastic snack bags to plastic food storage containers.  Slowly swapping these out for materials like silicone, glass and stainless steel will transform your kitchen in the long run.
Here are some simple ways to start:
Get rid of unused plastic water bottles (most people just need 1-2 per person)

Remove plastic food storage that you don't necessarily need (you can replace it with glass or stainless steel down the road)

Next time you go to buy ziplock bags, buy one silicone, reusable bag.  You'll have enough to stop using plastic snack bags before you know it.

Start getting rid of plastic kids' dishes and make a plan to replace them with glass or stainless steel or silicone
STEP 4 TO A HEALTHY KITCHEN: SWAP OUT TOXIC COOKWARE
While this is a more impactful step, it's also a big step that needs planning on your end. If you have a 100% stainless steel pan or a cast iron pan, you're already ahead of the game.  Otherwise, here are my favorite non toxic swaps for a healthy kitchen:
Xtrema Pots and Pans:  I've been using Xtrema for the past several years and I firmly believe that this has been one of my favorite "buy it for life" purchases.  I absolutely LOVE these pans for more than just the fact that they are toxin free (passes the CA Prop 65 leach testing, they do thorough party testing for lead and cadmium and closely supervise their factory).
In addition to all that, these pans are SO heavy duty and just feel so good to cook with.  They're also an absolute breeze to clean up.  And although they're not necessarily non-stick, I rarely have an issue with sticking when it comes to food.  
Another reason I love these pots is that they retain SO much heat, and so they can be perfect for keeping food warm while you're cooking other parts of your meal. And the best part is that they can also go from stove top to oven.  Be sure to use code HHOTB  for 15% off your purchase (even on sale prices!)
All Clad Brushed Stainless Steel: All Clad is a tried and true brand and has been around forever when it comes to pots and pans.  Their D5 line of brushed stainless steel is surgical grade stainless steel (18/10).  Everything is bonded, engineered and assembled in the United States.  
While the pans do contain an aluminum core, this is covered by two layers of durable stainless steel all the way around to create a surface that heats quickly and distributes the heat evenly. They can also be used in the oven and under the broiler up to 600 degrees.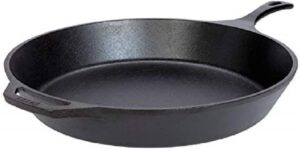 Lodge Cast Iron: Every kitchen should have a cast iron skillet.  The reason I love Lodge is that they're made in the USA and they've been around for a while — making them a vetted option for healthy and toxin free cookware. The pans come pre-seasoned and so they're ready to use right away. 
Cast iron can withstand high temperatures, which makes it perfect for ovens, grills and even the campfire as well as a stove top.  For the first use, wash with soap and water to make sure you wash off any factory residue.  But after that just some warm water will do.  Soap once or twice a year should be plenty. And then make sure you store it COMPLETELY dry to avoid any rusting.
STEP 5 TO A HEALTHY KITCHEN: PLAN AHEAD FOR THE FUTURE
Planning ahead is like a healthy kitchen super power.  Not only does it help you know exactly how much you'll have to budget, but you'll also have a great handle on what non-toxic options are for your bigger project.  The Healthy Home Blueprint will walk you through exactly how to plan your own blueprint for future kitchen projects, but you can also make your own with a pen and paper.  Here are the big ones you'll want to consider:
Because the kitchen is one of the most used rooms of the entire house, it can be EXTREMELY beneficial to start reducing toxins in this room.  It doesn't have to even be something grandiose to start — just starting with simple habits can get the ball rolling in your healthy kitchen.