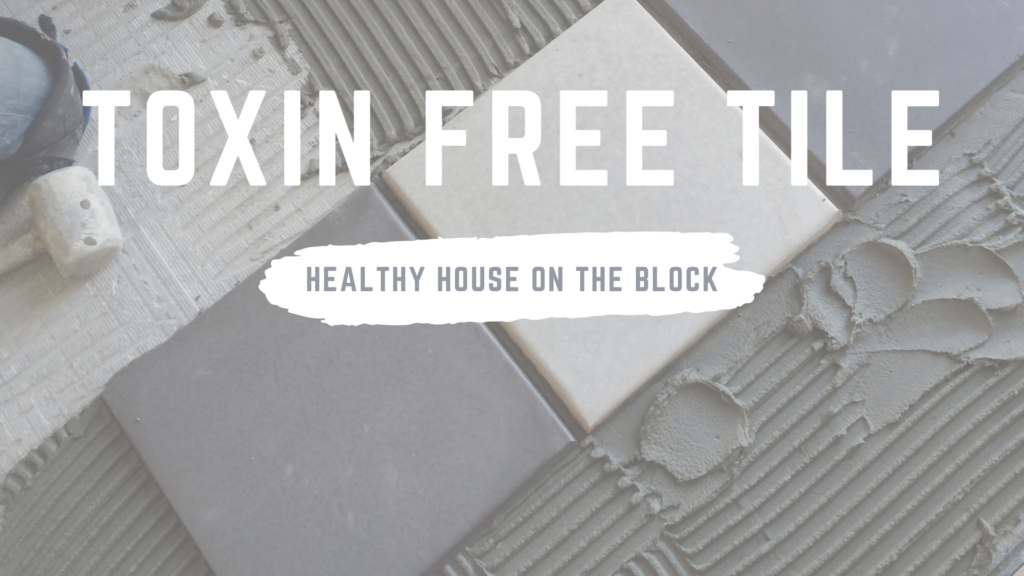 One of the best projects you can make non toxic in your home is through your flooring.  Often our flooring covers a VAST surface area that we are in contact with quite often.  This alone means it's a great place to make sure that you're not bringing new toxins into your space.  And tile flooring is no exception to this.
Another thing to keep in mind is that toxins such as VOCs and formaldehyde love to off gas in LARGE amounts when spaces are both high in humidity and high in temperatures.  If you think of a space that embodies both of these, it's the bathroom.  And the bathroom is ALSO where MOST  homes have LOTS of tile. 
SO as you're contemplating a change for your home, I always say it's the most important time to be aware of what toxins you can not only REMOVE from your space, but what toxins you can avoid bringing in.
Afterall, in order to create a healthier home, you have to be VERY aware of toxins and toxic materials.  And the process is twofold – first remove current toxins and then bring in something that is very low toxin in nature.
By following this practice with not only your flooring, but every area of your home, you'll soon have a home that is as free from toxins as possible.  In fact, you'll create a space that supports your health and wellness. 
TOXINS MOST COMMONLY FOUND IN TILES
Generally speaking, tile is generally a lower toxin flooring option in and of itself.  BUT, there are some toxins to be aware of as you shop for your tile flooring and backsplash.
Lead: One thing to remember is that lead can be in both the glaze on the tile as well as in the interior of the tile.  Obviously the most important thing you need to be aware of is if the glaze is the outer glaze.  Lead cannot be absorbed through the skin and cannot be inhaled, unless in dust form.  The only way you could come in contact with this toxin is through ingestion, which means it would come from unwashed hands. 
Antimicrobial Coatings:  While this might sound like a great way to keep bacteria and mildew from your tile, it's actually been shown to have a negative impact on our health as a whole.  Tile is generally pretty non-porous on the surface, and so the risk of bacteria or mold growing is slim.  Simple cleaning is preferred to an added coating that is made from a man-made chemical.
Other Heavy Metals: Other heavy metals like cadmium, barium, mercury, and nickel are all found in tiles that have been tested around the US.  While these heavy metals are not as concerning as lead, they still pose health risks, especially to children.  Heavy metals take a very long time for the body to detoxify on its own, and so with even low grade exposure, it can build up to unsafe levels in the body relatively quickly.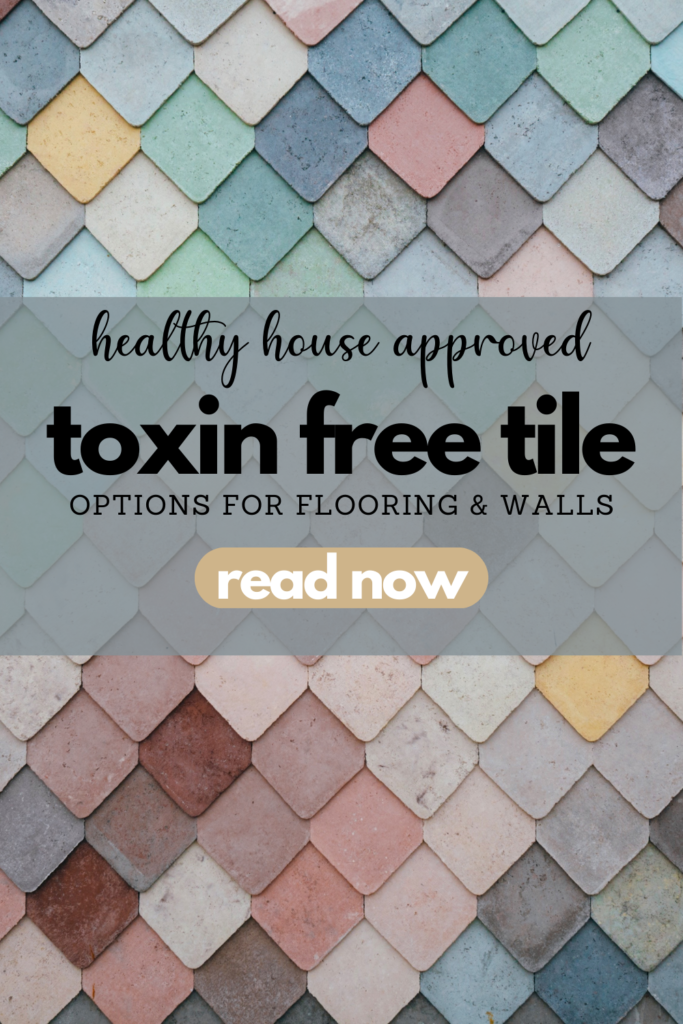 HOW TOXINS IN TILES CAN AFFECT YOUR HEALTH
Overtime, many toxic heavy metals will build up in your body.  This is because our bodies typically do not detox heavy metals very quickly, and so even if you're being exposed at low levels over time, there can be high levels of heavy metal toxins in your body as your body just CANNOT get rid of it fast enough.
Heavy metals also disrupt the metabolic function in the body.  First, they can accumulate and build up within the body, which disrupts the function of vital organs and glands (such as the heart, brain, kidneys, bone or liver).  The second way they disrupt is that they replace the vital nutritional minerals we have in our bodies, which in turn hinders their biological function.  (RESOURCE)
Heavy metals can disrupt cellular function including growth and the repair process, which can severely damage the cells in various parts of the body. But heavy metals are seen as a HUGE neurotoxin and so their effect on the brain can be one of the most alarming.
This post about heavy metals covers all kinds of ways you can limit exposure in your home.
And if your tile has any sort of antibacterial agent in it, this is another toxin you should be aware of in terms of the negative health effects that can happen.  Added antibacterial treatments can not only reduce our own natural defenses to bacteria, but it can also disrupt the endocrine system, causing reproductive problems as well as developmental problems. (SOURCE)
NON TOXIC TILE FLOORING AND BACKSPLASH TILE
The most important things to watch for when you're shopping for tile flooring and tile backsplashes:
Made in the USA (other countries may not have the same lead regulations as we currently have in the US)

Look for full ingredient lists (everything from glazes to pigments should have ingredients available to you)

Opt for abrasion ratings of 4 or higher (this will minimize the potential release of toxins from either the glaze or the coating)

Avoid antimicrobial coatings (these are harmful biocides that really are not beneficial to our health)
Fire Clay is one of my favorite options.  They're not only manufactured in the US, which can be a hard find nowadays, but they are also a Certified B Corporation.  They use very carefully sourced recycled materials for the clay tiles and have excellent transparency in their materials and manufacturing.  Their glaze has been third party tested to be lead free, which is a huge bonus.
Crossville tile is a Green Square Certified company and all of their tile is made in the USA.  They offer full transparency of their product manufacturing and they use all lead free glazes.
Daltile is made in the USA and has lead free tiles that are also PVC and VOC free.  They do have some tiles that contain Microban, which I would avoid. However, the rest of their products I love.  And the great thing is they offer transparency in their products and manufacturing, so it's easy to tell which products contain the antimicrobial coating and which do not. 
Stile Surfaces are Greenguard Indoor Air Quality Certified and NSF Certified.  They use environmentally friendly and sustainable practices in both their materials and manufacturing.  IF you're looking for different media such as slate, limestone or quartzite tiles, this is the company you want to check out. 
NON TOXIC TILE INSTALLATION
One of the most important things to keep in mind while doing a home project is that the materials you're removing from your home likely have toxins and the toxins are majorly disturbed during demolition. 
So anytime you plan to demo ANY area of your home, remember to follow these steps:
If any sort of toxin is imminently present, be sure to have the demolition professionally done (lead and asbestos are big ones here)

Wear protective clothing to reduce contact with any dust:  long sleeves, long pants, protective shoes, gloves and a hat.

Cover eyes and respiratory airways to prevent inhalation of the dust:  protective glasses, respiratory mask (earplugs aren't a bad idea either).

Try to contain dust and debris to the area you're working in with plastic sheeting

Cover any vents and turn off the HVAC during demolition

Open any windows you can to improve air flow

Deep clean your entire area before installation begins
Use a Dustless Install Method:  When installing anything in your home, it's important to practice safe installation methods.  Make sure you have all materials cut outside to reduce the inhalation of dust.  You can also block off the space you'll be working in to reduce the spread of dust around your home.  And finally, turn off the HVAC during installation and black any vents in the space to prevent dust from traveling through your vents and into other areas of your home. 
Low VOC Cement Backer Board: You can find Greenguard Gold Certified cement backer board that can be the base for your project if tile is going on your wall.  You can focus on Moisture and mold resistant cement board if you're applying tile in a wet area like a kitchen or bathroom like PermaBase.
Water-Based Adhesive: You'll need a good adhesive for any tilework being done, but the truth is that most adhesives you find will have formaldehyde and high levels of VOCs.  Look for a quick setting and cure formula that will limit off gassing to an absolute minimum while it dries.  You want to find a product that is solvent free and extremely low VOC.  My adhesive of choice is ChemLink, which is also liked by contractors as well
Cement Based Grout: The grout that is used can also be a toxin free choice you make to avoid any VOCs from entering your space during curing and during installation.  You'll want to look for something that is concrete based as that is generally non toxic in nature.  You can also look for products that are either a thin-set or quick cure formula to ensure any VOC exposure is minimal. I recommend Laticrete Thin Set Mortar 
Low VOC Grout & Tile Sealer: While tile usually isn't a porous surface, grout certainly is.  And this means that it can absorb moisture and become a spot for mold or mildew to begin in your home.  It can also become stained or begin to wear away due to it being unsealed.  You can seal grout with a safe, non toxic product like Safecoat Grout Sealer to protect your hard work and make the surface truly washable.
WHAT DO I DO IF I CURRENTLY HAVE TOXIC TILE?
Projects are always a longer process than you think — from the beginning planning stages through to the finish.  If you're not in a position now to take on the project of replacing tile in your home, there are still ways you can minimize the risk of toxins from current tile in your home. 
Fill in any Scratches or Cracks: The scratches and cracks in tile is often where the toxins that can be of potential harm will escape.  If you see any cracks or starts of them, be sure to fill them in or put a sealant over it to ensure any of the toxins that could be at the interior of the tile are contained.
Practice Good Hand Washing:  The main concern with tile is heavy metals such as lead.  One of the best ways to protect yourself against heavy metal exposure is to wash your hands anytime you're going to eat or touch food.  Heavy metals cannot be absorbed into your skin, and instead are often ingested as a route of exposure.  By keeping your hands clean when you go to eat or touch food, you can minimize potential risk of lead exposure.
Remove Any Potential Mold Growth:  If you begin to see any sort of mildew or mold on the grout or tile itself, make sure it is removed completely and the area is dried out.  You can use a simple mixture of baking soda and vinegar to scrub the area.  Once it's dried out, it might be a good idea to use a grout sealer to prevent this problem from happening again.
Ventilate Humid Spaces:  If your tile is in the bathroom or a humid laundry room, it's a great idea to get these spaces ample air flow and proper ventilation.  Use the vented fan during use of the room and for at least 20 minutes after use.  If you can leave doors open immediately following use, that's also a good practice to be in.  And finally, wipe down any surfaces that have visible moisture or condensation to prevent mold and mildew issues. 
Whether you're planning ahead for your tile project, or you're in the middle of the project itself, by following parts of this advice, you can reduce toxins in your home and your space.  It often doesn't cost more money to make these changes to your project, it just takes a little bit of knowledge about what to look for.