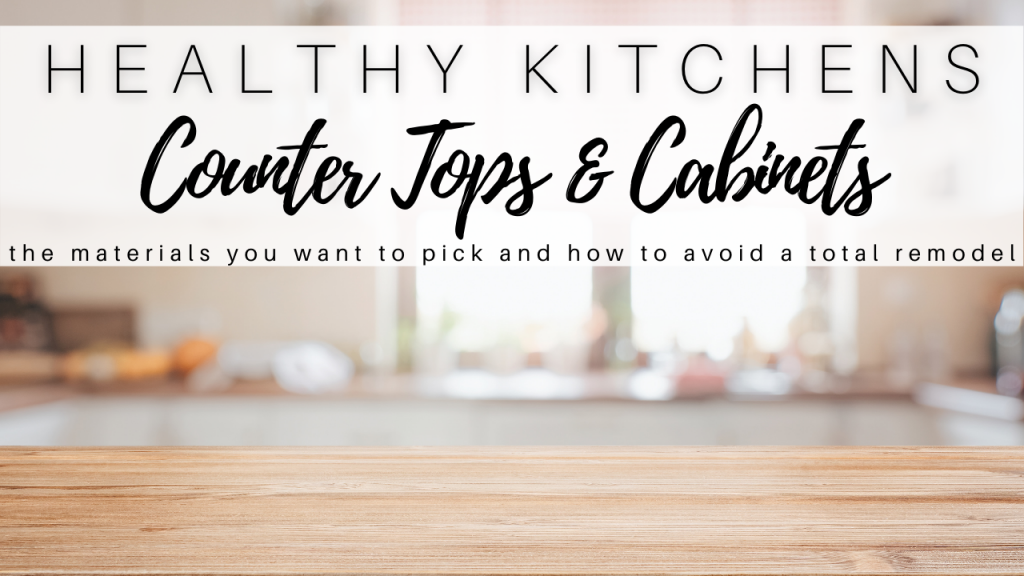 I've said this before and with a new baby around it's even more true:  Our kitchen is the central hub of our home and life.  We are so fortunate to have an open floor plan between our family room, dining room and kitchen and so I tend to get a lot done in the kitchen while my family is around me in one of those three spaces.  This is why I think the kitchen itself is SUCH an important place to make changes.  Having a natural kitchen counter top and healthy kitchen cabinets is going to be a HUGE part of reducing toxins at home. 
Now, not everyone is in a place to completely remodel their kitchen right now (me included!), but there are still ways you can improve the two elements of kitchen cabinets and kitchen counter tops to be less toxic.
Any way you choose to go about updating and detoxing your kitchen is a positive step forward, so don't think that the only way to reduce toxins is by a full on remodel.  Remember that every little change in your healthy kitchen counts.  And while creating a home is a slow process (and it should be!), you don't need to worry throughout the process that you're not cutting out toxins.
So, keep in mind that home takes time and slow and steady is the way to go when you're reducing toxins and improving your living space.  Let's look this week at some healthy kitchen counter tops and natural kitchen cabinets to improve your space while updating it.
COUNTER TOP MATERIALS TO AVOID
Laminate Counter Tops: Laminate counter tops are made from layers of paper that are tightly pressed together.  Between the paper layers resin is added and it's often sealed with a plastic based laminate on top.  Plastic contains chemicals like phthalates, polyvinyl chloride and bisphenol toxins.  These toxins are endocrine disruptors and they have been known to cause health problems such as suppressing the immune system, delaying development in children and are potentially carcinogenic.
Laminate is almost always attached to a particle board base, which we know contains strong adhesives made with formaldehyde, a carcinogenic VOC. 
Chemically Sealed Counter tops:  Most sealers that are chemically added to stone, manufactured stone or concrete do in fact contain toxins. Many times sealers that are used contain different types of VOCs and a wide variety of solvents and toxins to get a durable, sustainable, clear finish.  You CAN find toxin free sealers, like AFM SafeCoat which is a great alternative to normally toxic finishes.
Granite (sometimes): Granite counter tops that are not sealed CAN emit some levels of radon into the air.  Whether it's a toxic level or not, would only be known through a test.  Choosing a solid granite piece of counter top is also better than choosing a thin overlay of granite (which is often laid over particle board or laminate bases).
Formica: Formica itself is not necessarily considered toxic, but Formica is almost always attached to particle board, which we know contains strong adhesives made with formaldehyde, a carcinogenic VOC. 
Solid Surface Counter tops: Solid surface counter tops are made from fillers and resins.  The resins used are often made of resins created with polyester or acrylic.  Acrylic resins are often made with toxic chemicals such as formaldehyde (carcinogenic), methyl methacrylate (damage to lungs and antioxidant system), and benzoic acid ( irritation and damage to eye, skin, nose and throat) (STUDY) (STUDY)
Engineered Stone:  Engineered stone counter top products are often partially man made with polyester resin added to the quartz or stone base.  While this product is more durable and resistant to scratches, the polyester resin also gives off toxic styrene.  Styrene is known to be carcinogenic (cancerous) and genotoxic (this means that the chemical damages the genetic information within a cell causing mutations). (STUDY)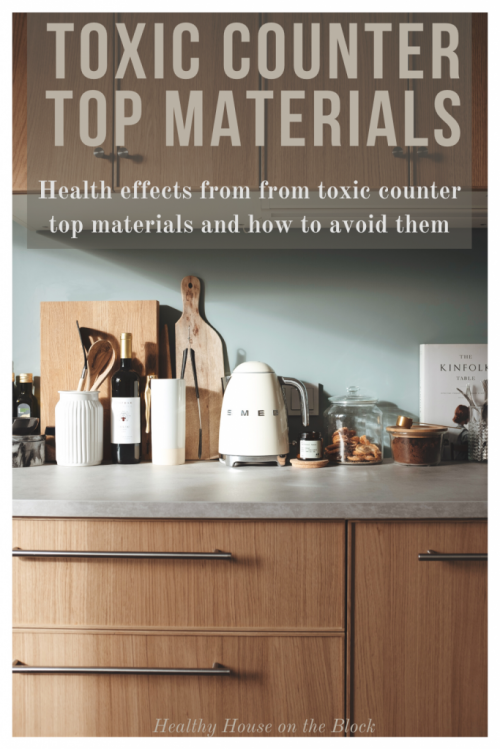 HEALTHY KITCHEN COUNTER TOP OPTIONS
Wood: Wood is a natural element and can be beautiful as a counter top. You'll want to make sure the wood is sealed with a low or no VOC finish to protect the wood from damage and water.  Wood is actually naturally protected against bacteria, which is why it's a great surface for kitchens. It's also really easy to fix if it does become damaged as you can just sand the counter and reseal it. There's definitely a level of maintenance for these counter tops, so make sure you're up for it before you decide.
Concrete: Concrete is a great option as it can be almost completely customizable.  From shape to color you can pretty much choose what you want. Concrete counter tops will need to be sealed in order to be stain resistant. It's also naturally resistant to very high heat, however the heat can damage or discolor the sealer on it.  Check with your contractor to find a concrete that does not contain vinyl or latex if you want to keep it 100% healthy.
Quartz: While it is a man-made product, Cambria Quartz is actually one of the few counter tops with the GreenGuard stamp of approval.  These counter tops are extremely resistant to moisture, heat and scratches. And the best part is that they rarely require any sort of sealing.  It's fairly easy to find this material, but it is priced on the higher end.
Natural Stone: Marble, limestone and quartzite (Not to be confused with man-made quartz) are natural stones found in the earth. All of these are great options because they're natural.  They come directly from the earth and undergo very little processing.  These stones must be sealed, however, and you'll have to be willing to work with that maintenance.  You'll also want to make sure to find a sealer that is chemical free and natural if possible.
Stainless Steel: Stainless steel is an incredibly durable surface.  They don't chip and typically there is virtually no staining with stainless steel.  Stainless steel is also naturally resistant to bacteria, which makes it perfect for the kitchen.  It's definitely a style preference, and depending on the style of your home, may not be great for resale.  
IceStone: IceStone is a newer product that is an excellent eco-friendly option. IceStone is made of 100% recycled glass mixed with non toxic portland cement. It's also free of all plastics and petrochemicals.  Their counter tops are naturally scratch resistant, but does require a bit of maintenance in terms of sealing the product from time to time.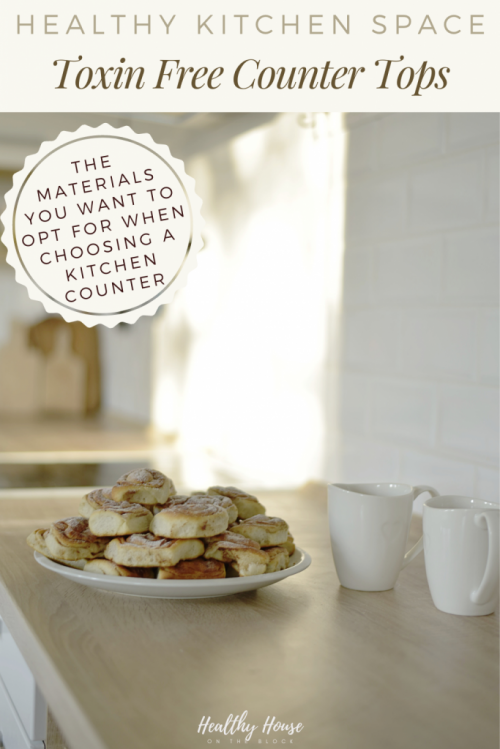 HEALTHY IDEAS FOR UPDATING YOUR COUNTER TOPS WITHOUT REMODELING
Seal in Particle Board:  The first thing you want to do when you're updating your healthy kitchen is to make sure that all plywood, particle board or manufactured wood is sealed so that it cannot off-gas.  AFM SafeSeal is the BEST product I know of to do this.  It goes on clean and it's applied with a paint or a roller.  This product seals in VOCs and formaldehyde that is normally off-gassing all the time.  It's a great way to reduce toxins on a small budget.
Non Toxic Epoxy Resin: You may have seen people making their own designs with epoxy resins and sealing in their counter tops to make them look completely different.  While I think this is a great option that can be really economical and CAN be done safely, you have to plan it out.  
First make sure you get a non-toxic, food grade resin to use on your existing counter tops.  Also, be sure to work on a day when ample ventilation is possible.  This ArtResin and AFM Acrylic Seal are both great options to use for a non-toxic product.  Also, make sure any plywood or particle board are sealed properly before you add another layer to your kitchen counter tops.
Concrete Top Layer: Adding a thin layer of concrete to the counter tops and sealing it in with a safe sealer like AFM Acrylic Seal is another low toxin option.  Concrete itself is considered non-toxic, but you'll have to be careful if you choose to add a dye or color to the concrete.  This can be a great way to update your counter tops to a healthy kitchen option without ripping them out installing brand new.  Again, just make sure you seal in any plywood or particle board before adding the concrete.
Tile:  Some homes choose to add a layer of tile on top of existing cabinets to give them a new look and feel.  You'll want to make sure you've sealed in any plywood (is it getting old hearing me say that?), and then you can add grout and tile to the top.  Opt for a natural tile that does not contain any lead or cadmium in the glaze or dye. 
You can also choose a non toxic grout that is a quickset option so fewer VOCs are off-gassed during the curing time.  Then, make sure you seal up the grout to prevent staining and wear with AFM Non Toxic Grout Sealer.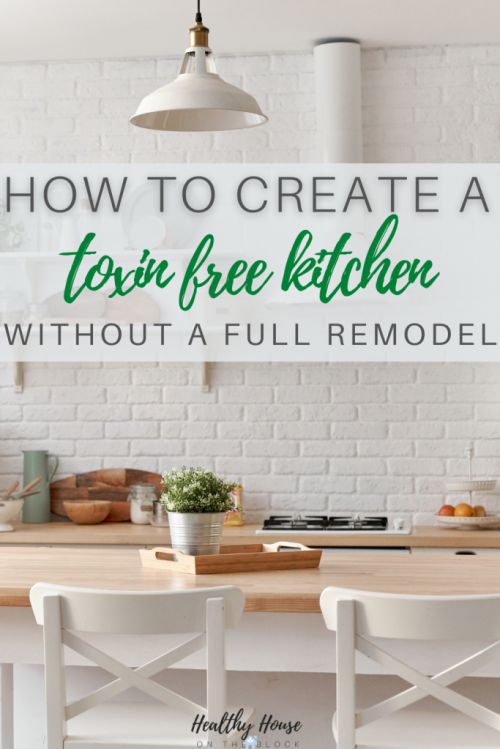 Really, the BEST and one of the ONLY healthy kitchen cabinet options for cabinets is to go with solid wood.  Now, because most of the time cabinets are not JUST solid wood and there are other components added to them, it can be difficult to know if you do truly have toxin free cabinets.
Natural kitchen cabinets should contain NO particle board, medium density fiberboard or plywood.  It should be 100% all natural wood components.  Be sure to consider the inside shelf of your cabinets as well when it comes to this.
Cabinets a part of a healthy kitchen should also contain either NO adhesives or only formaldehyde free adhesives.  
Any sort of paint or stain on your natural kitchen cabinets should be completely VOC free.  AFM SafeCoat is a great wood sealer that is completely safe and non-toxic.  You can reference my Non Toxic Paint Guide for some really great options if you're going to be painting your cabinets.  All of the options are VOC free and low toxin paints.
Another great option I LOVE for updating a kitchen with some natural kitchen elements in terms of cabinets is to take down a few upper cabinets and add in solid wood shelves.  Solid wood open shelves are a great way to remove some of the toxins in cabinets that contain particle boards and laminates and add in some natural kitchen materials.