When you're improving your home's appearance or systems in any way, it becomes an excellent time to make healthy improvements.  By planning ahead, you can actually improve the indoor air quality at home through simple choices.  The great thing is that often times choosing an eco-friendly or green building material won't increase your project budget.  
It simply takes research and a little bit of knowledge about the materials you'll be purchasing. If you're going to be remodeling or improving your house anyways, why not take the opportunity to improve the health of your home at the same time?
If you knew that choosing a product or material could support your health and wellness and wouldn't add more to the budget, I guarantee you'd choose the healthier option.  But this can be easier said than done, right?  Researching each and every product can feel overwhelming and sometimes you're so deep into Googling terms that you get turned around in your research.  It's that feeling of overwhelm that I so often talk about that ends up putting a halt on our healthier choices to be made.
Another important factor when it comes to choosing materials is to know HOW to shop and purchase them.  By understanding that your home should have fewer toxins and chemicals, less dust and lower humidity, you can make some really great choices at the hardware store.
These are the areas you can find green building material recommendations for your home's next project:
Flooring
Paint
Drywall
Insulation
Stains & Clearcoats
Doors and Trim
Adhesives & Caulking
When it comes to green building materials, flooring is one of the BIGGEST components.  Not only is it usually a relatively easy project, but it also has one of the biggest impacts on design and health.
The sheer square footage of new materials that are being installed means flooring has a huge impact on the health of our homes.  On top of that, MOST flooring that's present in a home has a number of toxins present.  By making a change to your flooring, you can eliminate a large number of toxins in your home with just one project.
Through choosing a healthy flooring material, you can improve your indoor air quality and health of your home very easily.  The trick is to find flooring that has as few VOCs as possible while also finding a material that holds very little moisture and dust in the fibers or surface.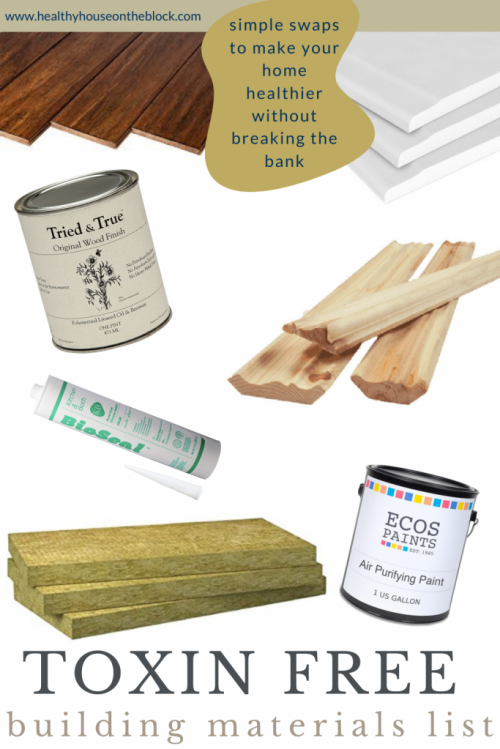 There are many routes you can go with healthy flooring: laminate flooring, toxin free carpet, natural hardwood or natural tile.  But each of these green building materials has their own set of challenges when it comes to choosing a healthy, non-toxic version. Finding mateirals that are free from: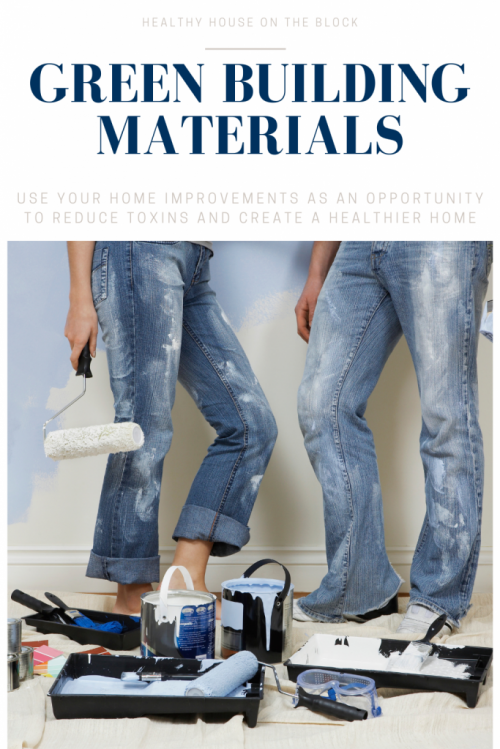 What I find so assuring is that there are more options available now than ever before when it comes to healthy flooring.  You can find options for tile, carpet, hardwood and laminate that will keep your space free from as many toxins as possible. These options get a green light from me in terms of green building materials:
Make sure you're using toxin free adhesives and a dustless install method to ensure your project doesn't add unnecessary toxins to your space.
Usually, the only time we get to choose a healthy drywall option is when you're either building your home or when you do a project that requires new drywall on walls or ceilings.  This is SUCH a great opportunity to opt for a green building material that we normally don't get to change.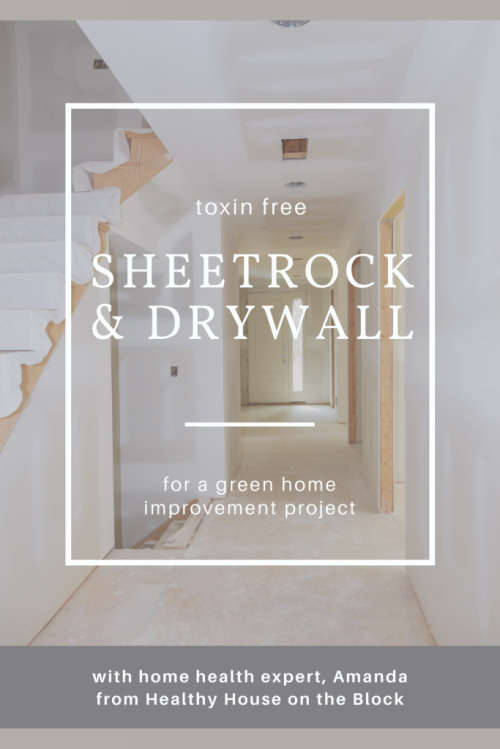 Look for a drywall that has the highest amount of natural gypsum.  In the same breath, you'll want to look for a drywall that has no synthetic gypsum (or the lowest amount of flue gas desulfurization).  These synthetic gypsums release large amounts of mercury into the environment during production and are less healthy for your home.
A natural gypsum or magnesium oxide board should be free from biocides (often advertised as mold-resistant).   A GreenGuard certified product is another way you can find a healthy option that has no formaldehyde and no acetaldehyde. 
If you're wanting to really up your eco game, opt for magnesium oxide boards, which is ideal for indoor air quality.
Below are some healthier options you can use for installing healthy drywall in your home:
Gold Bond XP Gypsum Board
American Gypsum
Foreverboard
MgO
Painting is another part of a home remodel that can have a huge impact.  Bringing in toxic paint can cause big problems with your indoor air quality simply due to the large amount of surface space you'll be covering.
Download my Toxin Free Paint Guide
There are SO many great options today that are completely VOC free and are still high-quality paints.  You can even purchase paints made of 100% natural materials and dyes.
Paints that are lighter in color generally have fewer VOCS, and paints with a darker, deeper tone produce more VOCs. It's also a good idea to have fans and open windows during the painting process as the VOC emission is the highest at this time.  A really good tip is to look for Green Seal Certified Paints or GreenGuard Certified Paints.
Essentially, you want to make sure that paints are free from APEs (hormone disruption and birth defects), anti-microbials (hormone disruption, child development delays and reproductive harm), colorant VOCs and base VOCs
Below are some brands that have completely VOC free paint options: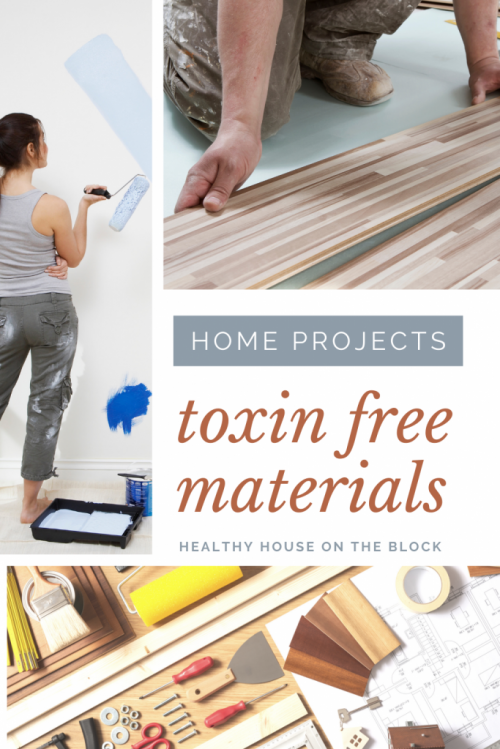 Caulks and adhesives are quite literally the glue that holds most home projects together.  But do we really know what's in these products?  I know I didn't for a LONG time.  The biggest problems with these products it that they contain toxins and VOCs that will continue to off-gas for the length of time it is in your home.
A few ingredients to watch out for are:
Silica (possible carcinogen)
Talc (contain asbestos, a known carcinogen)
Phthalates (hormone disruptor)
Formaldehyde (carcinogen)
Styrene (kidney and nervous system damage)
Biocides (respiratory tract damage)
BPA (hormone disruptor)
Ethylene Glycol (kidney toxicity, nervous system damage)
Isocyanates (known carcinogen)
I wrote an entire post devoted to adhesives and caulks because it's a question I get ALL the time.  These products are ones we use for small home repairs to major renovations and in between.
If you're looking for safe caulks and adhesives that won't off gas VOCs into your home and are quick cure/dry to limit odors, these are for you: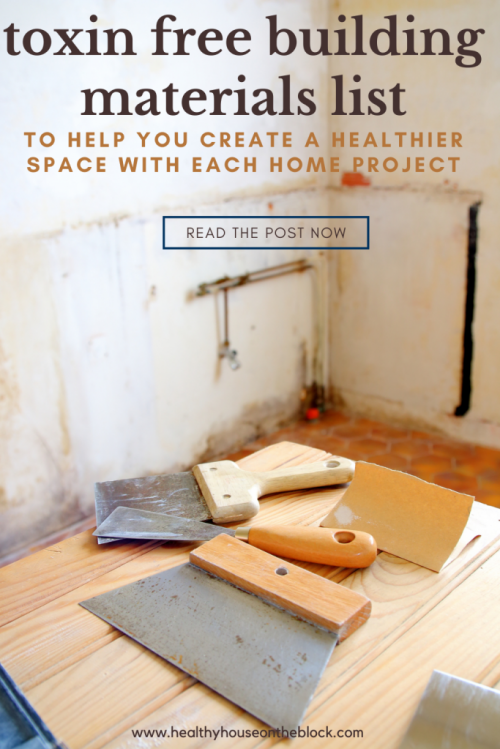 Whether you're staining furniture that goes IN your home or you're doing some maintenance on wood finishes, stain and clearcoat or sealant is a necessity when owning a home.
The problem with many stains and sealants is that they off-gas for an extremely long time and they have very strong odors when being used. 
This post about VOCs will help you understand all of the health issues that can arise from constant exposure to VOCs that are off-gassing.  Its important to know that there are many different kinds of VOCs, and many of them have different affects and are used for different products. 
A truly green building material product will have either no VOCs or low VOCs.  Some of the more well known VOCs to be aware of in stains and clearcoats are:
As like so many green building materials, there are now SO many more VOC free and low VOC options that you can get from hardware stores and online:
If you're looking to improve the energy efficiency in your house, you may be adding or replacing insulation.  Often times attics are a great place to begin adding insulation to improve the thermal barrier of your home.
We recently looked into changing how our basement is insulated in order to prevent additional moisture from coming inside. Adding this element to our walls, I wanted to make sure it was free from the typical toxins (many of which are carcinogenic) that are found in standard insulation:
Ethanolamine
Isocyanates 
Polyethylene
Glycol Ethers
Styrene
You might initially think that the toxins inside insulation won't make it to your living spaces because it's contained behind walls.  But the truth is that even during installation, tiny particles will be left behind and parts of the insulation can make it's way into your HVAC vents and house dust.  
I recommend that insulation is third party certified (GreenGuard is a great certification to look for) in order to ensure it's safe for your interior spaces.  These options for insulation are part of the green building materials family: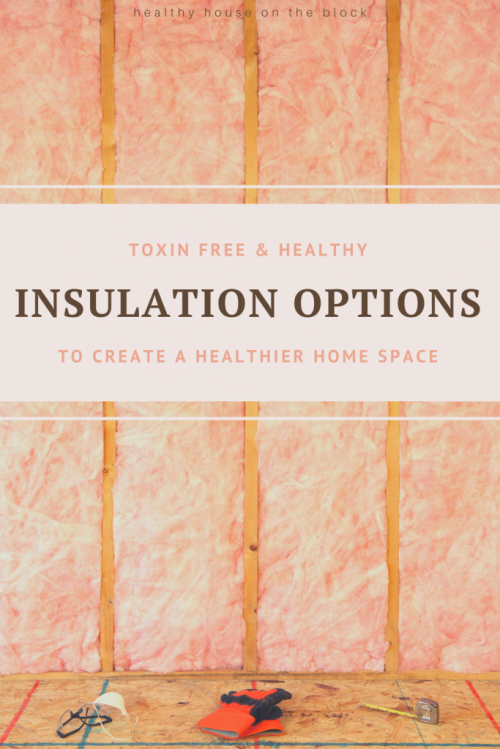 Doors and trim are another BIG project when it comes to renovating your space.  Whether you're updating one room or the project is to replace all the trim, there are a few ways you can make the process a little healthier for your home.
Green building materials should be as natural as possible, and doors and trim are aligned perfectly with that idea. Make sure you choose solid wood doors and solid wood trim to prevent any sort of product that has toxic adhesives and glues in it. 
Some of the worst materials to have instead of solid wood are: 
Plastics

Medium Density Fiberboard

Plywood

Particle Board

Pressed Woods

Man Made Laminate Materials
Opt for hardwood that is unfinished and then use one of my recommended sealers and stains to make it look exactly how you want.
It's also a good idea to cut all trim and woodwork outside and clean it off before bringing it into your living space.  This will keep any particles from entering your home's environment.
Being aware of high quality, green building materials can take your project from just a normal house repair to a health supporting improvement.  With these tips, you can affordably create a healthy living space that supports your family's health and wellness.
Specific Remodel Posts (With all kinds of non-toxic materials and finishes)