One of the hunts I've been on for a LONG time is finding the best laminate flooring for our home.  And not just the BEST overall, but specifically one that would hold up, a laminate flooring that was as toxin free as possible and one that was affordable.
So far, finding the best laminate flooring has led me on a really long search for what we will use. With this being our third house, we know that it's not always best to choose the least expensive or to choose something based on a thumbs up from one installer or distributor.
Without being able to rely fully on cost or recommendation, we really felt like we were at square one with choosing the best laminate flooring for our healthy home.  But to be honest, it makes me more confident that we will find the healthiest, best option for us. 
It's also an exciting process for us as we get to remove the toxic synthetic carpet from our home and the toxic vinyl flooring and install a better flooring option that won't be off-gassing toxins into the air.
And because SO many laminate floorings are filled with toxins, I wanted to share with you our hunt for the least toxic laminates that you could install or have installed in your own home.
So if you're also on the hunt for the BEST laminate flooring to improve the health of your home, this information will no doubt be helpful.
WHY MOST LAMINATE FLOORING SHOULD BE AVOIDED
Many flooring options that are made of a composite or laminate, even the best laminate flooring, often has toxins that are incorporated in the flooring.
First it's important to understand that laminate flooring has several different layers to it.  Oftentimes these planks have a top layer, or a wear layer.  This layer can have plastic and dyes in it, giving it a faux wood look.  
This layer also has to be extremely durable, which often means they add Melamine Resin, which is actually a component filled with formaldehyde.  We know that formaldehyde is a carcinogen and should be avoided at all costs.
Another toxin that can be added to the top layer of your flooring plants is aluminum oxide, which is a toxic heavy metal that we should not be in long term contact with.  You have to remember also, that this is the layer your kids, pets and feet are coming into contact with multiple times a day.
Underneath your top layer is often a type of composite wood that is adhered to the top layer.  This layer is the core and balancing part of your floor.  This part of the flooring uses a very strong adhesive to make sure these layers stay together for many years without any problems.  
However, the problem is the adhesives that are used in this manufacturing almost ALWAYS contain formaldehyde.  When you're looking at flooring, the following abbreviations are a good indicator that formaldehyde is present:
MF: Melamine-Formaldehyde

PF: Phenol-Formaldehyde

UF: Urea-Formaldehyde
This might make you think that any flooring that is labeled "No Added Formaldehyde" might be the ticket to the best laminate flooring for a healthy house.  Unfortunately, this isn't always the case. Sometimes instead of laminate, companies will add polyvinyl acetate (PVAC).  While it is not a known carcinogen, it is a toxin and negatively affects the human body.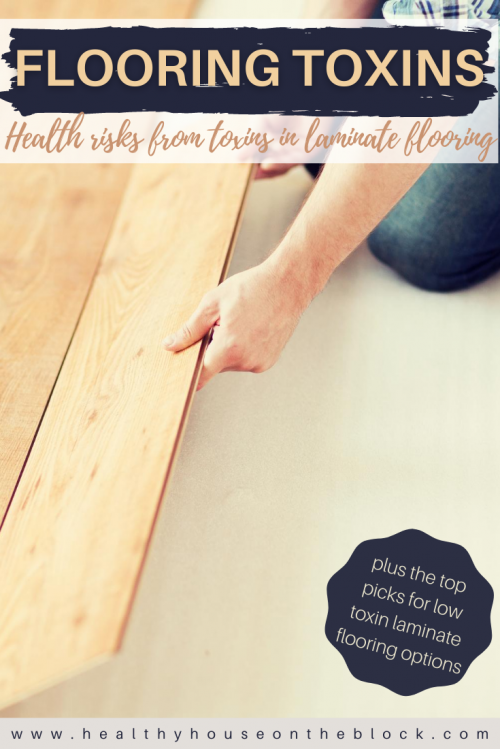 THE BEST LAMINATE FLOORING OPTIONS FOR A HEALTHY HOUSE
Kahrs: Kahrs carries a line of luxury vinyl planking that is 100% phthalate free and PVC free.  IT also gets an A+ in emissions testing.  While it does have SOME VOCs, it's rated low between .5 – 5.0 mg/m3, which has been certified by FloorScore. Specifically, the Formaldehyde Emissions are .008 ppm, which is extremely low.  The top wear layer has no aluminum oxide and uses a UV cured acrylic urethane for the durable finish.
Cali Bamboo GeoWood:  This line from Cali Bamboo layers real bamboo and real hardwood on top of a waterproof limestone composite, called GeoCore. It is considered Ultra-Low VOC.  These flooring planks have the option of being installed without adhesive or glue, which is a HUGE plus as you won't have to hunt for a formaldehyde free adhesive.  Home Depot carries quite a bit of Cali Bamboo.
Lauzon: Lauzon flooring is called Pure Genius and it's created without VOCs, formaldehyde or solvents.  The flooring also has a titanium finish to add a durable layer on the outside.  Pure Genius flooring claims to purify the air in your home by removing Formaldehyde and other air contaminants.  These floors also are naturally antimicrobial. 
Mannington:  Mannington is completely harvested and manufactured in the US, Mannington has a line of Adura flooring that contains no formaldehyde and also has been certified by FloorScore, a third party testing process and certification. They've also received a number of awards and certifications for their sustainability and their positive impact on the environment. Wayfair has quite a selection if you want to go the DIY route on this.
US Floors:  Another one of the best laminate flooring options available.  US Floors Natural Bamboo, Natural Cork and Coretec Plus floors are third party certified by GreenGuard Gold for ultra low emissions of Formaldehyde.  Their adhesive formulas are either low or zero formaldehyde content.  Their ultimate goal is to create a flooring product that has absolutely ZERO formaldehyde, and they're getting closer.  
INSTALLATION FOR LAMINATE FLOORING
The best practice for installing laminate flooring your home is to avoid adhesives if possible.  Some products are actually made with the intention that glues and adhesives do not need to be used at all.  If you must use a glue, opt for something like DriTac Eco Urethane or AFM 3 in 1 Adhesive which is intended for flooring, but VOC and solvent free.
After you find the best laminate flooring for your home, make sure you use a dustless install method.  Most contractors are aware of this method as well, and it doesn't hurt to ask that they follow this practice.  It simply means the boards are cut and brushed off outside of the home so that any sawdust or particles from the board are left outside, rather than brought inside.  You can even use sheeting to block off the area you'll be working in.  Finally, you'll want to block any registers and vents while working to prevent the dust from entering your HVAC system.  
CARE FOR LAMINATE FLOORING
Most laminate floors are very easy to take care of due to their durable wear layer. At our house we've used a wet mop with a mixture of Thieves and splash of rubbing alcohol.  Many people opt to use a swiffer or vacuum if needed.