Let's talk kitchens, shall we?  Updating your kitchen is also one of the more expensive projects in your home (that and bathrooms, am I right?).  Our kitchen is completely functional, but aesthetically, definitely not where I would dream it to be. But in all honesty; that's okay with me. I know that it means I have lots of time to make my choices in changes and really plan out how I want my kitchen to look.  
If you've been around for a minute, you know that I love a good planning worksheet when it comes to home projects (or any project for that matter!).  Planning out anything within your house is beneficial because it allows you the great opportunity to choose your materials and installation method very carefully.  When you get to really plan ahead and research the products you want, you'll make better choices and healthier decisions for your house.
In addition to making a healthier choice for your home.  It's also important to look at the resale of your home with these stylistic changes.  Making a home unique is one thing, but making a home unique AND appealing to others is the golden ticket.  Eventually we will all move on from our homes and we'll need to sell them. If you've made a stylistic change that really isn't the "norm", you might be writing your fate when it comes time to sell.  Carefully choosing finishes and materials for the kitchen is a great place to add value to your home, if you're doing the research and planning it out.
And the great thing with kitchens, is that if you do like the layout and you're just not digging the style, you can do a simple "face lift" if you will.  This means you don't necessarily have to rip out every cabinet, or replace all the appliances for that matter. It means you can update portions of your kitchen without even worrying about appliances, plumbing or a complete remodel.  
Doing more of a face lift option also means you won't be creating as much waste compared to a full remodel where you may need a dumpster for materials that are being disposed of.  And while there are many things you can update in your kitchen, today I'm focusing on a few of the big ones and giving you some ideas healthier materials and installation methods in your own kitchen.
I also have a healthy remodel checklist and planner that can help walk you through each of the areas of your kitchen so you don't miss anything.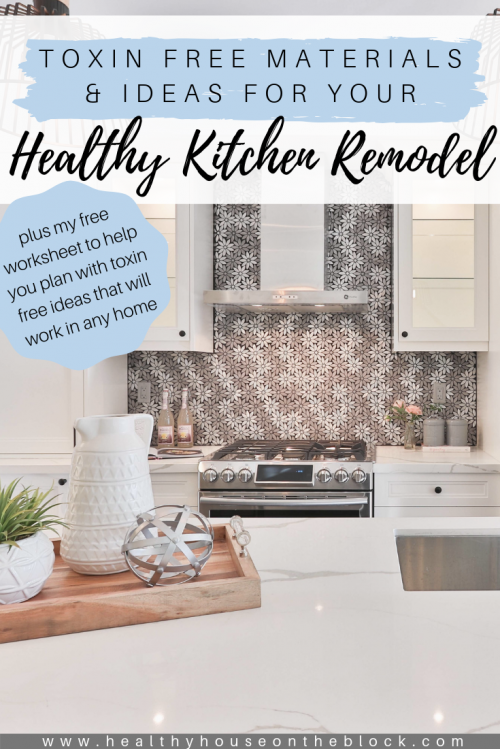 Counter tops are a great way to update your kitchen or give it a whole new look.  A lot of times this includes getting rid of the old laminate counter tops and installing something more timeless. In my opinion, a laminate counter top is not necessarily the healthiest option for a home in the first place.  It usually has a particle board beneath the laminate top. And if we've learned anything about particle board, it's that it off-gasses formaldehyde and other VOCs for the lifetime of the product. It also tends to off-gas more when it's in a warm, humid environment — like your kitchen.  
The good news is that not only are there really affordable options when it comes to replacing your counter tops, but there are also really beautiful options too.
Wood: Wood is a natural element and can be beautiful as a counter top. You'll want to make sure the wood is sealed with a low or no VOC finish to protect the wood from damage and water.  Wood is actually naturally protects against bacteria, which is why it's a great surface for kitchens. It's also really easy to fix if it does become damaged as you can just sand the counter and reseal it. There's definitely a level of maintenance for these counter tops, so make sure you're up for it before you decide.
Concrete: Concrete is a great option as it can be almost completely customizable.  From shape to color you can pretty much choose what you want. Concrete counter tops will need to be sealed in order to be stain resistant. It's also naturally resistant to very high heat, however the heat can damage or discolor the sealer on it.  Check with your contractor to find a concrete that does not contain vinyl or latex if you want to keep it 100% healthy.
Quartz: While it is a man-made product, Cambria Quartz is actually one of the few counter tops with the GreenGuard stamp of approval.  These counter tops are extremely resistant to moisture, heat and scratches. And the best part is that they rarely require any sort of sealing.  It's fairly easy to find this material, but it is priced on the higher end.
Natural Stones: Marble, limestone and quartzite (Not to be confused with man-made quartz) are natural stones found in the earth. All of these are great options because they're natural.  They come directly from the earth and undergo very little processing.  These stones must be sealed, however, and you'll have to be willing to work with that maintenance.  You'll also want to make sure find a sealer that is chemical free and natural if possible.
Stainless Steel:  Stainless steel is an incredibly durable surface.  They don't chip and typically there is virtually no staining with stainless steel.  Stainless steel is also naturally resistant to bacteria, which makes it perfect for the kitchen.  It's definitely a style preference, and depending on the style of your home, may not be great for resale.  
IceStone: IceStone is a newer product that is an excellent eco-friendly option. IceStone is made of 100% recycled glass mixed with non toxic portland cement. It's also free of all plastics and petrochemicals.  Their countertops are naturally scratch resistant, but does require a bit of maintenance in terms of sealing the product from time to time.
You might notice I didn't list granite in this list.  And it's all for good reason. While granite is a stone and a natural element of the earth, it unfortunately adds radon to the air of homes naturally.  Homes that already have a high concentration of radon may want to steer clear of this product. The other downside to granite is that it is often chemically sealed rather than polished, which brings chemicals into your home and onto your eating surface.
Ripping out all of your cabinets and installing all new might not be in your budget, or you might realize how much waste that can create.  Either way, if you're just looking to update your cabinets rather than change the layout or the design, there are so many ways you can update them without doing a messy and expensive renovation in your kitchen.
Paint: This is probably the most common choice to give your kitchen a really big update on a small budget.  There is definitely a lot of work involved in painting your cabinets the right way, but in the end it's so worth it.  Most homes do a variation of white cabinets, but greys and blues have also been starting to pop up too. 
There are individuals and companies who specialize in painting cabinets and wood trim that you can hire for this kind of project.  But because this can be such an inexpensive project, many people prefer to do it themselves. Painted by Kayla Payne is an awesome resource when it comes to learning how to paint your cabinets the right way so they look professional, even if you do it yourself.
This option is a great way to not only update your look, but also a great chance to use non-toxic paints and sealers on your materials.  AFM SafeCoat is one of my favorite options when it comes to a safe, non-toxic paint and primer. ECOS is another great brand that can get you a non-toxic paint and primer in a variety of colors.
Refacing: Sometimes you want to update your kitchen, but you're not into that painted look.  I get it! I work with lots of people who have strong opinions on painted wood and prefer a more natural appearance to their cabinets. I'm a bit on the fence, to be honest.  I love the brightness of a white kitchen, but the thought of wiping down those cabinets day in and day out to keep them clean is a bit daunting.
Refacing is where you remove the current drawers and doors from your current cabinets.  Hardware and hinges should be removed too. Once you have just the open cabinets, you'll need to add new wood to them in order to be able to stain and seal the wood to the color you want. 
You'll then get new doors and drawers with the style you prefer, which will be stained and sealed the same color.  
Opt for a non toxic wood stain and wood sealer.  AFM SafeCoat also makes wood stains and sealers, which are completely safe and non toxic. 
Sealing Particle Board: If your cabinets are particle board on the inside, this is a great time to use AFM SafeSeal to go over these surfaces.  Particle board off-gasses formaldehyde for the lifetime of the product and by sealing it, you can reduce the amount that is off-gassed into your own home.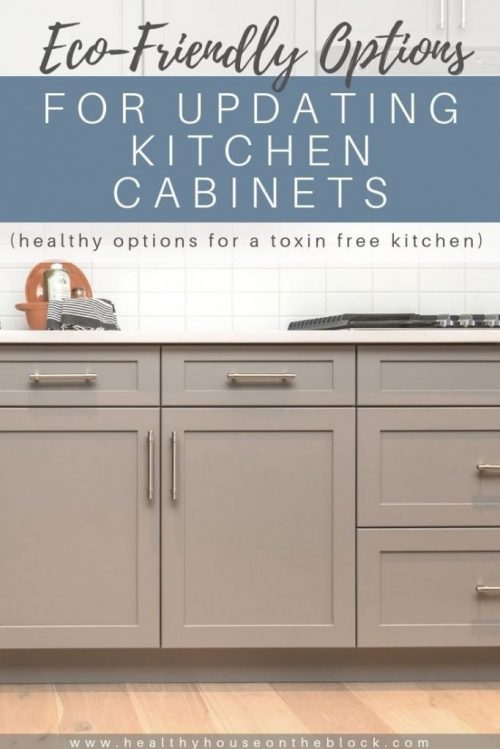 Adding a backslash can change the whole look of your kitchen.  And the best part is that it usually doesn't have to entail a professional and you can do it yourself.  There are so many options when it comes to creating a gorgeous backslash. Tile in general is completely non-toxic and safe for any home.  You'll just want to make sure that you're using a chemical free grout.
QuartzLock is a great option for a quick drying grout that is toxin free. You can also get a grout sealer for the end of your application from AFM SafeCoat that will help your backslash look amazing and last for a really long time. 
Tile: Look for a tile that has a 100% lead free glaze on it if you'll be getting any sort of clay or ceramic tile.  Most manufacturers adhere to this standard, but every now and then you'll find one that doesn't, so doing your research before you buy is best.
Stone Veneer: Stone veneer can be another great option as you don't have to use any sort of grout when installing.  However, you'll want to make sure that you're using the appropriate adhesive and that the adhesive is non-toxic. AFM SafeCoat has a 3 in 1 adhesive that is a great product for this type of application. But again, you'll want to check with the manufacturer. 
Recycled Glass: Using a material such as recycled glass for your backsplash is a great way to incorporate not only some character into your home, but to make a conscious effort to use a recycled material. MineralTiles has sets of recycled glass tiles, but you could probably find someone locally who sold recycled glass as well.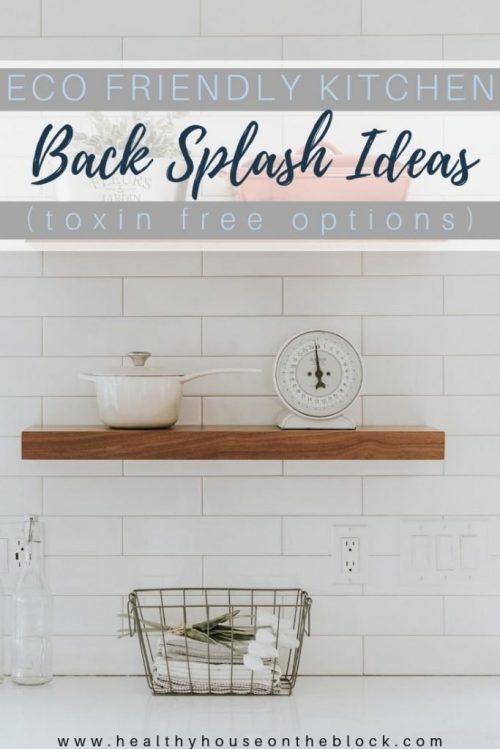 Flooring: Updating your flooring can be another way to completely change the look of your kitchen.  Taking out products that aren't the most healthy for your environment can also be a big improvement to your space. Choosing a healthy flooring option can help maintain a healthy environment indoors in a big way.  With how large the surface area is with flooring, it's important to reduce chemicals and toxins in order to keep your space healthy.
My flooring post is a great way to get started as it talks all about the various flooring materials you can use in your home.  Ideally for a kitchen you want a flooring that is very resistant to water and moisture. 
And remember any sort of adhesive you use or grout should also be toxin free.  Specific products are outlined in my Kitchen Remodel Checklist that you can get below.
Appliances & Fixtures: Do you know what to look for in appliances and fixtures when shopping for your healthy and non toxic kitchen?  Most of us don't know what the best options are.  I know I didn't when I first started out, but after research and hunting down healthier options, I put together my worksheet and guide to your kitchen remodel.
This guide goes over eight elements that are typically changed in a kitchen remodel and gives you the healthiest options as well as places to plan out your design and your budget.  I'm so excited to be able to share this with you and I hope it helps you as much as it did me in planning out designs and ideas.
DOWNLOAD YOUR HEALTHY KITCHEN REMODEL GUIDE & WORKSHEET
Make sure your decor choices are made of natural materials and natural elements.  Stay away from plastics if you can as these can add toxins to your indoor air.
All textiles should be organic or 100% cotton.  You can see more decor choices and healthy kitchen products in my Green Product Guide. Otherwise, here are my top picks for healthy kitchen decor: