I love hunting through Pinterest to find bathroom remodel ideas.  Not that we plan to remodel our bathroom anytime in the near future, but we do know that someday this will make it to the top of the priority list and we'll get to implement all those bathroom remodel ideas I've been saving and pinning. 
For now, we've just updated pieces of the bathroom and switched out components to look a little more modern.  It's kind of that "home takes time" mantra in play.  Eventually the bathrooms wil have a complete makeover, but in the  meantime, we'll just change little things here and there to create a space we still like and feel comfortable in.
Updating a bathroom can feel a little overwhelming because so many of the components are connected — once you change your tub surround, you're picking out new plumbing fixtures to go with it  Same with the vanity — if you're changing out the cabinets, you'll end up getting a different countertop, fixtures and probably lights.  
But in the same breath, replacing these components can not only add value to your space, but it can also be a great opportunity to reduce toxins that you come in contact with every single day.
WHY THE BATHROOM SPACE HOLDS SO MANY TOXINS
Often I will advise that families start addressing toxins and spaces that they come in contact with the most frequently.  When you're just starting out on a healthy house journey, there can be so many toxins and areas to address it can become overwhelming.  
The bathroom usually isn't the very first area addressed, but there are certainly components and parts within the bathroom that should be changed right away.  Because the bathroom area is usually quite humid and warm from our use of it, the climate in that room could be different than other areas of the home. In fact, bathroom remodel ideas might even address this moisture problem in the bathroom.
This warm and humid breeding environment is not only a conducive environment for mold and mildew, but it also creates an environment where VOCs will off gas at a higher rate.  VOCs are found in building materials, personal care products, tub surrounds and shower curtains.  
VOCs aren't able to be detected easily and we often have no idea that something is off gassing due to this. Because of this, it's important to take preventative action to reduce VOCs and off-gassing as much as possible.  This can be done through either changing the materials in the environment of the bathroom, or by sealing in current materials so they don't off gas into the air.  
Whatever bathroom remodel ideas you decide to go with — keeping current elements or replacing them — you can reduce toxins to create a healthier space.
When you break down each element you want to be adding or taking out of your bathroom, it can make it a little easier to come up with the healthiest bathroom remodel ideas for your space.  These areas of the bathroom will give you some options to avoid toxins as well as some options to pick toxin free and low toxin materials in your bathroom remodel.
Whatever flooring you choose for your bathroom, you'll want something that can withstand moisture and water.  You'll want something that has some sort of seal on it to prevent any water from penetrating the surface or migrating to the sub flooring.  
AVOID:  Linoleum (unless 100% natural) and vinyl flooring are two options to avoid in the bathroom.  Both contain VOCs and plastic  toxins that make it a poor choice.  The toxins in these floors have been linked to developmental delays in kids, hormone disruption and burdening of the kidney and liver.  
HEALTHY OPTIONS: Some of the BEST options for flooring are ceramic tile, porcelain tile, stone tile or marble.  These flooring options have the least amount of lead or VOCs in them. You may have to verify that the glaze on these tiles does not contain VOCs, or choose from this list of GreenGuard Certified winners:
Fireclay Tile is another one of my favorite green and health products.  They are a Certified B Corporation that reuses granite dust, porcelain and glass to make the body of the tile.  They are then glazed in an all natural clear glaze that is free from lead.  Their tiles are perfect for wet areas like the shower or tub.
Concrete Tiles sealed with AFM SafeSeal is another healthy alternative when you're on the hunt for bathroom remodel ideas. Concrete is a porous surface that needs to be sealed anyhow, and using AFM, which seals in any VOCs as well as keeps moisture from penetrating the tile is my top pick.
Make sure that during installation the tiles are cut outside and not inside to prevent any potential lead dust from getting into your living space and HVAC systems.  Also, if you'll be removing current tile, you'll want to take extra precautions to make sure the dust from demolition is properly contained.
One of the checks on the to-do list during a bathroom remodel is usually to update or change the tub surround or shower surround.  Bathroom ideas can range from doing a tasteful one-piece surround to intricate tile designs.  
AVOID: Fiberglass surrounds and acrylic surrounds are the least healthy options as they both contain toxins.  Acrylic resin contains more toxins such as ethyl acrylate, polymethyl acrylate and acrylic acid, which are all harmful to human health.
HEALTHY OPTIONS: Better options that you can choose for a tub or shower surround are natural porcelain tile, plaster (a mix of lime, gypsum or cement) with a natural wax or oil sealer.  There are a variety of plaster compositions you can opt for, but Ventian Plaster is one of the most well known and one of the healthiest options.  It is a lime plaster that is a natural antibacterial surface, which repels mold and mildew in the bathroom. 
Kohler Choreograph Serica Material is a Greenguard Certified material that is not only beautiful, but also very customizable.  The stone-resin composite walls can be adhered with a low VOC product and their joint system means you'll have less maintenance in the future. 
Another Greenguard certified product is Project Stone by Belstone.  These surrounds are made of recycled raw material and are often used as an alternative to tile or marble.  
And finally, I also like to recommend SwanStone, which is GreenGuard Certified and a great option for not only a shower or tub surround, but also for sinks and vanity tops.  Swan stone is made with renewable materials and is a non-porous surface.  Because the surface is solid and made with recycled polymers, it emits very few VOCs and also doesn't have problems with mold or mildew.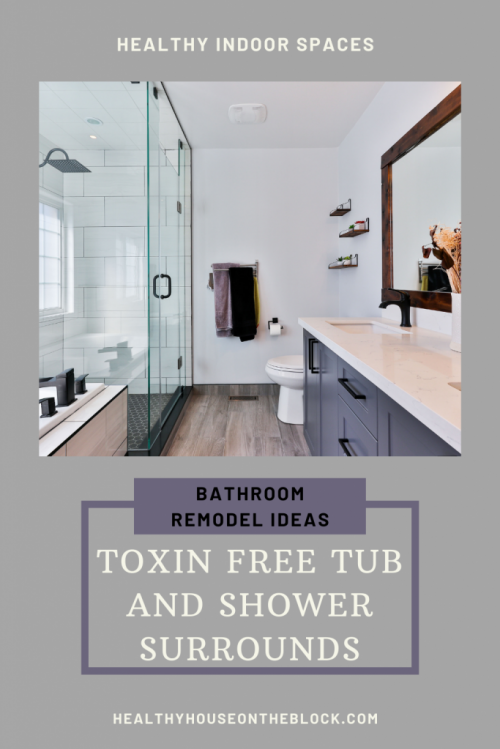 Sometimes you might get the opportunity to replace the tub or shower base.  Or, you might look for bathroom remodel ideas that incorporate the current components as is.  If you are going to be replacing your current shower or tub, here's what you need to know:
AVOID:  I think the BIGGEST material to avoid is plastic and acrylic.  These two tub and shower options off gas a variety of VOCs and introduce your space to plasticizers, phthalates and polyvinyl chloride.    It's also important to note that these are high in humidity and temperature, which allows VOCs to off gas at a higher rate while you're in the bathroom space. 
HEALTHY OPTIONS: Looking for natural materials is a great start to getting a healthier material into your bathroom when you're looking for bathroom remodel ideas.  Whatever option you end up going with, make sure that there is no lead in any sort of glaze.
Kaldewei makes an enameled steel tub that is third party certified by an Environmental Production Declarations for eco friendly and climate neutral building components
Cultured Stone is another option for a shower base.  Oftentimes they are a completely grout-less solution, which means there are fewer toxins being brought into the work space.  Marble is a great option for this
Corian is an option for a shower base that gets the GreenGuard Certification for resisting mold and bacteria.  Corian is naturally resistant to chipping and scratching, which means it should have a long lifespan.  It's also non-slip
Cast Iron with a lead free glaze is another really great option.  Sometimes cast iron can be a bit pricier than other options, but it's definitely worth it and will withstand the test of time.
Sterling by Kohler also manufactures a product called Vikrell which has been given the GreenGuard Certification.  This material can be found in tubs, showers, and combinations as well as surrounds and doors. You can order off their website or find it locally in a showroom.
If you want the whole rundown on counter tops, this post is MADE for you.  I outline the best countertops you can install in your home in great detail.  Here's the gist of it:
AVOID:  Laminate countertops and chemically sealed countertops.  Both contain VOCs and harmful formaldehyde in both the adhesives and clear glaze.  I also recommend that solid surface countertops made from acrylic resins be avoided due to formaldehyde, methyl methacrylate and benzoic acid.
HEALTHY OPTIONS:  The bathroom countertops probably come in contact with even more moisture than the kitchen, and because of this wood, while  a healthy option, may not be the best choice.  Other options are:
Concrete
Quartz
Marble 
Limestone
Quartzite
If you're going to be updating your vanity and replacing your current cabinets, look for either a completely solid wood cabinet.  If you purchase the product unfinished you can seal it with AFM SafeSeal to keep all formaldehyde and VOCs from off gassing into your bathroom.  You can then stain or paint it with a toxin free product that you choose.
If you're really not into the solid wood look, here are some GreenGuard Certified Vanities you can add to your bathroom remodel ideas book:
Plumbing fixtures that you choose should be stainless steel in material.  There's some concern when you're adding fixtures to your home that there could be lead in the plumbing fixture itself (we're not talking about plumbing pipes, just the fixtures).  
There are a few trusted brands out there that have eliminated all lead components of their fixtures and can be trusted when you're updating your list of bathroom remodel ideas:
When it comes to sinks, you want to look for something that also has a lead free finish.  Getting a natural stone is a great option, but can also be expensive.  Corian sinks are a great option as they're GreenGuard Certified and they are naturally resistant to mold and mildew. Other great options that have been GreenGuard Certified are:
Walls in a bathroom can be covered with a multitude of different materials that are resistant to moisture and mildew.  It's for this reason I love a solid surface wall from cultured stone.  Many times you can get large slabs that need no grout in between tiles.  
You could also do a grout with tile on the walls, but there's probably a fair amount of maintenance involved. 
And then sometimes bathroom remodel ideas will simply mean painting or creating a paneled look.  This post on paint will walk you through some toxin free and healthy alternatives to everyday wall paint.  
As for paneling.  I love the faux paneled wall, which adds just a little bit of wood to your space. Personally, I like to keep the bathroom free from most types of solid wood if possible.  Wood needs to be sealed every so often so that moisture doesn't affect the material as it ages.  Walls can become wet with condensation during showers and baths, and water running down and round wood paneling can create an environment where mold and mildew thrive.
If you choose to add any sort of wood component to the bathroom, you'll just want to make sure that you avoid press woods like plywood, particleboard or medium density fiberboard.  All of these options contain formaldehyde in their adhesives, leaving you with a product that off-gasses toxins into your bathroom.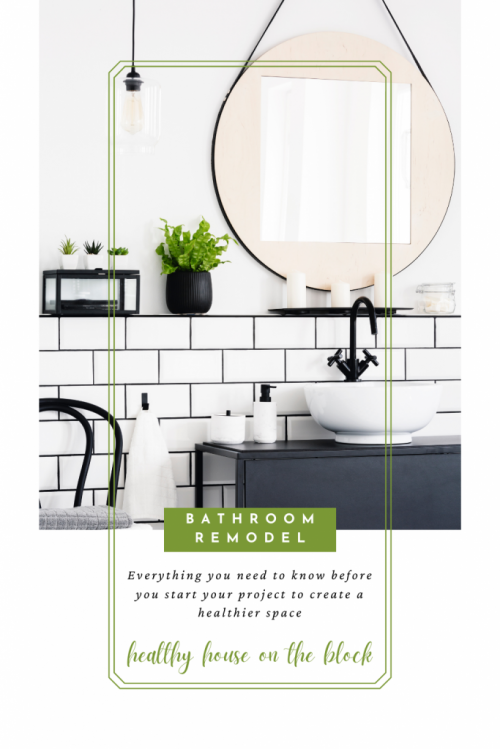 If you can swing a window in your bathroom (or a skylight) I think that's the best option for natural lighting and natural ventilation.  But I completely understand that many bathrooms are located on the interior of homes (for plumbing reasons mostly).  And if that's the case, you can make some intentional purchases through new lighting and fans.
That being said, no matter where your bathroom is, I HIGHLY recommend a bathroom fan that exhausts to the exterior of the home either through the roof or through the side of the home.  This is an essential way to keep moisture from causing problems with mold and mildew in the bathroom.  I also love the idea of a timer for your bath fan that will run the bath fan for at least 20 minutes after bathroom use.
Chromalux light bulbs are a healthier light bulb that you can add to your space to reduce EMF exposure and create an environment that also feels good and reduces exposure to blue light.  (You can purchase them off of Amazon)
LOW TOXIN FINISHING TOUCHES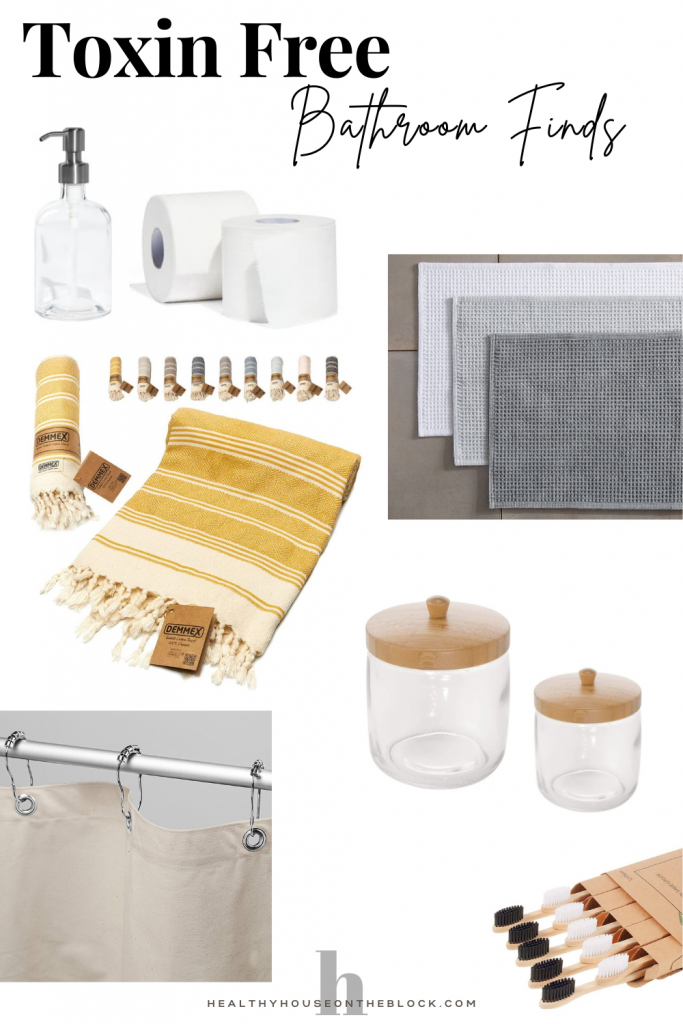 Anything you bring into your bathroom can either add toxins to your space, or it can be an opportunity to use a healthier material that will reduce VOCs and other chemicals from your bathroom. Thinking through each purchase you make to ensure that you're making conscious decisions will contribute to a truly toxin free bathroom.
Shower Curtain: Avoid plastic and PVC shower curtains that will off-gas toxins into your space.  Try out my top picks for healthy shower curtain options to keep your space free of unnecessary toxins.
Towels: Try to stick with organic cotton towels.  Fabrics and textiles that aren't 100% organic can contain pesticides that become embedded into the fibers.  I love Turkish towels that are super absorbent, but don't stay wet, leaving you with a damp space in the bathroom.
Go Plastic Free: Anywhere you can go plastic free in your bathroom is a positive step forward and will enhance your bathroom remodel ideas.  Opt for materials like natural wood, glass and stone instead of plastics.  This can be anything from your toothbrush to your makeup caddy.