UPDATE:  Over the past few months I have been switching over all my essential oils to Plant Therapy and I'm gradually discontinuing my use of Young Living Essential Oils.  If you're curious why or what prompted the change,
I'd love for you to check out this page.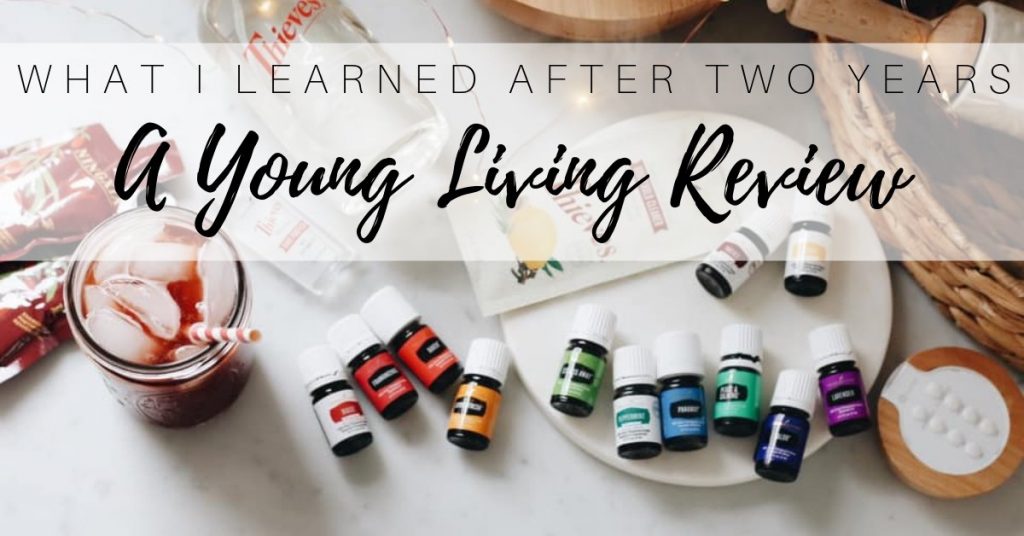 This last month marked my two year anniversary as a Young Living member and I wanted to share with you a really candid review of what I've learned over the past two years.  Even before I became a Young Living member, I had been hearing about essential oils for the five previous years. I didn't really "get" what they were or how I could use them and so I wrote it off.  I eventually ended up trying out a few small bottles here and there. I didn't even start with their infamous starter kit. I just purchased lavender and lemon and went from there.
I honestly didn't know what on earth the big deal was with this essential oils company and I didn't see the importance of adding them to my life at all.  And then my oldest daughter started to get ear infections. She would get them one after the other with barely a break in between. We tried waiting it out, but they never went away on their own.  I remember being so frustrated every time the doctor would whip out a prescription pad and give her another antibiotic. She hated them, I hated them; we spent weeks getting her poor tummy back on track.  It was an endless cycle of trips to the doctor. (Just because this is too good not to share; we ended up finding the BEST home remedy for those ear infections that came up now and then.
We heated 1/4 olive oil at a low temperature on the stove and added minced 1 garlic clove to it.  Once fragrant remove from heat and let cool to a slightly warm temperature. Strain out the garlic pieces and drop 1-2 drops in  the ear affected. Lying down for a few minutes to prevent the oil from coming back out helps too. We did this 3 times a day and it helped with pain and cleared up the infection.)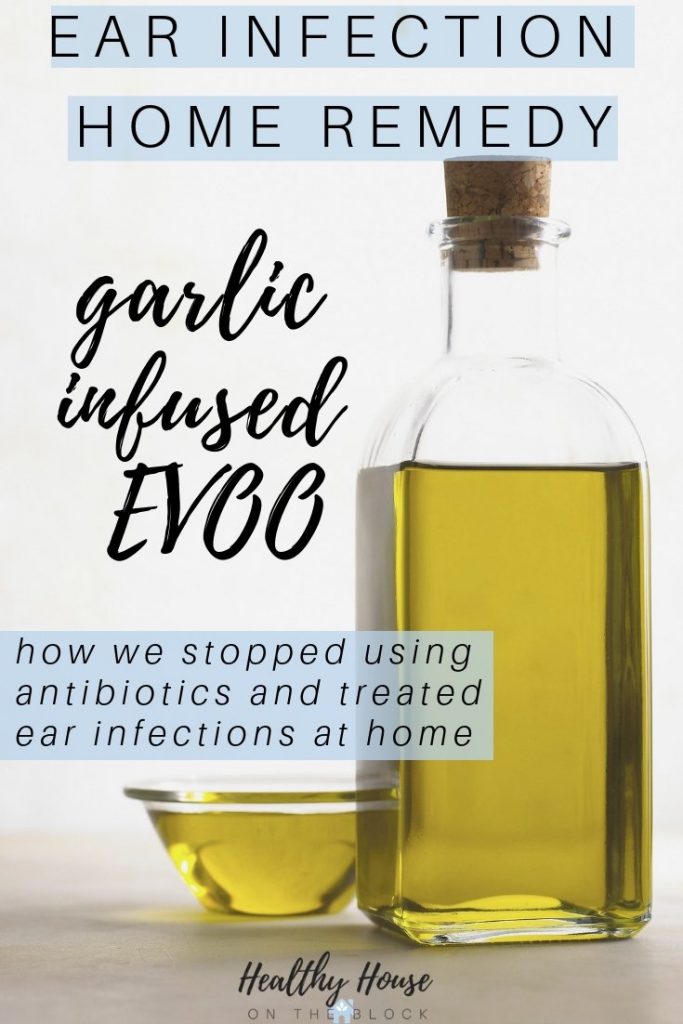 That's when I decided to try Thieves Oil. I had read and read about how great it was for the immune system and how it could really give little bodies a boost.  That was the next oil I ordered and I started using a few drops in a roller with fractionated coconut oil on the bottoms of our feet daily. I honestly didn't think it would do anything.  Eventually we seemed to have milder symptoms from colds and flus that had been going around. Some of them we even avoided all together. We do our best to live a healthy lifestyle, so I truly don't believe there's just one thing that helps us stay healthy.  But I do think that Thieves and our daily use of it has played a part in some way. This winter has been our best year yet as far as winter illnesses go.
After I purchased the starter kit, I wanted to learn more about how to use the oil products that it contained.  I started making changes to my daily beauty routine and my cleaning and eventually started using my diffuser as part of our daily routine as well.
I didn't jump right in and I certainly didn't give Young Living a fair shot right away, but I'm glad I've slowly eased into using Young Living Essential Oils.  If I hadn't done this process slowly, I don't think I'd have such a natural feeling routine for my house and family.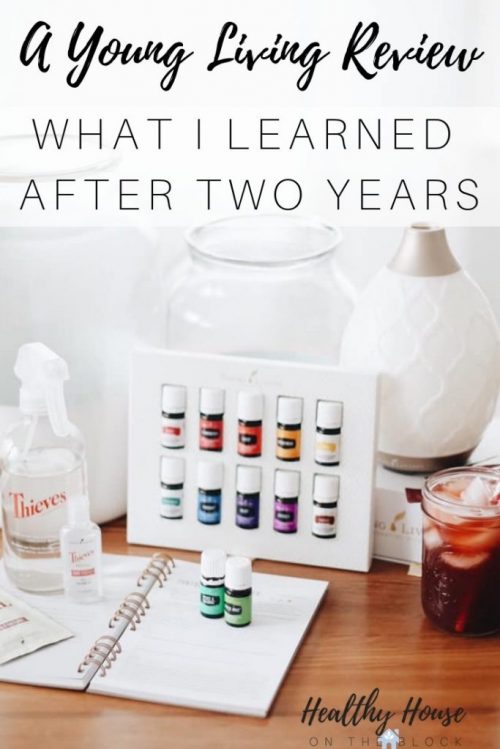 WHAT I'VE LEARNED OVER THE PAST TWO YEARS:
Pricing is Not Always What it Seems
I remember early on, looking into trying some oils and being so taken back by the price that it left a really bad taste in my mouth.  What I didn't realize then is that these little bottles last for quite some time, so while it seemed like I would be spending half my budget on them, it just isn't the case.  Some of my bottles last upwards of a year (and these are the ones I still use on a regular basis). They might look like tiny little bottles, but truly you only need a few drops to make a big impact.
Oils are extremely concentrated, which is another reason extreme care must be taken when using them on ourselves, our kids or around our pets.  But because their extremely concentrated one drop goes a long, long way. In fact, each 15 ml bottle contains approximately 250 drops of essential oils.  
I don't claim to be an expert nor do I know off the top of my head every safety precaution about essential oils.  This is why research, research, research when it comes to essential oils and their uses. With two kiddos and dog, I want to do my best in keeping them safe and healthy.  These oils are plants and herbs in a highly concentrated form that have effects on our bodies. Extreme caution and care should be taken when using any oil.
Before any oil goes onto my kids' skin or gets diffused when they're around, I research if it is indeed safe to use around my children.  I like to look at resources published by certified aromatherapists as opposed to bloggers, social media or news articles. Someone who is trained and specially educated to know the proper use of oils is the best bet.
I initially wanted to use the oils I had read about to improve our physical health and boost the immune system.  However, what I learned over the past two years is that some of the essential oils we were using are incredible for emotional wellness.  What do I mean by this? Do you ever feel stressed, frazzled and/or unbalanced? Some essential oils like Bergamot, Valor, Lavender or Cedarwood can help tame those feelings.  They can help produce a positive outlook and calm nerves. Other oils paired with meditation or journaling can have a powerful effect on our psyche.
Young Living's Oils must meet a certain standard, and Seed to Seal is this guarantee.  This means that they have complete control over the whole process. This means from the seeds they use to cultivating the seeds all the way to the end when the plant is pressed and distilled into oil.    Every part of the process must be done with extreme care in order to produce a bottle of essential oils that is of high quality. This is exactly what the Seed to Seal promise is.
Additional Products For the Win
After I started using a few oils here and there I knew I wanted to try the Thieves Household Cleaner.  And I couldn't be happier I did. This completely changed the way we cleaned our house and it's saved us money in cleaning products at the same time.  Thieves is plant based with no added chemicals or toxins. It's extremely concentrated and you need just one capful of the cleaner to mix with a spray bottle of water.  That's it! One concentrated bottle lasts us for months on end. This is by far my absolute favorite of the Young Living products.
There is practically no surface in our house that goes untouched by this cleaner.  I feel safe letting my kids help me clean and I feel confident that it's doing a good job sanitizing the surfaces I use it on.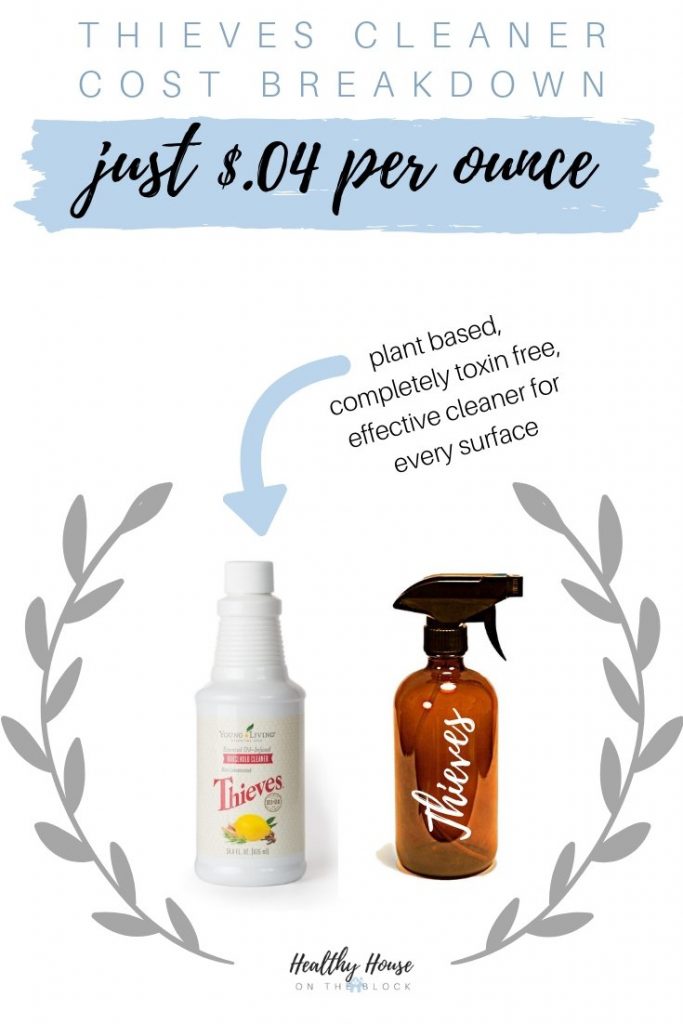 Another product I use daily is Ningxia Red.  This is a liquid supplement made of a variety of superfruits that contain antioxidants.  They infuse this mix with various essential oils which have a positive impact on the human body.  I love the taste of this, and to be honest I just feel better when I take it as part of my daily routine.
A few years ago after my daughter was born I had some back trouble that need the care of a chiropractor.  I was then introduced to Cool Azule, which is a topical cream for aches and pains. Using this paired with chiropractic care and home exercises, I was able to reduce my back pain by a significant amount and begin to heal my body.  I recommend this as an alternative to pain medications and medicated creams.
Again, I don't claim to be an expert, and this just what works for me and my family.  This all began with one simple roller in the morning before school and it's grown to include many other areas of my daily routine.  I don't think anyone has to jump in with both feet and change their entire system at home to revolve around oils. However, I do think that once you start, it's easy to find other areas to implement these changes into your life.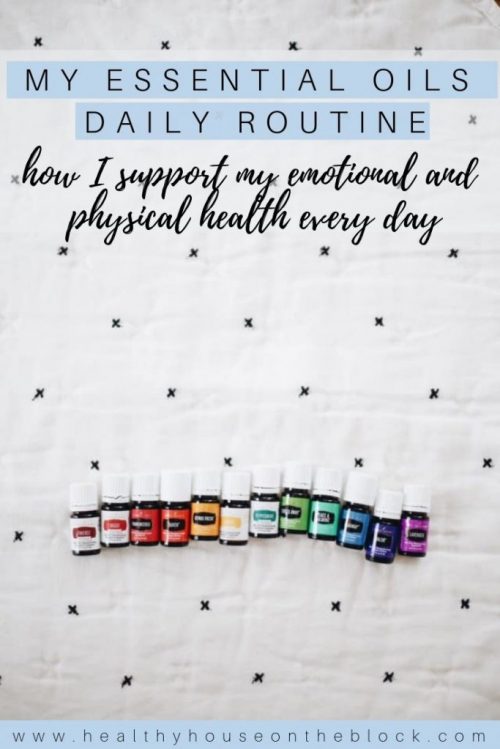 Morning Routine:
Homemade Facial Serum with Cedarwood, Lavender, Copaiba and Tea Tree

Progestera for hormone support

Rosemary, Cedarwood & Lavender with a splash of witch hazel in a spray bottle for my hair

Sometimes I diffuse Grounding or Abundance during my morning devotion or journaling

Lemon & Joy in the diffuser when I'm getting the kiddos up for the day.

Thieves immunity roller on our feet before we leave the house

Roller of Joy, Peace and Calm, Valor and StressAway for my perfume
Afternoon Routine:
Ningxia Red mixed with sparkling water

Usually use the diffuser while I'm working at the computer in the afternoon for a pick-me-up
Evening Routine:
Diffuse something calming after dinner (plus helps get rid of the after-dinner-smell)

Homemade facial serum again

Lavender and castor oil on my lashes before bed

Roller of lavender, cedarwood and orange on wrists and necks before bed
MY BEAUTY ROUTINE RECIPES
What makes Young Living Essential Oils different?

Young Living's Oils must meet a certain standard, and Seed to Seal is this guarantee.  This means that they have complete control over the whole process. This means from the seeds they use to cultivating the seeds all the way to the end when the plant is pressed and distilled into oil.    Every part of the process must be done with extreme care in order to produce a bottle of essential oils that is of high quality. This is exactly what the Seed to Seal promise is.