I spend a majority of my waking hours in and out of my kitchen.  And this isn't a complaint — it's an absolute JOY to me.  I love being in the kitchen as a place to gather, a place to cook and a place to support my body's wellness. Even as a teenager, some of my favorite conversations and time spent with my mom was sitting at a stool while she was preparing food or cleaning up. And now that I have my own kitchen, it has become a place for quality time together.  But a kitchen is also a functional space with the right healthy kitchen essentials to make it healthy.
Because so much of our time in the kitchen revolves around food and what we are consuming, it's important to stock it with healthy kitchen essentials that will keep our food and space free from as many toxins as possible.  Toxins that enter our body through consumption can be more harmful to our bodies — especially when it comes to our kids. I did an interview with Beth Greer, the SuperNatural Mom, early on when I was starting out and she talked in great detail about this form of toxin exposure and it's potential harm to our bodies.
Over time I've had to swap out some of my basic kitchen essentials for healthier versions that were less toxic and a healthier choice for my family.  I like to use what I call the "Layered Approach" to swap out kitchen tools for healthy kitchen essentials.  Over time all the layers add up and at the end I end up with a completely detoxed kitchen.
I've also got a printable version for you this week to help you run through your own healthy kitchen essentials and layer on each change for a completely detoxed kitchen in the end.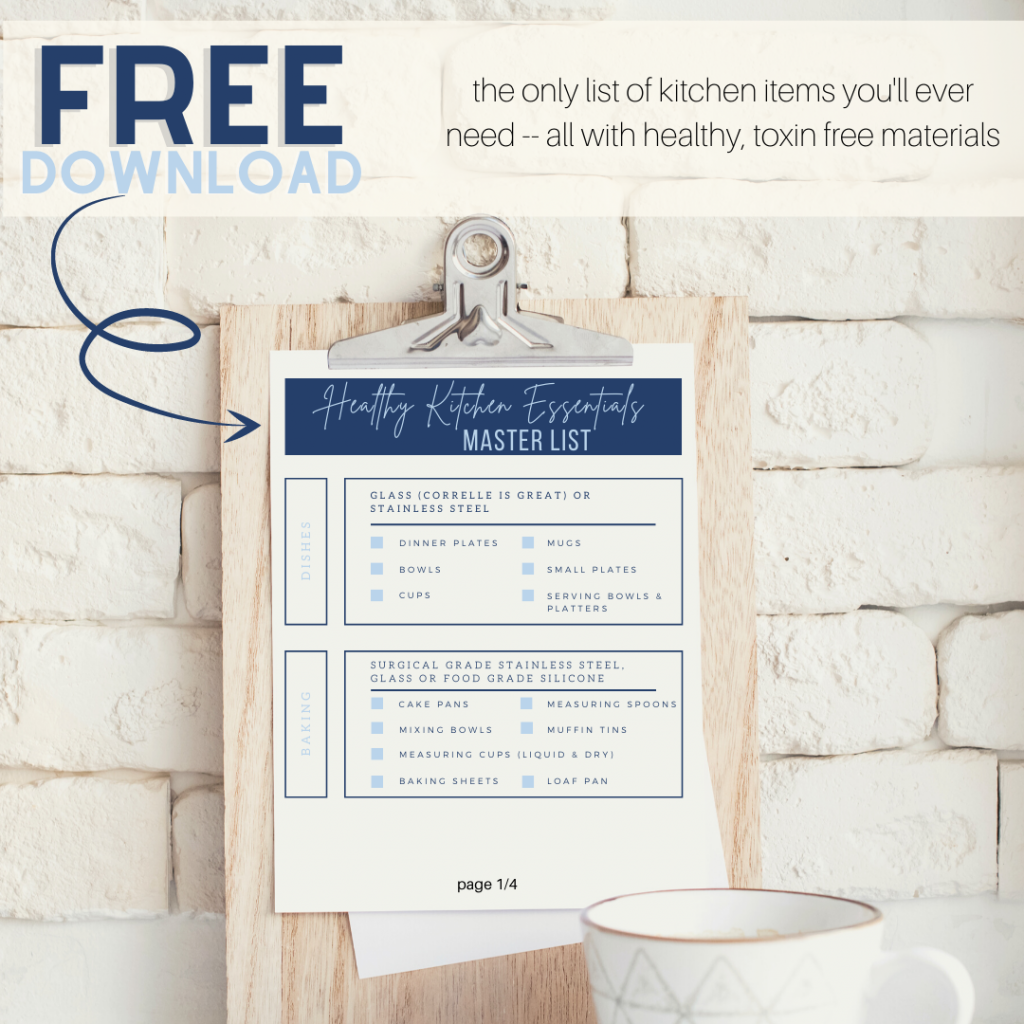 DOWNLOAD YOUR COPY OF THE HEALTHY KITCHEN ESSENTIALS MASTER LIST
The layered approach is exactly what it sounds like — layering on changes and habits just one at time.  The reason that this method really works is because it completely avoids the overwhelm that comes with change.
If you can focus on changing just one item or habit at a time, you won't become weighed down by wondering how you'll change and swap out everything.  The trick is to truly focus on just one thing at a time. Sometimes this is easier said than done, and it may be something you must force yourself to do at first.  
But once you begin to intentionally and thoughtfully research and change just one item and one area of your life and home at time, it'll become second nature. 
Another reason we often become overwhelmed with changing our home (not JUST changing out healthy kitchen essentials) is the amount of research that goes into making a more natural and healthy choice in our home items.  The good news is that oftentimes, especially in the kitchen and with healthy kitchen essentials, this research can be applied to a number of items and products — you just have to keep track of what you've learned.  
I like to use the layered approach to just about any area I need to change — from remodel projects to changing my personal habits. Each time you make a change you want that change or product to stick so you never have to revisit it again.  By making a better choice once, you improve your space a little bit and with each additional change the base layer of change gets deeper.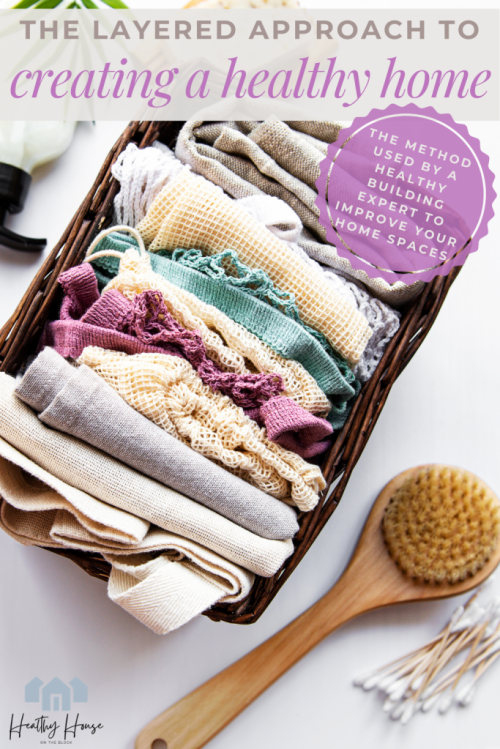 START SMALL WITH WHAT YOU CAN CHANGE
Another approach that I like to take when detoxing a space is to start with the EASIEST thing to change and then snowball your efforts.  You wouldn't start a new workout regimen by running 5 miles a day.  You'd fall off the wagon pretty quickly, only to end up back at square one.  
The same is true with toxic products and habits.  Start with what is the SIMPLEST to change.  It'll feel good to make a simple change and you'll be looking for the next one to accomplish right away.  
Nothing is more frustrating than wanting to change and hitting a roadblock.  By starting with what you can control easily we avoid that roadblock of getting stuck. Oftentimes it means starting with a change you've known you should make for a while and just taking action to do it.
And sometimes starting small can snowball really quickly — I like to compare it to "If you give a mouse a cookie"….you know one thing always leads to another.  If you change your deodorant to a natural and toxin free option, pretty soon you're swapping out your hair products, which leads to changing your morning routine, which makes you rethink your makeup, which in turn makes you swap out your perfume for essential oils, and then before you know it you're mixing up our own cleaning supplies using natural ingredients and the essential oils you just got into.  
It's like a rabbit hole of healthy changes, but the end result is an overhauled life and home.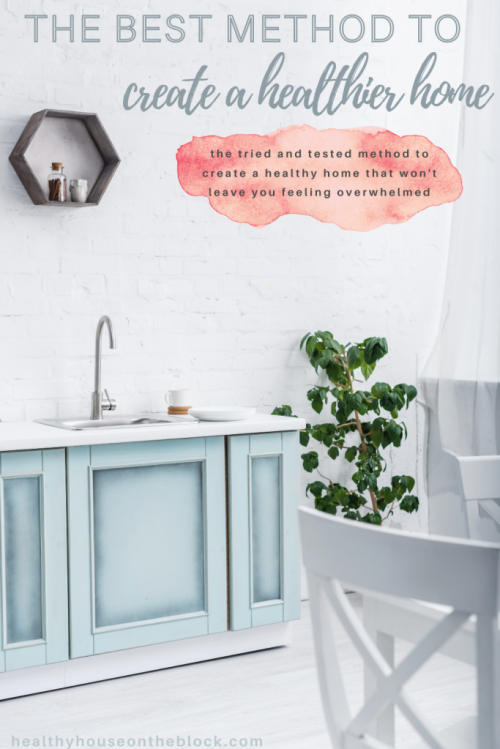 HEALTHY KITCHEN ESSENTIALS:
So where do you start with your healthy kitchen essentials?   I'm going to take you down a list starting with what I think is the easiest change to make — but you get to be the judge.  You don't have to swap out everything on this list.  You could pick and choose or start wherever you want.  Just know that each change you choose to make is one that will get you started in the right direction.
And then be sure to download my full printable list of healthy kitchen essentials that you can use at home to replace and swap out all your items.
DISHES:  Opt for glass wherever you can — it's the material that has the least added toxins to it. It doesn't need a glaze or coating, which is often where the toxins and heavy metals are applied. The tried and true Corelle glass dinnerware is a great option.  It's made from Vitrelle glass which is three layers of tempered glass. Some porcelain is also okay, but you have to ensure it is made without lead and cadmium in the glazing.
SILVERWARE AND UTENSILS:  A while ago I did a post talking about the safety of silicone and using it in the kitchen for utensils.  It's a great option for utensils that you use when you're cooking and baking. Another great option that we use quite often in our home is natural wood utensils.
For silverware and flatware, look for stainless steel that is free from aluminum.  Opting for a high quality stainless steel such as surgical grade or 18/8 or 18/10 is best.
BAKING ESSENTIALS:  Again, glass is a great choice for bakeware: good old fashioned Anchor and Pyrex are definitely the way to go. For mixing bowls, measuring cups and measuring spoons I recommend using a premium grade stainless steel (look for 18/8 on the product to ensure it has low levels of chromium and nickel).
SHEET PANS & CASSEROLE DISHES:  The less flashy and the more simple the better when it comes to this healthy kitchen essential.  Go with clear glass for casserole dishes if you can and premium stainless steel for your sheet pans.  
You'll want to avoid stoneware and a lot of colors UNLESS you've done your research and found that it is lead free and third party tested.  You can get unglazed stoneware, which is a great way to go as well.
You'll also want to steer clear of non-stick options as they contain PFOAs from the teflon coating.
KNIVES & CUTTING BOARDS:  I did a whole post on cutting boards a while back, which discusses the materials to avoid and the materials that are safe when it comes to our boards.  Essentially, solid wood, 100% natural rubber and Epicurean are the top picks.  
As for knives,  get something that is a high quality stainless steel and make sure it is free of aluminum, which can leach aluminum into food when heated.  A high quality carbon steel is another great option:
CROCKPOT & POTS:  This post on pots and pans will walk you through all the healthiest options.  But if you're looking for the cliff notes, I'll fill you in:  100% stainless steel (remember our rule of surgical grade or 8/18 or 10/18) and 100% ceramic with a lead free glaze are my favorite options.  I also like the idea of a solid cast iron pan.  Xtrema is 100% ceramic with a lead free glaze — they also have each and every shipment third party tested.
I personally think that a must for healthy kitchen essentials is a crockpot.  VitaClay makes a completely toxin free crock pot that is free from chemicals and heavy metals.  InstantPot is another great option because the cooking pot is stainless steel.
FOOD STORAGE CONTAINERS:
Storing your food in any sort of plastic (from containers to bags to wrap) should be avoided due to the toxins that come in contact with our food.  You may have heard about phthalates, polyvinyl chloride and bisphenol toxins in these types of plastics.  All of them are harmful to our natural hormone production, which in turn creates an unhealthy body susceptible to disease.
Aluminum is also another product we don't want touching our food as it can easily leach into whatever it touches.  Aluminum has been linked to Alzheimer's, and neuroglical issues in humans.
Instead use a natural metal or glass for a storage solution.  If you're looking for good on-the-go food storage, try a natural beeswax wrap or a silicone storage bag.
CLEANING & TEXTILES:  If you can find 100% organic cotton for your dishtowels and wash rags, it's a win.  If nothing else, find 100% cotton that is undyed.  
For cleaning, I like to use plant based cleaners and I've had great luck with Seventh Generation.  They get an A rating on the ThinkDirty App and I feel like they work just as well if not better than the toxic cleaners I used to get.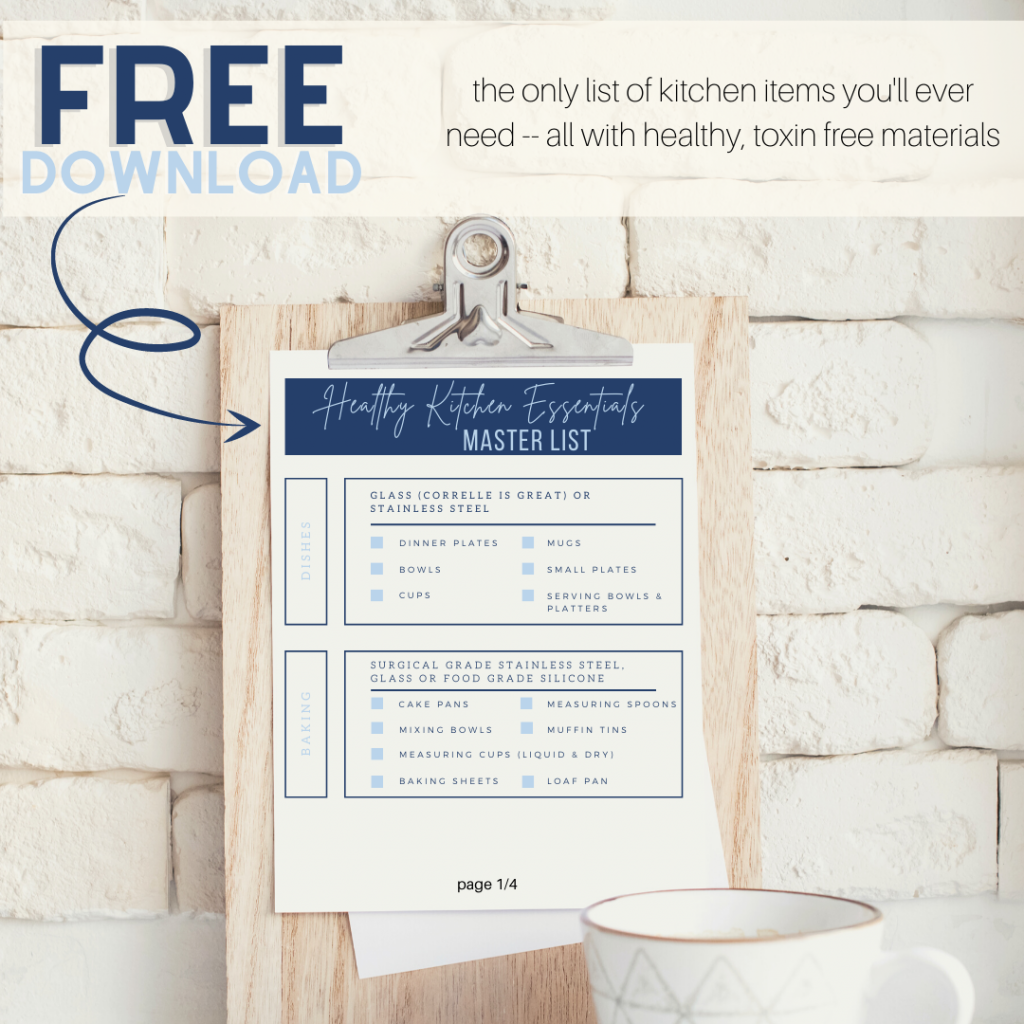 DOWNLOAD YOUR COPY OF THE HEALTHY KITCHEN ESSENTIALS MASTER LIST
WHAT TO DO WITH YOUR TOXIC SWAPS:
Outdoor Toys:  I love using old utensils and containers that aren't glass for play toys outside. They're great for digging in the dirt and being creative with.  They're almost like an open ended toy, which is such a beneficial thing for kids to have around.
Recycle:  If the item you're swapping out is plastic or has a recycle code on it, then by all means add it to your recycling.  While it does stink to discard plastic, if you're done with it and you've used it to it's maximum life, I think then it makes sense to recycle the material.
Donate: Are you swapping perfectly good kitchen essentials out with healthier ones?  Then you might want to just donate what you're not using.  You never know who might find it useful and who might be looking for a discount on what you're getting rid of.
If you're looking for a complete list of healthy kitchen essentials that you can print out and keep track of, be sure to download my Healthy Kitchen Essentials Checklist: