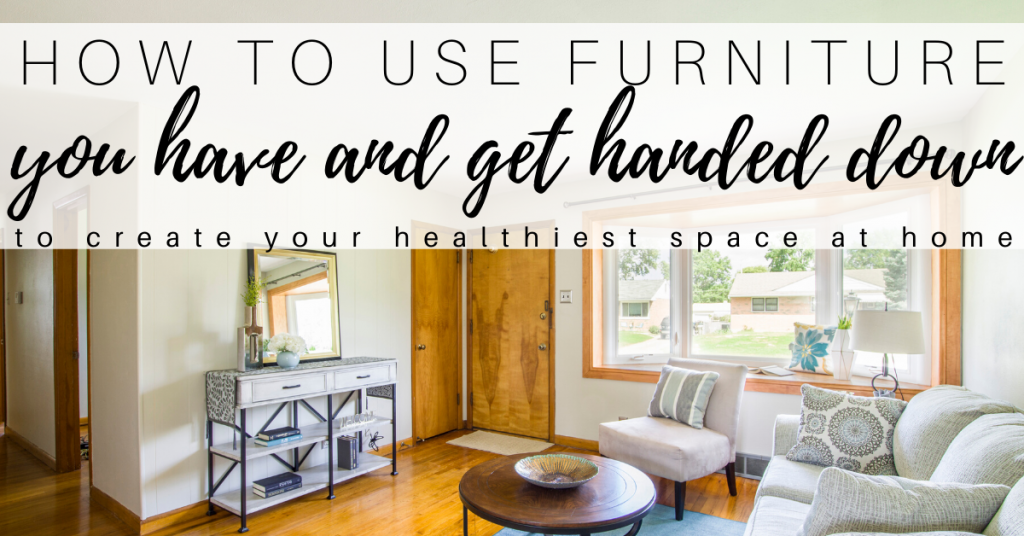 A few weeks ago I wrote all about the idea of fast fashion in the furniture industry.  If you didn't get a chance to read it, I'll catch you up. Basically, the furniture industries are creating inexpensive furniture that's only meant to last five years or so instead of creating high quality furniture like we've had in the past.  So today, I want to expand on how to side step this issue and how we can take advantage of used furniture and arranging furniture we already have.
I think we often see a carefully curated room or designed space on social media or on television and think we have to buy new items in order to create that feel in our own homes.  This through process is what leads to a home filled with toxic products and materials (and too much stuff in general). Honestly,. The idea of arranging furniture we already have and moving it room to room can be one of the BEST ways to make your house feel fresh without spending a dime or purchasing a product you don't love or need.
It can be so easy for us to hop on to Wayfair or Ikea and grab what we think we need at a pretty appealing price point.  We forget that used furniture, while it may not be as convenient to shop for, is a pretty awesome resource. A resource that is more eco friendly, and if done right, can actually be healthier for your home. 
There are also ways we can DIY furniture by reusing furniture we have, salvaging furniture and repurposing thrift store finds.  When you take the right precautions and use the healthiest products I've outlined, you'll be able to create a low toxin piece of furniture for your own home.
So no matter how you decide to update your space, arranging furniture you have, opting for used furniture and a healthy DIY furniture option can help keep your home healthy.
Arranging Furniture You Already Have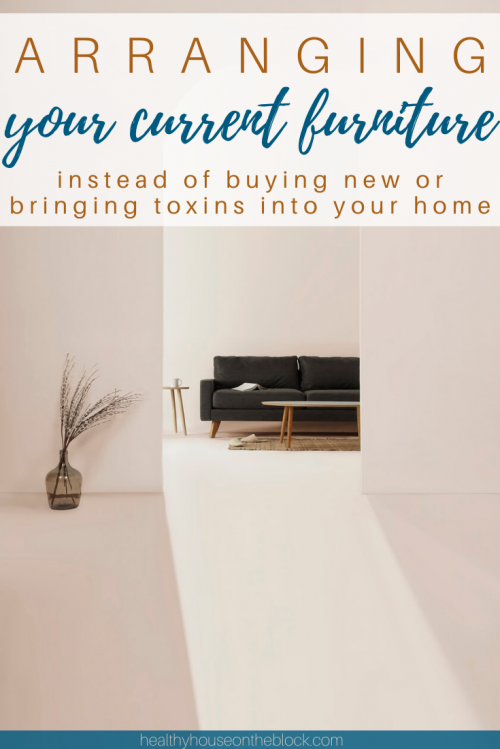 So many times when I've wanted to update a room in my house, I've immediately hopped onto Pinterest and started pinning layouts I love as well as products I plan to purchase.  As I begin to think about what I'm really planning, I eventually forego purchasing anything new.  
Instead, I tend to arrange the furniture we already have and move it from space to space.  This has been one of the most key parts of being the keeper of my home. I know that we don't actually NEED new furniture and we don't really have a lot of space for adding new things.  Our home's spaces can quickly get filled to the brim with items we don't actually have a use for. And this is why arranging furniture we have already helps cut down on unneeded items.
Some bloggers that I have followed for years and years will frequently move a side table or chair to a completely new space to give that space a different feel and look.  They've also taken dressers and made them entry tables and switched around rugs and decor to create a completely different feel.
The reason I love the idea of arranging furniture you already have SO much, is that you're limiting the number of toxins you allow into your own home.  If you aren't purchasing something new, you're completely cutting out a potential toxin that could end up in your home.
Look around your own house, instead of buying new, can you work on arranging furniture you have already to make your space fresh and new?
Taking Advantage of Used Furniture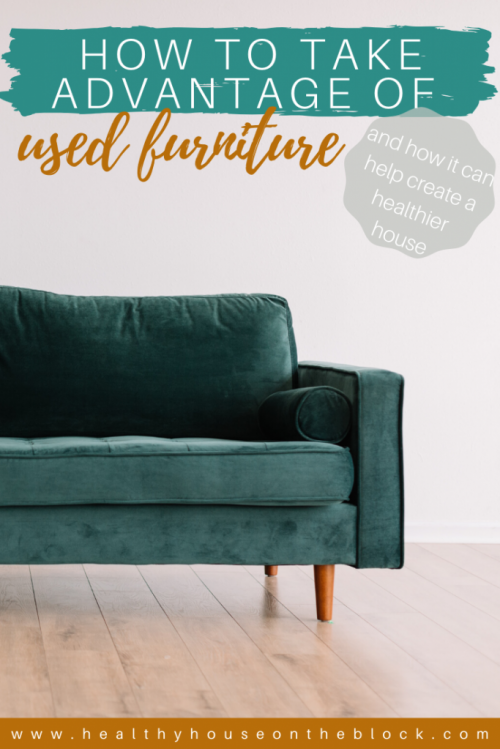 Thrift store finds and Marketplace finds rank REALLY high in my book.  I keep my eyes out on Facebook Marketplace and Craigslist for high quality pieces of used furniture we can add to our home.  
There definitely is more to be said about using this tactic to prevent introducing toxins and chemicals into your home.  One rule of thumb with used furniture is this: BE CAUTIOUS AND DON'T FEEL OBLIGATED TO BUY.
If you're purchasing from a seller, make sure you ask them these important questions:
Is this piece of used furniture solid wood?

Has it ever been in a smoking environment?
You can also ask other questions about the condition, but as for safety and health, these two questions above can tell you a lot.  Solid wood furniture is ALWAYS better and is always going to be the BEST option. Wood furniture made of medium density fiberboard, plywood or particle board will oftentimes contain harsh chemicals and VOCs, including formaldehyde.  We know that formaldehyde is a carcinogen and that it never stops off-gassing, no matter how old the furniture or solvent is.
The reason I love taking advantage of used furniture for a home that is health conscious is that you can actually find really high quality pieces that contain fewer chemicals and toxins than furniture pieces you buy from a store.  New pieces of furniture contain VOCs in the paints and glues that hold them together. In addition, manufacturing new pieces of furniture isn't the best for our earth environment. The pieces have to be made and then shipped long distances.  I talked a lot about this in my post about Fast Furniture, which you can read here.
Finding solid wood can be tricky, but it's well worth it.  Make sure you take your time in looking for a piece of used furniture and then make sure that you clean it and update it the right way.
DIY Furniture the Healthiest Way
Whether you're reusing a handed down piece of furniture, building your own or finding a thrift store item, creating a piece of DIY furniture is another exceptional way to cut down on waste, prevent chemicals from entering your home and being resourceful.
Before I had kids, I loved a good DIY furniture project and I loved creating items for our home.  I turned to some online instructions to build bookshelves and transform thrift store pieces into cherished elements of our home.  
While I still love doing these things, I have learned that there are definitely RIGHT ways to DIY furniture and wrong ways.  I want to share with you some of the BEST ways you can work on your own furniture at home and the best ways you can prevent introducing toxins from your home with your next DIY furniture project.
 Work Outside.  Painting, sanding and staining should all be done outdoors or in a separate garage space if possible.  This will help prevent introducing dust to your home (which will often contain chemicals from previous paint or stain on your furniture item).

Wear a Mask.  When sanding, it's especially important to wear a mask.  The fine dust particles you're sanding off will contain VOCs from previous layers of paint or stain. 

Wear gloves and wash up right away.  That fine sanding dust can end up in cuticles and on your skin, which will absorb the toxins, sending them to your bloodstream.  Its a good idea to keep your hands covered with gloves as well as keeping your arms covered. If this isn't possible or a good option, make sure to wash up right away.

Use safe and natural products when finishing your DIY furniture. Below is a list of low VOC and no VOC products you can use on your furniture project.  
DIY FURNITURE HEALTHY RESOURCES