Whether you're just looking to do a small project or really dive in and tackle a partial remodel, there are always beneficial ways you can improve your home through choosing better products and materials.  Every time you replace something in your home whether it be natural blinds, organic curtains or even a big project like eco friendly windows, you can bet that choosing a healthier product is going to prevent some toxins from entering your home.
You might be wondering why this even matters and if you really need to pay attention to these factors.  After all, what's one small item in your house?  Will it really make a difference in terms of your health and wellness?  I'm SUCH a huge supporter of the idea that YES, one small change can make a HUGE difference.  Especially when all those changes begin to add up.  
It's just like any other part of making healthy choices in your life.  If you decide to start by cutting out one unnecessary snack per day, it could then become you choosing to add a walk into your day a few times a week, then it turns into adding more vegetables to your dinners, and before you know it you're living a healthier lifestyle just based on one small change at a time.
I firmly believe your home is the same way.  By tackling just one thing and getting a really good grip on that change, you will start to add more changes one at a time and over the course of a few months, you could drastically change the health of the environment within your home.
So this week's blog post, while it may seem like an insignificant change in your home, can be just one of those many small changes you can make to your home.  These changes can be done by anyone when you follow my steps in replacing typically toxic materials and products for something natural, organic and eco friendly.
Windows is one of those BIG items in your home that doesn't get replaced all that often.  Usually we're only replacing our windows when there's damage or they're just TOO old to function properly anymore.  
If you are in the market for new windows, going for an eco friendly window option can help you reduce some of the toxins that are in MOST newer homes.
TOXINS
Many windows being replaced now are vinyl windows that are completely maintenance free.  While these options are super convenient for the typical homeowner, there is a give and take when it comes to this option. The take is that vinyl contains toxins such as PVC, phthalates and even bisphenol toxins.  Vinyl is a type of plastic that contains off-gassing chemicals that will enter your home.  These chemicals are harmful to the natural production of hormones in our bodies and as we add more and more of these hormone disruptors to our home, our body, including the immune system, becomes suppressed and unable to function on a healthy level. 
Other health risks include abnormal reproductive development, hormone disruption and neurological toxicity (STUDY)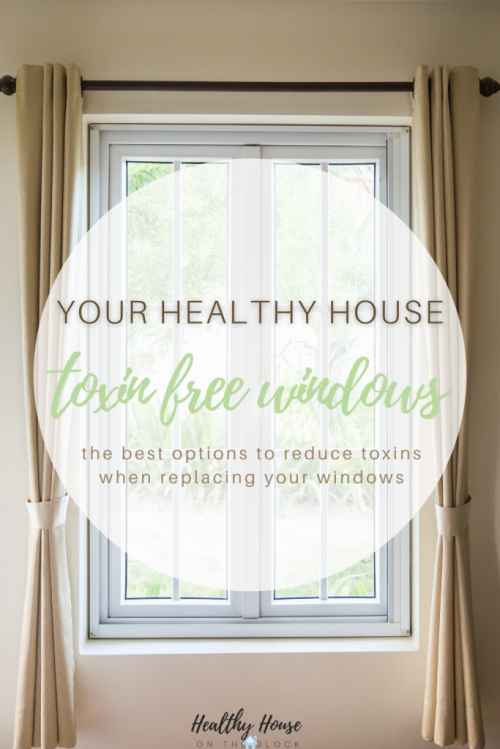 While there really is no 100% non-toxic option when it comes to windows, there are definitely some better options for the health and wellness of you and your environment.
Wood:  Wood windows generally are treated with different pesticides (to prevent pests), fungicides (to prevent mold, bacteria and mildew) and are coated in a stain and finish that contains VOCs.  
The great thing about wood is you can generally seal these chemicals and toxins in with a VOC blocking sealer like AFM SafeSeal.  
However, if you were to opt for a new window, I wouldn't recommend a wood window unless you can ensure it is completely untreated and unstained.  From there you can add your own eco friendly window stain and clear coat as you wish.
Aluminum:  A powder coated aluminum is probably the BEST option when it comes to eco friendly windows.  There are virtually no toxins with these types  of window frames as long as you opt for a window that uses a baked on enamel as opposed to a paint.
The other nice thing about aluminum windows is that they are VERY low maintenance and this is considered an eco friendly window alternative when building a green house.
CARE OF ECO FRIENDLY WINDOWS
This is probably something that we change out more often than windows and yet, it is often completely missed when we're talking about reducing or limiting toxins in our homes.  The great thing is there are more natural blinds out there now than ever before and you can find a really cost effective option that is also healthy for your home.
TOXINS
Any blind that is made up of vinyl or PVC should generally be avoided.  These materials contain many plastic toxins that we know are REALLY harmful to our neurological system, our hormone production, our immune system and reproductive system.  Avoiding these plastic toxins (such as PVC, phthalates and bisphenol toxins) anywhere you can will just help unburden your body naturally. 
Another blind material that generally contains toxins is in aluminum blinds.  Most of them are made with a polyester based enamel finish that does offgas into your home.  
You also want to be careful to avoid faux woods and composite blinds as they both contain elements of PVC toxins.
Some really great options for blinds are all natural bamboo blinds.  Usually these are roll-up or roman style shades.  You can find organic and green versions of these natural blinds that are not treated with any sort of chemicals.  Earthshade is a GREAT option for an untreated version of bamboo natural blinds.
Blinds Chalet has a completely toxin free option for woven wood shades called the Tavarau Woven Wood Shades that is extremely cost effective and has no VOCs or toxins added to the natural fibers. 
Another option is to shop at EarthShade, which is a sustainable, eco friendly company that offers a variety of shades that are not only toxin free but also conserve energy. A great, cost effective option for natural blinds.
Blinds generally don't need a whole lot of maintenance, and natural blinds really aren't much different. I think the most important thing to keep in mind when you're thinking about maintaining your own natural blinds is that we want to keep dust away as much as possible.
Making sure you're dusting off your shades will help reduce the amount of toxins in your space alone.  We know that dust contains not only dust mites that are toxic to our bodies, but also it contains toxins from other products and materials around our house. 
You can get a microfiber cloth and wipe them off or you can also vacuum your natural blinds to get the dust removed.  Either way, keep up with it on a regular basis and you'll cut down on the toxins in your home.
And then there are curtains.  This has been one of the EASIEST swaps in my house, and I feel really good about the change as I've learned more about the toxins that are present in textiles and fabrics around my home.   Switching to organic curtains was a painless swap, it just took a small amount of research before I purchased.
Curtains probably get changed out the most when it comes to toxin free windows, and you can find a WIDE array of organic textiles that don't contain pesticides, formaldehyde, flame retardants or perfluorochemicals.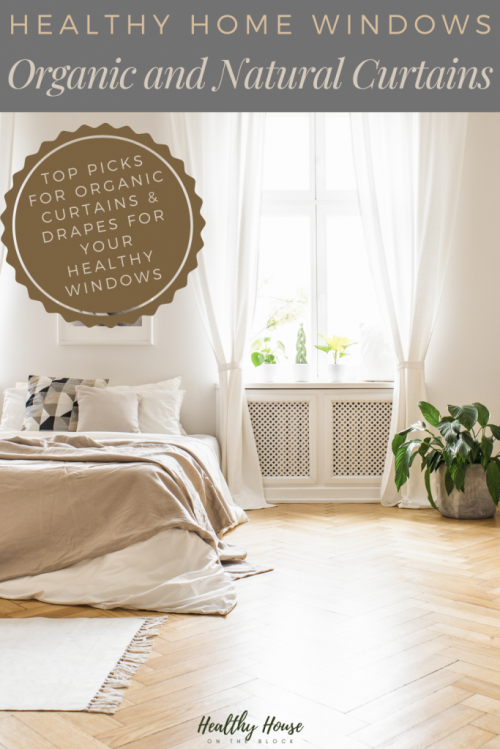 TOXINS
Most curtains, especially black out curtains have elements of PVC and vinyl added into the fabric.  These toxins are harmful to the endocrine system as well as create problems with immune suppression and neurological issues.
Fabric curtains can also be sprayed or embedded with either formaldehyde, which will help keep them wrinkle free, or with perfluorochemical, which keep them stain resistant.  These are both carcinogenic in nature and can off-gas for long periods of time.
ORGANIC CURTAINS AND ORGANIC BLACK OUT CURTAINS
Organic curtains and organic blackout curtains are MUCH easier to find now than they ever have been before.  You just have to know what to look for and how to shop for organic curtains and organic black out curtains in order to make a healthier choice.
First, look for a curtain that is 100% organic linen or cotton.  From there you can look for the GOTS Certification or the Oeko-Tex Standard tag to help you determine the health of your product.  Going with a product that is a natural color and doesn't contain dyes is another great way to find organic curtains.
I have liked IKEA's 100% cotton curtains that are partial light blocking.  I have also had A LOT of luck shopping on Etsy for organic curtains.  Home Depot also has a line of Organic Cotton Curtains and Drapes that are free from added chemicals.
CARE FOR ORGANIC CURTAINS
The biggest thing to remember when you're looking at organic curtains is that they have to be washed fairly often.  This is due to the fact that these are homes for dustmites, and we generally don't get them cleaned up as much as we should.
I recommend taking them down and washing them every six months or more if you're up for it.  Wash them in hot water if possible and then dry them either in a dryer with some organic dryer balls and organic lavender essential oil, or line dry them in the sunshine.