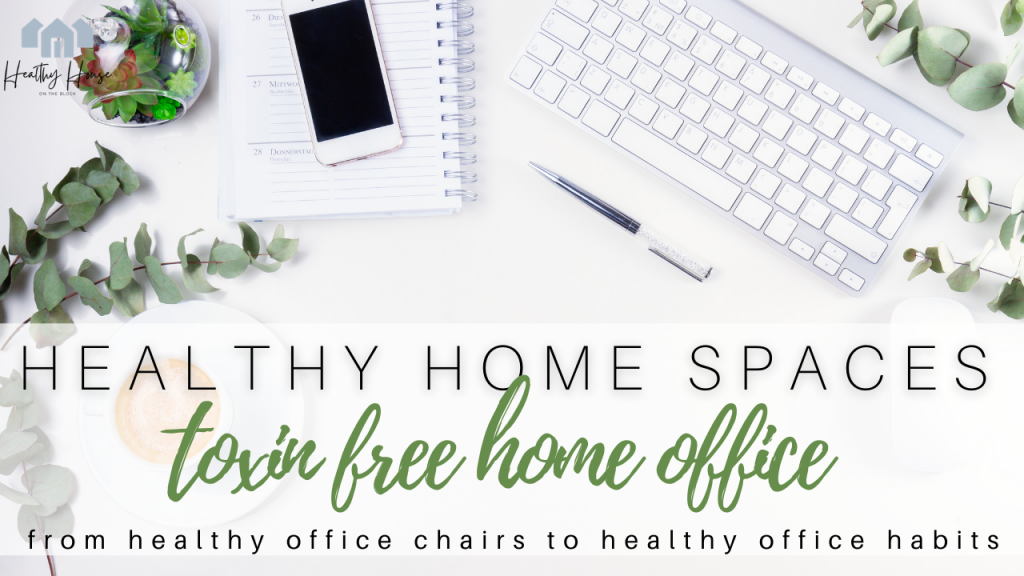 The concept of the home office is an idea that is gaining speed and popularity as we look at the past year and a half where many of us worked remotely and did so with kids at home.  Whether you want a completely organic home or not, an office space can be one that contains a number of toxins naturally through the items we bring in. From the office chair to the airflow in your space, luckily the home office is one that can be very controlled by your habits and products.
And isn't that the trick with creating an organic home in general? Every space has the opportunity for better and healthier products and habits.  You just have to know what they are.  And THIS is often the biggest problem.  We're often left to trust that every product we can buy is completely safe — after all, why would anyone sell a product that could harm you? Truthfully, it all boils down to the fact that as consumers we're just not told all the facts and we have to seek them out on our own.
But we're busy raising families, working from home and taking care of the day to day needs that arise.  We don't always have time to stop and research each and every item that comes into our homes.  And at what cost?  Turning a blind eye to the products we bring in our homes can leave us with unhealthy spaces that contain chemicals and toxins that harm our hormone production, increase our risk of developing cancer, burden our kidneys and liver and slow down healthy development in our kids. It's a high price to pay to live in an uneducated bubble.  
In the same breath, we're only human and most of us are pretty trusting of the world around us.  I know I usually am one that trusts in anyone and anything until they prove me wrong.  I don't think we need to be cynical or skeptical of everything we buy or read.  But I do think we need to politely and consciously question products and companies that have made their way into our home out of convenience or ease of use.  And the home office is one of those spaces we don't often think about — often it's kitchens, bedrooms, playrooms or bathrooms that get most of our attention.
But with more and more of us sticking to a home office and spending large parts of our day sitting in an office chair and in our home spaces, it might be time to improve those spaces to be just a little bit healthier.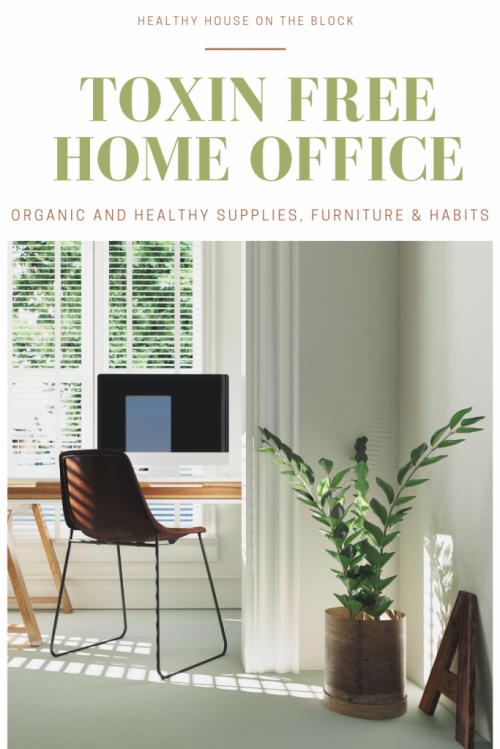 OFFICE CHAIRS AND OFFICE FURNITURE
These top picks are GreenGuard Certified or all natural options for your home office furniture, including desks, office chairs and bookshelves:
All natural and GreenGuard Certified home office desk options:
Add a GreenGuard Gold Certified Bookshelf to your Space with these eco friendly furniture options:
ORGANIC HOME OFFICE PICKS
ECO FRIENDLY OFFICE SUPPLIES
EMF PRODUCING ELECTRONICS
The organic home office space can still include a lot of electronics, which we know produce EMF (electromagnetic fields) throughout our space.  Electromagnetic fields are produced by a variety of electrical components and objects around our home.  But what we know about them is that they alter the function of our brains and how the brain is stimulated.  EMF exposure has also been linked to childhood leukemia, sleep disturbances, insomnia, headaches and depression.
Anyway we can avoid toxic electromagnetic fields while maintaining a functional, electronic workspace is the goal of an organic home office.
Computers:  Alright, let's be honest, we all use and likely need a computer in our home.  And while it's the biggest EMF source in the office, it's still something we need to use on a regular basis (all day sometimes).  But there are ways you can make your computer a little bit healthier to match your organic home office space.  First hardwire your connections to the computer if possible.  WiFi networks produce EMFs in large amounts.  If your computer is hardwired, the EMF will travel through the ethernet cable instead of around your home and room.
Also, if you can avoid laptops on your lap that's best.  A desktop computer is going to be the safest bet.  And if you can keep the computer wires away from your body and feet while you work this is also another way you can reduce EMF exposure.
Wireless Items: Your speakers, mouse and keyboard might be super convenient or leave your desk looking pretty sleek without any wires, but the truth is they're emitting higher frequencies of electromagnetic fields in your space.  And oftentimes we're in close proximity to these items — especially the mouse and keyboard.  Keeping them wired will reduce the amount of electromagnetic radiation that's produced.  
Ground Your Computer:   Grounding your computer can also help reduce the amount of EMFs that are produced in your space. Simply plug your computer into a grounded plug and give it a test using an EMF meter to verify it's effectiveness.
Printer:  Printers are a large source for EMF in the home office.  Especially if you've got a wireless or bluetooth printer that so many of us have now.  You don't have to get a whole new printer to make your space healthier though.  Instead just turn your printer off whenever you're not using it.  It's an easy solution to keep your space healthy most of the time.
HEALTHY HABITS FOR YOUR ORGANIC HOME OFFICE
Creating a natural and pleasant space to work will not only help your productivity, but it also gives you a clear space to help with creativity.  Whether your work is technical, creative or you need a lot of room for deep thinking, you have the opportunity to create a space around how you intend to use your organic home office.
Natural Light: This is SO important.  Looking at a screen for long periods of time is harmful to our eyes and our brain.  Make sure you're space has either a window or some pleasant lighting in it.  This will not only help you be more productive, but you'll feel good when you're working too.  Harsh lights like blue tinted LED are usually aggravating, so try to find a more natural incandescent light or use a salt lamp to pair with the bright screen of your computer.
Fresh Air: Because even the organic home office will have a variety of toxins inside, it's important to bring in fresh air periodically throughout the day.  If you're office is a closed space where you have the door shut for a large portion of the day, this is especially true.  Make it a point to open windows several times a day if possible.  You can also run ceiling fans to move air around and make sure air vents are unblocked so your HVAC vents can move air around as well.  Turn on your house fan and open the door to your space if nothing else.
Clutter Free: A cluttered space often leads to a cluttered mind.  It's important to have a clean and neat workspace.  For me that means keeping most things off my desk all together.  We use storage baskets and drawers for most everything.  It's also important that you are able to find whatever it is that you need at a moment's notice.  Interrupting work to clean up or look for items definitely breaks the creative workflow process and can be a really frustrating task when you're in the middle of a work project.
Inspired Decor:  Most of us have some sort of creativity involved in our work and we need to foster inspiration somehow.  Make sure your decor and components of your space inspire you in whatever way you need.  Sometimes it's creative inspiration and sometimes it's inspiration to make a monetary goal.  Either way you can do this with art and meaningful photographs to adorn your space.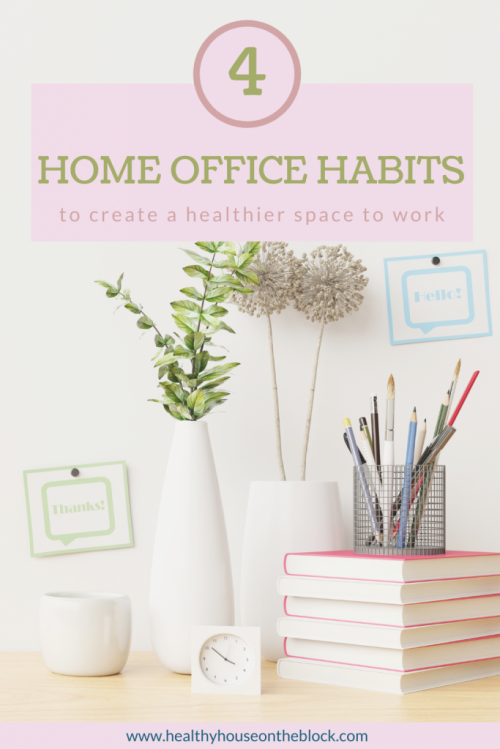 Creating a healthy and organic home office space can help eliminate some toxins that we normally come in contact with on a daily basis.  The idea is to eliminate whatever we can and then add on some healthy habits to improve our home office space to be the exact environment we need for whatever kind of work we need to accomplish.