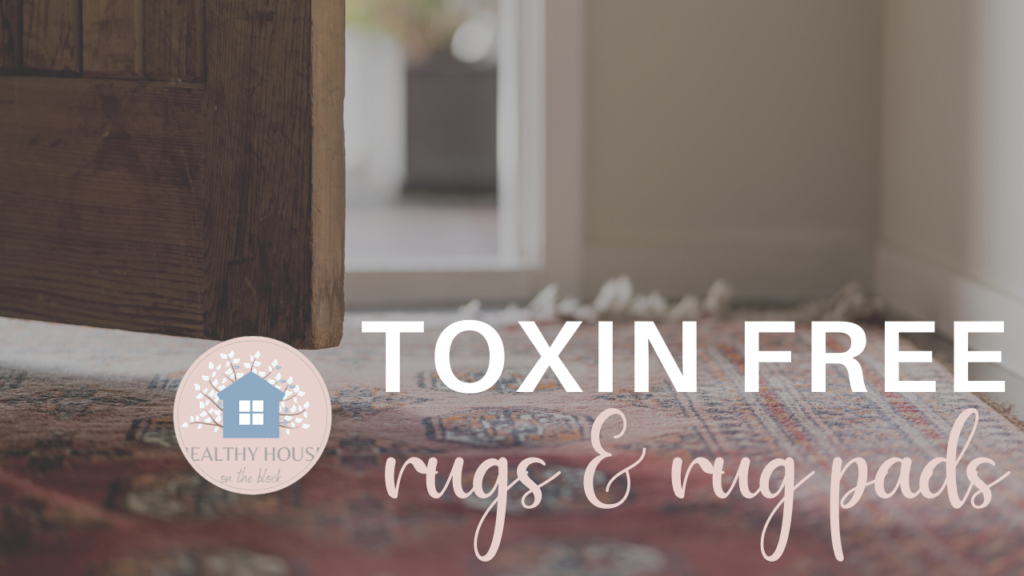 One of my favorite home items to shop for has been non toxic rugs.  It's one of those purchases that I really take my time with and I don't rush.  I love that a rug can change the whole look of a room and I love that it is one of the best options for cozy-ing up a home that has hard surface floors.  
I think one of the most positive changes you can make in a home is eliminating the wall to wall carpet and going for a solid surface floor.  But adding just any old rug will completely cancel out the healthy change.  It's so important to do detailed research before purchasing a non toxic rug and natural rug pad. 
Especially in the age of greenwashing and misleading advertisements, it's important to know EXACTLY what materials are used in the rug you're wanting to purchase as well as the potential treatments.  But that's exactly why you're here, isn't it? This blog post is going to be your best guide to purchasing a non toxic rug and natural rug pad for your home. 
I'm going to share with you EVERYTHING you need to know about finding and buying the perfect non toxic rug for your home.  Here's what we'll cover:
Toxins in most rugs

Toxin free materials you can look for

How to find toxin free rugs yourself

My favorite non toxic rug brands

Natural rug pads
Flooring is a huge space you can make a lot of improvements with, especially if you have kids who play on the floor in your home.  Not only do fibers from the rug enter the air, but if a rug has treatments or adhesives anywhere, it will off gas into the air as well.  The closer in proximity you are to the rug, the more toxins you'll be exposed to.  Not to mention that flooring in general covers a large surface area in most homes, and by opting for toxin free floors and non toxic rug options, you're probably eliminating a HUGE source of toxins in one project.
Looking into all the options and knowing just what to look for is going to set you up for success in creating a truly healthy house. 
TOXINS FOUND IN MOST RUGS
Rug fibers:  Most rugs are made of synthetic fibers, meaning they are man made materials as opposed to natural rug materials.  Nylon is one of the most common synthetic fibers,  however it is petroleum based.  It also received chemical treatments using sulfuric acid and formaldehyde during manufacturing, which stays in the fibers. Nylon is also in the plastic family, meaning it contains many of the same chemicals that are found in plastics, such as phthalates.  And to top it all off, nylon materials emit VOCs due to the residues that are retained in the material.
Polyester fibers are another textile that is extremely popular when it comes to rugs and carpet. Polyester is manufactured with antimony, which is a carcinogenic.  It's a material that's toxic to the lungs and heart. Polyester is made from petroleum byproducts.  The fibers are basically a type of plastic that off gas chemicals if the material and fibers are warm at all. Phthalates is a HUGE contributor to the toxins in polyester rugs and as we know, these phthalates cause a number of health concerns, including hormone disruption.
Rug backing: This is an often forgotten about part of rugs, but it can be the MOST toxic in many cases.  The backing is often adhered to the synthetic with glues that contain BPA, which is a neurotoxin and has been linked to endocrine disruption.  
Rubber backing on rugs also contain Styrene, which is a known carcinogen and has been linked to cancer.  
Flame Retardants:  A while ago I did a large post all about flame retardants and WHY you want to keep them out of your home. Basically these chemical additives contribute to hormone disruption and weaken the immune system.  The chemicals in most synthetic flame retardants are more harmful to kids as they're exposed to these chemicals on a more regular basis and for longer periods of time. 
Dyes: Rugs come in SO many different, beautiful colors.  But regular dyes that are used on the fibers can contain many different chemicals such as lead and cadmium, which are heavy metals.  These dyes are not only toxic to our health, but especially the health of our kids as the toxins build up more quickly within their systems.  Dyes are also very hard on the environment during the processing and manufacturing stages, adding to the problem of water pollution.
Stain & Waterproof Treatment:  I remember when we purchased carpeting for our home (*cringe*) and the sales rep talked us into this great treatment that would make the carpet virtually waterproof.  We went for it and I was amazed at how liquid seemed to bead on top of the carpet and never soak in.  But what I didn't know was that the treatment contained PFOAs, the same chemical in teflon, a known carcinogen. 
Other treatments added to rugs include antimicrobial preservatives to prevent mildew and mold.  The chemicals often used in this treatment are in the triclosan family, which cause endocrine disruption and hormone disruption.  Formaldehyde is another agent used for preserving carpet, which has been linked to cancer.
HOW TO SHOP FOR TOXIN FREE RUGS
One of the things I've learned over time is that if I learn HOW to find a particular home product that is low toxin (such as a non toxic rug), I set myself up for success now and down the road too.  It helps to take the overwhelm out of the shopping process. 
These few tactics that I'm going to share are really going to help you as you shop for a toxin free rug and natural rug pad.  
Find a Trusted Brand or Store:

 There are some REALLY great small businesses and green brands out there that I 100% trust.  I found very quickly that sellers can write just about anything in their Amazon listing, and what I needed to do was find a brand or store I connect with.  Even better is finding a store or brand that has a real person behind it that you want to support.  (Sandy at Rugs By Roo is EXACTLY the example I'm thinking of here)

Look for Transparency: 

A product listing that lists out materials completely is like striking gold.  For example, even some of the product listings on Rugs by Roo list that they use synthetic dyes.  For some, this isn't a deal breaker, and so they still opt for a low toxin option instead of a totally toxin free option. This is another example of why I got so frustrated with Amazon listings: I could never find the material disclosure.  

Third Party Certifications:

  Knowing that a third party gave the green light to the company and their product gives me a feeling of confidence.  Look for the GOTS Certification (Global Organic Textile Standard).  The GOTS certification ensures the non toxic rug is certified organic and that it prohibits the use of most chemicals like female retardants and pesticides. This ensures that  the second best certification is the Oeko-Tex Standard 100.  This will ensure that there are less toxins (like pesticide residue, phthalates and harmful dyes).

Backing & Treatments: 

Make sure you look at the backing material to ensure that it is free from toxic adhesives and that it doesn't contain toxic materials.  This is often omitted from rug listings, which can make a rug LOOK like a healthy option because the fibers are natural, when it's really not.  Secondly, take a look to make sure there are no added treatments to the fibers.  Waterproof and Stainproof treatments will often times add PFOAs and Formaldehyde to your rug.   These will both off gas over the life of the rug and introduce VOCs to your home space. 
BEST MATERIALS FOR A NATURAL RUG
Now that we know all the stuff to avoid in rugs, it's time for the good news.  The good news is that there are SO many options when it comes to natural rug fibers.  And to be honest, there's more available now than ever before. 
Wool:  Wool is probably the most common natural rug fiber and for good reason.  It's an extremely resilient material in terms of wear and staining.  In fact, because wool has a natural lanolin coating, it naturally resists stains and dirt from penetrating the fibers. 
Natural rug fibers made of wool are also resistant to dust mites, mildew and bacteria growth, making it a perfect hypoallergenic fiber.  I personally like wool rugs as a natural rug option because of the excellent insulating barrier they provide.  The fibers help moderate the temperature and humidity within your home by absorbing and releasing moisture as necessary.
Another added benefit of having a wool fiber natural rug?  It's naturally flame resistant and doesn't require additional chemical flame retardants to be added to it.
Jute: If you're looking for a really low maintenance natural rug, jute may be a good option.  It's a relatively soft material that is made of  dried plant fibers.  One of the benefits of jute is it's completely renewable and grows abundantly without the need for pesticides.
Often this is a woven rug that requires very little maintenance in comparison to natural rug options because of its natural fibers.  You do need to be careful not to get this type of rug extremely wet however. Jute is generally a softer rug fiber and can be great for high traffic areas.
Sisal: When you're looking for an extremely durable natural rug, Sisal is a perfect material. Sisal is often used in rope and twine, so you know it's a thicker, resilient fiber. Sisal is a rougher texture than jute, cotton or wool when you're comparing natural rug fibers, so it's more ideal for an entry rug than anything else.
Cotton: Cotton is a very soft and versatile textile hoption for a natural rug.  The best option is an organic cotton that has been certified.  This will ensure there have been no pesticides used on the fibers.  
Cotton rugs are good for spots that you want to have a softer feel, such as a kids' room or living space.  Cotton fibers are also quite strong and breathable, which means it doesn't hold on to added moisture.  
TOP PICKS FOR RUG BRANDS & SHOPS
Rawganique: Rugs mad eo chemical free organic cotton, hemp and wool that are completely free from PFAs and use only natural fibers.  You can find anything from area rugs to bath mats, which makes it easy to deck every room in your house with natural, toxin free rugs.  All rugs are dyed with natural colors or are left undyed for a natural feel.
Lorena Canals:  These rugs are 100% handmade by artisans who spin and dye the cotton fibers.  And because the natural fibers chosen are mainly cotton and wool these rugs are 100% washable.  They're PERFECT for kids' spaces.  All rugs are colored using natural dyes. You can purchase Lorena Canals rugs on Amazon.
Rugs By Roo: Sandy Wong, the creator and curator of Rugs by Roo is also a mom, which means she cares deeply about the quality of the products she offers.  Not only does she choose the most sustainable brands, but she strives to find the most ethical solutions in her industry.  I LOVE her perfectly curated site.  (Use coupon code HEALTHYHOUSE15 for 15% off)
Willaby: Washable rugs made with natural dyes and cute as can be for kids rooms and play spaces.  These rugs are hand loomed and 100% GOTS certified organic gauze.  The rugs are made by a family of Amish weavers and there is no fabric waste and no electricity used in the making of these rugs.  
Hook & Loom: This is a great website to visit for organic rug and natural rug options.  They have their rugs sorted into cotton and wool.  They also have different patterns, thick weave and loom hooked variations.  
Organic Weave: My friend, Linda, founded her company and continues to be the only GOTS certified area rug available.  Her beautiful rugs are handmade and they are completely toxin free with no pesticides, flame retardants, chemicals or dyes.  (Use Code AMANDA for 5% off your purchase)!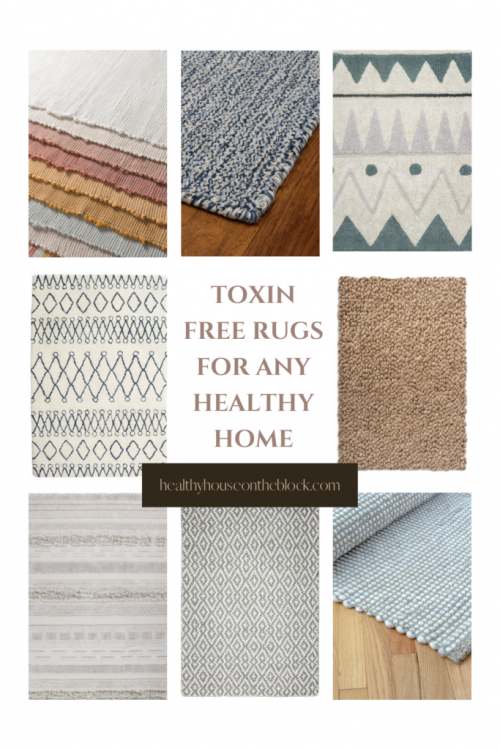 One thing I've learned over my years of purchasing rugs for our home is that when you get a new rug, a high quality rug pad is a MUST.  But if you've ever shopped for a new rug pad, you know that there are MANY different materials and brands.  It can take almost as much time to pick out a natural rug as it does to find an organic rug pad.
Many rug pads contain PVC (polyvinyl chloride), a type of plastic that off-gasses toxins into your home.  I recently wrote about PVC toxins and their link to childhood obesity, hormone disruption, increased risk of cancer, neurological toxicity and abnormal reproductive development.
That list above is enough for me to cut as much PVC out of my home as possible.
Another material that is quite common for rug pads is synthetic latex.  This is not to be confused with natural, organic latex from rubber trees.  Synthetic latex is completely man made and is made from petroleum based chemicals.  These chemicals often contain styrene, which is a known carcinogen.  It also emits VOCs into the air, putting us in direct contact with this toxin which also causes neurotoxicity.
SAFE MATERIALS FOR ORGANIC RUG PADS
100% Natural Rubber: Finding an organic rug pad that's 100% natural rubber will add some extra cushion to your natural rug and also keep it in place if it's on a smooth surface.  Organic rug pads are made from the rubber tree and will contain no pesticides or toxins.   Top Pick: EarthWeave Natural Rubber Rug Grippers
Natural Wool/Felt: Getting an organic wool material is also another great option when it comes to an organic rug pad.  Make sure it's an organic wool or felt material to ensure no chemicals or pesticides have been added to it. However, make sure you're not getting a rug pad made up of recycled carpet fibers, which likely has some chemicals in it.  Better Pick: Felt Eco Plush Rug Pad (NOT ORGANIC) Best Pick: EarthWeave Organic Wool Pad
Jute Blend: Many organic rug pads are made with a few different materials, one of which being a blend of jute and rubber.  This type of rug pad makes for a great non-skid surface and holds your rug firmly in place if it's on a smooth floor. Top Pick: Nature's Grip
Soybean Oil:  Soybean oil is naturally mold and mildew resistant and is a great option for a non slip rug pad.