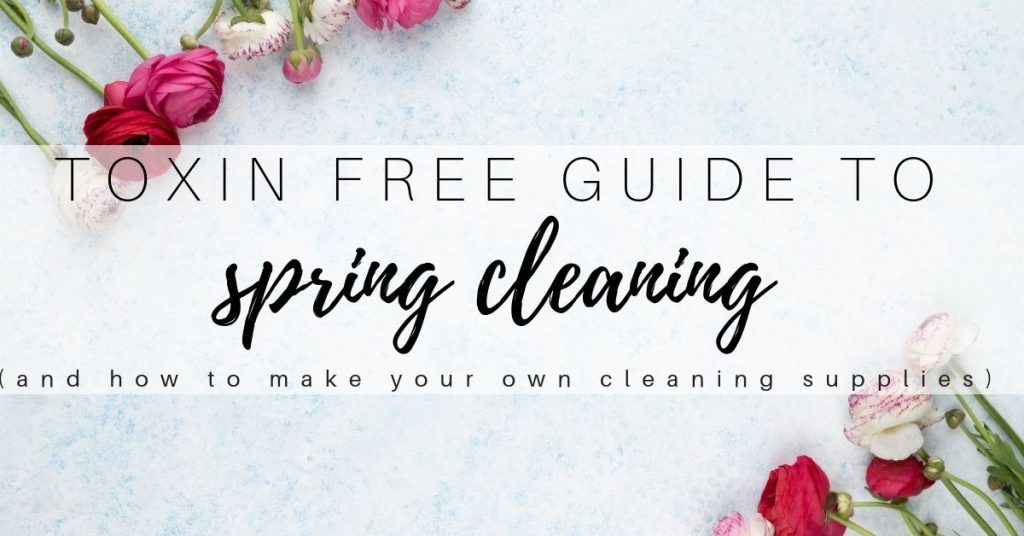 Let's hope that spring is really right around the corner. I love when it gets to be the time of year that allows me to open windows and really deep clean my house. Seasonal changes are a great time to tackle different areas of your house and maintain spots that might need some attention. After a long winter there are usually spots that could use some deep cleaning both indoors and outdoors.
I also love using the spring as a reminder to plan for summer gardens and projects around the house. If you haven't downloaded my Project Planning Worksheet, you can get it for free on my resource page. It's a great way to plan out any projects you might want to do over the spring and summer.
There are two concepts that come into play when we talk about cleaning a healthy home. The first is to remove anything that could be causing indoor air pollution and anything that is hazardous to our bodies in any way. The second concept is to avoid introducing harmful chemicals to your home. A lot of times spring cleaning means using really harsh solvents and chemicals to deep clean your home, which may remove some dust and dirt, but does more of a disservice to your house as it adds chemicals and toxins.
So let's take this spring cleaning to the next level and really use it to promote health and wellness within our spaces at home. A home that is limited in its number of toxins is a home that promotes a naturally healthy body as well.
Spring Cleaning Projects for your Healthiest House
Basically the idea behind most of these mini projects is to remove dust and maintain areas of your house that might be otherwise forgotten.
Dust:  Dust is more than a problem with cleanliness within our walls.  Dust actually contains various cleaning chemicals, pesticides and toxins from other products and goods within our home.  Dust can contain flame retardant chemicals and formaldehyde from our furniture too.
By removing dust on a regular basis, you can prevent the chemicals and toxins from residing in your home. Spring cleaning is a great time to reduce dust in the forgotten about places too:
Ceiling Fans

Door Frames

Window Frames

Baseboards

Shelves

Kitchen Cabinets

Laundry Shelves

Bath Fans and Laundry Room Fans

Office desk, cabinets and shelves

Blinds

HVAC vents and grates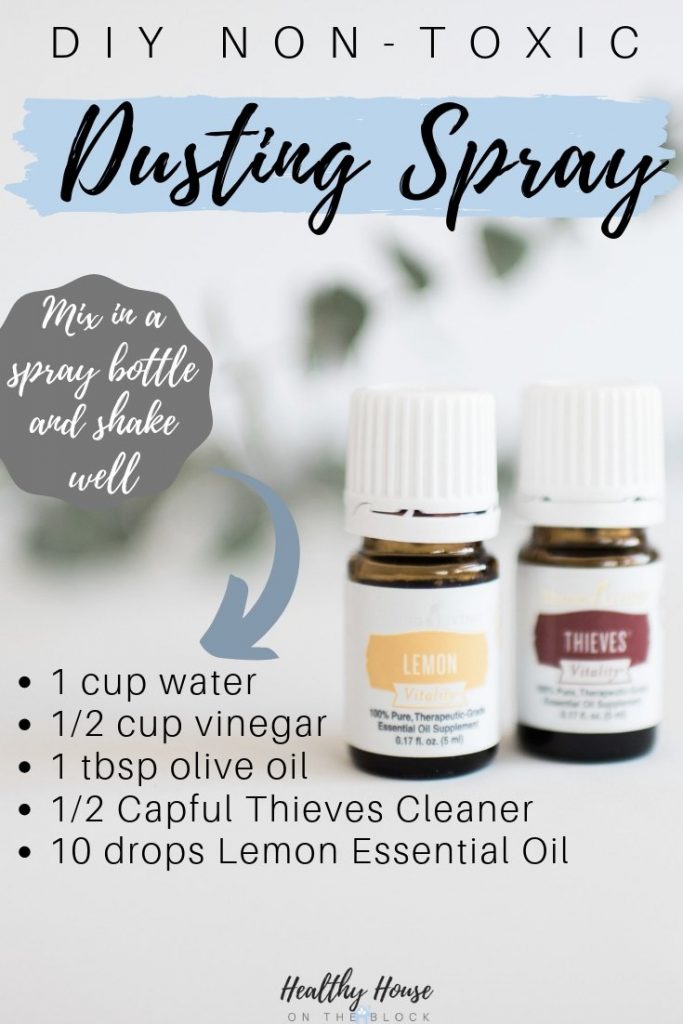 The best way to clean up dust is by using a wet microfiber cloth or a dusting spray.  This is the best way to completely get rid of the dust on surfaces.
Vacuuming:  Chances are you vacuum on a regular basis.  Spring cleaning vacuuming might mean you get out that crevice tool and vacuum corners of rooms or stairs.  It might also mean you pull off the sofa cushions and vacuum inside. However you decide to do it, using a HEPA filter vacuum will ensure the dust and dirt are removed from your home and deposited in the garbage.
Corners and edges of carpets

Underneath rugs

HVAC vents and returns

Steps and stairs

Cushions on upholstered furniture

Underneath cushions on upholstered furniture
Air Out: The sunshine is a natural disinfectant and fresh air outside is often a great way to freshen and clean some parts of your home.
Rugs

Cushions from upholstered furniture

Pillows

Stuffed animals
Laundry: Some items that  can be washed rather than left out in the sun.  These items you most likely should wash with either baking soda or a plant based laundry detergent in hot water and dry completely before returning them to their place.  This list includes:
Bedding

Curtains and drapes

Throws and decorative pillows

Washable rugs

Washable stuffed animals

Pet bedding
It's important not to add chemicals to your laundry that will get embedded into the fibers of your fabrics.  Instead, opt for all natural cleaning products or you can make your own cleaning supplies:
Laundry Soap:
You can also buy a few key ingredients and make your own detergent quite easily.  The nice thing about mixing up your own is that it's very cost effective and can last for a VERY long time:
RECIPE:
1/2 Washing Soda
1/2 Cup Baking Soda
1/2 cup Thieves Laundry Soap
1/4 cup Thieves Cleaner
5 drops Thieves Essential Oil
4 drops Lemon Essential Oil
In a 2 gallon glass dispenser: mix together powder ingredients with a cup of hot water. Add the remaining ingredients. Fill the rest of the container with distilled hot water.
Use 1/4 cup per load.
Bleach: The trick with using a bleach that is safe, is to find one that does not use chlorine and is not chlorinated.  These are some really great options to keep your whites white without adding harsh chemicals to them:
You can also use some of these household staples as an alternative to bleaching:
Hydrogen Peroxide

Lemon Juice

Tea Tree Oil

Natural Sunlight
Fabric Softener: I recently just started using this brand below for fabric softener, and I couldn't be happier.  I just wanted a little something to soften the clothes just a bit more than vinegar and this one does the trick without adding toxins to the fibers:
Fabric Softener Alternatives: Vinegar works really well as does ice-cream salt.  Just replace your typical softener with these in your washing machine and do laundry as normal.
Dryer Sheets: This is another part of my laundry routine I've completely given up.  I use wool dryer balls and I've been really happy. Some tricks you might not know about dryer balls:  If your clothing has static cling, you can fasten a safety pin to one of the dryer balls to help prevent this.  You can also add a few drops of essential oils to your dryer balls to add a fresh scent to your clothing.
Kitchen: The kitchen gets used so frequently that it gets cleaned on a regular basis as well.  This is why it's important to step back and get a fresh perspective by doing a deep clean.  Removing everything from your counters can be a really good way to do this. Other areas you'll want to focus your attention on are:
Kitchen cabinet doors

Cabinet handles

Tops of kitchen cabinets (if you have them)

Inside cabinets (especially ones with food or spices)

Pantry shelves (great time to toss expired food or change plastic storage to glass)

Fridge Shelves & doors

Clean exterior of appliances

Microwave

Oven

Stovetop

Underneath kitchen sink

Vented fan grates

Change water filters

Underneath and behind fridge

Corners and edges of floor
Using a non-toxic all purpose cleaner is a great option for your kitchen.  I love Thieves and mix it up to be a little stronger than the typical version.  I also add a few drops of purification oil in order to get my surfaces sparking clean.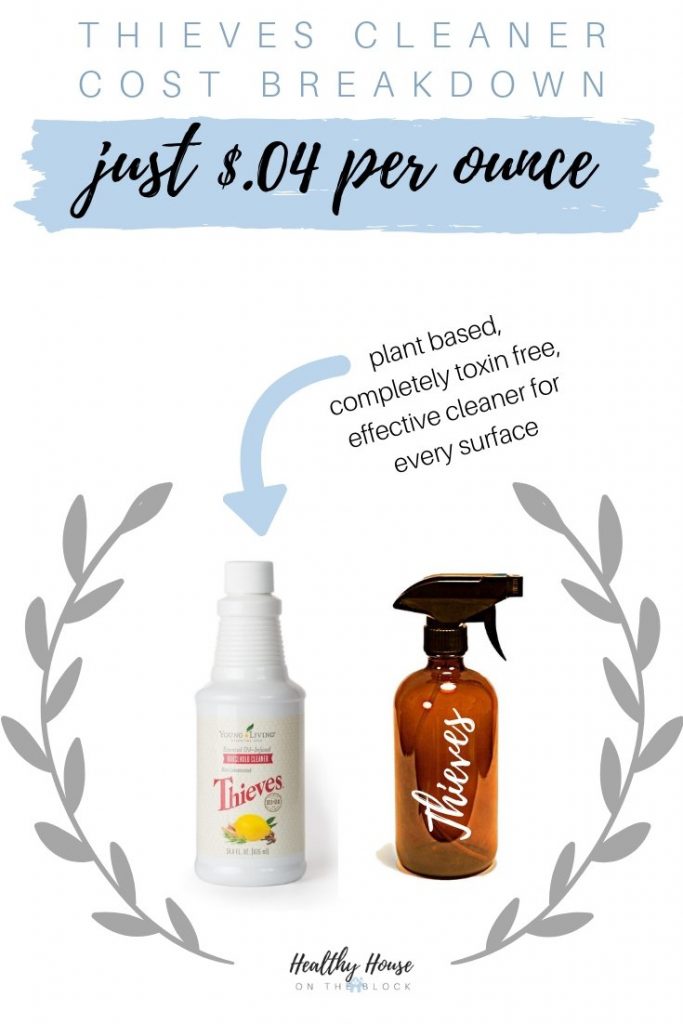 Besides all these alternatives, you can make your own all-natural cleaner in a pinch.  Most of the ingredients you'll likely have at home:
RECIPE:
2 Cups Hot Water

¼ Cup White Vinegar

¼ tsp Tea Tree Essential Oil

½ tsp Lemon Essential Oil
Bathrooms:  I consider this to be similar to your kitchen in terms of taking a step back and deep cleaning and removing items to detox the space a bit.  Some areas to deep clean include:
Tile grout

Underneath cabinets

Toss unused toxic products

Recaulk around tub/shower, toilets and countertops

Dust light fixtures

Dust and clean bath fan

​​​​​​​Wash fabric shower curtains

Refresh towels by washing in hot water with baking soda for detergent and vinegar for fabric softener

Deep clean shower doors with non-toxic cleaner
Be sure not to add other toxins to your indoor space by using unsafe cleaners.  You can purchase store bought ones or make your own cleaning supplies with the recipes below:
I use Thieves Household Concentrated cleaner in my bathroom as well, but you could also mix up your own with some ingredients from around your house with this recipe below:
BATHROOM CLEANER RECIPE:
2 Cups Hot Water

¼ Cup White Vinegar

¼ tsp Tea Tree Oil

½ Lavender Oil
Mix the ingredients into a spray bottle and clean normally. You may have to shake the bottle to mix the ingredients every now and then.
Thieves Toilet Fizzies Recipe
1 1/2 cup baking soda
1/2 cup citric acid
Thieves cleaner (mixed to use in a spray bottle)
1 tsp castile soap
10 drops Orange Essential Oil
10 drops Thieves Essential Oil
Mix together the baking soda and half the citric acid.  Spray with 5-10 sprays of Thieves Cleaner.  It should resemble wet sand.  Next, mix in the remaining ingredients and spray with 5-10 sprays more of the Thieves Spray.  Form in either an ice cube tray or a tablespoon and let dry completely before storing in a glass container.
Simply drop in the toilet and scrub as usual.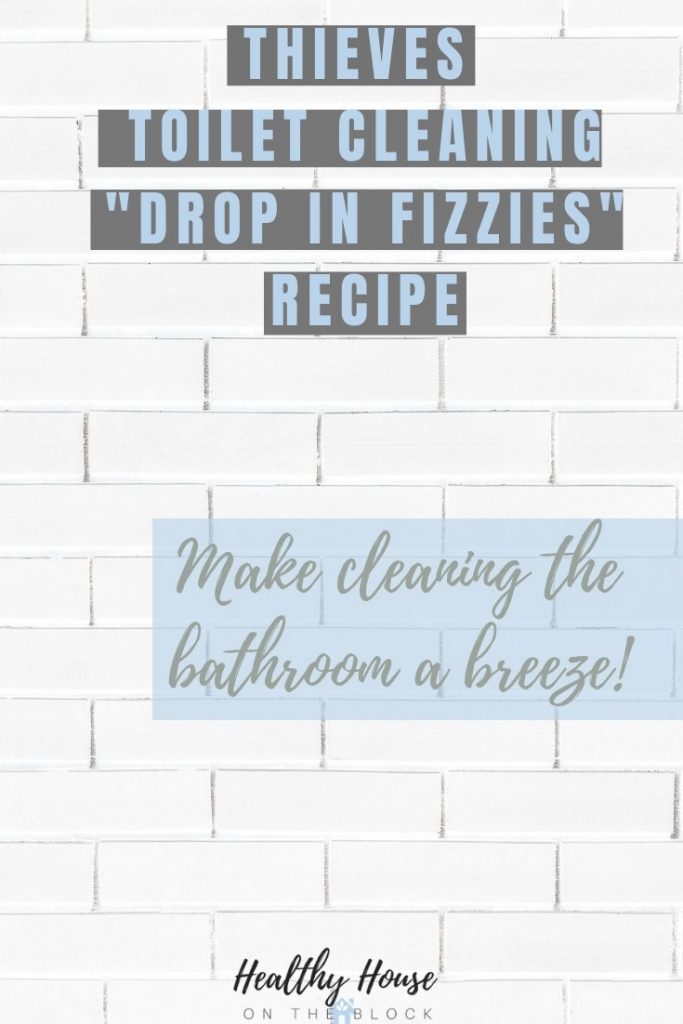 Windows: Windows are a great season cleaning item as they usually need it after a long summer or a long winter.  This is why I love cleaning windows in spring and late fall. A clean window really is a great way to brighten your home and remove dust and grime that comes in from roads and dirt outside.
Window pane outside

Window pane inside

Window tracks

Screens inside

Seal wood window frames on the inside
As for a cleaning product, I use an outdoor cleaner for the outside of my window and for the inside I use my trusty Thieves Cleaner and a microfiber cloth.
Miscellaneous:  Spring cleaning is a great time to look at those areas and items that get overlooked the rest of the year.  This list might include:
Check batteries in smoke and carbon monoxide detectors

Change furnace filters

Change whole house water filters

Check grading around the house (make sure your house is built up around the foundation)

Clean out window wells

Check basement for moisture or new cracks in foundation walls

Check seals on exterior doors and garage doors

Plan gardening areas for the summer

Repot indoor plants if growing too large

Clean linen closets

Clean coat closets

Deep clean carpets with baking soda carpet refresher
Other Great Resources for Cleaning
What is a safe and healthy option for cleaning your home?

Thieves Household Cleaner by Young Living is my favorite part of a non-toxic cleaning routine. You can mix it with other ingredients you likely have at home to make just about cleaning product you need.