Instead of toys, quite often my kids love to get creative at our craft table.  It's the main reason that we arranged our office to have a spot for the kids to let their creativity thrive. And to be quite honest, I love that they'd rather create sometimes.  It's so fun to see what they come up with and sometimes I even get to play too.
In fact, when my oldest daughter was in Kindergarten, her teacher came up with the "Light Bulb Lab".  She created an area of the classroom filled with art supplies, donated and recycled fabrics, cardboard and other miscellaneous items that could be turned into creative treasures to take home. 
It was definitely a favorite activity of kindergarten for her. She came home with homemade fairy wings and other imaginative play creations that she was so proud of.  I was in awe of what she created — especially when she brought home this "trophy" that was as big as she was.
The point of my rambling, is that crafts are a great way to exercise the mind and sometimes they are a great tool to help kids have an outlet for those big feelings that come their way.  But, there are better choices when it comes to the art supplies we give our kids. All art materials have either a "Cautionary Label" or an "Approved Product Label" to help you decipher what is  safe and what is not safe. (You can read more about the label in this blog post about the playroom).
Unfortunately even the approved products can still have VOCs, heavy metals and other solvents present that can be toxic to kids — especially if ingested or left on the skin.  And we know how kids are: markers and paints all over hands doesn't always get washed off right away. As kids get older they are introduced to various glues and adhesives that can also be potentially dangerous in terms of formaldehyde and chemicals that are hazardous to airways and skin.
Being thoughtful about the purchases we're making for our craft areas can help protect not only our home (think of the off-gassing from particular products) and our kids' health at the same time.  I love the idea of using recycled items from around the house to create rather than creating. In fact, you can even put together a whole art kit for your littles made from simple things you have around the house or in a craft stash.  This blog post has a great idea of how to do that.
Of course you have to have a few art supplies sprinkled in, which you can now find in toxin-free form.  Below I'm sharing some of the typical art supplies you might use and how to make sure you're purchasing the right product:
What to Avoid:  Rubber cement, paint thinners, shellac, model glues, expoxy and spray adhesives
Instead Opt For:  Water based glues, organic glues, plant based glues, school glues, washi tape and adhesive tape
Best Picks:
What to Avoid:  PVC based modeling clay and powder clay
Instead Opt For:  Clay free of phthalates and PVC
Best Picks:
What to Avoid: Powder mixes and aerosols (also watch for lead, cadmium, mercury, magnesium and chrome which are in some pigments), oil based paints, Acrylic paint with ammonia and formaldehyde, some tempera paint
Instead Opt For: Water based, water color paints, organic and food safe colors
Best Picks:
What to Avoid: Permanent, solvent based markers that contain toluene, xylene or alcohol, dry erase markers,  or permanent felt tip markers
Instead Opt For: Water based markers and gel pens
Best Picks: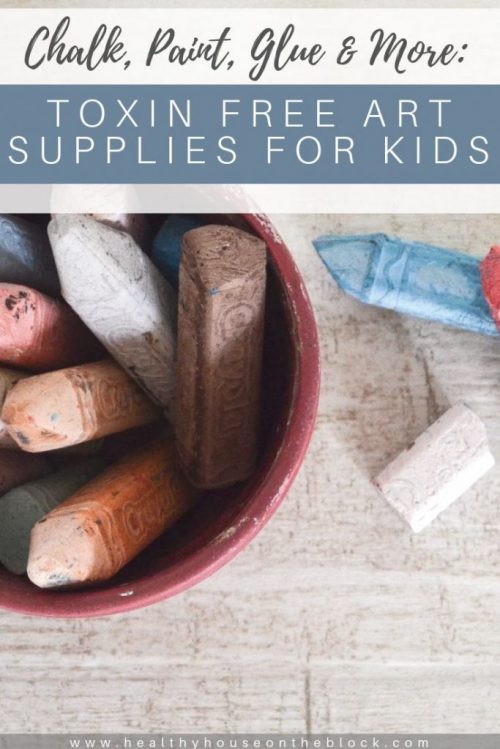 What to Avoid: Crayons made with petroleum based paraffin wax and artificial, chemical based colors
Instead Opt For: Natural soy or beeswax crayons with mineral pigments or food grade pigments
Best Picks: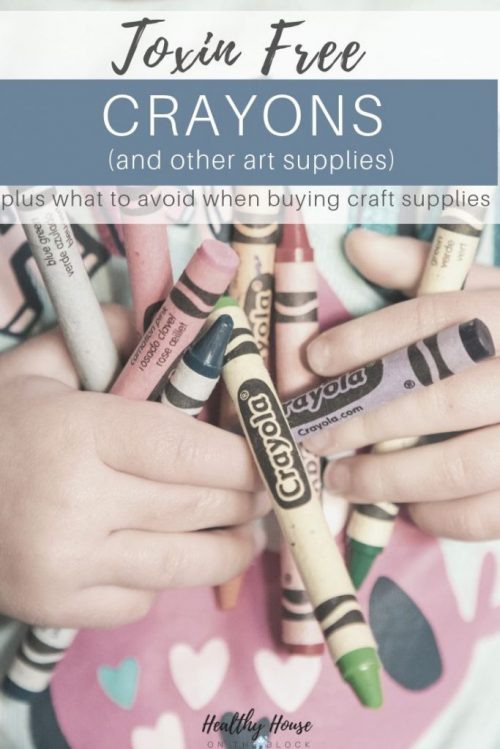 What to Avoid: Chemical based pigments and toxic varnish coated pencils
Instead Opt For: Natural colored pencils made with a VOC free lacquer
Best Picks:
What to Avoid: Permanent ink, water proof, ink with artificial colors made from chemicals or heavy metals
Instead Opt For: Plant based or food grade colors, water based ink pads
Best Picks: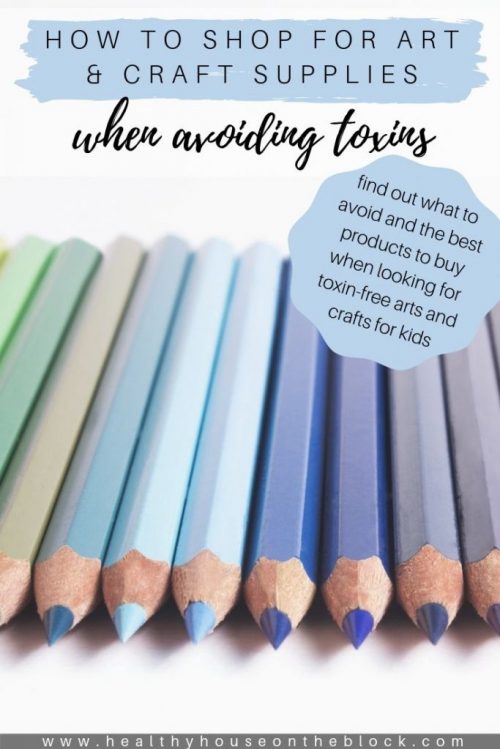 What to Avoid: Chalk using heavy metals to make pigments and artificial colors
Instead Opt For: Vegetable colored chalk or chalk made from calcium carbonate
Best Picks:
What to Avoid: Products with a lot of plastic, adhesive or metallic color
Instead Opt For: Natural materials like paper, wood, cardboard and cotton
Best Picks:
Ideas to Make Your Own Non-Toxic Craft Kit at Home