I have always loved finding organizing ideas and running with them full steam ahead.  I love the feeling of a freshly organized space – no matter where it is in my home.  I do fully recognize, however, that oftentimes the need to organize a space means I have too much stuff in general.  In a slow process, over the course of years, I've cleared out different areas of my home and spaces, which has naturally resulted in a more organized space.
But sometimes, there are spots that can only be helped by some organizing ideas, not necessarily getting rid of items.  One thing I notice a lot when it comes to organizing products is that so much of it is plastic.  As someone who tries not to purchase plastic where I can help it, I knew I had to find some alternatives to storage containers for organizing.
I do still use the giant plastic storage containers for holiday decorations and other things that we store in the garage.  In Minnesota, the wildly drastic seasons mean moisture can become a big problem.  But everywhere else in my home, I do my best to organize the spaces to be free of plastic and other toxic materials. 
So if you're like me and you'll be purging and organizing with the New Year, these ideas will really help you do it in a truly toxin free way.
ORGANIZATION AND A HEALTHY HOME
I really believe that a cluttered and disorganized home not only creates an internal feeling of disorganization, but also can make your space FEEL unhealthy.  I discussed this a little in my post about creating a space based on hygge concepts.  The feeling that our spaces evoke does matter to the health of our space and ourselves.
When a home feels stressful, either because it is unkept, or the décor is not aesthetically pleasing, it can certainly make us feel stressful or overwhelmed on the inside.
Another reason that an organized space contributes to the health of the environment in our home is the dust factor.  Dust that can collect on items or surfaces that are too cluttered to be cleaned can lead to toxins sitting on our items and entering our air.  Dust can contain pesticides, microplastics, mold spores and allergens that all negatively affect our body. 
And then there's the idea that each item we bring into our home could potentially be bringing in toxins.  The fewer items you have in your home, the fewer toxins you likely have.  In other words, you can greatly benefit from decluttering  a space before organizing. This is an important idea when it comes to objects, furniture and household products.  If implementing organizing ideas also means getting rid of some items, I'd say it's a win.
It can be so easy to just grab as many plastic containers as you can to stat organizing your space, but before you jump into those organizing ideas with both feet, let's rethink our use of plastic. 
Plastic not only contains SO many toxins, but it also is absolutely horrible for the environment.  I do my absolute best to avoid purchasing plastic where I can and instead use natural materials. Not only for the harm it does to the environment due to its inability to break down, but also because it's not healthy for our spaces.
By bringing plastic into our spaces, we are also introducing phthalates to our home environment. Phthalates have been linked to neurological toxicity in kids as well as have adverse impacts on neurodevelopment, including lower IQ, problems with attention and hyperactivity and poorer social communication. 
Phthalates also disrupt the endocrine system and can cause issues with thyroid, immune function and the reproductive process.
Polyvinyl Chloride, or PVC is another component in plastic that is particularly harmful when we come in contact with it.  PVC has been linked to endocrine disruption that in turn plays a role in childhood obesity.).  PVC toxins have also been linked to cancer and neurological toxicity in kids.
Another group of big toxins present in plastic are bisphenol toxins. This is anything from BPA to BPS and toxins in between. Bisphenols are known endocrine disruptors and have been linked to metabolic disorders, reproductive disorders, obesity and even breast cancer. 
Wood/Bamboo:  A natural material like wood or bamboo is such a great alternative to plastic.  This, however, doesn't mean medium density fiberboard, particle board or plywood, which all contain formaldehyde and other VOCs.  Make sure you're getting a solid wood product and if need be, you can seal it with a VOC blocking clear coat like AFM SafeSeal.
Jute, Seagrass and Sisal: All natural fibers that are often used to make rugs.  You can find baskets and organizers made from these earthy textured materials.  Sometimes you can find a blend of these with other natural fibers like coir and hemp. These materials do not require pesticides to be grown as they are often naturally found in nature and very renewable and inexpensive to create with.
Paper/Cardboard:  I love cardboard boxes that are made for storage or paper boxes that are made for organizing.  Obviously these are best used in very dry areas as they can absorb moisture and become moldy.  There are so many options here as many boxes and containers are made from recycled materials and can be recycled when you're done with them.
Wire: Stainless steel and other metal materials are a great way to go when you're looking for plastic-free storage containers.  I love organizing ideas that incorporate wire baskets because you can actually see what's inside.  They're also a great option for under sink areas because they won't hold on to moisture.
Canvas: A great way to store clothing that's out of season is in canvas bags.  Make sure that it's in a place that won't get a lot of moisture so that the clothing doesn't get moldy.  Canvas is a good protector from dust, bugs and other environmental allergens that can end up in clothing as it has a better quality than cotton.
Rattan: This naturally renewable resource is used in many applications from furniture to building materials.  Ratan is often naturally grown and harvested in Africa and Asia, and requires no pesticides to grow.  It's extremely hardy and grows in areas that land would otherwise be unusable.  It's also a very sturdy material that makes for great storage baskets and boxes.
Fabric: Cotton rope and Wool blend felt are great options for storage boxes and bins.  They can be particularly good for kids' rooms and toys as they are generally softer, yet sturdy.  I love organizing ideas that incorporate this natural material as it's readily available and often quite inexpensive.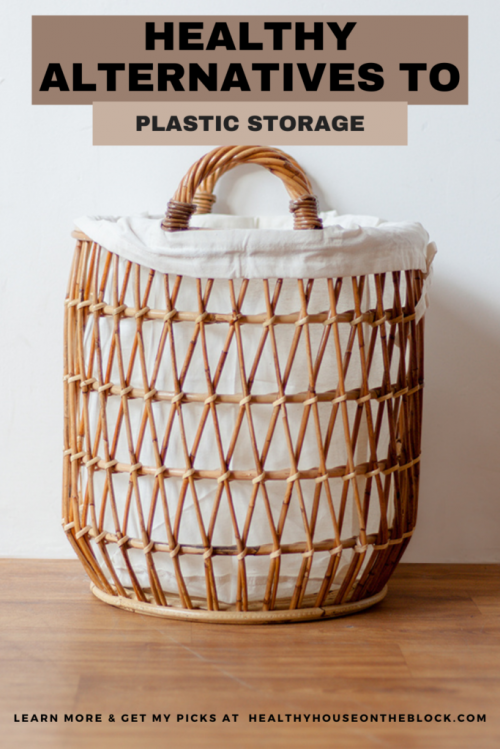 MY TOP PICKS FOR ORGANIZING AT HOME
FREE BONUS: DECLUTTER CHECKLIST
Click through this link to get your free download to declutter your home and reduce toxins inside:
Organizing and decluttering is just one of the many ways you can incorporate healthy house practices into your space on a regular basis.  Anytime you can reduce plastic and other toxins, you're benefiting your space, and ultimately benefiting your own health and wellness.