One of the most frequently asked questions I get is what is my preferred air purifier, and is it worth it?  As a mom and also a healthy home advocate,  building biology practitioner and certified home inspector, I think it's important to share the facts behind my answers. In short, yes, I think an air purifier is worth it for your home.  And my air purifier of choice?  Our family trusts Medify Air for a number of reasons, which I'm excited to share with you. It boils down to the price for the value and the trustworthiness of their company.
In fact, Medify Air purifiers do such a great job and their company is so easy to work with, most of our local schools now have their purifiers throughout their classrooms too.
Not long after I share my opinions about Medify Air, I get several follow up questions about their comparison to Air Doctor.  In truth, both options are going to be positive for your home and save in terms of improving indoor air quality.  But if you're like me and need to weigh out the details before choosing an air purifier, then my research on each of these companies and their air purifiers will come in handy. 
I looked into both companies before making my ultimate decision to go with Medify Air, which I've been MORE than happy with.  We chose the MA-40, which fit our family's needs perfectly.
****THIS GIVEAWAY HAS ENDED****
It's been one of my favorite healthy house purchases, and I've never regretted this buy.  I'm SUPER excited that Medify Air has also graciously offered to give away one of their MA-40 purifiers.  Just scroll to the end of this article to enter.  (And if you've missed the window for the giveaway, then don't forget you can use HHOTB15 for $15 off of your purchase)
WILL AN AIR PURIFIER COVID PROOF YOUR HOME?
The big and looming question is will an air purifier COVID proof your home?  In short, no.  But, YES, an air purifier will help reduce the risk of transmitting COVID in combination with other safety protocols.  I think it's important to understand just how an air purifier works with the COVID 19 virus though.
According to a helpful article put out by Mayo Clinics, COVID-19 is not expelled on its own.  Instead, it's attached to something else that allows it to travel through the air.  Generally this is a respiratory droplet, dust or sometimes mucus.  Because it's attached to larger particles, the virus can get trapped in a filter, which stops it from circulating through your living areas.
In general, a True HEPA filter will be the most effective in reducing the circulation of the COVID-19 virus as it filters out most all of the particles that they're attached to.  And it's important to note that a HEPA filter does not kill the virus, but merely stops it from circulating.  To reduce the risk of airborne transmission of COVID-19 or any virus, it's important to have high indoor air quality as well as other prevention tactics.
UNDERSTANDING MICRONS AND FILTERS
First and foremost, I think it's so important to understand what's potentially in your indoor air as well as how different types of filters work to remove air pollutants. 
Indoor air contains a number of contaminants that are measured by size using the measurement of microns.  One micron (or micrometer) is one millionth of a meter.  That means that there are 1,000 microns in a millimeter — that means TINY, tiny particles.  To put it in perspective, the diameter of human hair is about 70 micron.   
Pollutants vary in size of microns, which is important to understand when looking at the most effective air purifiers.  For example, dander and dust is one of the largest pollutants, and gasses are one of the smallest.  Finding a purifier that can filter out each of these through their media filters is key to creating a healthy indoor environment in your home.
Pre-filters:  Usually this filter is the FIRST filter because it traps large particles like dust, hair and pet fur.  By removing these particles right away, it allows the other filters to work more efficiently.  The less the HEPA and carbon filters are blocked, the more air can pass through, allowing tiny particles to be removed.
HEPA Filters:If you've researched air purifiers AT ALL, you know that the HEPA filter is the most talked about filter.  A True HEPA 13 (H13) filter, or a medical grade HEPA filter will remove 99.97% of all particles that are .1 microns and larger.  If you think about it this way, for every 10,000 particles that are .1 microns or larger, only three of those would stay in your air.
Activated Carbon Filter: Activated carbon filters use carbon pellets to remove toxins like formaldehyde as well as odors and some VOCs. VOCs are gasses, which are incredibly small and can stay suspended in the air.  Gasses are fractions of micron size and in general can only be removed by a carbon filter.
CADR:  This stands for the Clean Air Delivery Rate, which is a way of measuring the performance of a purifier.  Essentially, it indicates just how fast an air purifier can remove specific particles from the air.  The higher the number, the faster and more efficiently it cleans the air.
The CADR rating  is measured in CFM, which stands for cubic feet per minute and can be broken down into categories for pollen, smoke and dust.  
Smoke particles are extremely fine particles, with a micron size of approximately 0.1 – 0.3 microns.  Dust particles are mid range varying from about 0.5 – 3 microns; and pollen has the largest particles ranging from 5 to 11 microns.  
ACH:  Also known as air changes per hour.  Exactly what it sounds like, this measures how much air in the room is being exchanged with purified air in a one hour time span.  The higher the number, the more purified air is being pushed into the room.
It's  also worth mentioning that air filters can become "clogged" with particulates that reduces their efficacy.  The more a filter removes the air, the quicker they will become ineffective due to blocked air flow.
MEDIFY AIR VS. AIR DOCTOR
One of the questions I get A LOT is how does Medify Air compare to Air Doctor in terms of air purification.  While I didn't run my own lab testing to check each of these out, I DO consider myself pretty well-versed in the world of indoor air quality. 
That being said, I'm also a consumer, just like you and I do my research before jumping into a purchase like an air purifier.  So, that being said, I'm sharing with you ALL the information that I researched and compiled while deciding Medify Air vs. Air Doctor. 
Medify Air MA-40 vs. Air Doctor 1000
| | | |
| --- | --- | --- |
|   | MA-40 | AIR DOCTOR 1000 |
| Number of Filters | 4 (prefilter, True HEPA, Carbon, Ionizer) | 3 (prefilter, Ultra HEPA, Carbon) |
| Room Size Coverage | 840 square feet every 30 minutes | 589 square feet every 30 minutes |
| CADR/CFM | 330 | 152 |
| Fan Speeds | 3 | 4 |
| Certifications | Energy Star, ETL, CARB |   |
| Weight | 15 lbs | 10 lbs |
| Sound Levels | 66 decibels | 54 decibels |
| Controls | Child Lock, Fan Speed, Timer, Dimmer, Filter Replacement Indicator, Ionizer | Fan Speed, Timer, Dimmer, Filter Replacement Indicator, Ionizer |
| Filter Price | $60.00 every 3,000 hours or 5 months | $70.00 (plus $9.95 shipping) every 6 months |
| Price | $270 (plus use HHOTB15 for $15 off) | $400 |
Medify Air MA-112 vs. Air Doctor 3000
| | | |
| --- | --- | --- |
|   | MA-112 | AIR DOCTOR 3000 |
| Number of Filters | 4 (prefilter, True HEPA, Carbon, Ionizer) | 4 (prefilter, Ultra HEPA, Carbon, Ionizer) |
| Room Size Coverage | 2500 square feet every 30 minutes | 1262 square feet every 30 minutes |
| CADR/CFM | 950 | 326 |
| Fan Speeds | 4 | 4 |
| Certifications | Energy Star, ETL, CARB |   |
| Weight | 33 lbs | 18 lbs |
| Sound Levels | 70 decibels | 59 decibels |
| Control |   |   |
| Filter Price | $140 every 3,000 hours or 5 months | $145 (plus $9.95 shipping) every 6 months |
| Price | $595 (plus use HHOTB15 for $15 off) | $629 |
Transparency: As someone who educates and runs a business, I always appreciate a company who doesn't use tactics to make them look better. I think what frustrated me the most about trying to compare these two companies was that Air Doctor has created their own type of HEPA filter, the UltraHEPA filter.  I felt it was very difficult to find any information on these filters from sources other than Air Doctor.  In comparison, I liked that I was able to find information on the True HEPA filter that Medify Air uses, as it's a common filter
Another frustrating part of delving into this is the fact that many of the broad claims made by Air Doctor only apply to one of their air purifiers.  If we're really going to compare similar products, you have to look at each of Air Doctor's purifiers individually. Each of their products is different, and I found it was difficult to find information on each specific product on their site.  A lot of their claims and information are broad generalizations of their purifiers.
Lifetime Warranty: I love that Medify Air stands  behind their product and offers a lifetime warranty.  You can easily sign up for their warranty right on their website within 30 days of purchase.  You just have to continue to use the Medify Air filters in your purifier and change them every 3,000 hours.  
Filter Club:  It's basically a subscribe and save feature for your air purifier's filters.  Medify Air allows you to schedule a subscription of your air filters to be delivered to your door whenever you want.  You get to choose how frequently you get your filters (at a discounted price) without having to try and remember to order filters when you're nearing your 3,000 hour mark.
Women Founded:  As a female in a predominantly male field, I love being able to support women-founded companies.  I recognize the amount of work it can take to overcome some of the stereotypes for women in technology fields and service-work fields.  I absolutely LOVE being able to support other women who have also made health and wellness their main goals.
Filters: I really liked that the Medify Air filters are a standard, tested filter.  I get very skeptical of products that are only used by one company with very little third party information. And that's where my opinion fell with the filter comparison between Air Doctor and Medify Air.  I also liked that the Medify Air purifiers use a medical grade, true hepa filter that is a standard in the air purification space. The True HEPA (H13) filter removes virtually all particles (99.9%) and has been CARB certified.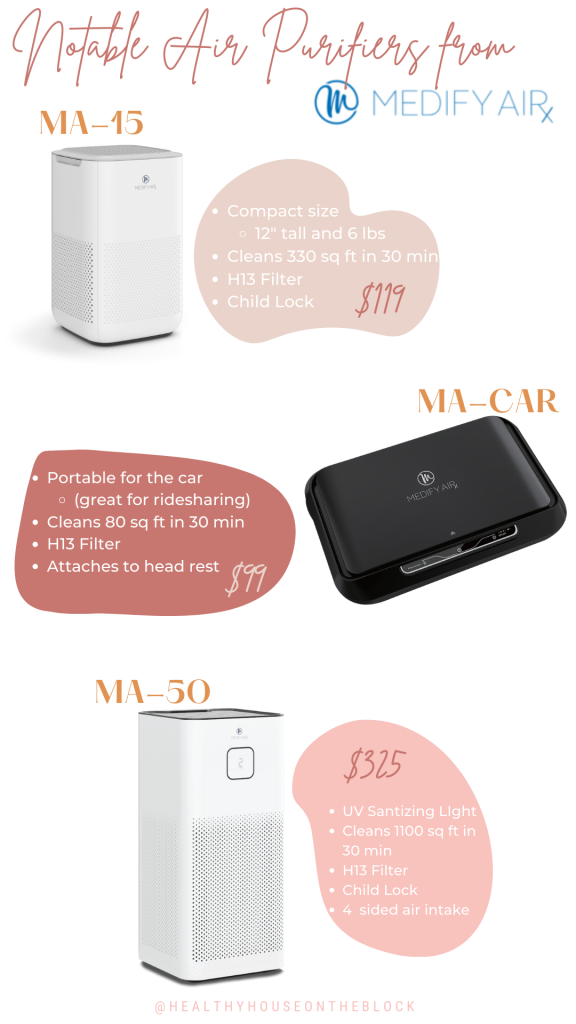 Price Point:  I am a deal-seeker at heart.  That being said, I also recognize the difference between a good value and a cheap deal.  I definitely wouldn't go out and buy the least expensive air purifier I could find, but I also wouldn't blindly trust one that was more expensive.  After the amount of research we did before buying the Medify Air purifier, I felt like this purifier was an incredible value for the peace of mind and purification it was offering. 
When I compared it's specs and features to the Air Doctor, it won out based on the CADR rating and price for me.
I'm SO excited because as I wrote this post, Medify Air was kind enough to give away one of their purifiers.  
The Medify Air MA-40 is the purifier that we have used for the past year.  We've used it in our bedroom, where it did wonders for my allergy symptoms.  In fact, the allergy symptoms were so mild, that my husband felt he didn't even need his allergy medication at night anymore.  WIN!
We've also used the MA-40 in our main living space during the surges of COVID-19 outbreaks.  Bringing home a medically fragile baby, but also wanting to allow family in to visit this past winter was a difficult road to navigate.  We felt more comfortable adding an air purifier to our COVID-19 protocols, which allowed us to invite family into our home to meet baby Cameron — which was priceless.
To try Medif Air for yourself, you can either enter the giveaway below, or you can use my coupon code of HHOTB15 and purchase one at a discounted price.