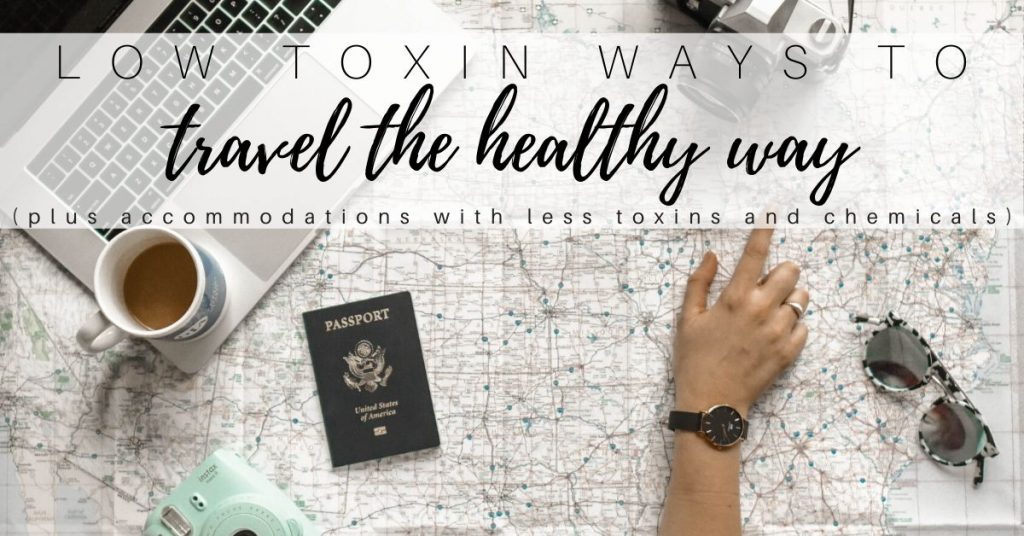 Whether you're planning a trip for spring break or you're headed to stay with family or friends at their house, it always takes a bit of planning if you want to keep your accommodations similar to your home's environment. Today I'm sharing travel ideas that will walk you through taking your toxin free life on the go.
We get pretty comfortable in our homes and we're used to our own products and our own spaces, which leaves traveling more or less getting used to living without those things. Not that it's bad to have a change of pace and get used to a different environment or habits — sometimes this is actually what we need to kickstart our own better habits.
But if you have kids, you know that traveling and making wherever you're staying feel more like home is key to a successful trip.  It's why planning ahead with some great travel ideas and trying to anticipate some of the big needs will help you enjoy your travel more.  This is the exact reason I think keeping routines simplified at home can also help when you go to travel and do other things. The less you need to bring with and the less you require can make planning much easier on you.
But in the same breath, I think that worrying too much about your accommodations or bringing anything you might need can really hinder your travel and your health.  If you can use travel ideas and plan ahead without stressing too much, you'll set yourself up for success.
Trying to pack your whole medicine cabinet or your own bedding set would probably get you some sideways glances.  The best thing to remember when reading traveling ideas and actually traveling away from the low toxin environment you've created is this: Body burden is accumulated over time, which is exactly why keeping a healthy environment at home sets you up for a healthy life.
Basically, it's knowing that you've set your body and your home up so that if you spend a short amount of time in a space that has more toxins than yours, it won't wreak havoc on your body.  I think of it the same way when my kids go to a birthday party and end up having food that we don't normally eat at home. We eat consistently healthy and free of packaged food so that when they do help themselves to candy or chips at a party, I'm not overly concerned. 
Bodies are resilient and adapt if they are unburdened.  Let traveling be a good reminder of what you love about your own home environment and why you work so hard to make it a healthy space.
TRAVEL IDEAS TO IMPROVE OTHER SPACES
Now, depending on WHAT your accommodations are, you can do a little bit to improve the space that you'll be staying in.
First, if you're staying in a hotel of some kind, don't leave your luggage on the floor or bed.  Use the rack they provide if you can. Think of all the places your luggage has been so far, you don't want it in your sleeping area. 
Remove the bedspread if you can.  These aren't laundered as frequently as the sheets, which are to be cleaned with every guest change.  
Also, if you have allergies or asthma, try to change clothes before climbing into or sitting on your bed.  This will help minimize the allergens and dust that are being spread.
In addition to this, bringing a pair of shoes or hard soled slippers with as "indoor shoes" for your room is a great travel idea.
You can also wipe down surfaces in the room with a non toxic cleaner to minimize airborne allergens as well as get rid of potential virus germs.
And finally, you can actually request a hypoallergenic room in most hotels if you're sensitive to dust and other allergens.
If you're staying in a VRBO, AirB'nB or with a friend or family member, there are other things you can do besides what is mentioned in the section about hotels.
First, get those windows open!  Opening the windows and turning on the fans can really help improve the indoor air quality.  
Try to minimize the use of any fragrances or scented candles, sprays, etc.  in your sleeping area and bathroom.  
I think the big thing is to plan ahead and read up on travel ideas before you leave and ask questions about the space you'll be staying in as well as plan ahead to bring extras you might need.
These travel ideas will give you some things you can bring with to make your vacation feel more like home and less like being completely out of your element.
Charcoal bags:  These bags will help absorb any odor or scent in the air that you might be sensitive to.  They are small and easy to pack in a suitcase so you can use them once you arrive.
Water bottles: Instead of using plastic or unsanitized glasses at a hotel, bring your own water bottle.  Plus it's great to have around when you're traveling.
Air Purifier: A small travel air purifier can help remove dust and dander from the room you'll be in.  This small air purifier is perfect for stashing in your luggage without taking up too much room.
Essential Oils and travel diffuser: This natural diffuser doesn't even need to be plugged in.  Simply drop a few essential oils on it and you're good to go.  I always bring with Lavender and a Germ Fighting Blend.
Cleaning spray (travel):  A small bottle of travel cleaner is a must (especially if you have kids).  We use it to wipe down remotes, tables and counters when we arrive and as we are staying somewhere.
Toiletries:  Instead of using what the hotel or home provides, bring your own toiletries.  Not only will you feel more like yourself, but you'll be using a product you KNOW is healthy and safe.
Bag for Worn Clothes:  Keep your worn and dirty clothes separate from your clean clothes with a bag for dirty laundry.  This will also help once you get home and the dirty laundry can get unpacked RIGHT in the laundry room.
The amazing thing nowadays is that you can so easily find accommodations that are much less toxic than even a few years ago. Pair my travel ideas above with these low tox accommodations and you'll be golden. 
If you're someone who loves Airbnb, you can search terms like "eco friendly" and "fragrance free" to find rentals that have owners who care about making their space healthier.  
On VRBO, you can search for your destination and in the filters add "Low Allergen Environment" under safety. 
It's important to note with both of these options, finding a rental house that doesn't have carpet is going to be a life-saver if you have allergies or any sensitivities.  
If you're looking to stay in a hotel, Hilton offers their PURE allergy-friendly hotel rooms as do Hyatt Regency and Sofitel.  PureRoom.com is another GREAT place to search for hotel rooms that don't use fragrances and scents.