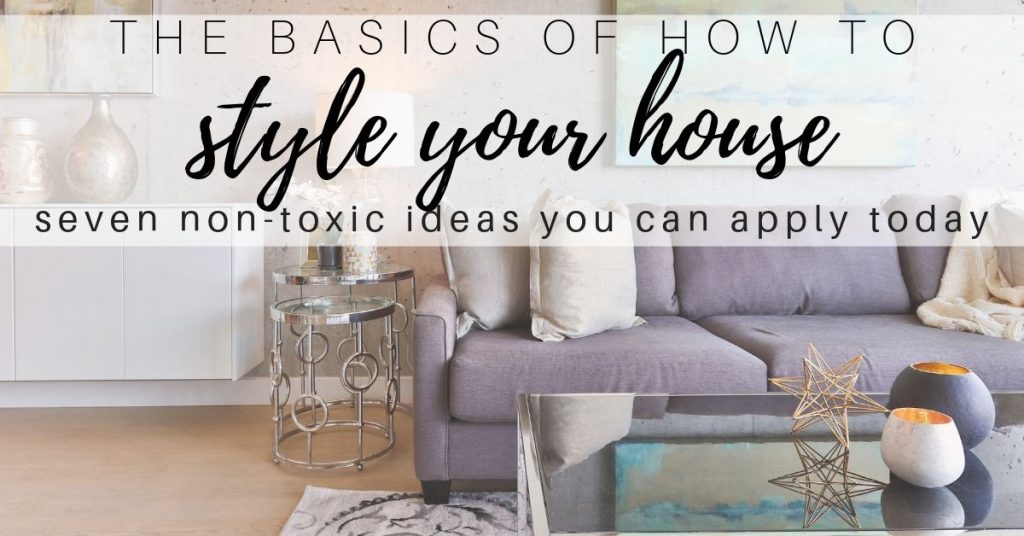 A few weeks ago some gals I follow on Instagram did a home tour for summer.  It's probably one of my favorite things — to walk through other people's homes and see how they decorate and style it.  It's one of the reasons I do just what I do. I love seeing homes that give me new ideas for my own home and homes that are unique and different.  
While I love seeing decor and how other people style things like shelves and have their living room laid out, I'm also pretty cautious about what I allow into my house too.  There was a time when I'd load up on decor from Target on a whim and bring it home to use. Now, I'm much more intentional with anything I buy and for me a lot of times, it has to have a function other than just looking pretty.
I also try not to bring things into my home that are plastics or made of manufactured wood materials.  I try to stick to glass, natural wood, stones and ceramics when it comes to my decor. I do my best not to over-clutter my house and bring in too much.  To me, less is more. I'm definitely not a pro at styling in the least bit, but I do love a clean and simple room as opposed to a room that's got shelves lining each wall lined with trinkets and knick-knacks.
There are ways to make your home both beautiful and use minimal decor.  But the decor you do bring in, make sure it's natural and as toxin free as possible.  And believe it or not, finding decor for your home that is natural and safe isn't all that difficult.  The trick is to stay away from inexpensive plastics items that are dust collectors.
I've listed out some ways below that can help you style your home without bringing in too much in general and keeping toxic products out.  Keeping in mind that you're the keeper of your home; you get to decide just what comes in and where it goes is key. In fact, this empowering mentality should remind you that YOU get to make all the decisions about your home.  Whatever you style is at home, you get to be the gatekeeper and choose if it stays or not. Keep this in mind and only let in what is truly meaningful or important to your home for decor. This mentality has gotten me a lot farther than the mindset of just limiting what I buy.  I get to be super selective and bring in just what I love.
CHOOSE ONLY WHAT YOU LOVE
Just like I talked about earlier, YOU are the keeper of your beautiful home.  Only let in things that you REALLY love and things that make you feel good. You have the right to be super selective.  Sometimes I find the things I love most are the items that have been given to me by a friend or someone I love. I've also come to cherish items that were passed down.  Sometimes these things need to be repainted, changed in some way or cleaned up a bit. Once they've either been cleaned or repurposed, they are often times the item that have the best stories behind them.
So instead of going to a big box store and loading up on lots of little trinkets and knick knacks for your home, keep it simple.  Only buy something that truly stands out to you or that you know will fit perfectly in a particular spot. Sometimes it's even helpful to take a picture of something at a store and then look at it again while you're at home.  Often times this is one of the most helpful things I do in order to prevent just buying things to buy them.
Decor to me doesn't have to be just for looks.  Decor can also be completely functional. I love doing this in the kitchen, especially.  A bowl of fruit that we will actually eat is one of my favorite ways to decorate and style my kitchen table and counter.  You can also have out a set of cereal bowls and spoons on a tray with some flowers. The perfect way to style your counter, yet using items that are completely functional.  
This post by Jessica Garvin is one of my absolute favorites – she is AMAZING at styling and has a knack for using functional things in her kitchen to pretty up her space.
You can also use things like books in the living room or office to make your space beautiful.  This is a great way to not only store books you love, but a great way to make them part of your decor.  
You can also use things like pretty glassware, vases and platters on shelves to not only display some of what you have, but dress up your kitchen or dining room with natural decor.
Another way to use functional styling is by using herbs and indoor plants as part of your decor.  They are not only so beautiful to have around, but they also improve your indoor air quality. It's a win-win.
BASKETS ARE YOUR BEST FRIEND
Wire, jute, woven or cloth — baskets are your best friend when it comes to styling your home.  If you're home has kids, like mine, you know that baskets can hide and organize just about everything.  We use them for books, blankets, toys — you name it, we've got a basket for it.
Baskets don't just have to be stored away in a cabinet either.   You can find gorgeous baskets that can be left out and look like they are part of your decor.  
One of my favorite ways to spruce up any plain basket is with some paint.  Sherry from Young House Love has a tutorial that I've used myself to paint woven baskets to match a room or your decor.
Baskets are great at concealing, and often they're made of a natural material that is safe and non-toxic to your home.  If it's something you really want to hunt for, you can shop for baskets made with organic materials too. The great thing is, not only are they completely functional, but they can really work towards a perfectly styled home too.
Let's talk textiles — like pillows, throw blankets and rugs.  These are some amazing ways to spruce up a home. Pillows are so easy to switch out with purchasing just the case to zip over an organic pillow form.  This is one of my favorite ways to change the styling in your home. And it really makes any piece of furniture look more put together when you add a pillow with a great texture or design.  
Places like EarthHero and MightyNest have great options for textiles that are safe and natural for the home.  Pillows and blankets are easier to find in an organic material that something like rugs, but it's still important to our home to look for these options. Pillows and throw blankets are things we have near our bodies, which means they are near a warm environment at various times throughout the day.  A warm environment typically encourages a material to off-gas at a much higher rate. This is why I love finding organic throw pillows and blankets to add texture and design elements to my rooms.
Often times we forget that a rug can hold chemicals and toxins within it that are constantly off-gassing into our homes.  But finding a rug that is organic and made without chemicals is a great way to add comfort to your home and keep the indoor air pure at the same time.  I love Organic Weave for this as they are the only rug company that offers an area rug that is GOTS certified.
SHOP THE WORLD'S ONLY GOTS CERTIFIED AREA RUGS
Use Coupon Code: AMANDA for your discount
When you're looking to decorate or style your home, it can be daunting to find colors and palettes that match and go together.  And what happens if you want to change your coloring during the holidays or summer? The solution for this is to find a great neutral palette for the main elements in your home.  Greys are really beautiful right now as are whites and creams. Keep patterns to a minimum and you'll be able to add pops of color in your items you decorate with instead.
This will help your home feel put together and coordinated without too many different colors or patterns.  Using Pinterest to find colors that coordinate and find rooms that are perfectly styled for inspiration is a MUST if you ask me.
I absolutely love being able to switch out my decor for seasons here and there, but nothing makes it more difficult when you have a room painted a bold color or a crazy patterned couch to try and coordinate with.  (Sidenote: Did you know that paints with deeper hues typically have more VOCs that those with lighter, more neutral tones?).
Keeping your walls, flooring, counters and large furniture in the neutral family will help you switch out decor whenever you want without having to do a room overhaul every season.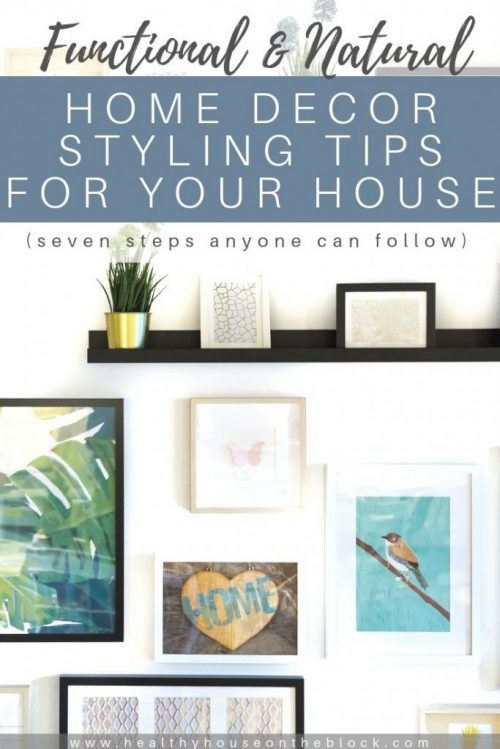 Finding materials that are natural in nature is key when it comes to adding small elements and trinkets to your home.  Don't get me wrong, I'm not a HUGE trinket person, but I do like a few things around my house. The great thing is metals, ceramics, stones and natural woods are all materials you can find some really beautiful decor items in.
Vases, pots, frames and other decor items are often made in these natural materials, which makes it easy to find healthy and safe options for your home.
Some materials to avoid when purchasing decor and objects you'll be styling with are plastics, manufactured woods and synthetic, man-made materials. It can sometimes be difficult to tell what a product is made of, and if it is, don't stress too much about it.  Using mostly natural materials is likely fine when it comes to decorating your home.
Another thing to keep in mind is that candles typically have many chemicals and synthetic fragrances in them that are harmful to the air and environment within your home.  You can find organic beeswax candles, but most soy and other scented candles should be avoided when it comes to your home.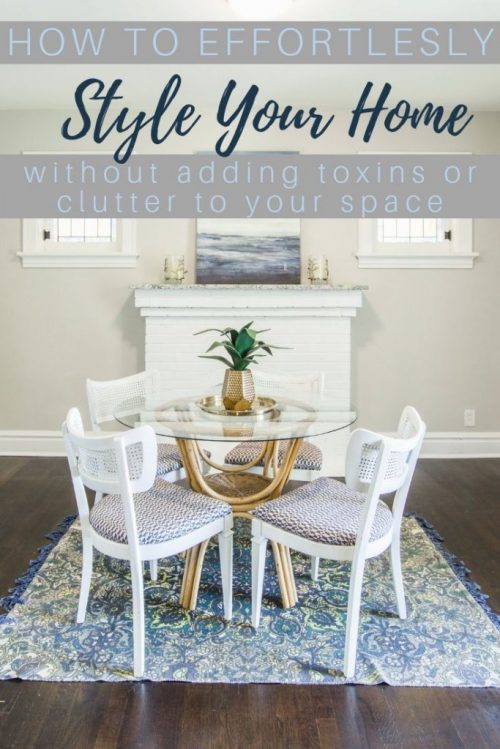 The main thing that has helped me in my own house is to keep a clear plan in mind when it comes to styling your home.  Be a nerd and plan out what it is you want a particular area or shelf to look like. It's actually really helpful and beneficial to do so.  I use design inspiration from Pinterest and Instagram to help me decide exactly what I want an area to look like.
Then I go through and make a list of what items I want or need to make an area feel a certain way or look a certain way.  From there I start hunting down the items online to get an idea of pricing. I will budget out each and every item, no matter how small and come up with an overall game plan for the room.
Once I have a plan, I rarely deviate from it and purchase things on a whim.  I know exactly what I want the space to look like and I know exactly what I need to purchase to get me to my room's goals. With that plan in place, I know I can walk right by decor that might catch my eye because I know it's not on my list or in my room's plan.
This idea is a great one for keeping that first concept in mind:  You are the keeper of your home. A planned out list is a great way to keep yourself in check and only choose the things that you have decided you need.
Being the keeper of your home means you get to create a home you absolutely love and a home that makes you feel good.  Styling your home doesn't have to be complex, or even confusing. Just pick what makes your space feel good and make sure it aligns with your goal for creating a healthier home.
Top Picks for Natural Home Styling