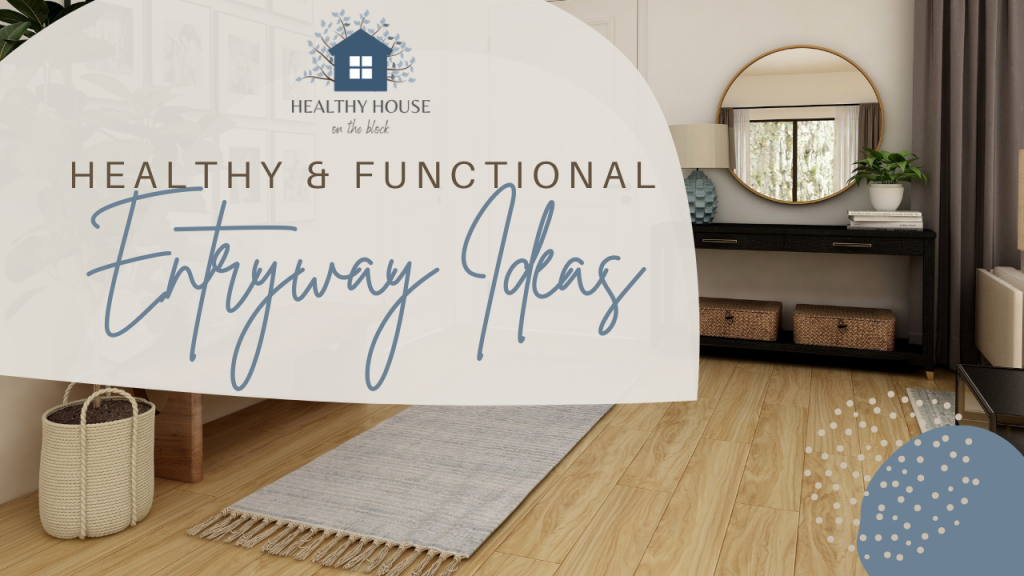 One of the best philosophies I adopted in creating a healthy house is the idea that I am a gatekeeper to my home and I have control over what is brought into my living spaces.  Using practical and functional entryway ideas to create a space that prevents the introduction of many toxins to my space, is just one way I continue to practice this philosophy at home.
The entryway in my home isn't large, but it works to house all the elements of getting ready to leave the house in one spot.  I am all about a functional, pretty space, and the entryway is no exception to this idea.  Once we're in the mode of getting out the door, I can tell you that few things are more frustrating than traipsing back through the house to find something left behind (which inevitably happens on a regular basis).  
The entryway is also a great buffer area between your living spaces and the dirt, toxins, pesticides and bacteria that can enter your home on shoes and objects.  Not only can you create a healthy space that is free from many toxins in general, you can also create a space that prevents additional bacteria, viruses and toxic dust from entering your main  living area. 
The trick is to incorporate entryway ideas that are easy to keep up with and make your space super functional.  Nothing is worse than creating a space that you can't keep up with.  In this week's post I'm sharing with you:
The toxins that are entering your house on shoes and bags

How to use your entryway as a gate to your home

Entryway ideas and elements to keep a healthy space

Habits for a healthy entryway
TOXINS THAT ARE BROUGHT INSIDE
Okay, so I'm going to lay out some really gross information.  As someone who grew up in a home where we always took off our shoes, I'm not really that surprised to see exactly what comes in on your shoes.  Think about the many places you walk and travel?
As soon as we had crawlers, I suddenly realized just how much I DIDN'T want to wear my shoes in the house. Babies at that age find anything and everything on the floor, only to put it directly in their mouth as they crawl by.  
A study referenced by the EPA, cited that herbicides were being tracked into homes on residences' shoes for up to a week after application.  What's kind of alarming is that the amount of the exposure is actually MORE than the exposure from residues on non-organic fruits and veggies. Pesticides are designed to stay on surfaces, so once in your home, they tend to stay on the surface as there is little UV light inside to break them down (STUDY)
This blog post about house dust touches on the number of health concerns related to pesticide exposure, such as poor development in children (STUDY), increased risk of cancer, chronic dermal irritation and rashes and immune system deficiencies.  (STUDY)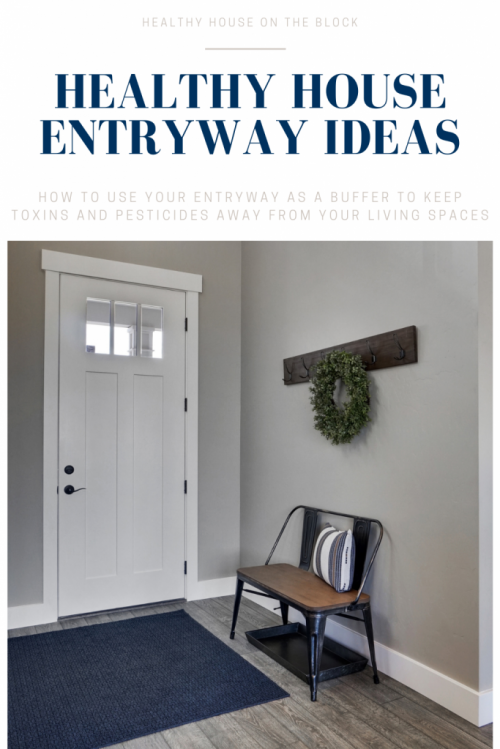 Another study out of Baylor University linked families living near asphalt pavement sealed with coal tar to an elevated risk of cancer.  The polycyclic aromatic hydrocarbons (PAHs) from the sealant were found settling house dust inside living spaces.  They found that the risk for exposure was greatest in children under six years old, as they ingested more of the toxin at much higher rates. 
A largely referenced study by UA professor and microbiologist, Dr. Charles Gerba shows just how much bacteria we track into our homes by wearing shoes inside.  He took a brand new pair of shoes and wired them for two weeks.  Within those two weeks, he found that 440,000 units of bacteria had attached themselves to the shoes.  And most of the time (about 90% of the time), the bacteria transferred itself onto clean smooth flooring surfaces like tile, laminate or wood.
(Let's also talk quickly about how our home's also shouldn't be sterile environments.  Some bacteria are incredibly good for our microbiome and our own immune systems.  That being said, I wouldn't voluntarily bring bacteria in and then place my kids right on top of it to play).
The study by Dr. Gerba also showed that viruses actually thrived more on the soles of shoes than on a toilet seat. And again, while viruses in general we try to avoid, keeping a sterile environment can also be detrimental to our overall health and wellness.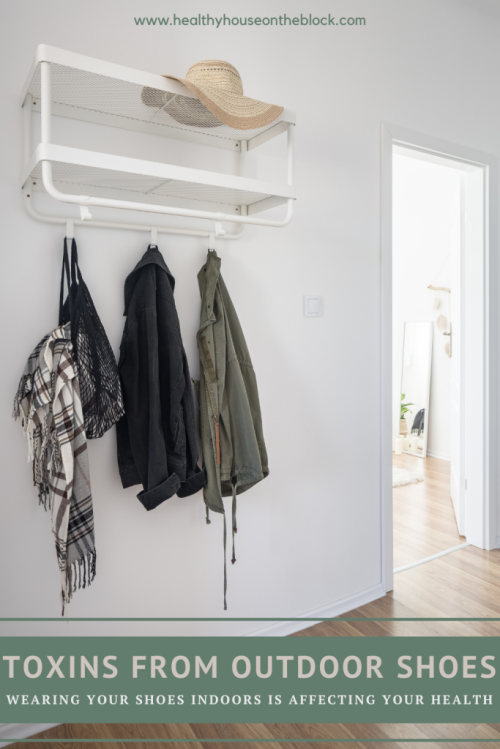 USING YOUR ENTRYWAY AS A GATE TO YOUR HOME
Personally, for our home, we have a pretty firm no-shoe policy.  Granted, there are a few exceptions (grandparents and older visitors who have a hard time getting shoes off and on, or a quick run inside to grab a forgotten item), but overall we keep shoes at the entryway.  
Especially as our kids were little and crawling around, we did our best to keep shoes in one place of the house, away from little hands and we tried to keep our living spaces free from the pesticides and bacteria I mentioned before.
Having a shoe tray near the door can help indicate to guests that shoes come off when inside.  I don't think you have to feel guilty or awkward asking friends and family to take their shoes off when they come inside either.  Your house, your rules, in my opinion.  Afterall, you're the gatekeeper of your home, and that's true of shoes entering your home besides toxic materials and products.
Your entryway is really a buffer between the outside and your living spaces, and treating it as such will help you drop your shoes and bags in one spot before letting them travel inside.  Many homes have a sectioned off space to serve as an entry way for the front door or from the garage area.  But in some homes you might have to create your own space that will serve as your buffer area as the door opens up either into a kitchen or a living room.    You can also use an area of the garage to serve as a place to leave shoes and bags if it works with your home's design.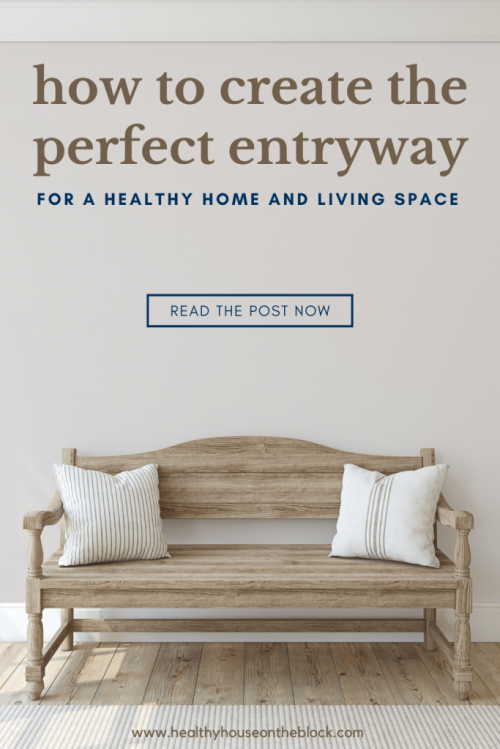 ENTRYWAY IDEAS & ELEMENTS FOR A HEALTHY HOUSE
Shoe Trays: This is a great way to keep wet and dirty shoes off your floors.  I also think this is one of those entryway ideas that  serves as a great reminder to your guests to take off your shoes.  It also works well for kids.  So often if there isn't a "home" for shoes, they end up scattered around the floor as they come inside.
Hooks: A place to hang backpacks, purses, leashes and coats is another great way to keep items that have left the house in their own place.  It helps contain these items to areas that are not the main living spaces in your home.
Bench: Having a spot to sit and take shoes off and put them on again is perfect for ensuring that shoes won't be brought into a kitchen or living room to be put on again.  It also serves as another reminder to both kids and guests that shoes can stay in your entryway area. These picks are all GreenGuard Certified:
Table: An entry table is a perfect place to set things while you're getting ready or coming inside.  With entryway ideas like this one, you won't have to track back into the house with shoes on or leave your purse on the kitchen counter.  Again, these ideas are all GreenGuard Certified safe to bring into your living spaces:
Baskets: I use baskets EVERYWHERE in my house.  In our entryway each of the kids gets their own basket for shoes.  This way, it's easy for them to put the shoes away PLUS the basket catches any dirt or debris that was on the shoe.  Every now and then we just dump out the basket and vacuum out what's left over.  I love using baskets that are a little more natural.  You could also use baskets to store hats and gloves in the winter or suncare items in the summer.
Rug: Area rugs are a great way to catch A LOT of dirt and debris from shoes.  I love finding organic or GreenGuard Certified area rugs for my space.  I vacuum ours every day to keep dirt from entering our living spaces.  Every now and then it's a good idea to take your rug outside and give it some natural sunlight to kill the germs and  bacteria. Here are some GOTS and GreenGuard Certified Area Rugs worth mentioning:
Cleaning Station: With small kids and pets, I have utilized an area near our entryway that served as a clean up station.  While most of the time the first stop when we come inside is the bathroom sink to wash hands, sometimes I just can't get there first and so I use a gentle hand sanitizer.  You could also keep a few unpaper towels or Swedish dishcloths and a small spray bottle in case anything needs to get cleaned off right away.
HABITS FOR A HEALTHY ENTRYWAY SPACE
Vacuum: One of the best entryway ideas you can implement in order to keep toxins from being tracked around your house is to vacuum.  Use a vacuum with a HEPA filter and get in the habit of vacuuming your entryway and rugs on a regular basis.  We use a stick vacuum that stays in the entryway area at least every other day.  It helps keep the rest of the house clean  like you wouldn't believe.
Clean: Get in the habit of cleaning up your entryway space.  It can be a place that becomes a bit of a "catch all" because it's the spot where mail, packages, groceries and everything else enters our home.  Use the entryway ideas for cleaning, dusting and decluttering to keep your space free from toxins that came in on objects.
Wipe Down Station: Sometimes it's easier to wipe down bottoms of purses, book bags or diaper bags that have been sitting on the ground.  That cleaning station from before is a perfect way to remember to wipe off the items you bring in if they've been in a grimey place.  This is exactly why I keep a little bottle of cleaner nearby in case I feel like items have been in a particularly gross place. 
Backpacks, Diaper Bags & Purses:  I try to keep my purse and backpacks that come in from school and the bus in one isolated spot in the entryway.  I know that bacteria, toxins and germs come in on these bags just like they do with shoes.  I don't want backpacks going up to bedrooms and sitting on beds, nor do I really want my diaper bag that I just had on the floor of the library on my kitchen counter.  We have hooks on the wall for backpacks and the bottom shelf of our entryway table is the go to storage spot for the diaper bag.
In Season Shoes Only: Keeping out of season shoes stored somewhere besides the entryway has made my life a MILLION times easier.  Maybe you're not in the same boat we are, but living in the Midwest we have summer shoes and winter shoes/boots.  Even if we keep it to the bare minimum, we still have plenty of shoes around between the five of us.  Each kid gets a basket to keep their current season's shoes in and I store the rest out of sight and out of the way so they don't cause more clutter and bring in more unnecessary toxins.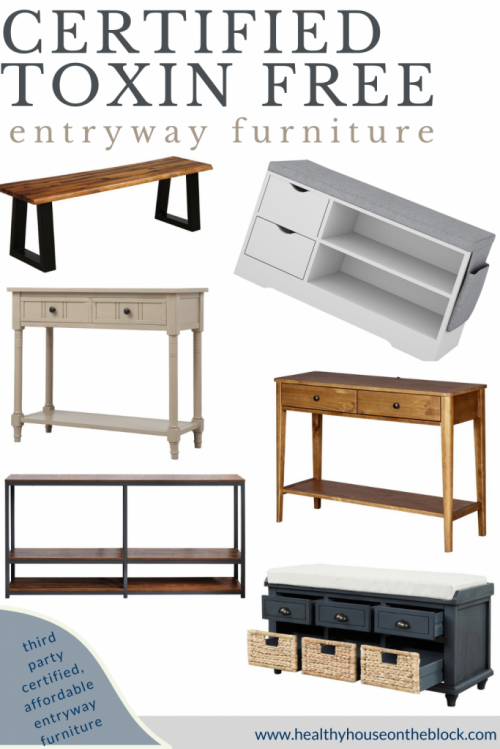 Do you think that you'll try to implement some healthy entryway ideas in your own home?  I think our homes and entryways are an ever changing space.  And because we are always learning new and more practical ways to keep our homes healthy, I'm sure you'll come up with more ideas as you delve further into your healthy home journey.