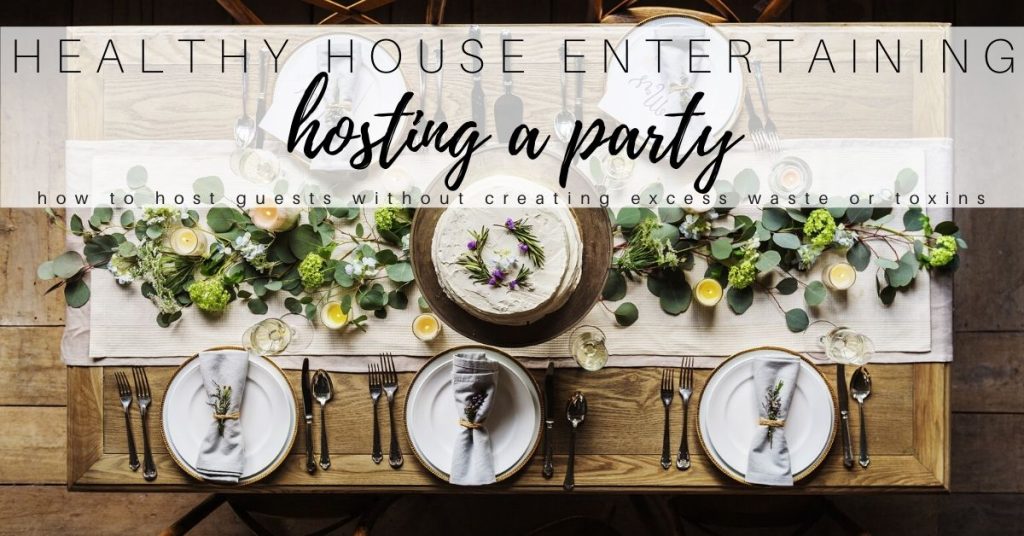 Do you follow me on Instagram?  I've been sharing some stories about a dining room table that we recently purchased off of Facebook Marketplace for super cheap.  I've been redoing this table with non-toxic finishes and making it a healthier piece of furniture to go in our dining space at home.  I'm so excited to get it finished up and put the final touches on it so we can use it for the holidays.  
The dining room table is the main hub where togetherness happens during the holidays, and it's so fun to have family and friends over to enjoy some time together.  Maybe you're like me and you get a little nervous when you're having people over for a dinner party or get-together.  
I tend to get way too wrapped up in what everyone will think of my spread, or will my house be clean enough?  I've had to do a lot of work to really help myself realize that as long as people feel welcome and at home, it will all be fine.  
When I used to host people I'd put out lots of plastic and throw-away utensils and plates.  However, as of late I've been getting rid of all these toxic products, which I thought would make hosting a bit more of a challenge.  SPOILER: It really didn't change that much to make a few tweaks to my typical purchases. 
I wanted to share with you some of the main components that can help you create a healthier experience while hosting your favorite group of people for any occasion.  It all boils down to the fact that you can make some really simple switches that probably won't cost you a whole lot of extra money or time.
So pour yourself a glass of wine and get ready to plan your next dinner party, gathering, game night or family get-together the healthy way.
This is a big one — eating off of plastic, or paper coated in plastic is a big risk.  If you have glass plates you can use, go for it! Washing a few extra dishes isn't going to be the end of the world, especially if you have some help.  
If you decide not to do real plates, at least do the real silverware thing.  Not only is plastic really not great to eat off of, but it's horrible for the environment too.  Using real silverware is also more appealing to your guests and just feels better.  
If real dishes and silverware just aren't in the cards for your next get-together, then check out these healthier options from MightyNest that are 100% biodegradable and safe to eat off of.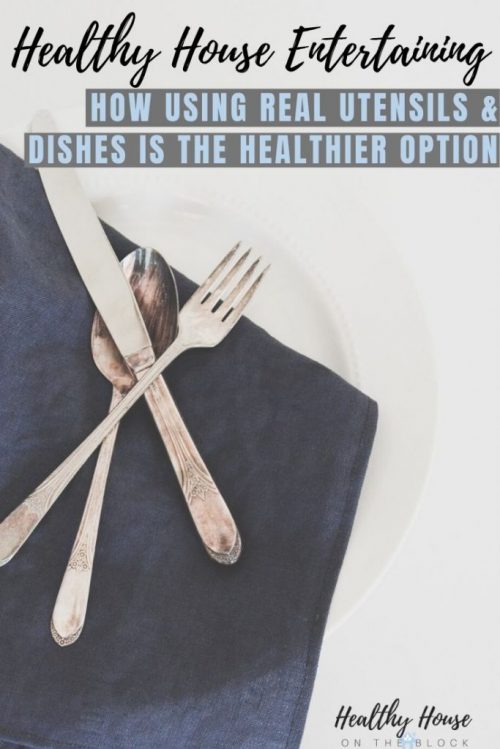 A great way to make a table pretty is by using plants and flowers in the centerpieces.  I love using mums in the fall, poinsettas in the winter and just about any spring or summer flower in their respective seasons.  The great thing about using an actual potted plant is that you can keep it and reuse it later. You could also use real flowers for a great centerpiece.
But the beauty behind using an actual plant that is alive and doing well is that it helps detoxify the air by reducing carbon monoxide. There are so many great ideas you can find on Pinterest to help you incorporate potted plants in your centerpiece or display at home.
Alright, so I live in Minnesota, where the outdoor dining season is quite short.  Even in the summer sometimes we skip it to avoid the mosquitoes and bees that seem to plague our meal.  BUT, the times of the year that we can get outside for a meal we definitely do. The fresh air is amazing to not only our bodies, but our souls too.  
If you live in a warmer climate, you may be able to host outdoors all year long.  THere are some really great ways you can make an outdoor space just feel like an extension of the indoors.
I break that down in this post.
But basically having a comfy spot to eat or relax, some lighting and a few plants and textiles is key to making a beautiful outdoor space.  And double points if you decide to do your cooking outdoors for your get-together. It helps with heating costs and prevents excess CO2 levels inside your house if you have a gas stove.
We talked about it earlier in this post, but avoiding plastic wherever you can in the kitchen is going to be a really healthy practice.  I've written a whole post on how to reduce the amount of plastic in your kitchen, and specifically WHY it's so important. 
Using natural things like glass, stainless steel and wood are much better options in comparison to plastic or melamine.  You can find really great pieces at a thrift store if your looking to add a few more pieces to your cabinets. And the great thing is, a lot of these beautiful platters, bowls and boards can be displayed on shelves or in your kitchen when you're not using them.
Tablecloths and place mats are kind of a fun way to add some dimension to your table when you're hosting a dinner party.  I love using them on fun holidays with my family when it's just us — and I can't wait to see what they'll look like on our newly finished table.
Opting for 100% cotton materials when it comes to these table adornments is the best way to ensure you aren't adding chemicals or toxins through synthetic fabrics.  If you can find 100% organic cotton, that's even better.  
Cotton not only washes up better, but it's breathable and doesn't hold on to moisture or odors from food.
INCORPORATE REAL HERBS & FOOD
If you are a lover of food, you know that real food is the way to go EVERY TIME.  I love being able to incorporate beautiful, natural foods into my charcuterie boards and platters. I think it's great to add a bit of color through fresh fruits and veggies to any part of your table.  Plus when the food is out, people will snack.
I also like to add fresh herbs to beverages and as garnishes in meals.  It's such a great use of these plants and it can add some real flavor. PLUS, herbs are a great resource and a really healthy addition to any meal.
USE HOUSE FANS & OPEN WINDOWS
Have you ever hosted a party and your house is instantly 8 million degrees? Our house gets very warm from guests, the oven and being closed up while it's all happening.  If you can help it, crack a window or at least turn on your house fan to get air moving around. A lot of people in one small space create a lot of carbon monoxide, and moving air around and venting it outside can really help that.
If you don't know how to turn on your house fan, simply go to your thermostat and turn the fan to "on" and the Heat/Cool button to "off".  This will help air move around without adding heat or cooling it off. If you have a smart thermostat like the Nest, you can simply turn on your house fan at any point and adjust the temperature
If you've been around my Instagram page lately, you know I've been sharing a lot about how essential oils can evoke particular feelings and how they can support emotions.  I love using essential oils when I know the climate in the house could be stressful or intense.  
These diffuser blends are my absolute favorites, and guest LOVE how they smell when they are over: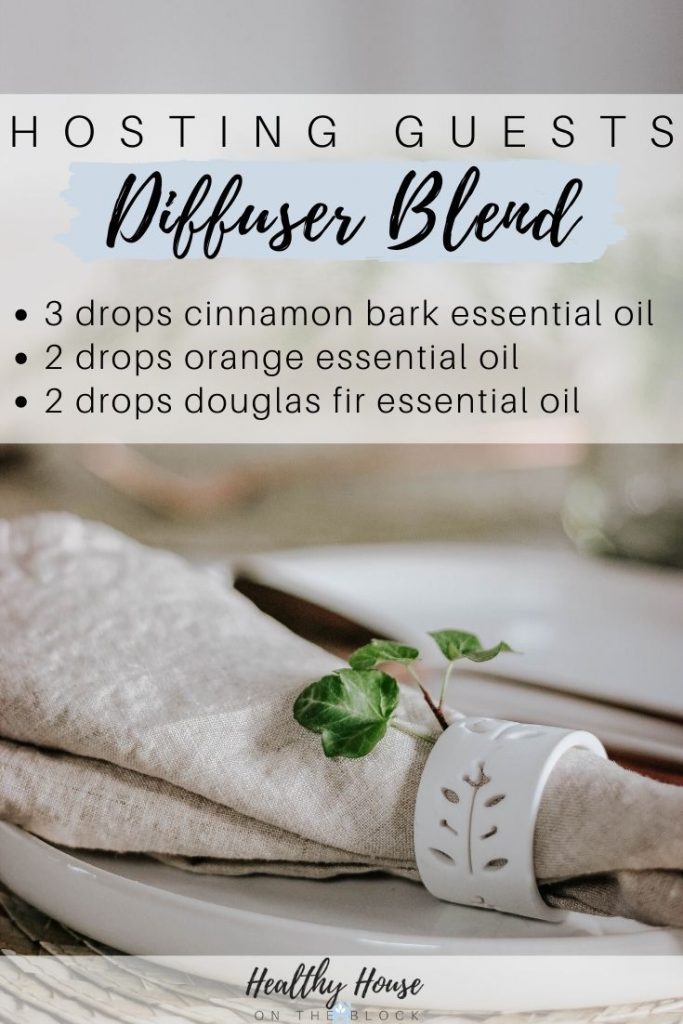 3 drops cinnamon bark essential oil

2 drops orange essential oil

2 drops douglas fir essential oil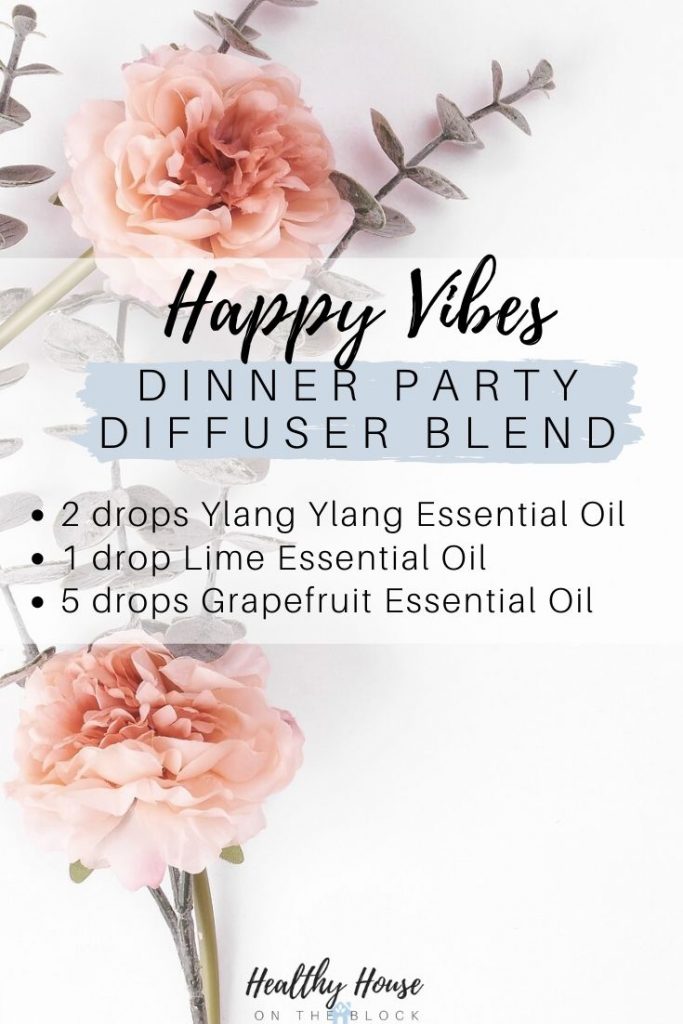 2 drops Ylang Ylang

1 drop Lime

5 drops Grapefruit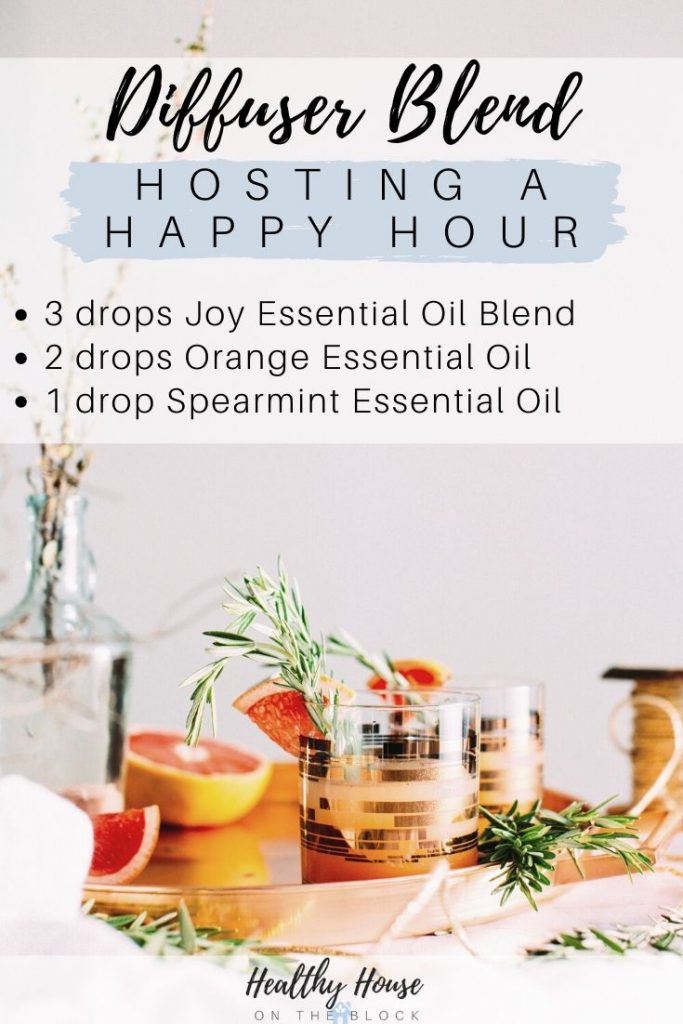 3 drops Joy Essential Oil Blend

2 drops Orange Essential Oil

1 drop Spearmint Essential Oil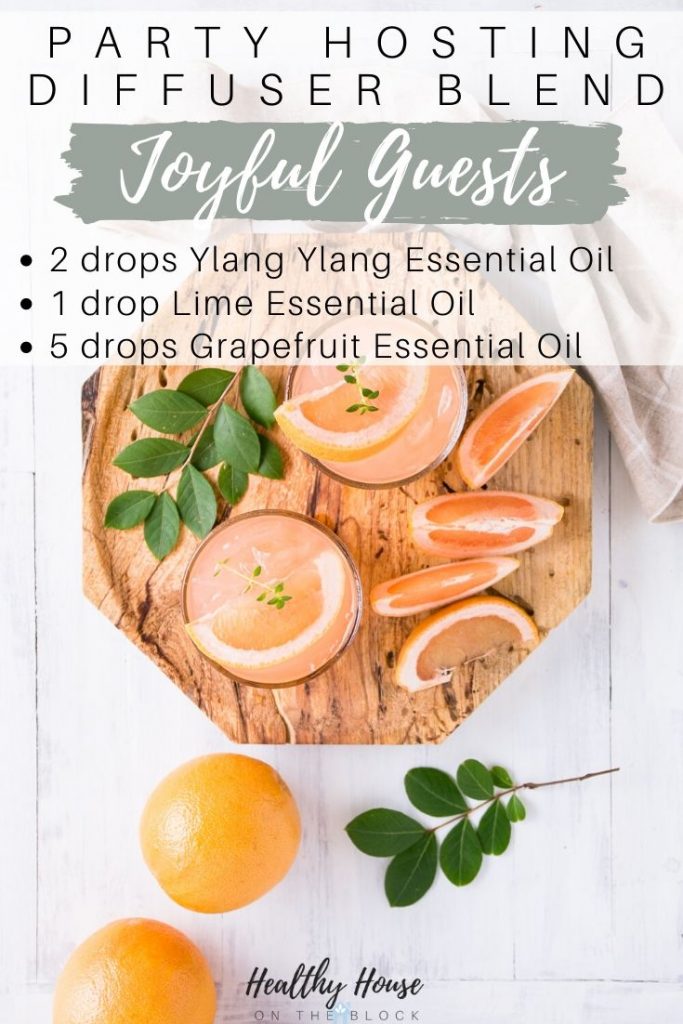 3 drops Bergamot

2 drops Geranium

3 drops Lavender