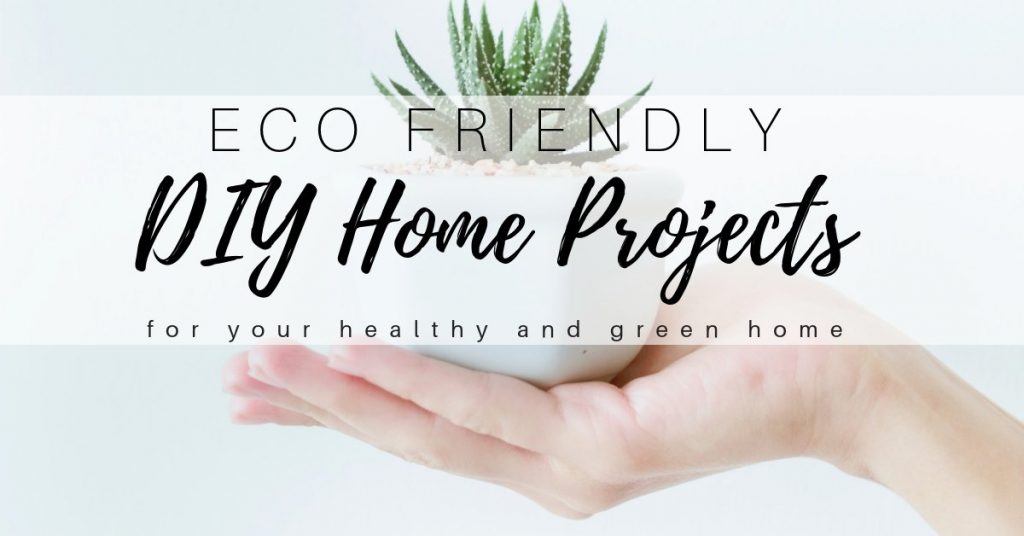 I have always loved do it yourself projects for my home.  I honestly could not get enough sometimes. Garage sales and thrift stores were a frequent stop for items I could spray paint or change in some way.  My weekends were spent refinishing furniture pieces and finding little ways to DIY some sort of decor for the house.
I had tubs and rubbermaids filled with paint cans and varnishes that I used on each of my projects.  But it all came to a screeching halt when I began reading about the toxins and chemicals in these cans of paint I used.  
I halted all projects dead in their tracks and safely disposed of my paints and stains.  I was sad to give up something that I loved so much, but I knew it wasn't the healthiest or safest habit for me, my family or our home.
Over time, thought, I started to find projects that I could do that were safe and healthy for my family.  On top of all that, I was able to find home projects to do that were beneficial to a toxin-free lifestyle.  If you ever use Pinterest to find DIY projects for your home that are eco friendly and healthy, you'll find SO many wonderful ideas.  
Today, I'm sharing some of my favorites from other moms and bloggers.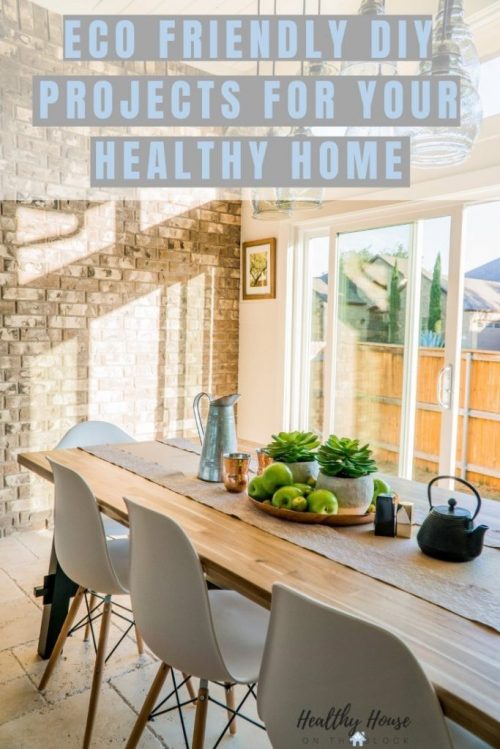 1. Make Your Entryway Beautiful & Functional
A really important part of my home for me is functionality.  I can't stand when there's a part of my house that isn't able to be utilized.  I love finding ways to make things beautiful and functional at the same time; and the entryway is no exception.
Our entryway gets a lot of use and a lot traffic, so it has to be a place that can house a lot of items without getting cluttered.  We also use our entry way as a catch-all for many items we don't necessarily want tracked through the house. Things like shoes, coats, backpacks and purses all find their home in our buffer zone.  The reasoning is that these items all carry in germs, bacteria, toxins and chemicals from being in public places.
Here are some really practical ways you can spruce up your entryway and keep the functionality.
Shared from Foxxy by Nature
Gia from Foxxy by Nature outlines exactly how to make these wraps and how to care for them so they last.  Have scraps of cotton fabric lying around?  What a great way to use them up!
Shared by Lovely Etc.
I love growing herbs indoors all year long, but having pots all over the place just isn't my style.  I love having a garden box up by my kitchen window (the sunniest little spot!).  I love Carrie's idea of creating a cute farmhouse inspired garden box for herbs and indoor plants. Plus her step by step tutorial is so helpful!
4. DIY Toilet Cleaner Tabs
Shared by Get Green Be Well
Kimberly at Get Green Be Well is all about the health of your home and she shares this SUPER easy recipe to make fizzies you put in your toilet to clean them.  This DIY project is a great way to reduce chemicals and plastic use at the same time.  (I made a similar version of these and showed you in my IG stories — I just didn't have hydrogen peroxide.)
Shared by A Wonderful Thought
I'm not seasoned as a seamstress, but I know a thing or two about simple sewing.  If you're like me, these cloth napkins are an amazing replacement for paper napkins in your home.  I love this idea from Kimberly at A Wonderful Thought.  Plus, her tutorial is really detailed and helpful.
6. No-Waste Pantry Makeover
Shared by Bless'er House
Lauren shares her pantry makeover with glass and baskets to make shopping in bulk easier.  If you have glass containers for your bulk purchases, it's much simpler when you get home to fill it up.  That way you can reduce the waste of bags and plastic. She even has printable labels you can download!
7. Trash to Treasure: Boxes into Baskets
Shared by Elizabeth Jones & Designs
I love storage solutions, but to be honest I hate how much storage baskets cost and how much time you can spend hunting for the perfect size.  Erin came up with the perfect solution: Make your own from recycled boxes.  A-MAZING!
What kind of green DIY projects have you done, or do you want to do?  I'd love to know!