One of the easier things that I removed from my house was antibacterial soaps.  Not to say that I wasn't really on board at first, after all, how would I make sure my home was germ free? I'll be honest with you and tell you it took me a few months of using my DIY foaming hand soap to realize that it was in fact working to keep my family's hands clean.  
If you're like me and you grew up with harsh chemicals that completely sanitized spaces, you might completely get this feeling.  I know it's a hard change to make, but in the end, I know that making my own diy foaming hand soap has been really beneficial to my family.  
There are a couple reasons that I TRULY love making my own and why I honestly don't see myself ever going back to buying soap from the store.  
First, it's WAY less expensive.  For example, Dr. Bronner's Castile Soap is $15.99, which contains 64 tablespoons of soap (or 32 ounces).  This means you can make 16 bottles of soap using 4 tablespoons of soap per bottle, which is on the high side (most recipes call for around 2 tablespoons).  This means it breaks down to just under one dollar per bottle of soap. And let's remember it's an all natural soap that holds ZERO chemicals or toxins in it.
Second, it cuts down on waste, BIG TIME.  When I started making my own DIY foaming hand soap, I realized quickly that I was able to cut down on the use of plastic soap pumps that were thrown away every single time we used the soap up.  We're just a family of four and we went through one time use foaming hand soap dispensers pretty regularly. Now, we use a glass foaming hand soap pump and never have to buy the one time use pumps again.
Third, there are ZERO chemicals or toxins in my DIY foaming hand soap recipe.  NONE. You can use this hand soap and know that you're not introducing your kids or yourself to synthetic fragrances that disrupt hormones or other toxins, preservatives and chemicals that most manufacturers add to soaps to keep them shelf stable.
Finally, I can make it whenever I need it. The beauty of this DIY foaming hand soap recipe is that I can refill any bottle at any time.  All I need is basically ONE ingredient on hand if I'm in a pinch. Also, I have to admit that I love mixing together different scents and aromas to make different fragrances for my soap blends.
Elements to Add to Your DIY Foaming Hand Soap
Distilled Water (12 oz water): The type of water you use in your DIY foaming hand soap does make a difference.  Many hand soaps you purchase in the store use preservatives and chemicals in order to prevent bacteria growth.  Granted, they use these because the products they sell must have a much longer shelf life than we need at home. The products have to go from the manufacturer to the retailer and then sit on store shelves.  Sometimes, they even sit in our homes for extended periods of time too.  
But for our use at home, we can make a batch of DIY foaming hand soap as we need it.  This means we don't need the chemicals and preservatives in order to create a long shelf life.  
However, you do want to use either distilled or boiled water.  This ensures the water you're adding to your soap doesn't contain bacteria in the first place.  This also prohibits bacteria growth in your own DIY foaming hand soap.
Soap: (2 -4 tbsp liquid castile soap): This is kind of the important part of your DIY foaming hand soap recipe.  A mild, pure cleanser works perfectly in hand soap of any kind. You might be wondering about killing bacteria and germs, however.  I know I grew up in a time of over-sanitization and I had the mindset for so long that I needed to use antibacterials.  
We know now that antibacterial soaps are in fact really harmful to our body's microbiome and have been a huge contributing factor to superbugs (Study).  This is why it is actually recommended to use soap and warm water to wash our hands rather than harsh antibacterial soaps. (Harvard Study)
I personally use Dr. Bronner's Castile Soap because I know it's safe.  You can use any kind of toxin free soap you want in the same way. Just look for a 100% pure castile soap in liquid form.
(If you don't want to use essential oils in your DIY foaming hand soap recipe, you can try using Peppermint Castile Soap or Lavender Castile Soap for a different scent).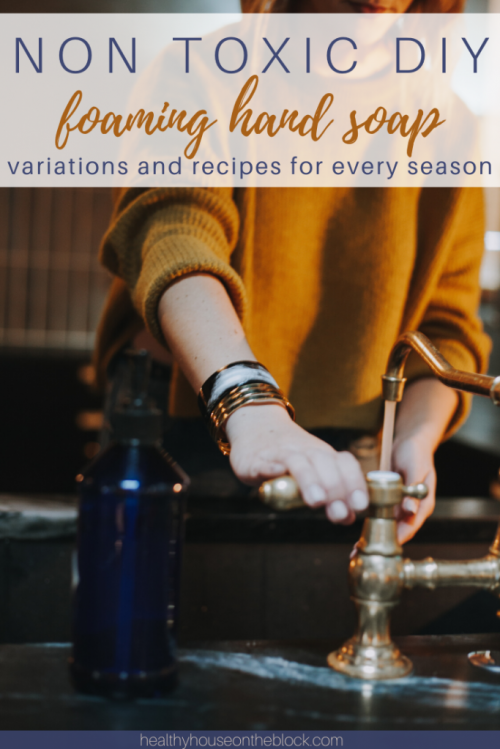 Nourishing Oil (1 -2 tsp):  In making your own DIY foaming hand soap, you may want to add a teaspoon or two of a skin nourishing oil.   This is something I always add in the winter months as our hands are often dry from weather and frequent hand washing to prevent germ spread.  Below are some great options for oils you can add to your DIY foaming hand soap and why they are beneficial. However, adding oils is completely optional.
Almond Oil: This is my top pick for adding an oil as it contains vitamin E, fatty acids, proteins and minerals to help nourish dry and cracked skin.
Vitamin E Oil: This is another great option as it helps reduce skin itching, eczema and helps moisturize the skin while promoting healing as well.  A good one to keep in mind for the winter.
Fractionated Coconut Oil:  It's rich in vitamin E and so it's extra nourishing to your skin and dry hands.
Jojoba Oil: Contains fatty acids and vitamin E, so it moisturizes without leaving a heavy residue behind.  This makes it a great option for summer soap mixes.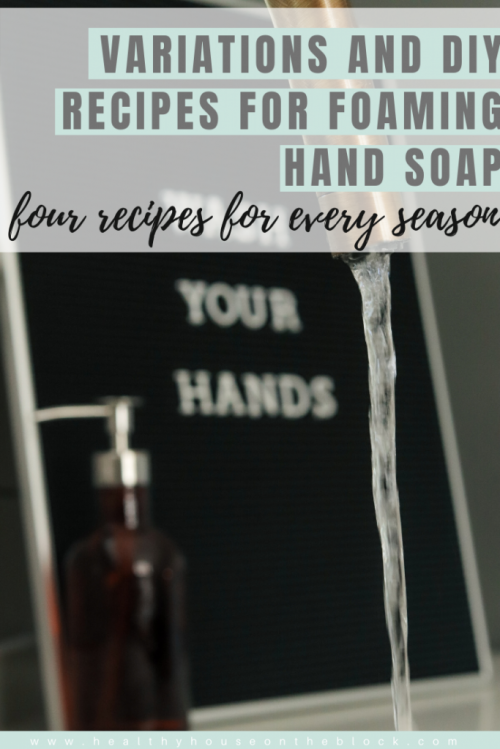 Essential Oils (15-20 drops) : Again, this step is completely optional when you are making DIY foaming hand soap.  I personally love using essential oils to add a lovely fragrance to my soap. But I also love that I'm adding fragrance without adding any sort of chemicals.  For me, I feel most comfortable using certified organic essential oils, like Plant Therapy. But you could use any essential oils you wanted for your DIY foaming hand soap.  
Another reason I really love adding essential oils to my DIY foaming hand soap is that some essential oils have properties that are antiviral and antibacterial (Lavender, Peppermint, Rosemary, Cinnamon and Clove are good choices if this is your goal).
Below are some of my favorite combinations.
Combinations for DIY Foaming Hand Soap: