One of the toxins within our home that we don't always hear about is the toxic exposure that comes from our electricity.  Often times we don't always understand electricity, and so it's easier to ignore it's potentially harmful effects on our bodies and home. Those potentially harmful components come from what's called "dirty electricity", which I'll be going into depth more about.
This is also why it's so important to make healthier choices where we can in order to avoid this phenomenon of dirty electricity.  Light bulbs are one of the simplest things we can change throughout our home. Not only are they available readily at most hardware stores, they are something most of us can swap out on our own without any trouble.
You know, I'm a huge proponent of changing whatever you can and simply not worrying about the rest.  There's no use in worrying about dirty electricity that you can't change, such as that from permanent sources outside your home.  Inside your home, however we can make some really simple changes that can prevent dirty electricity from affecting our bodies.
WHAT IS DIRTY ELECTRICITY?
First, I suppose it's important to know what dirty electricity is and how it can affect our lives. 
Most homes operate using 60 Hertz AC (which stands for alternating current). This means that the current changes 60 times per second back and forth.  It changes from positive to negative and from negative to positive 60 times per second.  
Many of our electrics nowadays no longer use this system to operate. Today, most of our electronics use DC, or direct current.  DC is when current flows in only one direction. What happens is the flow of electricity must become sporadic as the electronics that run on direct current call for power in short intense bursts.
The inconsistency in calling for power causes spikes and surges, which are called dirty electricity, dirty power or electrical noise.
Unstable electricity that gets trapped in the wiring of the home.  This in turn produces measurable amounts of electromagnetic radiation (EMF).
What's more is that some of the light bulbs and light bulb components that we use, like dimmer switches also create dirty electricity within our wiring. (Dirty Electricity Information)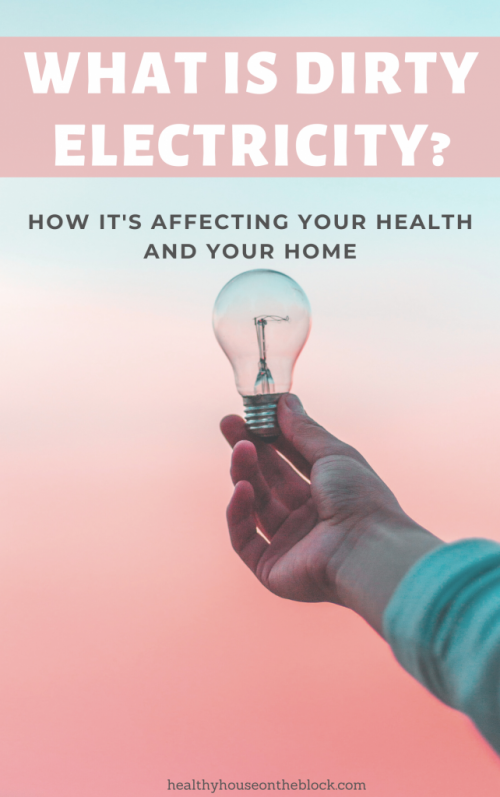 I mentioned it before, but light bulbs can be a source of dirty electricity within our homes.  But, with that being said, not all light bulbs are created equal. Here's a breakdown of the typical types of light bulbs we purchase for our homes and the benefits and downfalls to each one in terms of dirty electricity.
LED Light Bulbs: Often LED light bulbs give off a blue tint, which in terms of our health, is hard on our eyes and can actually increase the risk of cataracts. (Cataract Study).  The blue light also suppresses melatonin production, which as you may know is the hormone in charge of regulating the quality of sleep you get. 
LED light bulbs most often run on direct current, which we established above is one of the largest causes for dirty electricity and EMF radiation within the home.  (There are a few AC options for LED lights, which are shared later). LED light bulbs alternate the frequency of alternating current (AC) to direct current (DC), which backfeeds small amounts of electricity into the incoming power line.  This disruption produces dirty electricity within our own home.
This comparison chart from Healthy Building Science can help you see the vast difference in types of LED light bulbs.
CFL Light Bulbs (compact fluorescent): Those curly, fluorescent light bulbs are one of the most popular types of light bulbs out there due to their low cost and availability.  Most of us have these somewhere in our home and they've become a standard as they replaced the older style incandescent light bulbs.
Unfortunately, the CFL light bulbs most of us use are one of the worst light bulbs to have in our homes for a variety of reasons.  
First, in terms of dirty electricity, CFLs use high frequency electricity instead of the 60 Hertz that many of our homes have.  Compact fluorescent bulbs change the AC current we use to DC, which creates those spikes and surges in our power that I mentioned earlier.  These surges and spikes emit high amounts of EMF radiation (EMF and CFL Study). 
Basically, our electrical systems were not made to handle the high frequency demands of CFL light bulbs, and as they produce dirty electricity within our homes, they also produce EMF radiation as the dirty electricity builds up in our wiring.
Another reason to avoid CFL light bulbs is due to the UV light that is produced from these types of bulbs.  The ultraviolet light that compact fluorescent bulbs produce can be linked to skin and cell damage within our bodies. (UV and CFL Study)
Fluorescent: While most of us no longer have fluorescent light bulbs in our homes, there are some out there and you can still purchase them.  In addition, most office spaces and buildings still use fluorescent light bulbs.  
Fluorescent light bulb problems are very similar to that of CFL light bulbs, just on a grander scale.  Fluorescent light bulbs give off high levels of magnetic fields up to 18 inches from their coils.
Fluorescent light bulbs have also been linked to an increased risk of malignant melanoma in those who are frequently exposed. (Fluorescent light bulb study about melanoma)
Incandescent Light Bulbs: Incandescent light bulbs are definitely a thing of the past, and it can be very difficult to find them anymore.  While they are one of the safest light bulbs because they use our home's AC current, they are also the least efficient in terms of energy use.
Incandescent light bulbs are less efficient because the energy coming from the wires has to heat up the filament instead of produce light, which causes it to use vastly more energy than other types of light bulbs.
The light that is produced with incandescent light bulbs is also a more natural hugh of light, not a blue tinted light like newer LED and CFL bulbs.  
Halogen lights are also in the same category as Incandescent light bulbs.  However, instead of argon gas, which incandescent light bulbs use, they use halogen gas.  The halogen gas generally requires and produces more heat, however they typically last longer than incandescent lights.
HOW LIGHT BULBS (AND DIRTY ELECTRICITY) AFFECT OUR HEALTH
So let's talk about EMFs (electric and magnetic fields) and your health.  First, it's important to know that EMFs are everywhere, and are naturally occurring within the earth and our world. 
The harm of EMF exposure comes in the frequent contact we have with them within our homes and the strength of them produced by electronics and appliances within our homes.
Sources of  EMF radiation in our homes vary in strength, but those emitting the most dangerous EMF radiation include our cellphones, televisions, microwaves, computers and Wi-Fi devices.  
Studies continue to be done on EMF radiation, but it has been established as a possible carcinogen to the human body (Study).
The World Health Organization has also reported biological harm to humans from increased exposure to EMF radiation including fatigue, headaches, mood swings, asthma, fertility issues, digestive issues, memory problems, sleep issues.
In addition to these problems, another study linked chronic diseases such as cancer, heart problems, alzheimers and diabetes to EMF radiation as well. (Study)
Dirty electricity, which produces EMF radiation within our homes and within our wiring has been studies, showing effects on the body including diabetes and multiple sclerosis: (Study) 
This post about creating a sleep sanctuary talks about how EMF radiation is particularly important to avoid in bedrooms.
HEALTHIER OPTIONS FOR LIGHT BULBS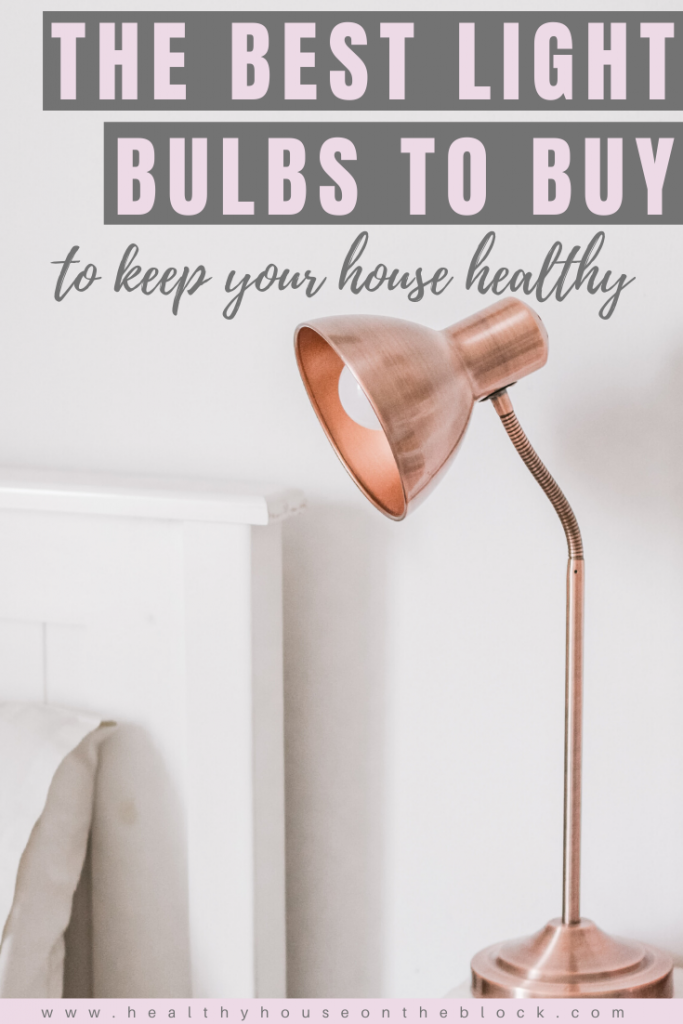 There are options to filter out the dirty electricity, but I think first and foremost the best solution is to reduce the dirty electricity producing devices.  Limiting the number of dimmer switches, and compact fluorescent bulbs is the first step.
The good news is that there are healthier light bulbs to choose that produce less or no dirty electricity within our homes.  What's even better is that it's a simple change to make that we will likely not even notice once we've made it.