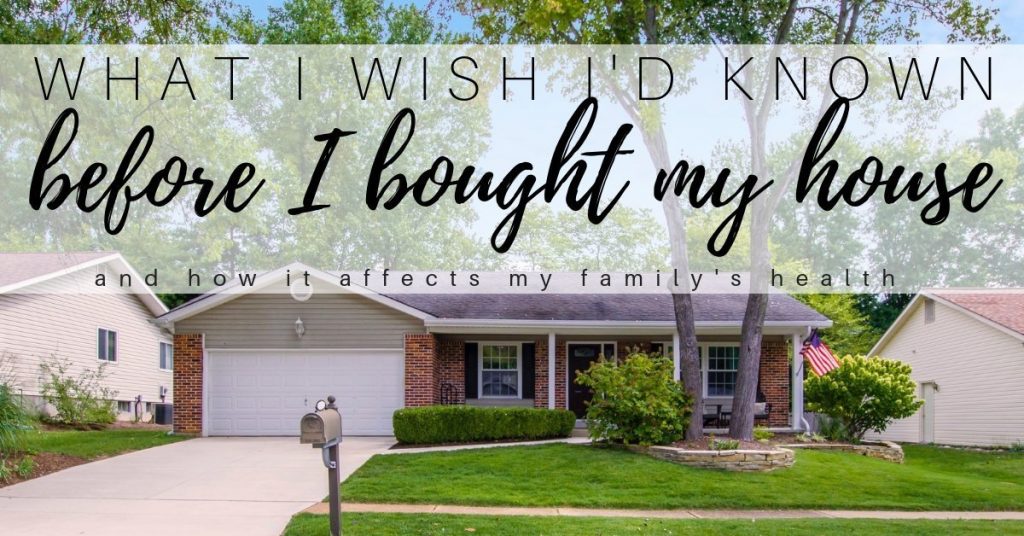 As a home inspector, I get to work with countless first time, excited home buyers.  I love their sheer excitement and true love for the property we walk through. I love that I get to be a part of this process and explore their new home with them. It gives me a chance to point out the good, the bad, and the things that may become ugly sometime in the future.   In the same breath, I'm also a homeowner, and we are now on our third home as a family. You may think this makes me an expert, but I will assure you, it does not. Every home is different and every home has potential pitfalls and potential diamonds.
What I know now after living in my own home for the past six years is that there are things I would never change about it and there are things I would most definitely do differently.  And to be honest, a lot of it has to do with the health of my home and the way it relates to my family.
Being able to inspect other homes for buyers and pointing out hazards, defects and safety concerns has really been eye-opening for me and I often times share this with my clients.  My healthy home consultations have also given me a leg up on realizing some of the things I wish I had known about BEFORE we bought our last home.
In case I won't be inspecting a new home for you, I wanted to share with you these things I wish I had considered and known before I bought my house. (*I should mention that I absolutely LOVE my home and don't plan on moving anytime soon).
HOME INSPECTIONS ARE WORTH IT
If you suspected I might say this, then I applaud your intuition.  As a home inspector and building biologist, I can't stress enough how important it is to GET A HOME INSPECTION whenever you purchase a home.  Even if you're the handiest family on the block, there are items home inspectors are trained to find that even the most DIY couple may not catch.
A home inspection gives you leverage as a buyer and it can even get you some discounted rates on your home insurance based on what positive things are found.
I'll admit, six years ago before I began my business, we chose to forgo the home inspection.  It's honestly one of my biggest regrets with my home as I know a home inspector may have noted things that I glossed over.
It can also be a huge benefit as they give you an idea for maintenance to different systems and elements of your home.  Home inspectors see a multitude of homes and they can give you a pretty accurate idea of how systems will hold up over time and what you can do to prolong the systems.
Make sure your home inspector is either certified by a National program or licensed by your State before you hire them. This blog post walks you through what questions to ask before you hire a home inspector and what questions to ask as you walk through the house.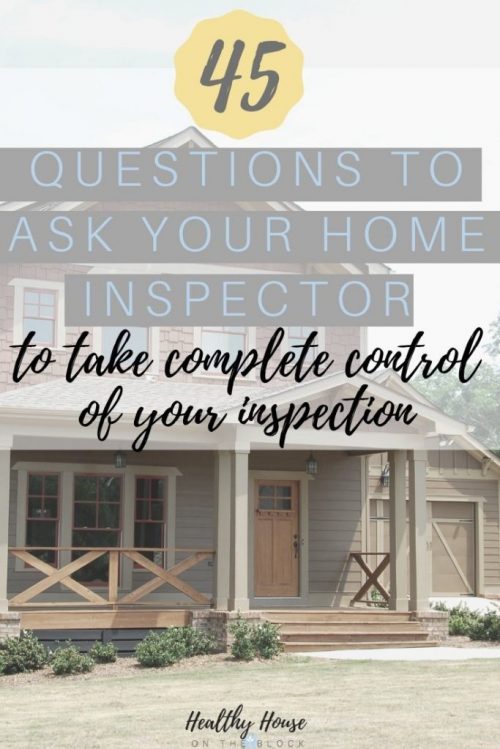 Also, a word of advice — be there for the WHOLE inspection.  Don't skip out on this valuable resource that your investing in!
THE ENVIRONMENT AROUND MY HOME MATTERS
Just for some background, I live in a suburb of St. Paul, Minnesota.  The particular neighborhood we live in is surrounded by ponds and lakes.  While this might seem like a great space to call home, it also means we have a lot of moisture coming in contact with our basement and foundation walls…..and so do a lot of our neighbors.  
I wish I had maybe paid more attention to this before we moved in and thought out all of the costs involved with maintaining a home built with a creek in the backyard.  It's definitely doable, but there is a lot of work and money involved in keeping the soil and land around our home dry.
Another part of the environment I wished I had researched more was the business that surround my home.  Our neighborhood has a few manufacturing plants on the outskirts of our roads, and while I assumed there was nothing to worry about, we have now found out (six years later), it was something to pay attention to. One of the manufacturer's didn't have the proper filters on their building and they released toxic TCE chemicals in to the air for TEN years.  
Anytime your home is near a manufacturing plant of some kind, there is always potential that your home could be in a zone of concerned air pollution or water pollution.  You can do a little bit of research on the companies that are surrounding your potential home and you can also check your State's Health Department website to find out if there have been known pollution problems in your vicinity.
PAY ATTENTION TO THE DIRECTION OF THE HOME
I will admit I am mostly directionally challenged.  But, for the sake of my home, I wish I had known the benefits of my home facing a particular way.  Currently, our home faces North. Now, that being said, the majority of our windows face South.
The South facing windows keep our home extra bright and warm in the winter, which helps so much with heating our home and the overall mood in our house.  Sunshine does SO much for the soul!
However, because our house faces North, our driveway is always covered with ice and snow, and it rarely melts in the winter.  This has really taken its toll on our driveway and the maintenance to it. It also means there are parts of our roof that take a REALLY long time to dry out, leaving moss to grow.
If you pay attention to the direction your home faces, you can plan on using passive heating and cooling techniques in your home to save some money on your energy bills.
KEEPING UP WITH THE SELLER'S MAINTENANCE
When you go to see your new house for the first time, chances are it's looking the best it's looked in a LONG time. The maintenance that's been let go is often times done right before you see it, and everything looks fresh and taken care of.  
Now, if you don't keep up with the seller's maintenance, eventually, your home will just NOT look the same.  The care you take must match the seller's care, or your house will begin to look and feel run down.
Had I known the seller of our home had a yearly task of varnishing all of our wooden windows, I may have kept up with it.  Or had I know she stained the deck every other year and sealed the driveway every three years, I may have made some to do tasks for these items.
Either way, whether you embrace the seller's maintenance routine or you completely ditch them, you must be prepared for the costs.  Maintenance costs add up, and you also have to have time in order to do this. On the other hand, if you skip the maintenance, you have to be ready to fork over the extra time and money to replace materials and do extra work to fix any problems that might arise.
As a home inspector, I try to let homeowners in on these maintenance items, but I always tell them the best person to ask, is the seller.  Most sellers are more than happy to share information about their home if you're asking about ways to take care of it.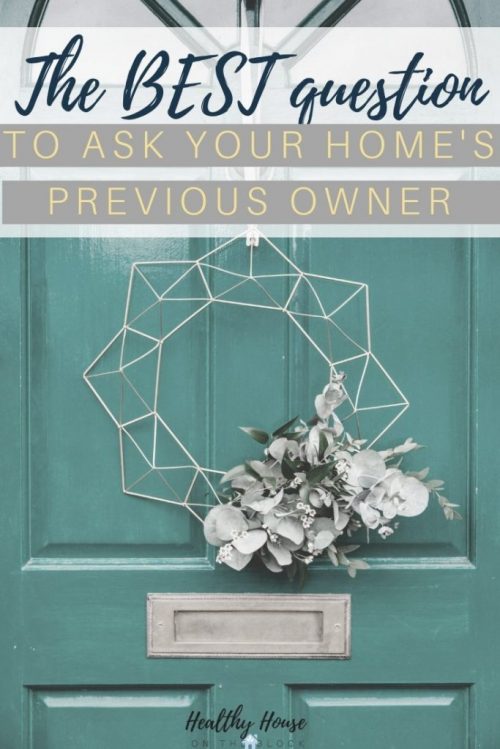 WOOD BURNING FIREPLACES (BENEFITS & PITFALLS)
You might not have this particular element in your home if you live in the warm and sunny South.  But here in the frigid North, I would say most homes have SOME sort of fireplace in it. I didn't grow up with a fireplace and I didn't really know much about them when we moved into our house.  
I had no idea HOW to use it or how to maintain it.  What I wish I would have know when I moved in was that there was a very practical way to use the fireplace to heat most of our home with firewood.  I wish I had scoped out costs of firewood and the best places to get said wood.
As a matter of fact, now that we've been here for six years, we finally have a pretty good handle on HOW to heat our entire home with the use of our fireplace.  Over this past winter we experienced the Polar Vortex, where temperatures were 35 below zero for a high. We turned on the fireplace, opened bedroom doors, ran the house fan and heated our house for the whole day.  That's right, our furnace didn't kick on ONCE. It was amazing! I wish I had known that when we moved in.
What I also wish I would have known was how to take care of our fireplace.  Fireplaces require chimney sweeps and maintenance checks at least every other season, depending on your use.  I wish I had kept that budget in mind when we purchased the home. For me, the use of it far outweighs the maintenance, but I still wish I had been more aware.
HIGH QUALITY MATERIALS MAKE A DIFFERENCE
When we bought our house we were in such a time crunch that we just jumped into it.  We looked at the basic and didn't pay attention to a whole lot else. We decided immediately we loved the house layout and neighborhood and we would "fix up everything else."  Fast forward, and no, we have not fixed up everything else….we haven't even fixed up half of everything else. Why? Time and money. With a young family, we just haven't gotten around to it yet.  We're too busy living life.
That being said, I wish I had looked at the quality of the woodwork, doors, flooring and other cosmetics of the house before we jumped in.  For example, our house has the chincy hollow core doors. YUCK. I didn't think it would be a problem for me, I loved the house, so how could doors really be a deal breaker?  Well they weren't but I DO wish I had added into our initial budget some extra cash to replace them with solid wood six panel doors.
Other things are cabinets and flooring.  Chincey doesn't hold up and it doesn't have a good feel to it.  Materials that aren't made of solid wood also have a lot of chemicals, solvents and glues in them, which are hazardous to your health.
Making sure you're aware of these things before you move in will at least give you an edge when you're budgeting for immediate improvements.
IF IT ANNOYS YOU AT A SHOWING, IT WILL DRIVE YOU CRAZY WHEN YOU MOVE IN
This is a BIG one for us.  There were things that we didn't REALLY love about our house when we walked through it, but to be honest the location and the neighborhood made up for it drastically.  (and it still does – we are so in love with our neighborhood, you might have to pry us out of there). However, I wish someone had told me that those little things I found annoying would just be amplified after living here for six years as a family of four with a dog.  
Some things that make my short list are squeaky and clunking floors.  This was so minor when we walked through the house I told myself I'd just get used to it.  Now it drives us absolutely crazy to hear these sounds. SO much so we've been slowly fixing the problems here and there.  
Another thing is the space around our entryway.  This space is great for a small family or maybe a family with older children as there's minimal space for shoes, coats and bags.  I figured we would just make it work. ANd we have, but it doesn't mean that I really wish I had thought it through a bit more and taken into account that our family would grow as we lived here.
Overall, we're extremely happy with the home we've chosen…..and to be completely honest, even having known some of these things before hand, we probably wouldn't have passed this one up.  
The good news is a house is a house, and you can always move.  But isn't it great to have all the details and information up front before you purchase?  Think of yourself in the future and what your family looks like and the ages of your kids…will it still be the home for you?