Creating a nursery or bedroom space for your family's newest addition can be a really fun and exciting time.  But it can also be really overwhelming to think about the amount of decisions you'll be making in creating this room. Sometimes we tend to over-complicate things and make decisions more difficult than they need to be.  And what's more is that we definitely live in a culture where we overbuy from the get go.
The good news is we really don't need all the things we might THINK we need when it comes to a nursery.  They can be as simple as you are willing to go. For me personally, I had SO many items and conveniences I THOUGHT I needed for my daughters, when in actuality, I really didn't need all that much.
It's completely fine to start with the basics and add more as you find out what you need.  And it's also okay to disregard that exhaustive list "needs" that any baby store will tell you must be added to your registry.  (I learned that one the hard way and ended up returning or giving away so many unused items we thought we needed to register for).
One of the best tips I can give is to really plan out what you think you will need for your nursery.  By writing it out and being intentional with it, you'll be less likely to ask/purchase items you "might" need and instead ask for or purchase only what you truly want.  
This has been my solution to many areas of my home.  If I don't have an item on a list of planned out things to purchase for a space, I just don't get it.  It has helped me purchase only what we need and stay on a budget at the same time.
Creating a nursery with fewer things is the first step to creating a healthy space.  However, there are things you'll likely want or need, and making sure they're as healthy as possible is key.  Below are six areas you can make positive choices in to ensure your nursery is as toxin free as possible.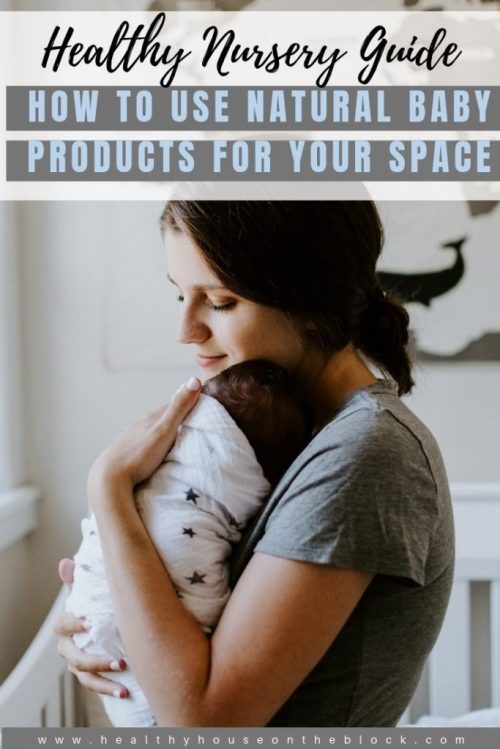 Furniture is one of the largest purchases you will likely make for your nursery.  There are many brands that are focusing on low VOC paints and finishes as well as using solid wood rather than manufactured woods.  These are great changes that will positively impact the room your baby will sleep in.
There are a few things to look for when it comes to furniture that will help you choose something healthy and safe:
LOW or NO VOC Finishes (paint, stain or lacquer)

Solid Wood (particle board, medium density fiberboard and plywood all use glues that contain formaldehyde)

Upholstered furniture with organic or pure latex foam
When you receive your furniture, allow the furniture to off gas for 24-48 hours in your garage or outside in order to let the VOCS and other solvents off gas for a period of time before bringing them indoors.
If you're interested in buying second hand furniture or refinishing second hand furniture, you'll want to make sure you're taking the appropriate precautions.
I go into depth about this in my Healthy Nursery Happy Baby online workshop with a downloadable guide and worksheet.  Essentially, you'll want to make sure what you're purchasing is solid wood and from a smoke-free home. Once you have it in your possession, you will still want to let it air out before bringing it in.
Another option to make shopping easier is to look for a third party certification.  GreenGuard and GOTS are great certifications to look for when it comes to furniture.  These brands are known for being certified organic when it comes to furniture: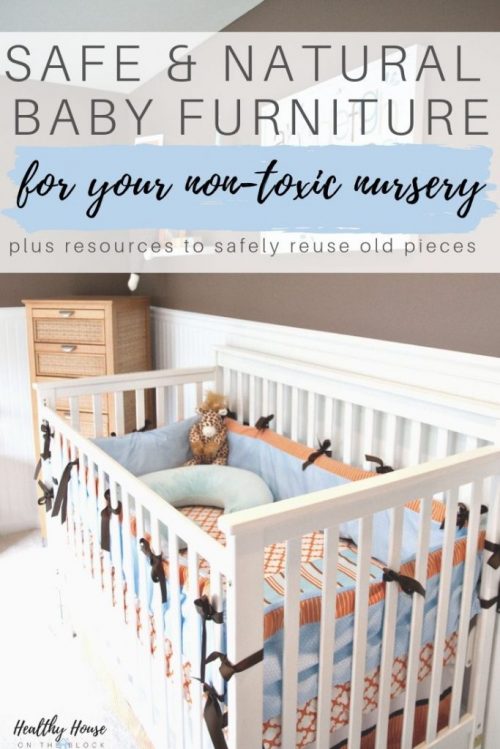 As many lucky parents will tell you, babies sleep a lot.  They sleep more than they are awake for most of the first three years of their life.  With this being the case, they're spending an enormous amount of time on their mattress.  In fact, the majority of their life may be spent on a mattress of some kind those first few years. 
This is why it's incredibly important to choose a mattress that is free from flame retardants, VOCs, formaldehyde, synthetic latex and springs.  
All of these components can be harmful to the health of our bodies as well as the health of our babies' bodies.  Chemical flame retardants have been known to cause problems to the endocrine system in adults and kids. It also has a very long lifespan and is absorbed into the system relatively quickly.
Our bodies can become quite burdened by this chemical as it takes a long period or time to exit the body.  But due to the fact that it's a product we use for a long period of time every day, our bodies are never getting a chance to recover.  
Flame retardants have been known to cause adverse effects to the endocrine system and can severely disrupt hormone production.
Finding an organic mattress for your crib that is certified by a third party is key when it comes to ensuring your baby is sleeping on a safe and healthy material.  Don't forget to check the mattress for your bassinet or cradle too.
Here are some great options when it comes to your baby's crib mattress: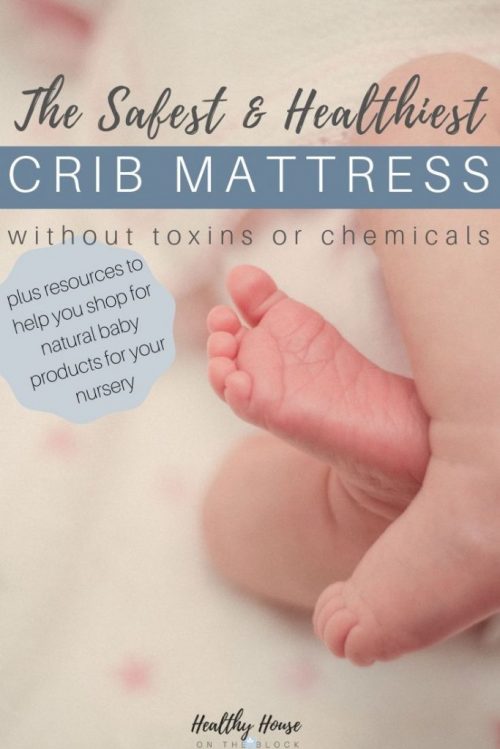 Bedding & Sleeping Blankets
Just as mattresses make a difference to the health of your nursery environment, so do the blankets, sheets and swaddle cloths your baby will be surrounded by.
Fabrics that you purchase can have chemicals and toxins embedded directly into the fibers of the fabric.  These chemicals are intended to make the product more stain resistant or make it resistant to wrinkles and wear.  
We now know that these chemicals, while they may seem like a good addition, are quite toxic to our babies bodies.  Again, we should remember that our babies fragile skin is being surrounded by this product for long periods of time.  
An easy way to make sure we're making a healthy choice is to look for a third party certification.  Another way is to make sure the fabric is either 100% cotton or 100% linen. Synthetic fabrics can have compounds of dyes and plastics that are not healthy or good for our baby's environment.  
These are my top picks for organic sheets, swaddle blankets and sleeping blankets:
Changing Table Components
You may find you're spending a lot of time at your changing table in the first few weeks.  And because of this, making sure the products you're using on your baby are natural and safe is of utmost importance.
When you begin to think about the number of products you use when changing a diaper, you can see that there are a lot of places you can make really great and healthy choices.
Obviously, first would be your choice in diapers.  Whether you opt for cloth or a biodegradable disposable, doing research before your baby arrives will be key when making your choice.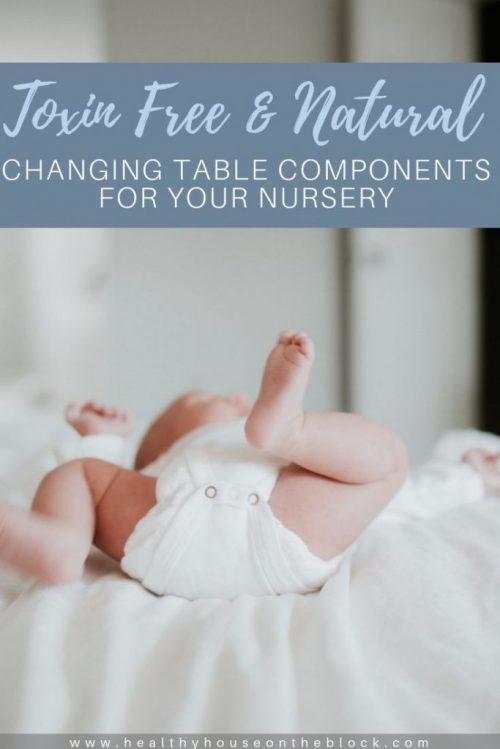 You may not know what you like until your baby is here, but having a few options in mind prior to this and knowing what brands are safe is the best way to be prepared. 
Look for a brand that offers an organic fabric and insert to make sure your baby's skin is not being exposed to unnecessary chemicals or toxins that can be in synthetic fibers.
You'll also want to make sure your changing pad and changing pad cover are both certified by a third party.  You can use some of the guidelines for the organic mattress as well as the organic sheets when shopping for these items.
Finally, you'll want to verify any products or wipes are natural and free from harmful ingredients.  You can the ThinkDirty app for the items you're shopping for to ensure they're safe for use on your baby's skin.
If you'll be painting your baby's room, you'll want to leave plenty of time for the paint to dry and completely off gas before your baby will be in the room.  
One thing to remember is that the lighter the paint color, the fewer VOCs the paint will contain.  Opting for a light color can ensure that your baby's room will have the fewest amount of VOCs present.  
You'll also want to search for a brand that is completely safe and completely toxin free.  There are some really great, natural options you can choose from that contain virtually no traces of chemicals or toxins.  
You can find my list of trusted paints here in my Healthy Nursery Course.
If you'll be adding drapes, rugs or other textiles like decorative pillows or blankets, you'll also want to check their contents and certifications.  Looking for items that are certified organic and certified to be made with natural materials is best.
These items are all known to contain flame retardants, formaldehyde and perfluorochemicals.  Often times these components are embedded within the fibers and never really leave the product. 
You can get a complete list of healthy options for your nursery in my course Healthy Nursery Happy Baby or my free baby registry guide here.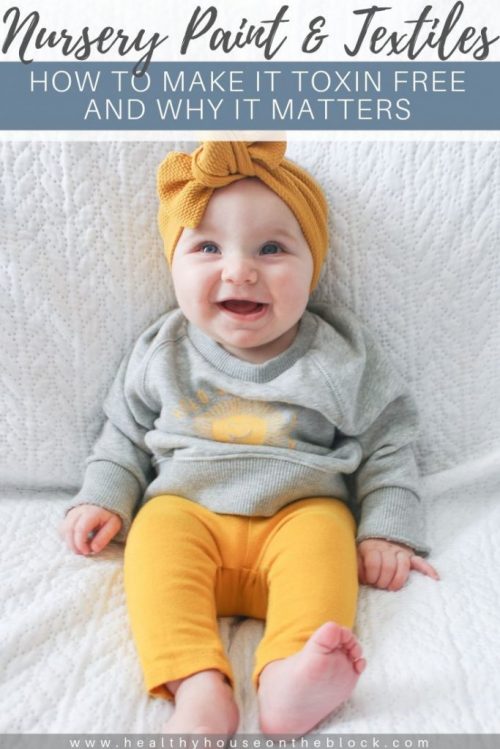 Let's talk electronics.  The EMF waves that are produced by a baby monitor are similar to that of a telephone.  These waves can be disruptive to sleep patterns and create sleep disturbances in small babies and children.  
With this in mind, it can be best to purchase a baby monitor that is analog, as opposed to digital. Now days this can be difficult to find, but there are ways to reduce the exposure to EMF radiation with other techniques:
Use a monitor that only turns on when sound is detected (

AngelCare

is a great option for this)

Use a monitor that is hardwired such as a

D-Link Monitor

Make sure you monitor is as far away from the crib as possible (while still being able to use the monitor properly).
EMF waves drop off rather quickly and so being a safe distance from these electronics can be a really safe option for your room.